2019: Top 10 Safari Photos
This article includes a selection of our top 10 safari photos to celebrate some of our conservation highlights during 2019. We have so much to be thankful for. Thank you to all of our guests who chose to share the Kariega wilderness with us in 2019 and contributed to our Kariega Foundation conservation and community levy. This makes each of you our partner in conservation. We've so enjoyed sharing so many wonderful safari experiences with you and we hope to welcome you back at Kariega Game Reserve in 2020 and beyond.
We have included these highlights in our top 10 safari photos: the birth of the third calf to poaching survivor rhino Thandi, finally capturing photographs of one of the elusive leopards on the reserve, rescuing a giraffe stuck in the river, reintroducing servals into the wild, starting two new research projects on elephants and brown hyena, introducing re-usable water bottles (instead of single-use plastic bottles), increasing the number of children included in our environmental education programmes and seeing how much guests appreciate the wilderness in their awesome wildlife images submitted to our annual Facebook and Instagram photo competitions. We also hosted international film crews, photographers, conservationists along with our valued guests who all share our passion to protect, preserve and conserve our natural heritage.
We hope you enjoy our top 10 safari photographs and conservation highlights for 2019. Contact us to book your stay and become our conservation partner. We look forward to welcoming you to Kariega Game Reserve in South Africa's malaria-free Eastern Cape.
2019: Top 10 Safari Photos & Conservation Highlights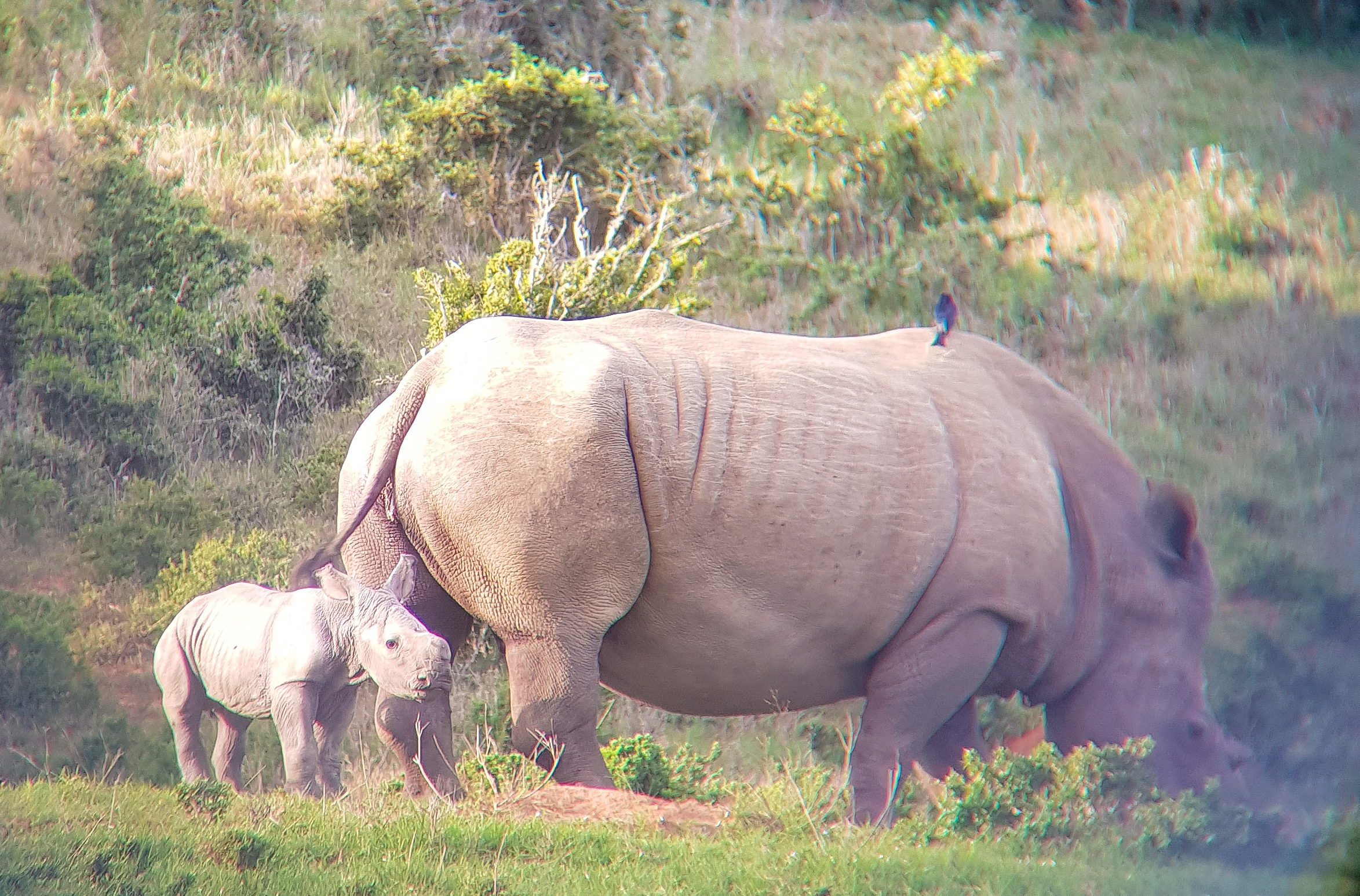 This photograph was taken on Wednesday 3 April 2019 and captures poaching survivor rhino Thandi's third baby at Kariega Game Reserve. The male white rhino joined two older calves, Colin (born in 2017) and Thembi (born in 2015) .
We named the calf Mthetho, which means justice in isiXhosa. This name commemorates the conviction of three rhino poachers which co-incidentally took place on the same day. The notorious Ndlovu gang were each sentenced to an effective 25 years in prison after being found guilty of 55 criminal counts involving the poaching of 13 rhinos in our Eastern Cape region between 2013 and 2016.
We are continually grateful to our partners and donors who help us to expand and improve our rhino protection and conservation programmes. Find out more about how Thandi became the first ever rhino to survive being poached and how you can help with our ongoing Save our Rhino conservation needs.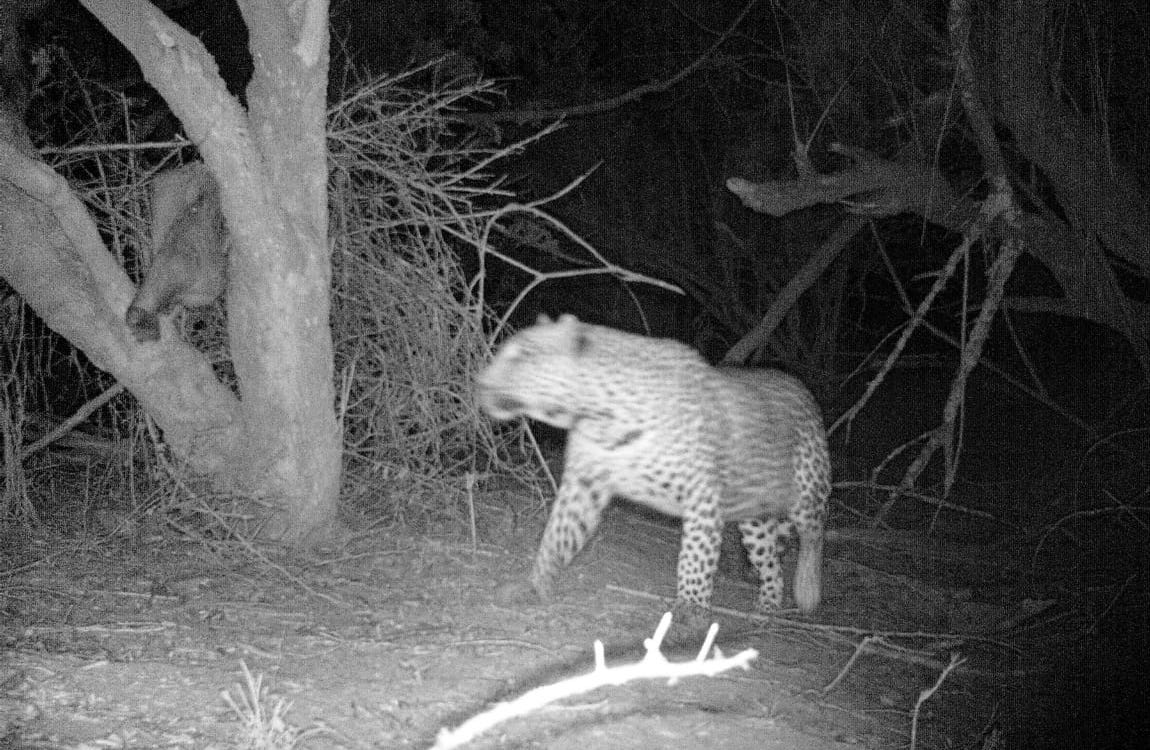 This top safari photo of an African leopard was taken in early November 2019 by one of our monitoring cameras. Kariega operates an African leopard programme as part of our conservation plan, lead by our ecologist Chris Reynecke. Significant work has been done with local farmers and other conservation organisations, to monitor and protect leopard in our area. Chris comments, "We have been monitoring this adult male leopard for more than a year. This is the first time we have photographs of him which shows how elusive these cats are. We are all very excited about this sighting."
Kariega field guide Wayne describes this top 10 safari photo as "one of the craziest things to come across is a giraffe neck sticking out of the river!"
Wayne and his guests found a male giraffe stuck in the Bushman's river mud while on an afternoon river cruise from Settlers Drift Lodge. After taking the guests back to the lodge, Wayne and the Kariega conservation team went to see if the giraffe could be rescued from the river. Fortunately they managed to get the one tonne animal free from the river mud, out of the water and back onto dry land safely.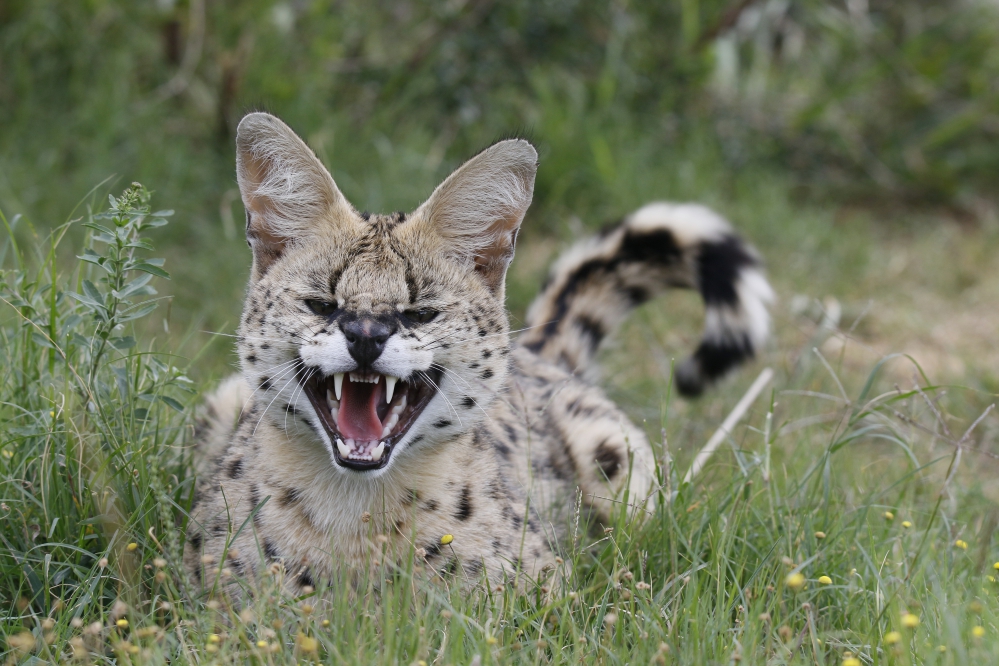 This top 10 photograph is of a a medium-sized spotted cat called a serval. This African wild cat became completely extinct from the Eastern Cape over the last century, mainly due to habitat loss and hunting. Kariega Game Reserve and the Kariega Foundation have been working together since 2012 to reintroduce this rare and indigenous species to our conservation area. We are proud to announce our 2019 conservation success with the reintroduction of a male and female serval onto Kariega Game Reserve.
The gradual growth and development of the now expansive Kariega Game Reserve is one of the most accomplished conservation projects in the Eastern Cape. The Kariega Foundation and Kariega Game Reserve, with support from the Kariega Volunteer Programme, are pioneers in the development of this conservation project.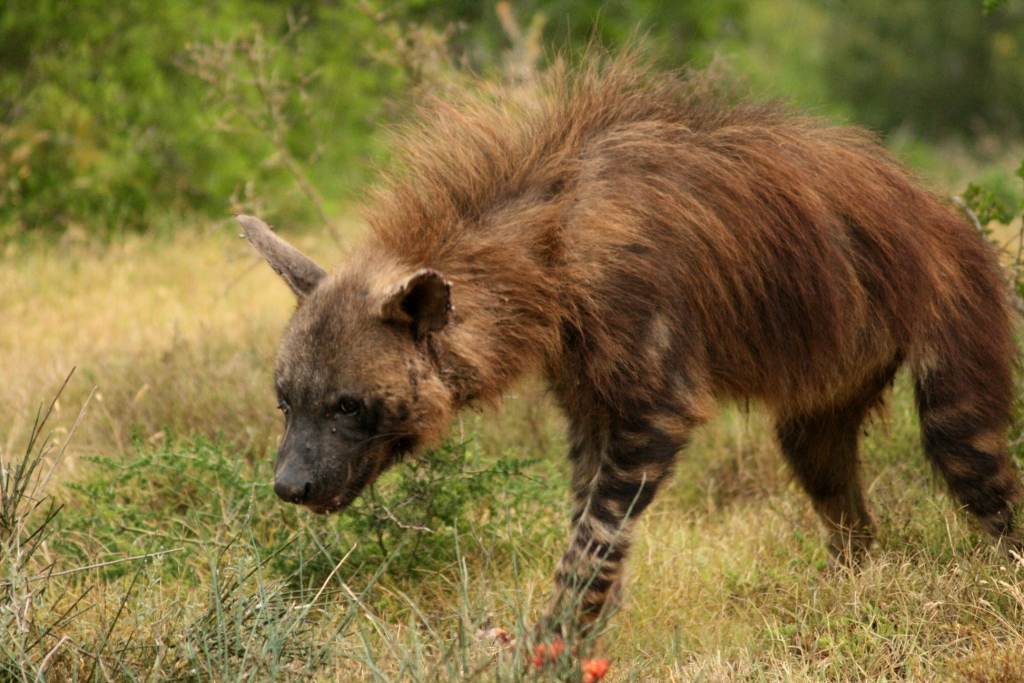 We launched our brown hyena research project on 7 October 2019 with the Rhodes University Zoology department. Brown hyenas are one of the least studied large carnivores in southern Africa. These scavengers are predominantly nocturnal and have been listed as near threatened since 2005 with an estimated population of 5,070 - 8,000. Extended sightings of brown hyenas occur at Kariega Game Reserve, making our reserve an excellent location for conservation research focussing on the genetic structure and diversity of brown hyenas.
In October 2019 we also commenced a research project with African elephants. Kariega Game Reserve also offers guests regular close-up sightings with these incredible mammals. The current research project is in partnership with the Elephant Reintegration Trust and aims to develop welfare parameters for African elephants on game reserves in South Africa.
Read more about our current brown hyena research project and our conservation project on African elephants. View more top safari photographs.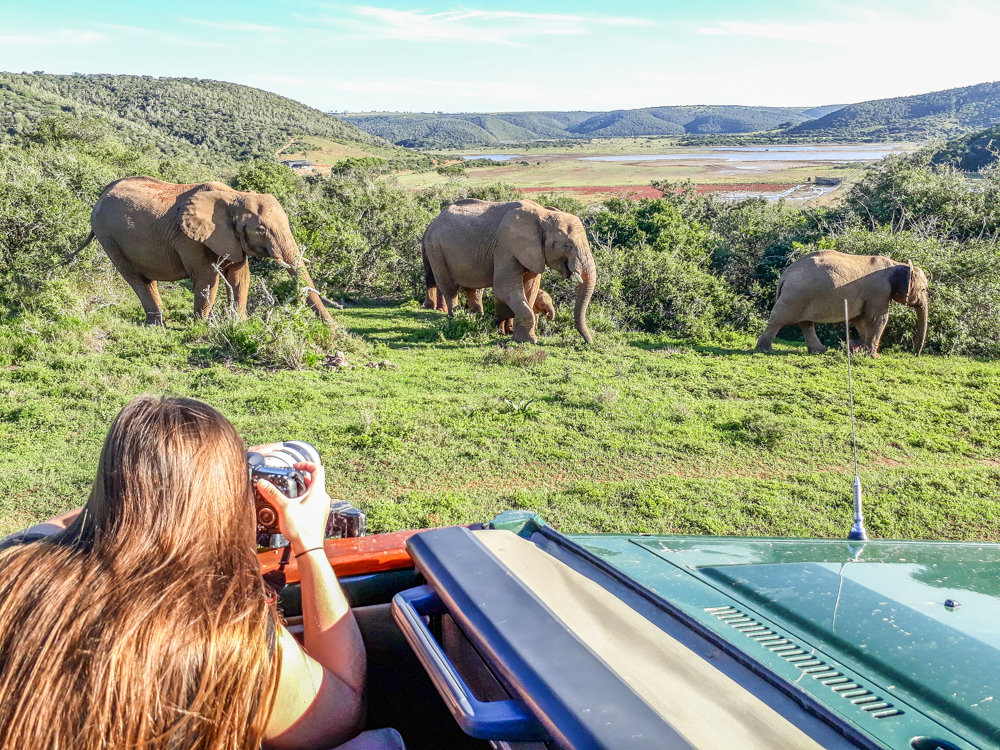 "I have been at Kariega Game Reserve in South Africa for the last eight days filming a brand new four part series which I'm presenting and producing for BBC Earth. The opportunity to see some of the most iconic species on our planet in their natural habitat was simply mind blowing, and a stark reminder of how we really must look after all our living creatures - as great and small - they all have their place."
These words were posted by Hannah Stitfall after filming at Kariega Game Reserve. Hannah is a Zoology graduate, conservationist, producer and BBC Earth wildlife presenter. The four BBC Earth | Wild Lands South Africa episodes filmed exclusively at Kariega can be viewed on the BBC Earth YouTube channel.
During 2019 we also hosted film maker and conservationist Steve Backshall from BBC Natural History series Deadly 60, rhino conservationist and documentary film maker Marlina Moreno from Project Conservation and many other top film makers, photographers, writers, conservation partners and of course our valued safari guests.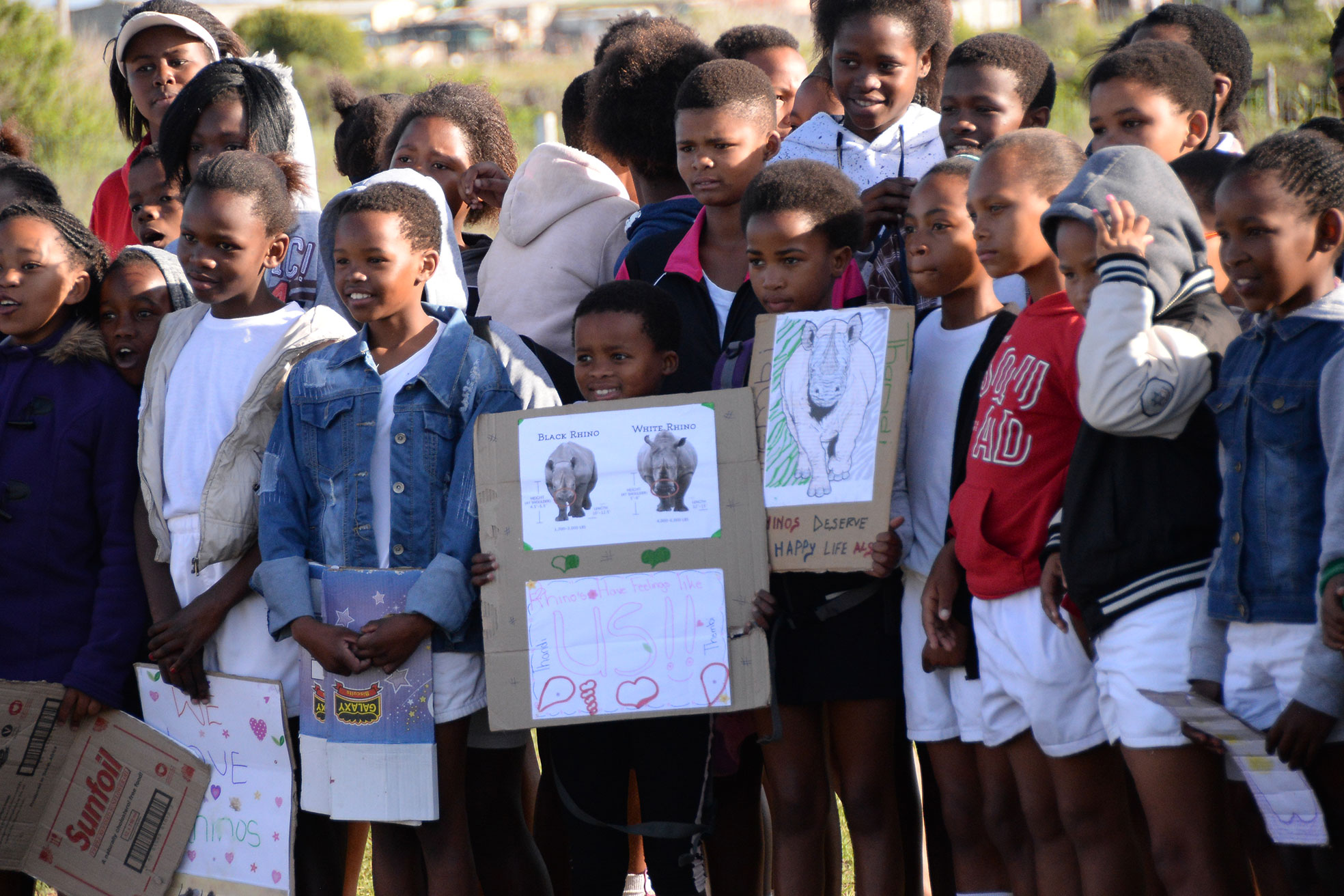 Our Kariega Foundation runs numerous conservation and community projects, including an environmental education outreach programme. This programme has grown to include students in six participating schools who learn about critical environmental issues every month ranging from climate change to species extinction. During 2019 we have reached approximately 600 students every month. Some of these students are pictured above.
The programme has also held special events including a community climate march and waste clean up day. We also assist the schools where necessary for added support during sports days, career days, awards ceremonies and other events which we are invited to by the schools.  
Read our 2019 Kariega Foundation update on key community and conservation projects.
If you would like to support the work of the Kariega Foundation, you can donate funds from anywhere in the world via the link on the right of our Kariega Foundation page. If you have questions or comments please get in touch with us via email at foundation@kariega.co.za or contact us via Facebook, Twitter or Instagram.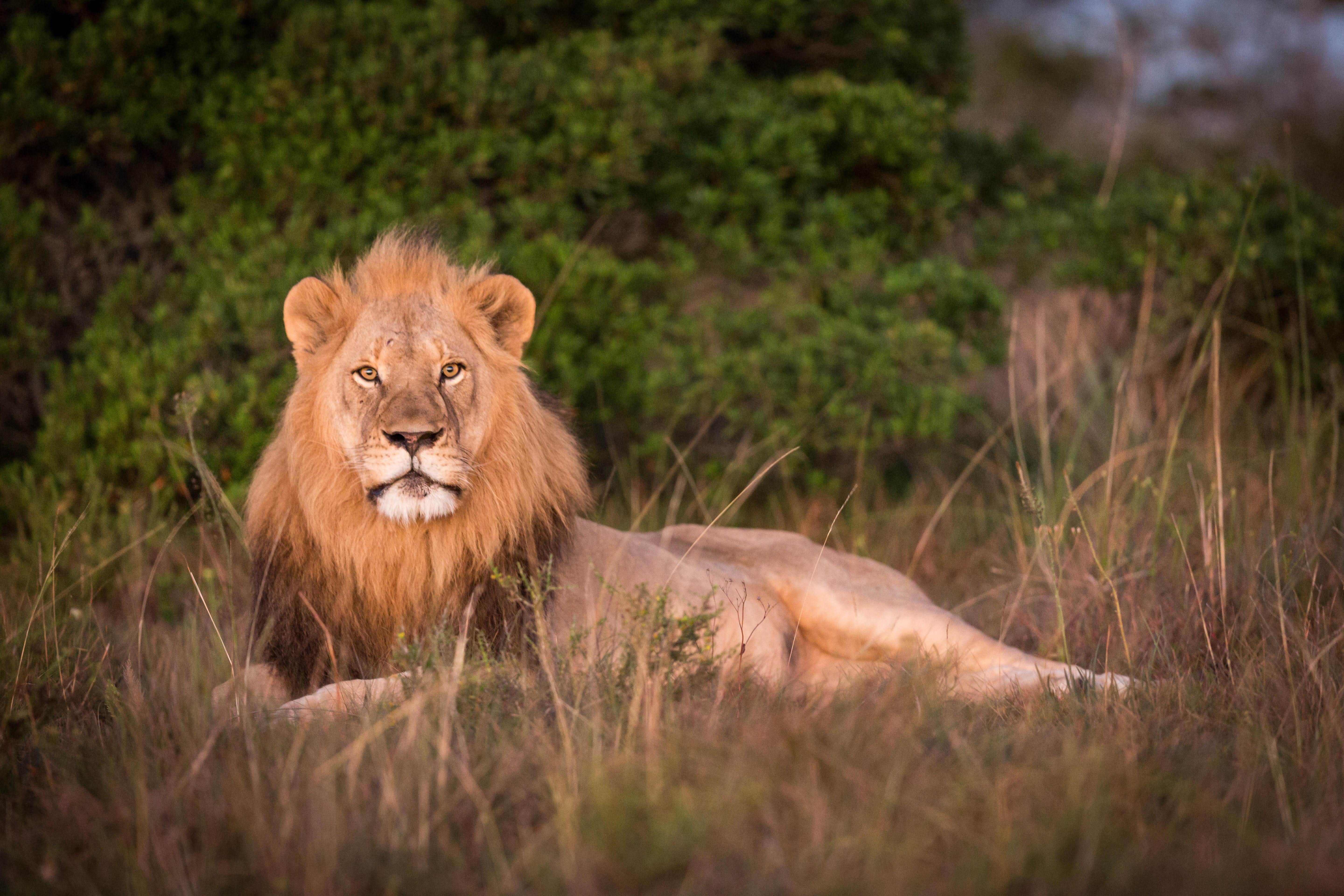 We are again delighted by the top safari images submitted by talented guests into our annual Kariega Facebook Wildlife Photo Competition and new Kariega Instagram Photo Competition. There is still time for Kariega safari guests to enter as our Facebook contest closes on 30 April 2020 and you have until 30 June 2020 to enter our Instagram photo competition. Submit your photos on our Kariega Facebook page or add #kariegaphoto when you upload your image to Instagram.
Our judges will again have a challenging task to select the winners. The prize for each contest is a two night stay for two people at our Ukhozi Lodge. Thanks to guest Phil Yale for the above lion image who won the professional photographer category in our 2019 Facebook competition.
Visit our blog to read the articles, including top safari photos from our previous Kariega photo competitions.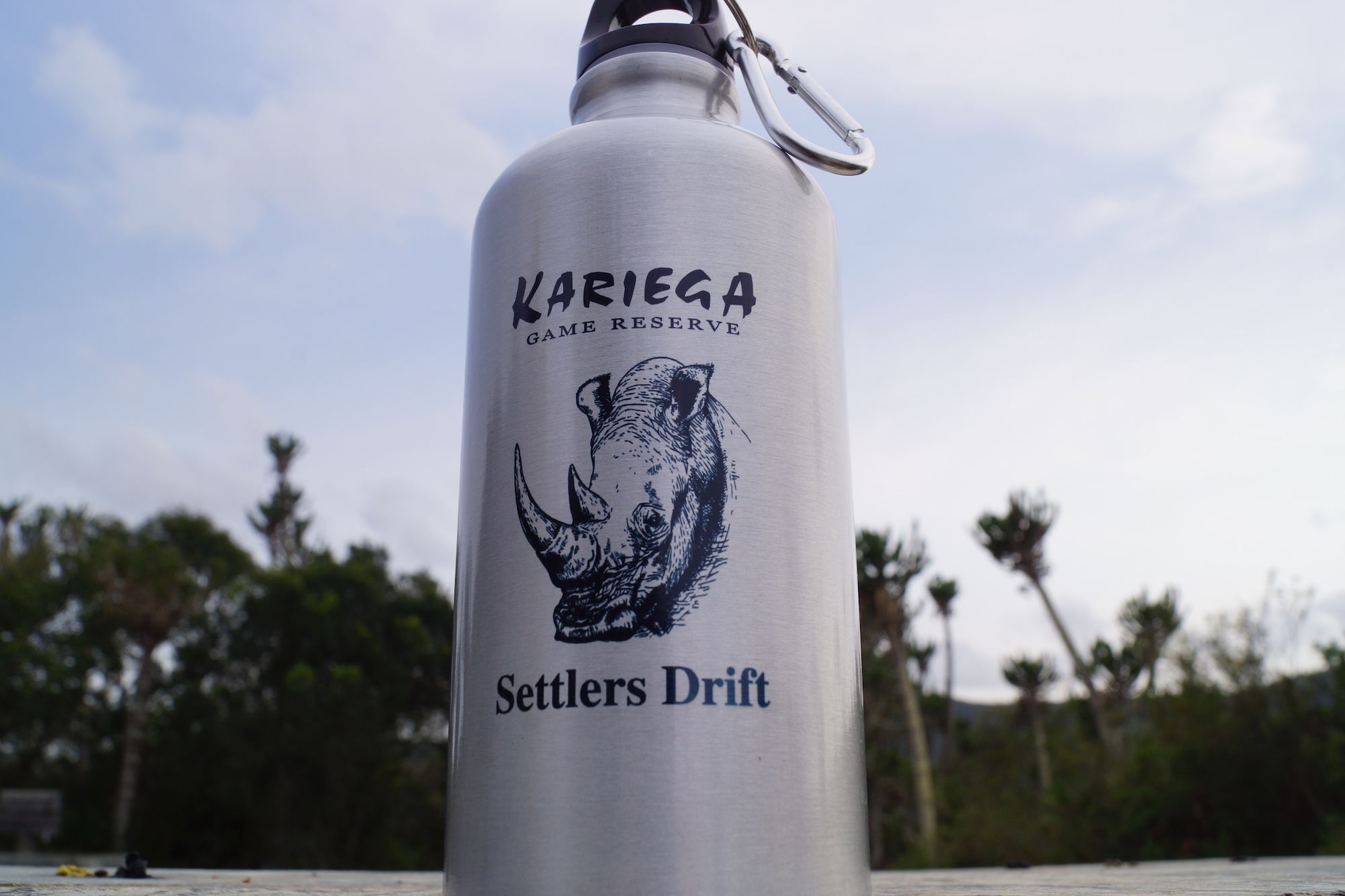 And lastly, we can not be a top safari destination without proactively reducing our plastic footprint. Our 2018 highlight was the removal of plastic straws at all of our safari lodges. Our highlight for 2019 has been the removal of single-use plastic water bottles and implementation of reusable bottles. Settlers Drift replaced all single-use plastic water bottles with reusable bottles in May 2019. River Lodge, Ukhozi Lodge and the Homestead are using glass bottles for still and sparkling water in the lodges and will completely remove single-use plastic water bottles as soon as the rain water storage has been completed. Our Main Lodge project is also in progress. Our safari lodge guests have been enjoying fresh, delicious still and sparking water collected at the lodges and the feedback has been brilliant. There is still much to be done and we will update you on our progress during 2020.
2019 Top Safari Guest Feedback
We are constantly delighted by the feedback from all of our safari guests. We so appreciate the time that each guest takes to send us feedback via our paper and digital questionnaires as well as the public reviews added to TripAdvisor, Facebook, Instagram and the many other channels. We read each review and take action to try to keep improving the Kariega experience for our valued guests. Thank you to everyone who visited and supported us in 2019 we look forward to another fabulous year in 2020.
"Awesome five days at Kariega. Our guide made our trip through her knowledge of the reserve, the animals and the ecology. We all came away in love with SA, but also far more knowledgable about the the important conservation taking place - and the little, but important things like terminate mounds that contribute to the circle of life!" Comments by guest P. Roberts.
We look forward to many more top safari moments with our Kariega Game Reserve guests during 2020. Contact us to book your stay and we look forward to welcoming you to Kariega Game Reserve in South Africa's malaria-free Eastern Cape.