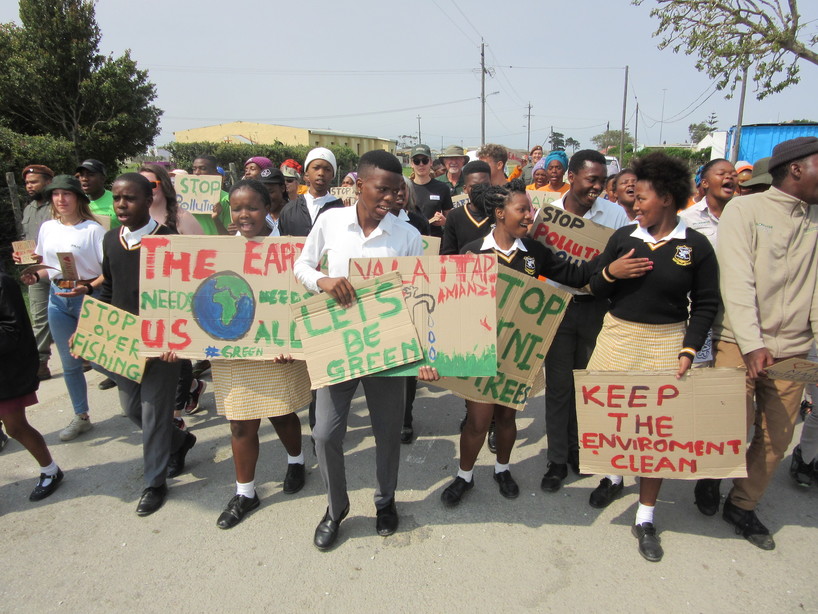 Kariega Game Reserve and the Kariega Foundation are proud to share this update about how our local communities are becoming increasingly aware and active about protecting and preserving our environment. On 19 September 2019 we supported students in a community climate march in KwaNonqubela, Alexandria. This initiative was led by the Grade 11 Ukhanyo Secondary School student environmental committee and supported by the Grade 8 students from Alexandra High. Both of these schools are part of the Kariega Foundation Environmental Education programme, along with four other schools from our local communities of Alexandria, Klipfontein, Marselle and Ekupumuleni.
The Kariega Foundation runs an environmental education outreach programme where students in the participating schools are taught every month about environmental issues ranging from climate change to species extinction. Students have been learning about critical environmental issues throughout the year. The students in our local rural Eastern Cape schools are now informed and seriously concerned. The Ukhanyo Secondary School Grade 11 students decided to form their own student environmental committee to start tackling environmental issues locally and globally.
When the students heard of the 2019 global climate strike, they expressed the wish to stage a demonstration. Their teacher Mrs. Thulisa Buwa as well as Marcia Fargnoli and Chris Bakkes of the Kariega Foundation helped to arrange the community climate march. Students and teachers from Ukhanyo Secondary School and Alexandria High were so serious about this issue that they came together right at the end of school exams when others had already gone on school break. They came back to school and created their own posters and then led the march.
SANParks rangers from Addo Elephant National Park along with interns from the Umzi Wethu Wilderness Foundation joined the march in a great show of solidarity. In addition, workers from the Ndlambe Expanded Public Works Programme in Alexandria, Kariega Volunteers from the USA, Austria, Germany and Britain added international support. The Kariega Game Reserve Anti-Poaching Unit, Kariega Foundation Community Coordinator and Kariega Foundation sports coaches also marched and served as marshals. Overall there were 70 participants. The South African Police and Traffic Department from Alexandria served, protected and supported in a most professional manner.
There was chanting, singing, dancing and sloganeering as only South Africans can! Spectators were not allowed to join the march, but they formed their own procession behind the police escort and added another 30 followers. All-in-all, about 100 people took part in this climate march and it ended up being a larger turn-out than at other climate marches in large cities in South Africa.
A climate march has not taken place before in an impoverished township like KwaNonqubela, Alexandria. The goodwill, friendship and spirit of the people there is very uplifting. Regardless of your means, background or culture NOW is the right time for everyone unite against environmental degradation.
Want To Get Involved?
If you would like to find out more about the Kariega Foundation Environmental Education programme and perhaps get involved please contact us via email on foundation@kariega.co.za. If you are joining us for a Kariega safari, you are welcome to pop in and visit us in our new offices located at Main Lodge reception. The Kariega Foundation community and conservation levy already makes guests a valued partner but talk to us if you would like to do more.
Here are some other ideas to get involved:
Photograph and words thanks to Kariega Foundation environmental education leaders Chris Bakkes and Marcia Fargnoli.