Eastern Cape Waste Cleanup Day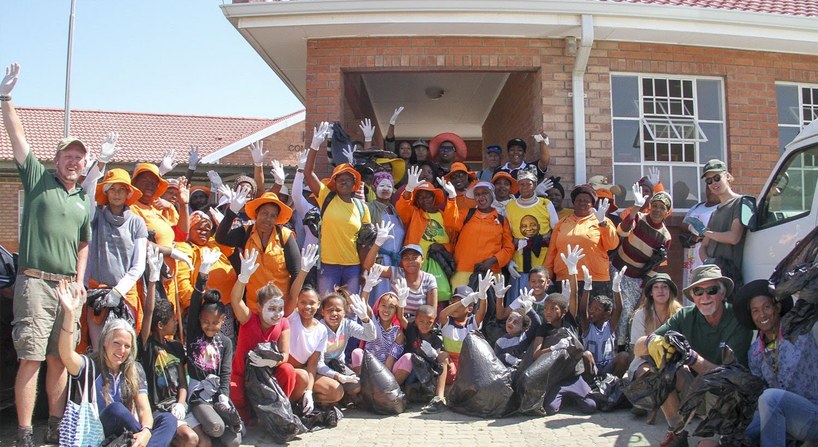 The Eastern Cape region of South Africa is rich in biodiversity, including a wide variety of indigenous animals, birds, reptiles, amphibians, insects, fish and plants. Kariega Game Reserve, along with other interest groups in the Eastern Cape, are committed to ensuring that this diversity is protected for a sustainable future. Some of the current threats to biodiversity include alien vegetation, erosion, pollution and waste management. 
As part of our conservation and community programmes, our Kariega Foundation and Kariega Volunteer teams participated in an Eastern Cape waste cleanup day on 27 September 2019 in nearby Klipfontein. We were joined by nearly 60 other people, including the Ward 3 Councillor Cynthia James, Harmony Park Community Leader Eugene Williams, local children from Klipfontein Primary School, Ndlambe Municiality Public Works Programme workers and local residents.
The day began with an informative presentation about waste and recycling by Marcia Fargnoli and Chris Bakkes, leaders of the Kariega Foundation Environmental Education project. The Kariega Volunteer Programme coordinator Jarrett Joubert gave a demonstration of how to make eco-bricks (pictured below).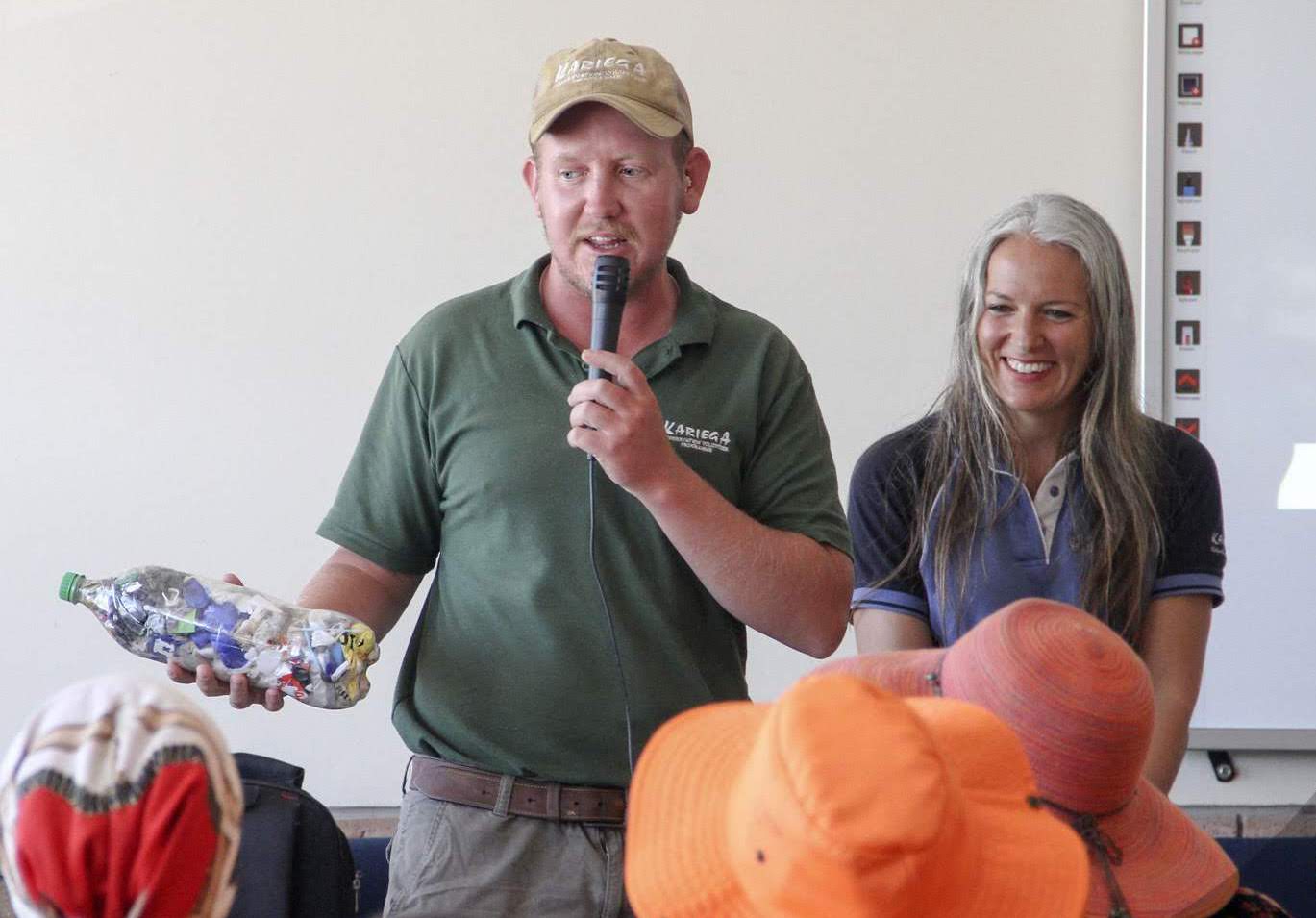 Afterwards, people dispersed around Klipfontein and cleaned up enough garbage to fill a skip container! All participants showed great commitment in this effort, spending about two and a half hours cleaning up in the hot sun. The garbage was mainly plastic debris, but there was also a lot of glass, paper and styrofoam. There were old television sets and bulky electronic waste also found amidst the debris. A large amount of building rubble was also removed.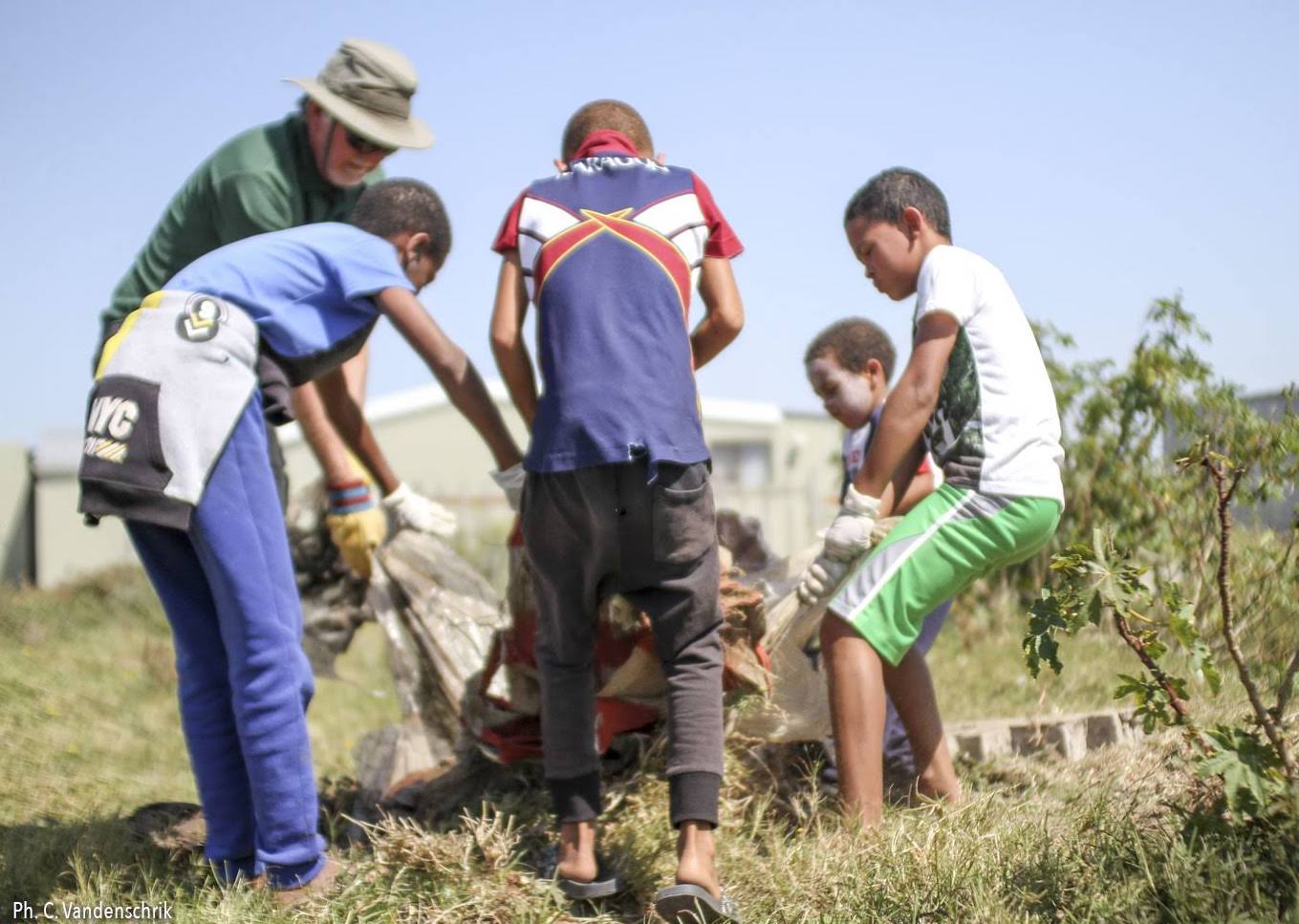 Our sincere thanks to this Eastern Cape waste cleanup crew for taking the time to clean up this area. We would also like to thank to Leach Pharmacy for providing rubber gloves, Spar Port Alfred and Ndlambe Municipality for providing cleanup bags, and Cedric Vandenschrik for taking photographs of the event.
Want To Get Involved?
Find out more about the Kariega Foundation and our various conservation and community projects on our website. You can also read more about our Kariega Foundation environmental education programme. We are happy for you to contact us via email on foundation@kariega.co.za if you have questions or comments. 
If you are joining us for a Kariega safari, you are welcome to pop in and visit us in our Kariega Foundation offices located at Main Lodge reception. The Kariega Foundation is fuelled by a community and conservation levy paid by adult guests visiting Kariega Game Reserve, making all safari guests and the Kariega Game Reserve owners, management and staff our valued partners and supporters.
Here are some other ideas if you would like to get involved:
Photographs of the Eastern Cape waste cleanup day thanks to Cedric Vandenschrik. Words thanks to Kariega Foundation environmental education leaders Chris Bakkes and Marcia Fargnoli.