On Wednesday 3 April 2019 we celebrated the surprise birth of poaching survivor Thandi's third rhino baby at Kariega Game Reserve. This video was captured by Kariega guide Jesse a few days after the birth. 
We decided to name the male white rhino calf Mthetho, which means justice in isiXhosa. This name was chosen to commemorate the conviction and sentencing of three rhino poachers which co-incidentally took place on 3 April 2019 in nearby Grahamstown. The three members of the notorious Ndlovu gang were each sentenced to an effective 25 years in prison after being found guilty of 55 criminal counts involving the poaching of 13 rhinos in our Eastern Cape region between 2013 and 2016. 
Thandi became the first rhino to ever survive a poaching attack. She and two male rhinos were discovered at Kariega on 2 March 2012 after their horns were brutally removed with machetes and were left to die by poachers. The two males sadly died, whilst Thandi fought to survive under the care of the Kariega team and wildlife veterinarian Dr William Fowlds. Her bravery was unbelievable and inspired us to name her Thandi, meaning courage and to be loved in isiXhosa.
Dr Fowlds commented after the trial, "Today we have witnessed the sentencing of one of South Africa's most notorious poaching gangs. Sadly, they may never be tried for all the rhino they hacked to pieces. Many who have witnessed the waste and the mutilation left behind by this ruthless gang will quietly find their faces wet with tears at the extent of the loss and tragedy of it all."
The gang are suspected of poaching many more rhino, and it is possible that they could have attacked Thandi and the two male rhinos at Kariega in March 2012.
Justice has been done and we hope that this case will serve as a deterrent to any would-be poachers.
Support for Rhino Baby Name Justice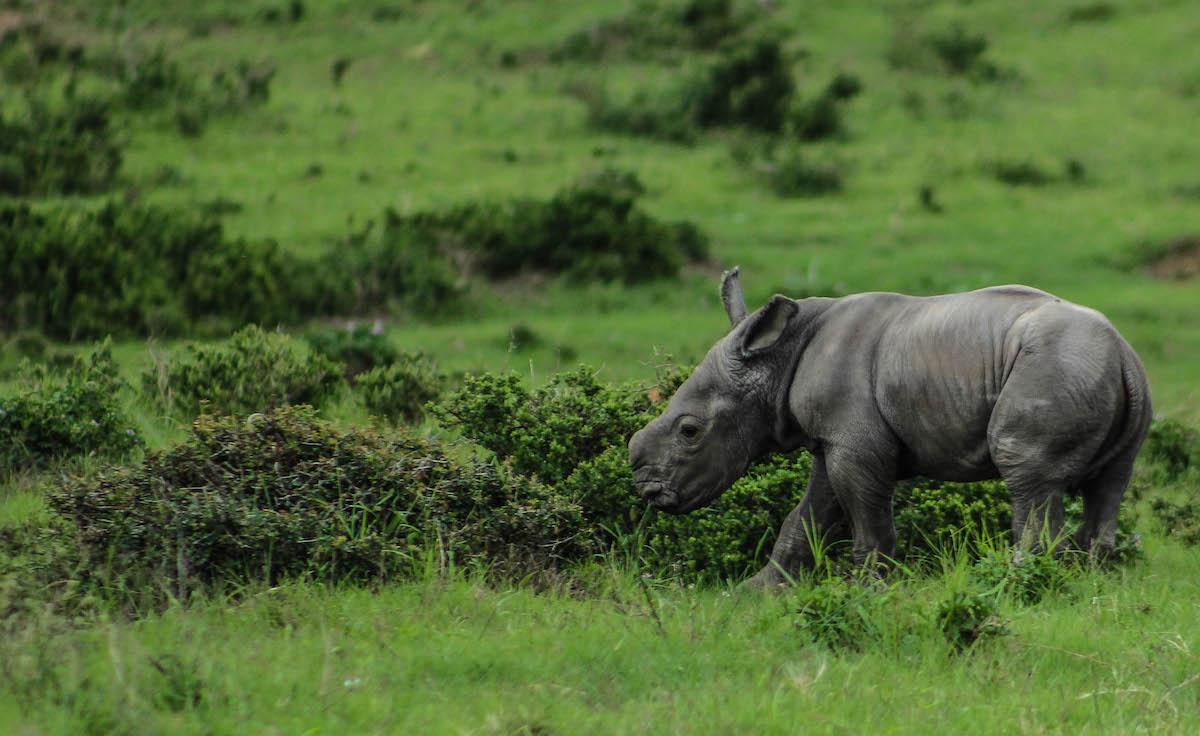 We have received huge support from around the world for rhino Thandi and her three calves via our social media communities. Below are some of the comments when we announced on our Kariega Facebook page that Thandi's new baby would be called Mthetho or Justice. We are hugely grateful to those who use social media to spread awareness about the rhino poaching crisis and the need to protect and conserve rhino.
"May Justice prevail! Well done Thandi, you are a star." Brigitte Tournier.
"What a poignant name Justice and a great outcome for the anti poaching campaign. Keep the photos coming of Justice. We are loving them back here in England." Lisa Mcmahon.
"Perfect name, well chosen! All the best for the Kariega rhino family💕💞Followed the court case and sentencing, at last JUSTICE was done..." Chrissie Kelly.
"Perfect name. What a beautiful baby. A tribute to all the A Team who have worked so damn hard to get the sentencing of 25 years for cold-blooded murderers. Justice you reign supreme and may you be forever safe." Carol Harnwell.
Rhino Thandi and New Calf Justice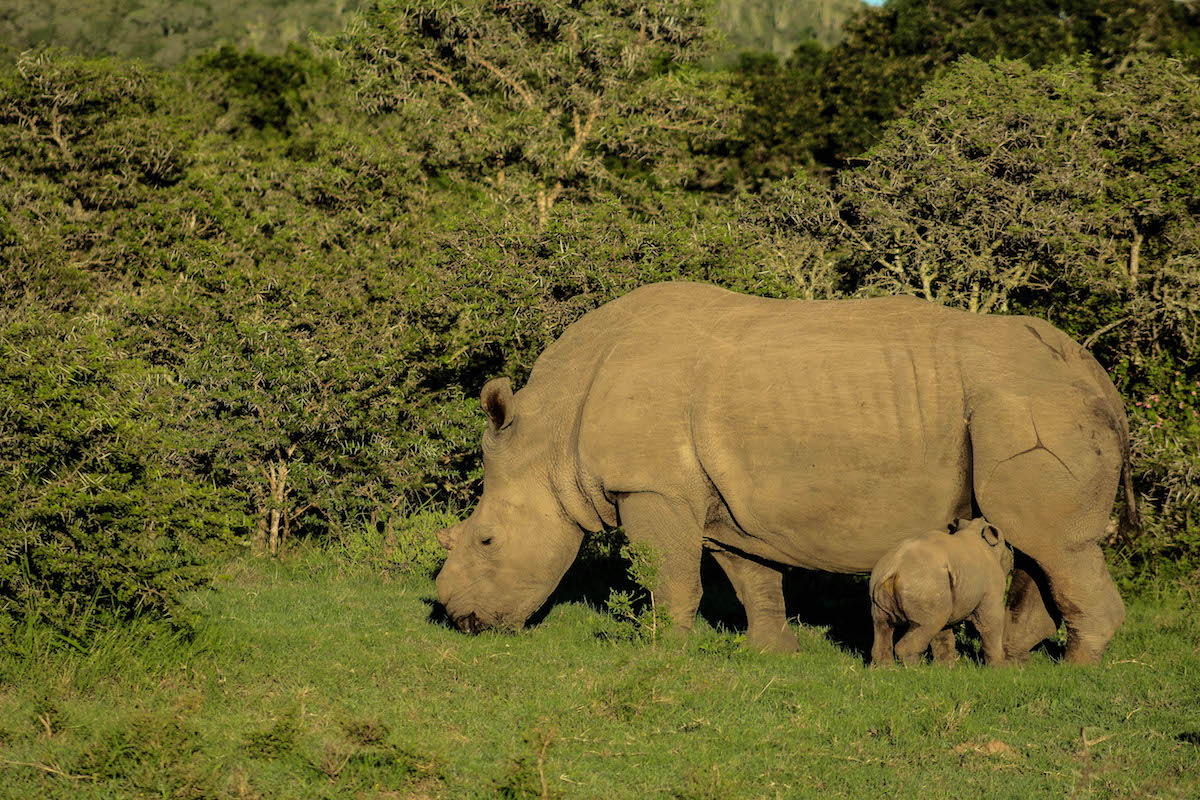 Justice is the third calf of poaching survivor Thandi. Her two other calves are Thembi (born in 2015) and Colin (born in 2017). 
Justice would have been up and walking within an hour after his birth and he probably weighs between 60 and 100 kilograms (130 - 220 pounds). He regularly nurses from his mum and will start grazing at round two months old. 
We hope the collective names of these rhino, love and courage (Thandi), hope (Thembi), victory of the people (Colin) and justice (Mthetho) is reminder that this incredible species are still in grave danger of becoming extinct and we must remain vigilant in our commitment to their protection and preservation. Please read more about our Save the Rhino project.
Adopt Rhino Justice with Helping Rhino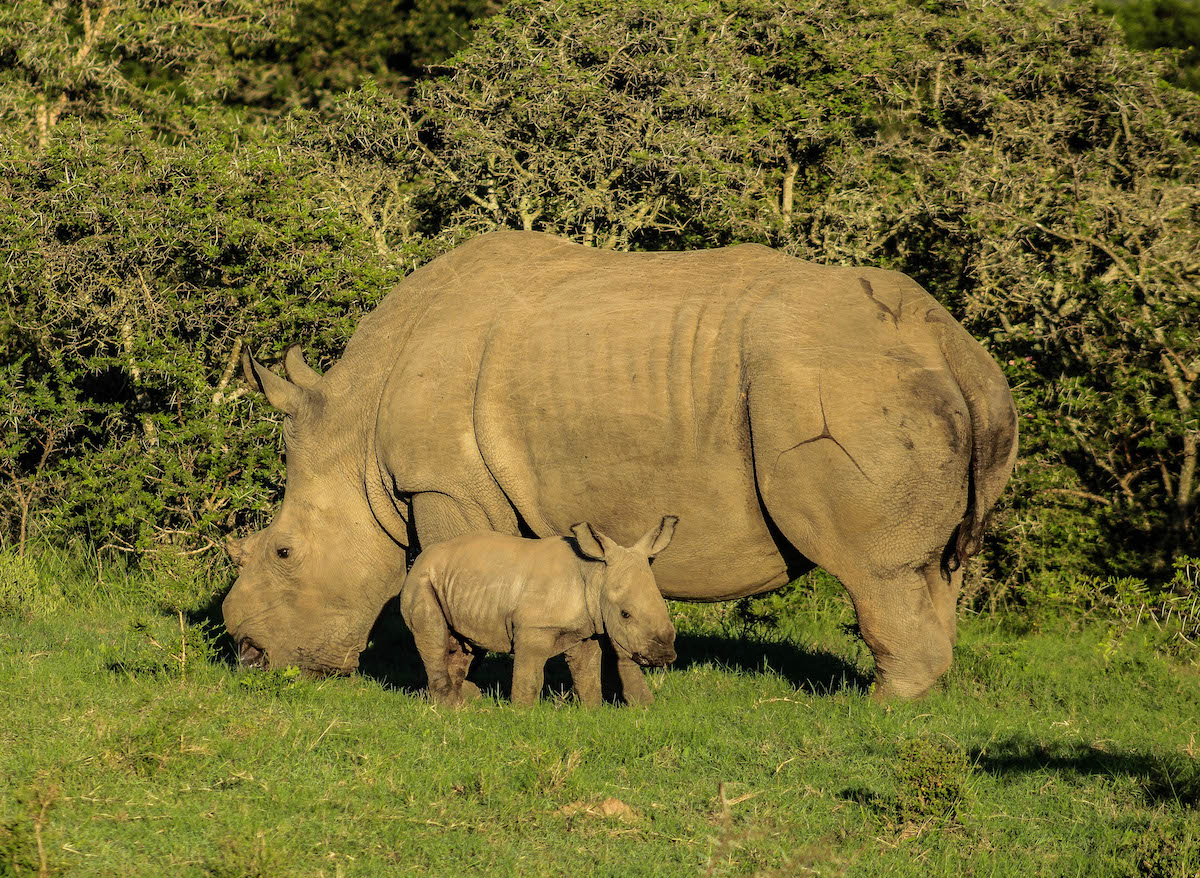 We need your help to protect rhino Justice and his family. The Kariega Foundation, in collaboration with Kariega Game Reserve, invests a substantial amount of funds in various rhino protection and education programmes. This includes the operations of an extensive anti rhino-poaching unit (APU) on the reserve and comprehensive environmental education in local communities. It is a heavy burden to carry alone and we are immensely grateful to so many people who offer support through donations and fundraising initiatives.
We have partnered with Helping Rhinos, an innovative UK charity dedicated to saving the rhino, to provide a wonderful opportunity for you to help our efforts in protecting Thandi and her family and the rhino species at large. Please visit the Helping Rhino Adoption Centre to find out how you can adopt Justice is a few easy steps.
The first 50 adopters will be entered into a lucky draw and one rhino lover will win an all-inclusive two night stay for two people at Ukhozi Lodge. In addition the winner will enjoy a personal field guide dedicated to looking for Thandi and Mthetho in the wild.
We will continue to share updates about this wonderful rhino family via social media. Please connect with us on Facebook, Instagram, Twitter and YouTube. 
Video thanks to Kariega guide Jesse Fermor and images thanks to guide Brett.