Male African Leopard


Photo of the Week
,
Kariega News

leopard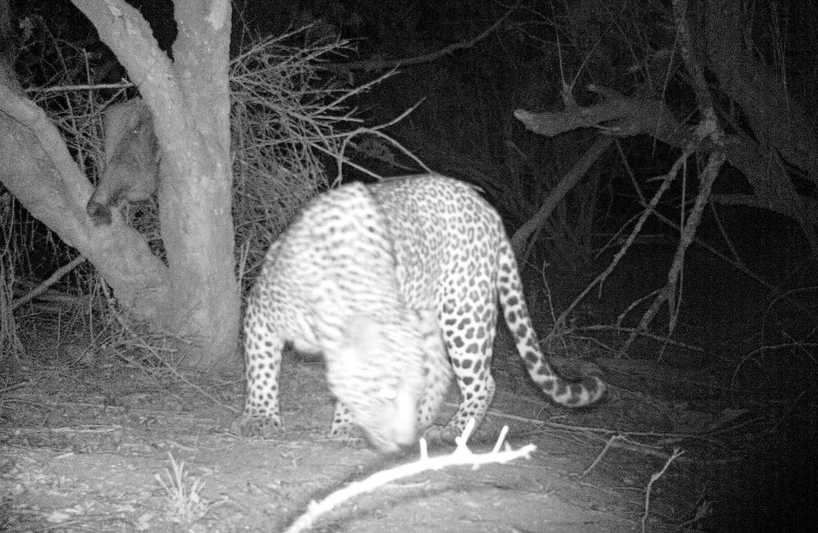 This image of a large male African leopard was taken by one of our monitoring cameras recently. We are delighted to see a healthy adult leopard roaming on Kariega Game Reserve.
The incredibly elusive nature of leopards means that sightings are very rare and the animals are difficult to photograph. Additionally, their territories are very large (around 1,000km²) and so they are not limited to our protected area. Although we regularly see signs of leopard at Kariega, the animals are very difficult to spot. Leopards have the incredible ability to live virtually unnoticed as completely free-roaming cats.
Since the 19th century African leopards have been extensively hunted, mostly due to them attacking livestock. This persecution has continued into the 21st century. This treatment has pushed a naturally elusive species further into the rocky outreaches of the Eastern Cape where they have managed to survive unaided. Although the African leopard has endured, their numbers have dwindled significantly. These large cats are listed as vulnerable on IUCN Red List and their numbers are decreasing.
Kariega African Leopard Monitoring Programme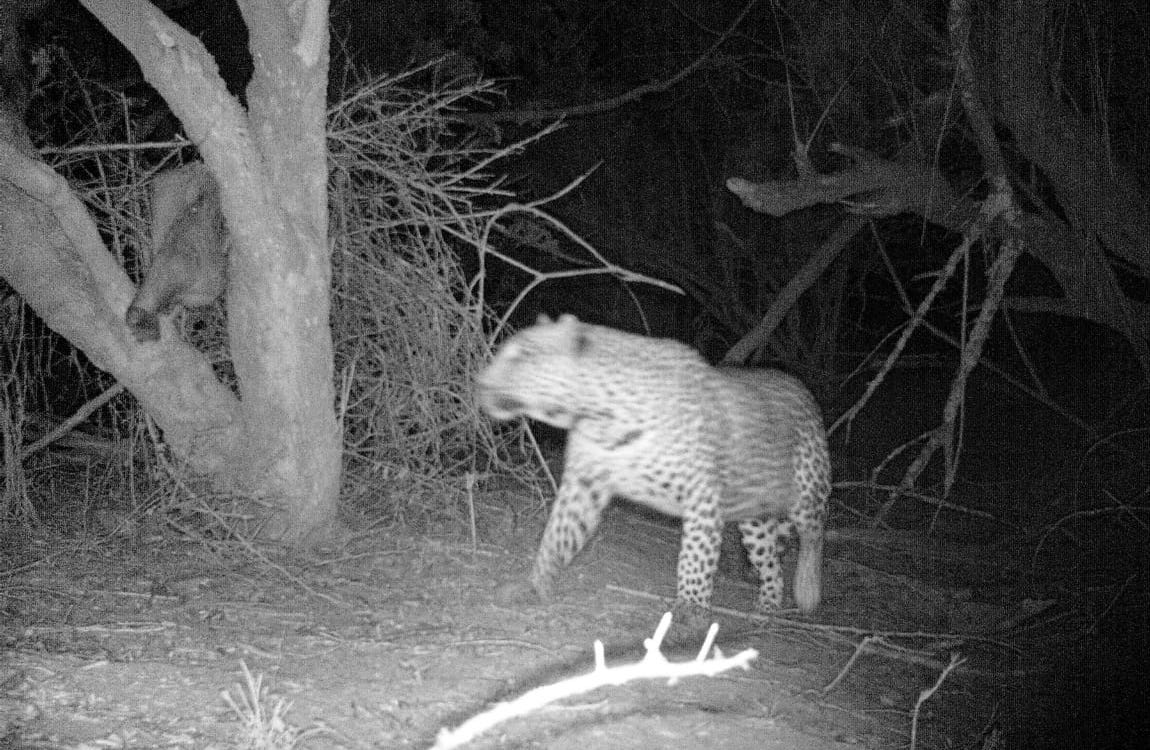 Kariega has been operating an ongoing African leopard monitoring programme as part of our conservation plan, lead by our ecologist Chris Reynecke. Significant work has been done with local farmers, along with other conservation organisations, to monitor and protect leopard in our area. Chris comments, "This is definitely an adult male African leopard and is the same one that we have been monitoring for more than a year. This is the first time we have photographs of him which shows how elusive these cats are. We have been working very closely with the farmers in the area. They are very progressive and are committed to leopard conservation. We are all very excited about this sighting."
We are very grateful for the ongoing support that we have received for our African leopard conservation project. We would particularly like to thank Sarah Cobden-Ramsay from Rhino Tears for the donation of the camera traps that took these photographs. Sarah sells beautiful jewellery called Rhino Tears and donates 100% of profits to various conservation and anti-poaching projects across Africa. Thank you to all those who have bought this beautiful jewellery with a conscience.
Our thanks also to Sarah Menzies from the African Cat Project, an Australian non-profit organisation dedicated to conserving Africa's three big cats - lion, leopard and cheetah. We have received various donations from the African Cat Project to support our leopard conservation programme.
African Leopard Facts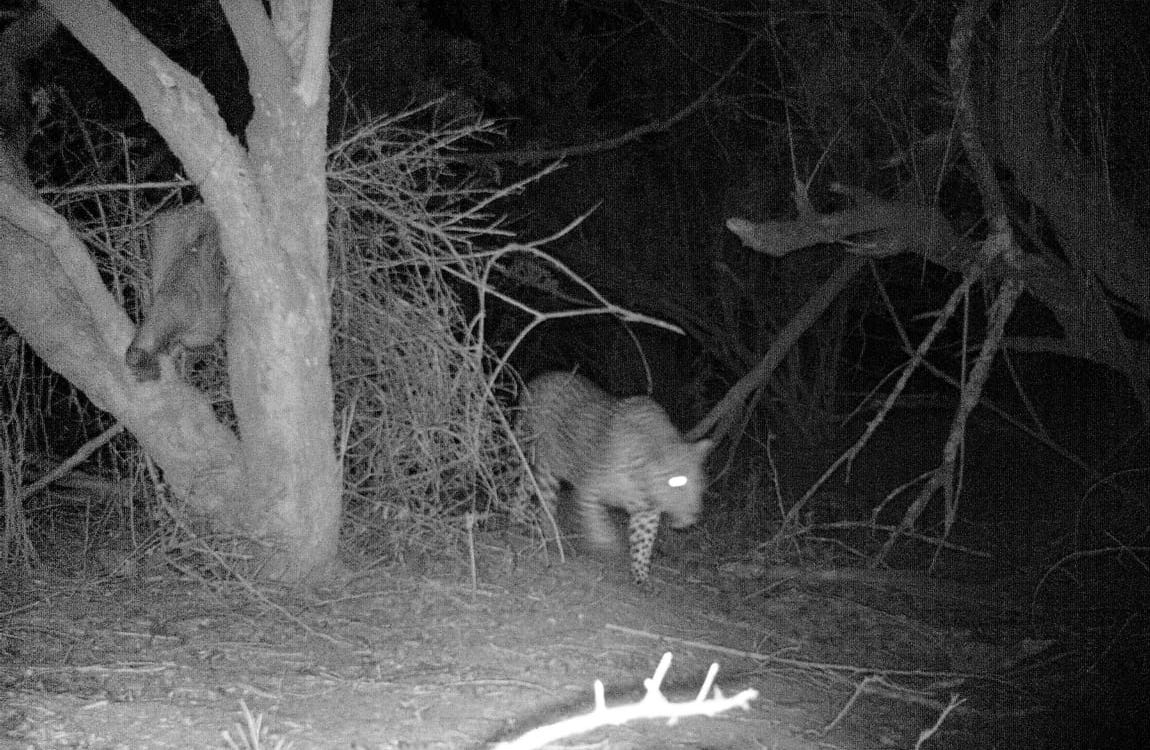 Here are some interesting facts about African leopards:
The scientific name for an African leopard is Panthera pardus pardus.
There are nine recognised leopard subspecies across the world.
Male African leopards weigh an average of 60 kg (130 lb). Lions are the largest of Africa's wildcats and male lions average around 190 kg.
African leopards are nocturnal and mainly active at night.
Leopards have a highly varied diet and feed on antelope, reptiles, birds and even insects.
Leopards are good climbers and can descend from a tree headfirst.
Leopards are generally solitary.
African leopards have spots called rosettes. These are clusters of spots put together like the petals on a rose (or flower).
Stay in Touch
Be sure to subscribe to our blogs and join our Facebook, Instagram and Twitter communities to make sure you don't miss updates about wildlife sightings, lodge updates and more from Kariega Game Reserve.
If you captured any rare or interesting wildlife sightings while on safari at Kariega Game we encourage you to submit them into our 2020 Facebook and Instagram Photo Competition. The prize for the winners is an all-inclusive two night stay for two people at Ukhozi Lodge. Read here to find out how to enter: