What to Expect from South African Safari Guides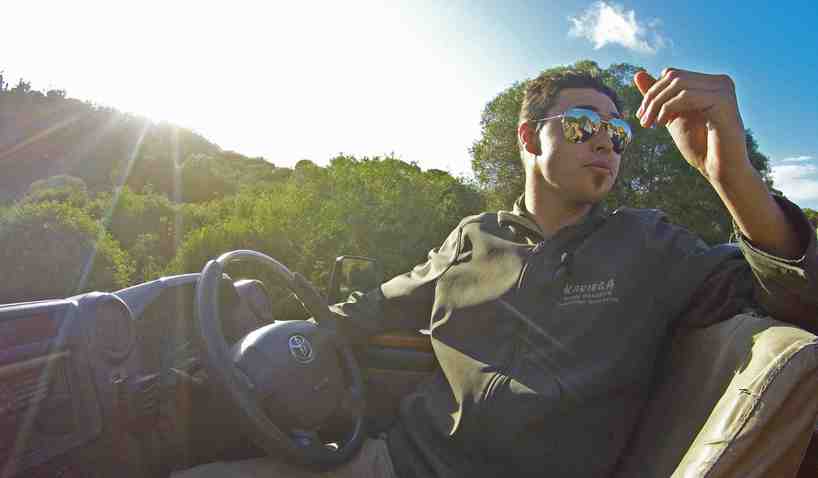 Going on a South African safari is an extremely exciting experience and many people do not know what to expect. Fortunately all guests at Kariega Game Reserve in the Eastern Cape of South Africa are hosted by a qualified safari guide and looked after by our helpful and friendly team. Read on to find out what to expect from a guided South African safari experience including the role of a guide, how guides interact with guests, guide qualifications and some comments from guides and guests.
When you are planning a South African safari holiday you will have a number of questions in your mind. What will the reserve and lodge look like, what animals can be seen, is it safe to view lions from an open vehicle, how will we wake up on time for the morning safari, what time are the game drives, what else is there to do on the reserve, what should we pack, what activities are their for children and who will answer all of our questions? 
Some of these questions must be answered before you leave home and we encourage you to read our frequently asked questions, send your booking agent an email or contact us via email. However, from the moment you arrive at the gates of Kariega Game Reserve to the time you wave goodbye you can expect to relax as you will be looked after by our team. From the guard at the gate, to the check in team, the lodge managers, housekeepers, waitrons, chefs and of course your South African safari guide (also called a game ranger or field guide). Guests are met on arrival by their guide who will explain the schedule and be the key contact for the duration of their stay. Our aim is that your guide will answer all of your questions and do their best to make your South African safari better than you ever imagined!
Roles of a South African Safari Guide
Our field guides are trained and experienced to deliver a safe and memorable safari experience. Their key role is to drive you out on safari every morning and afternoon/evening in open game-drive vehicles. You will spend at least three hours with your guide on each of the twice-daily safari drives. Close-up encounters with African wildlife are the centre of guests' unforgettable safari holidays. Our experienced guides will traverse the valleys, grassy plains and bushveld to bring you close to the Big 5 and other game roaming freely in their natural habitat. If you are fortunate, you may witness the lion hunting or feeding, or even the heartwarming social interactions of an elephant herd.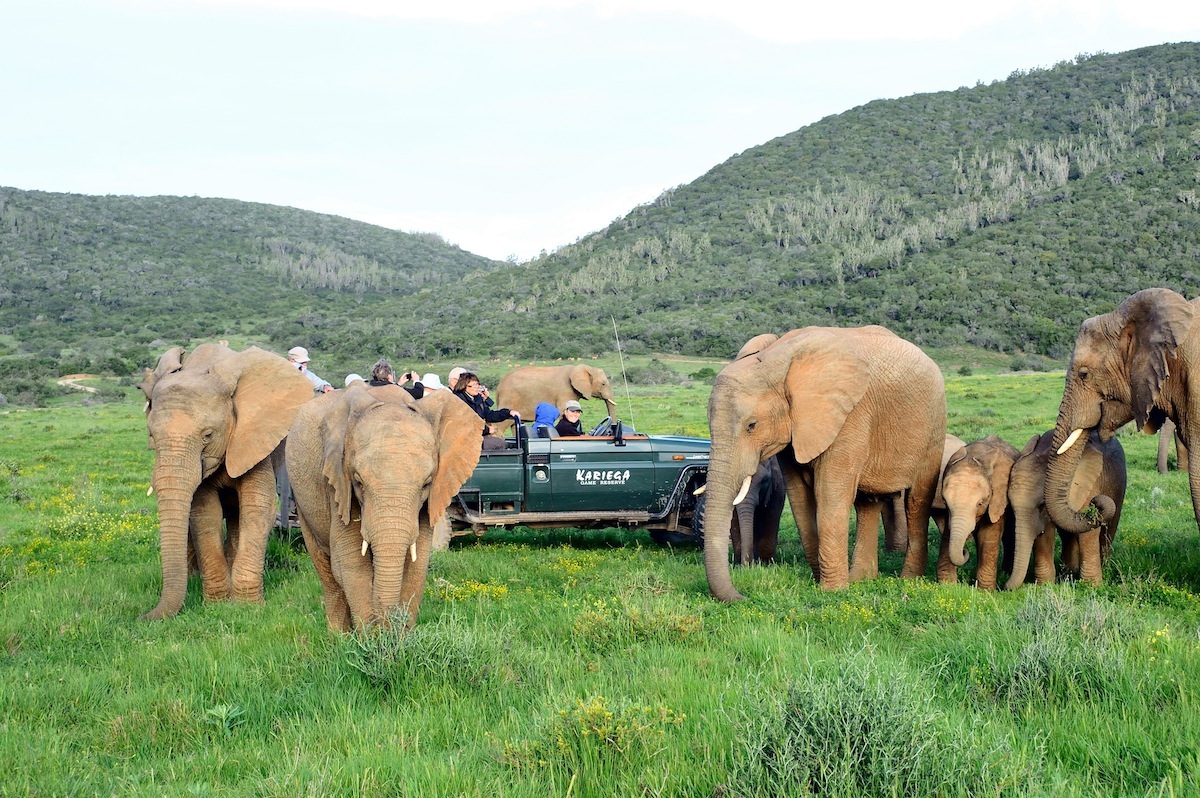 During the safari drives you can ask your guide as many questions as you like. Past guest Helen posted this recently on TripAdvisor:
"Well I don't really know where to start - from the minute we arrived to the minute we were leaving everything was amazing- a huge thank you to Nathan who was our field guide for the 3 days - very knowledgeable, a good sense of humour and willing to answer any questions!"
Field guide Zolani has years of experience and believes that a guide is there to make the guests' dreams come true as they have always wanted to experience wild animals and amazing sightings. Guide Reece says the key role of a guide is to be the link between the guests and the outside world, not only showing them the large animals but also the smaller things like insects, reptiles, birds and plants. Guide Ben feels that a guide's passion for wildlife and nature can be passed on to their guests and create an even more memorable experience for everyone.
In addition to the safari drives, the role of your ranger is to lead a guided bush walk (weather and time permitting). You will explore the wilderness on foot and enjoy time amongst more than 25 species of game and abundant birdlife. These walks often provide opportunities to discuss the smaller things with your guide and of course, to answer more of your questions! Read our blog about the five top reasons to do a guided bush walk.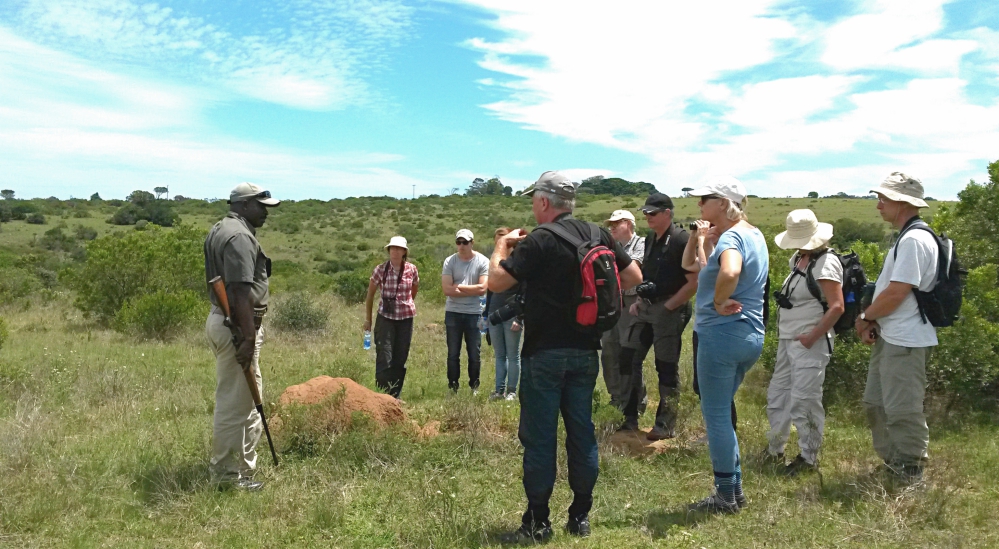 The role of your safari guide also includes hosting as many of the other all-inclusive safari activities as time, interests and weather allows. These activities are a river cruise, river fishing and canoeing. Discuss these options with your ranger and your group to see how these activities can be accommodated. We recommend staying for at least a three nights to allow time to enjoy all safari activities.

This is the feedback Emma Brice sent us about her South African safari at Settlers Drift:
"I was sitting here 3 months after my trip when I suddenly realised that I hadn't given a review! I never normally write reviews unless I have had an exceptional experience. We spent 3 nights at Settlers Drift and from the moment you arrive at the gates the excitement begins. From this moment you feel like you have walked into heaven and have the most luxurious few days. I felt like I was in a dream the whole time I was there and cannot fault a single thing. The staff go above and beyond to make you feel like you're at home. They really do try to accommodate everybody. The safari itself is out of this world. The sunsets, sundowners, bush walk, boat trip and the truck rides were fab! But seeing the animals in their natural environment is just wonderful! The guides are so experienced, knowledgeable and passionate about their job and they do everything they can to get you to see as much as you can. I will never ever forget the four days I spent here and would recommend it to everybody and anybody. It honestly was the best 3 days of my life. You have to go to Kariega and you have to stay at Settlers Drift!"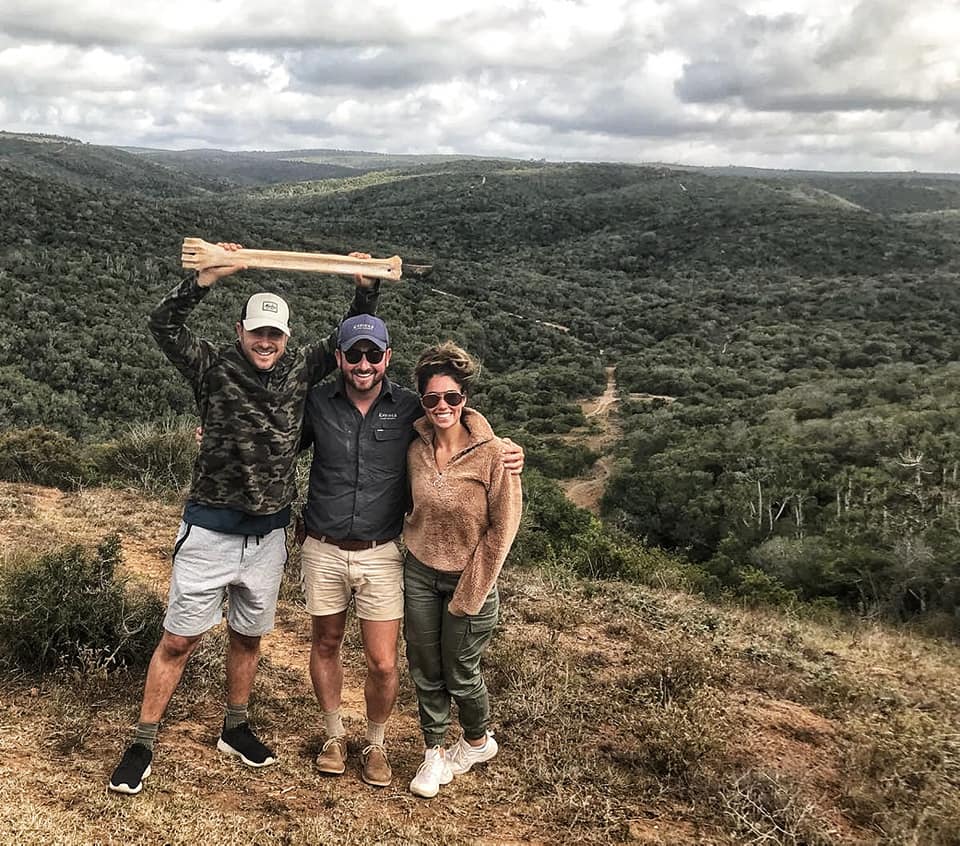 Below is the typical daily schedule that you can expect during your South African safari at Main Lodge, Ukhozi Lodge and the Homestead. Slight variations at River Lodge and Settlers Drift can be viewed on our typical day page. The itinerary at the Homestead is very flexible the schedule can be adjusted to accommodate the requests or needs of each family or group. During winter months times are adjusted and Main Lodge guests enjoy a hearty breakfast before their morning game drive.
06h00 : Tea, coffee and a snack. Depart for an early morning game drive or perhaps a river cruise.
10h00 : Return to your lodge for a late, but hearty breakfast/brunch.
11h00 : Enjoy a bush walk, a spa treatment, go canoeing, have a swim, or just relax or siesta.
14h30 : Savor the flavors of our well-earned afternoon eats.
16h00 : Depart for an evening game drive and sundowners.
19h30 : Return to the lodge for your evening meal in either the boma or the restaurant.
In addition to their key role of hosting guests on all of the inclusive safari experiences, the safari guides also connect guests with other members of our team including the lodge managers, waitresses, wellness, bar, maintenance, catering and housekeeping staff. We encourage guests to ask their guide to assist them to ensure that their needs are met at all times. Questions could relate to the Kids of Safari programme at Main Lodge, self-guided Blue Duiker walking trail around Ukhozi Lodge and Main Lodge, how to book a treatment at any of the Wellness Centres or what times the Curio Shops are open.
Finally, the role of your safari guide is also to share information about conservation and community projects managed by our Kariega Foundation. All projects are made possible by the funds raised from the conservation and community levy paid by all guests. Read out more about the Kariega Foundation key projects and how you can get involved.
South African Safari Guide Qualifications
South African safari field guides are required to pass a number of theoretical and practical exams before they can apply for a guiding position. These qualifications must be obtained through an accredited field guide training provider. All training courses must be accredited by the Cultural Activities, Tourism, Hospitality and Sports Education and Training Authority (CATHSSETA). This body regulates and administers the qualifications for the South African field guide industry.
All safari guides at Kariega Game Reserve have passed at least the first level of field guide examinations. Most of our guides are working towards their advanced or specialist field guide qualifications. Specialist areas include marine studies, photography, walking guide, advanced birding, geology and track and sign identification.
South African safari guides also require a valid drivers licence, a Public Drivers Permit (PDP), 4X4 driving, rifle handling and a valid First Aid certificate. Guides must also be registered with the South African Department of Environment and Tourism (DEAT) and most are also registered with the Field Guide Association of South Africa (FGASA).
Read more about the qualifications required to be a South African safari guide.
In addition to the required qualifications, Kariega guide Nick says, "People skills are a must as most of your time as a guide is spent interacting with people, not animals." Field guide Nic Mortley thinks that a good sense of humour is also a good skill to have in this line of work. "Having respect for those around you and the bush is also very important," says field guide Amber.
A good sense of humour is definitely important, especially when asked these kinds of questions:
Are the animals put back in their stables at night time?
How are the birds kept on the reserve and kept from flying away?
Who mows the lawn?
Can we pet the lions?
Who waters the grass?
A recent guest from California commented:
"Then we stayed in River Lodge and that location was beyond compare. The main lodge is on the river and we watched the docks go up and down with the tides. Our guide Trust had a gift for storytelling and combined humor with deep details about the animals. I loved the faces of the people on our jeep when he picked up two pieces of dung and shared which one belonged to which animal and why. Fascinating and priceless at the same time!"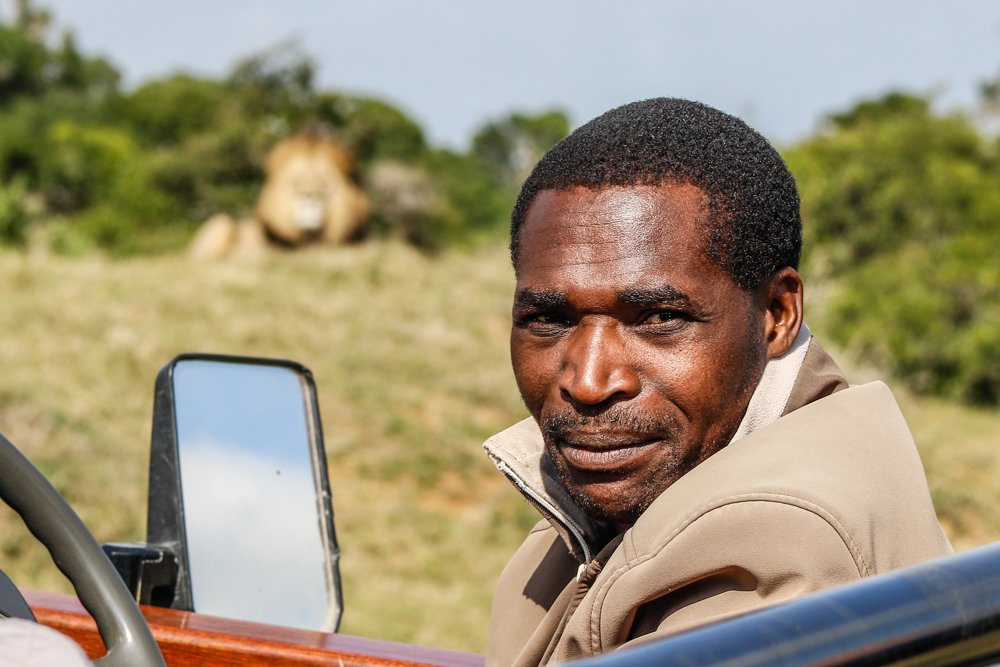 You can expect to be surprised and delighted during your guided South African safari. Field guide Amber says one of her favourite experiences was being surrounded by the herd of elephants and the small calves being very playful. Guide JC remembers the time that he and his guests were lucky enough to see two brown hyenas playing with a bone for 40 minutes and another occasion when he and guests watched a lionesses trying to hunt a porcupine - a very prickly meal!
Share your South African Safari Guide Experiences
Did your field guide meet or exceed your expectations during your Kariega Game Reserve safaris? Tell us all about your experiences and the memories that you made when on safari. We would love to hear your stories and see your photos and videos featuring your Kariega Game Reserve safari guide. Share them with us by posting them on our social media channels including Facebook, Instagram, Twitter and YouTube.
If you have not yet decided on a South African safari destination we would love to assist you to plan and book your malaria-free safari at Kariega Game Reserve. View our safari special offers, check availability and rates online, book via our secure online system or contact us via email on reservations@kariega.co.za for more information. We also offer assistance with South African tours and can put you in touch with experienced and trusted tour specialists. Contact us to plan your guided South Africa safari today!
"When we arrived our guide Allen came out to introduce himself. What a wonderful man. Throughout our game drives he was able to answer all our questions and, more importantly, he was a genuinely nice young man. He helped make the experience that much more enjoyable but that is not meant to detract from the other staff. The staff we met were all a credit to the lodge, a welcome smile and nothing too much trouble." Comments from recent guest Martin.