Safari Bush Walk: Blue Duiker Trail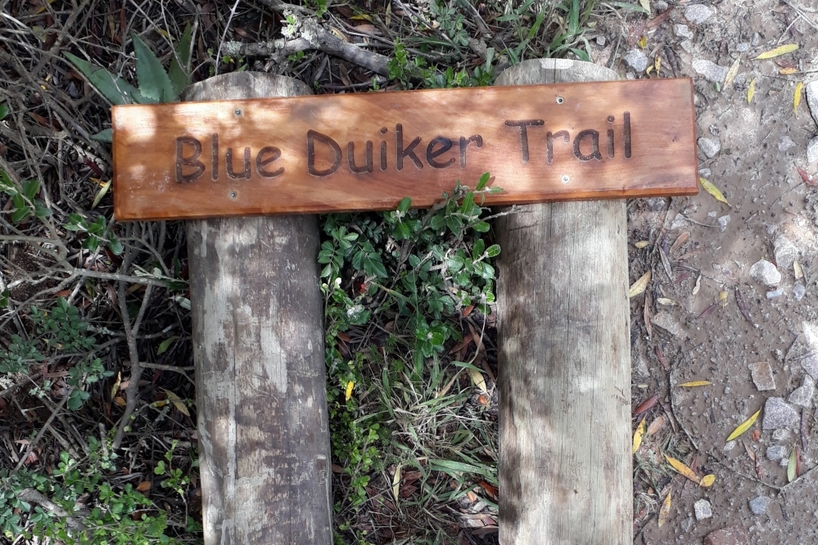 Kariega offers a wide range of safari activities in our all-inclusive safari offering - safari drives in open vehicles, bush walks, boat cruises along either the Bushman's or the Kariega rivers, river canoeing and river fishing. All these activities are led by an experienced safari guide. Guests staying at Main Lodge and Ukhozi Lodge also have the option to enjoy a self-guided safari bush walk on the blue duiker trail within the fenced area. This is a great opportunity to stretch your legs and get some exercise or just enjoy the tranquility, beauty and sounds of the African bush.
What to Expect on Blue Duiker Safari Bush Walk
The blue duiker trail is a circular walk that takes between 45 minutes to an hour to complete. The starting point is between Main Lodge chalets 8 and 9 and is clearly marked with a blue duiker trail sign. Guests can ask their ranger or any member of the Kariega team to show them if they are uncertain. Your ranger will be happy to walk with you if you prefer. The safari bush walk is suitable for both adults and children, especially those who may need to burn off some energy after sitting still in the game drive vehicle.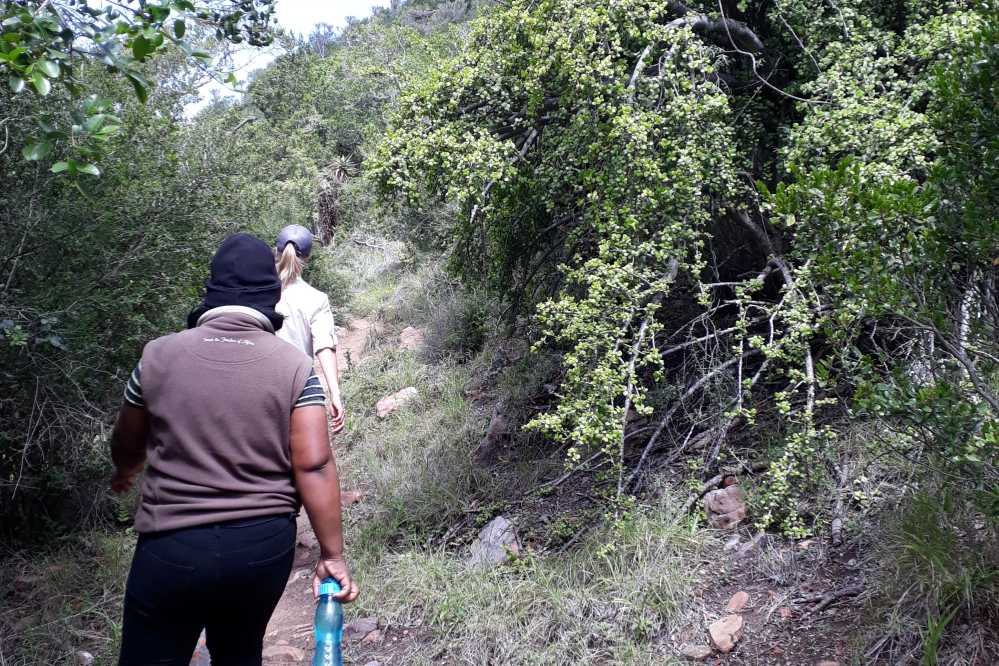 This trail follows the side of a ridge and includes both indigenous forest and open areas with views onto the valley and possibly distant wildlife sightings. This trail is suitable for people of all levels of fitness, however, there are one or two steep sections and quite a few uneven parts which may be a challenge for those that are not so fit or a bit unsteady on their feet. Guests can choose to do the full circular bush walk or go as far as you choose and then just turn around and head back the same way.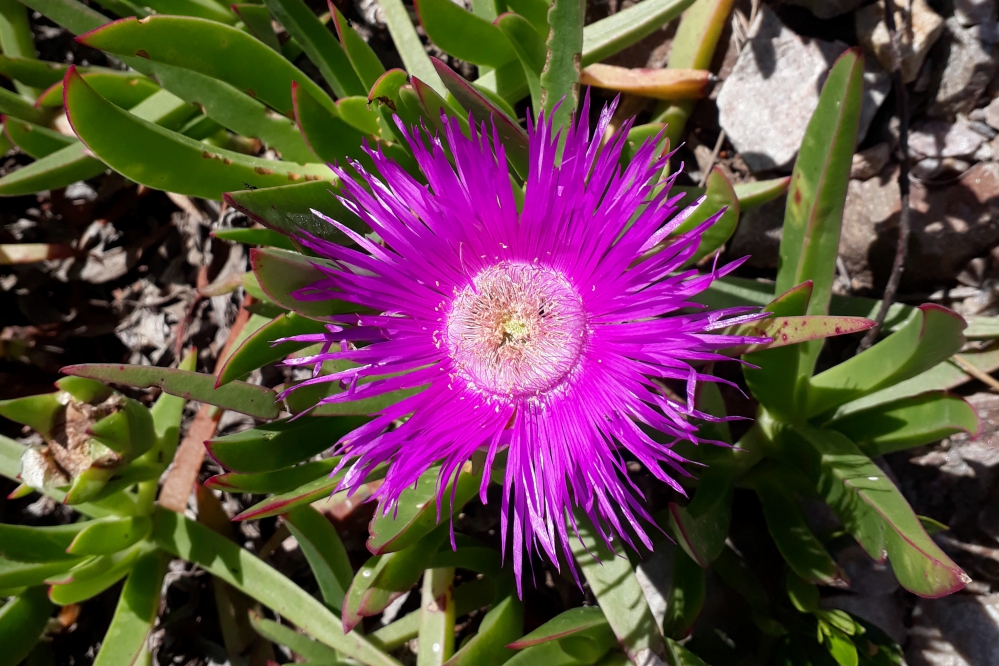 The trail is perfect for guests who would like to enjoy the flowers, vegetation, insects and birds. You may be lucky to see the shy blue duiker antelope, who the trail is named after. You are more likely to see bush buck as they are more used to humans and can also sometimes be seen and heard around the chalets. Please don't approach or attempt to feed any of the wildlife.
Environmental Education on Blue Duiker Trail
There are environmental education signs at various points along the trail. These were set up by the Kariega Conservation Volunteers to provide information about the animals and birds that live in the area. The bird life is wonderful and if you sit quietly and wait you may be lucky enough to see a Knysna turaco with it's gorgeous flash of red under its wings or an olive thrush as it works its way through the leaf litter in search of a meal. In addition to bush buck and blue duikers look out for chameleons, helmeted guinea fowl, vervet monkeys and baboons.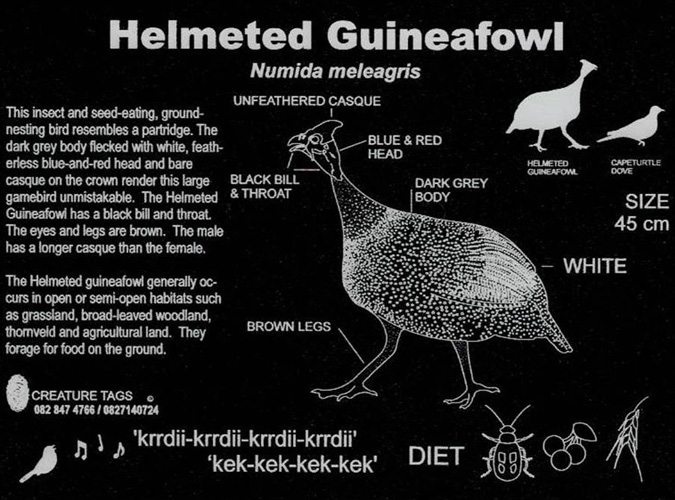 Tips for Blue Duiker Self-Guided Safari Bush Walk
Tell someone if you are going on the hike – just in case someone need to find you.
Ask your guide to join you if you prefer.
Take some water.
Remember a hat and some sunscreen.
Bring your camera.
Take your book so that you can enjoy a quiet spot to sit and read.
Wear closed hiking shoes. Make sure your shoes have grip for the downhill areas. Open shoes and shoes with heals are are not recommended.
Watch out for snakes on the trail. In summer snakes and other reptiles like lizards might use the pathway as a sunning spot. If you do see a snake, stand still and slowly move away from it. Most snakes are not dangerous and will move away when they feel the vibrations of your footsteps. Never try and pick up a snake or go closer to get a better look or a photograph.
Do not use the trail if it is raining or if the soil is very wet. The trail can be very slippery.
Do not feed any wildlife that you may encounter on the trail.
Shout if you need any help. The chalets might seem far away but they are hidden behind the trees. Someone is likely to hear you.
Keep active, enjoy the natural environment, fresh air and connect with nature during the time between your safari drives and make the most of your stay at Kariega Game Reserve.
"If you truly love nature, you will find beauty everywhere" ~ Vincent van Gogh