Top 10 Photos: 2018 World Rhino Day

Protecting rhino is something we do everyday at Kariega. The safety and well being of our rhinos is always on our minds. Our dedicated team work long hours to try to keep each rhino safe from their greatest threat - poachers. This 2018 World Rhino Day we salute all of the brave men and women who are unwavering in their commitment to our our rhino. In this blog we commemorate some of the tragic and exciting rhino events that have occurred at Kariega Game Reserve in our top 10 photos. 
World Rhino Day was started by the World Wildlife Fund in South Africa in 2010. It is now an annual event held on 22 September around the world.
Photo One: The Birth of Thandi's Calf Thembi
Our first photograph was taken a few days after the birth of our miracle rhino Thembi. She is the first calf of Thandi, the first rhino to ever survive having her horns cut off by poachers. Dr William Fowlds, the wildlife vet who has treated Thandi since the awful day in March 2012 commented: "My greatest rhino day ever! Seeing Thandi's calf for the first time, up close and in the open, un-phased by our existence and positively adorable will always rank as a highlight in my life. We sat there quietly soaking up the privilege of being in their presence, and… it…was… amazing! Such a content, peaceful and natural scene in a small clearing in the thicket they have been hiding out in since her birth. If it wasn't for Thandi's deformed facial features, everything would have seemed as it was created to be." 
Thembi was born on 13 January 2015 and her name means hope in isiXhosa.
Photo Two: Rhino Thandi and Themba
This photograph brings back both happy and sad memories. The picture was taken before the two rhino were attacked by poachers on 2 March 2012. Both of their horns were hacked off and they were close to death when our field guides found them in the early morning.  For 24 days wildlife veterinary expert, Doctor William Fowlds, worked tirelessly with the Kariega team to give the survivors the best possible care and chance for recovery. 
Their bravery was unbelievable and inspired our rangers to nickname them Thandi and Themba, two isiXhosa names meaning courage (or to be loved) and hope. Sadly Themba (Hope) suffered a leg injury on the night he was poached and as a result of infection passed away on the morning of the 26 of March 2012. Thandi continues to amaze us with her incredible fighting strength and miraculous recovery. She became the first rhino to ever survive a poaching attack. Her story spread around the world and has inspired many people to get involved in rhino conservation. 
Read more about Thandi and Themba and their bitter-sweet story.
Photo Three: Inspirational Recovery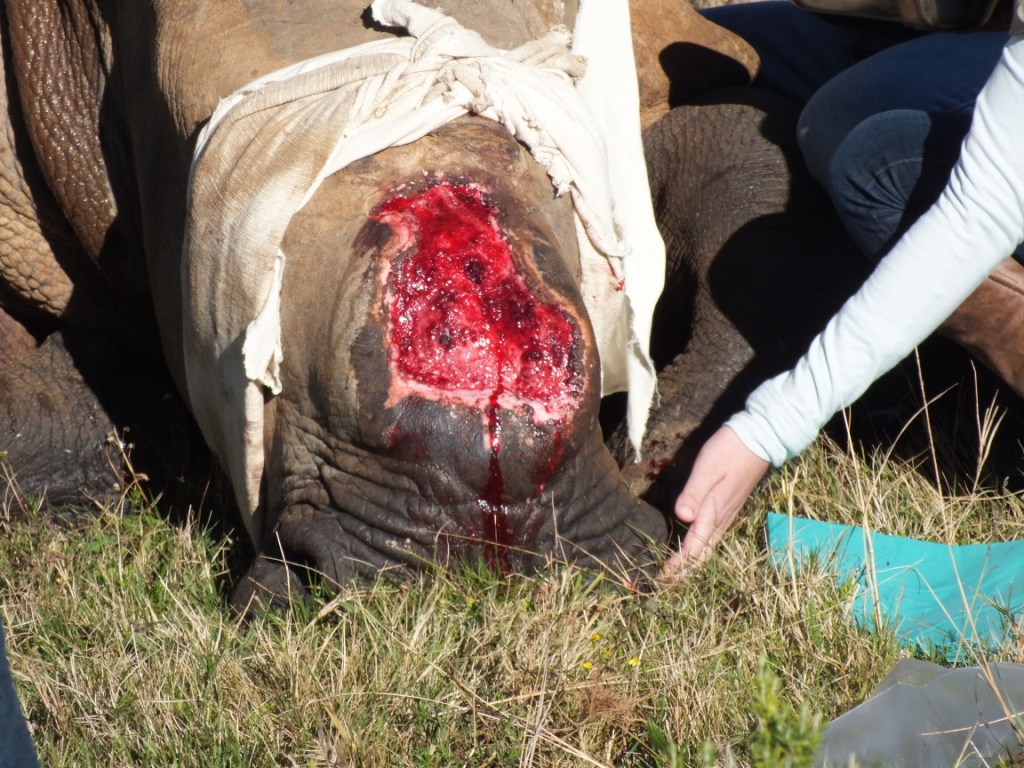 When the poachers removed Thandi's horns they hacked deep into her facial tissue. The healing process was very slow and to aid her recovery wildlife vets applied pioneering skin grafts. Thandi was the first rhino to ever receive such treatment. Veterinary surgeons tried three different grafting techniques in 2013. A small strip of skin was grafted from behind her ear, another from the keratinised area over the place where her back horn used to be, and then multiple small flakes of skin from the side of her neck. Unfortunately none of the procedures were successful as Thandi rubbed her face and the new tissue did not take. Thankfully her her resilience and fighting spirit prevailed and she continued on her steady path to recovery.
Read more about how Thandi has inspired people around to the world to take action for rhino.
Photo Four: Healthy Mum and Calf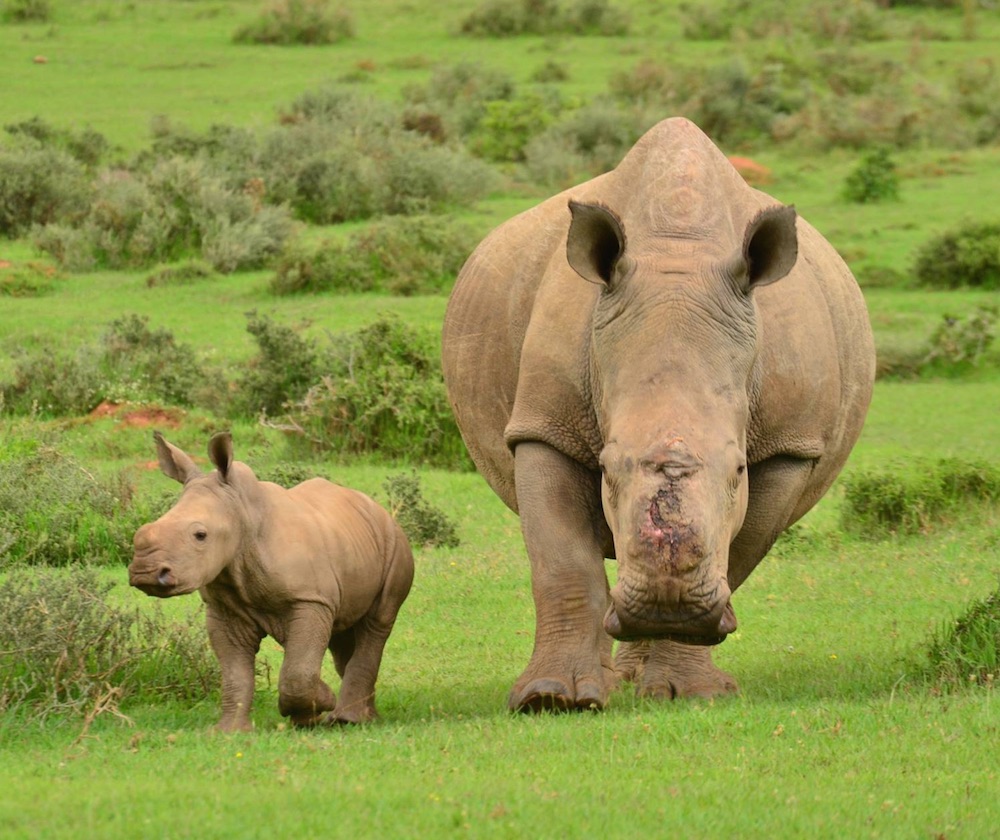 On 13 January 2016 we celebrated the first birthday of little Thembi. We love this picture of Thandi and Thembi taken by Francis van Pletzen. 
To help us celebrate the occasion we asked our Facebook community to send in their top photographs of Thembi. We were delighted with the response and posted some of the photographs on our blog. 
View all the beautiful images: Kariega Guests Share Memories of Thembi's First Year.
Photo Five: Running Rhino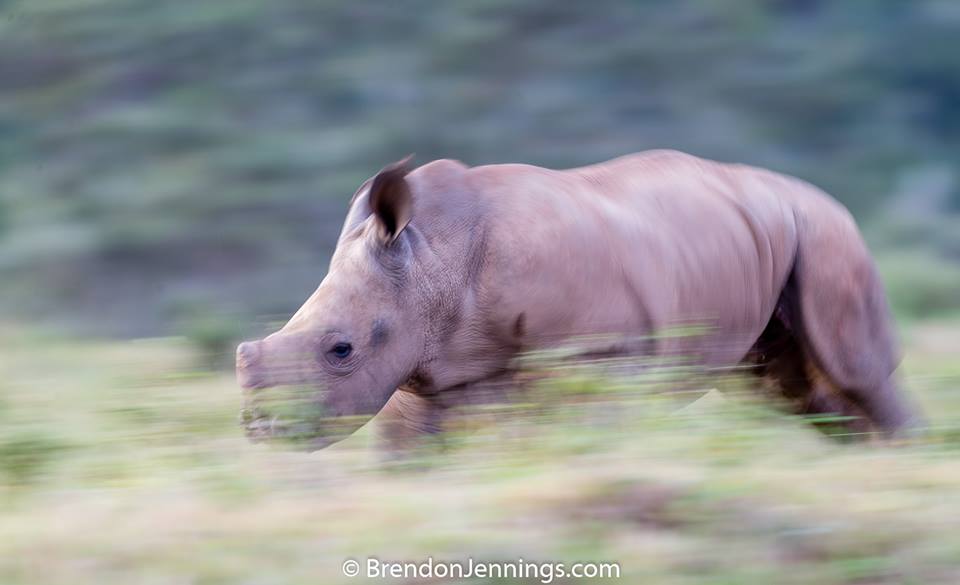 Despite their tank-like size, rhinos can run amazingly fast. Adult white rhinos have been recorded bolting 40 kilometers per hour (25 mph). The smaller black rhino can run faster and reach around 55 kilometers per hour (34 mph).
There is a very interesting difference to how black and white rhino calves run from danger. A white rhino calf runs in front of its mother so that the mother is able to protect the calf from a predator. A black rhino calf runs behind its mother. This is because black rhinos live in bushy areas and the mum runs ahead of the calf to make it easier and faster for them to get through the vegetation.
Photo Six: Surprise Rhino Birth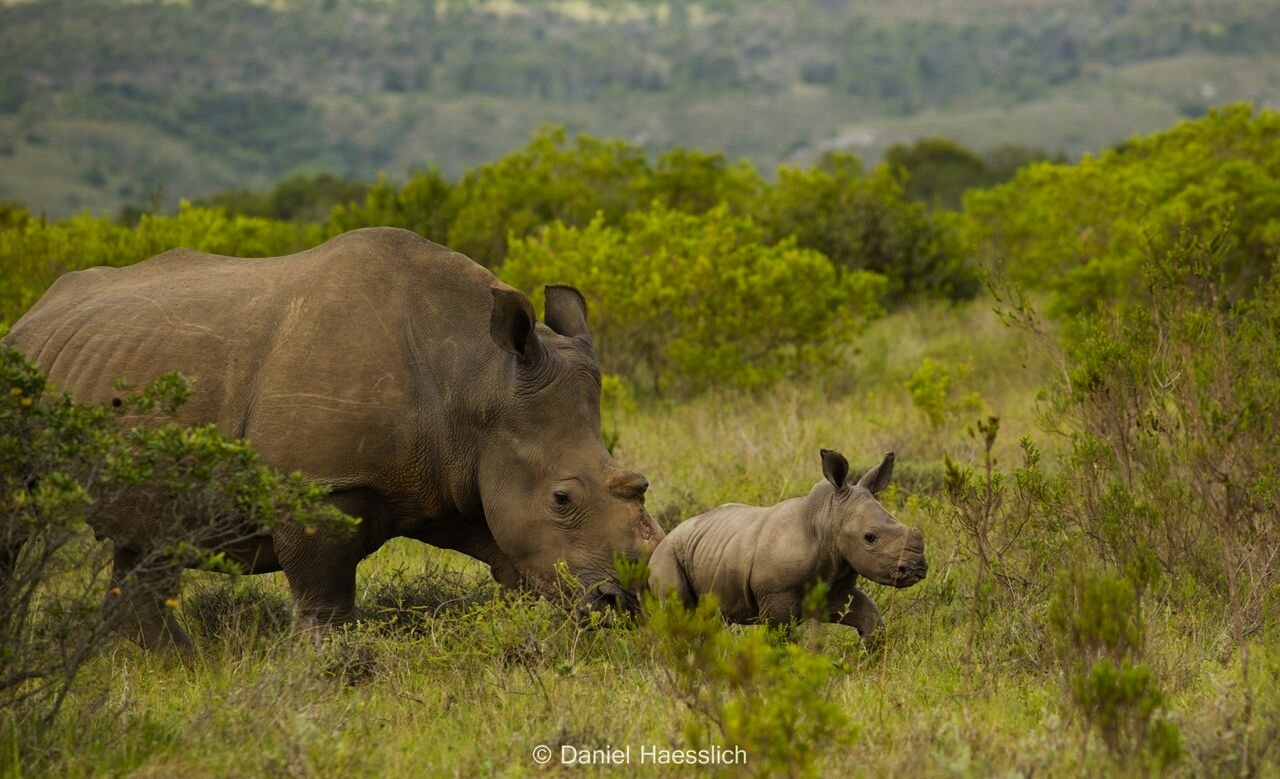 This was a great moment when field guide Daniel captured the first clear photograph of rhino-super-mom Thandi and her new calf Colin. Thandi surprised us all by giving birth to her second calf on 24 January 2017. She trusted us with a quick sneak peak of her male calf just a few days after the birth and then retreated deep into the thicket once again to protect and nurture her new baby.
Watch the video about the birth of rhino Colin.
Photo Seven: Let Sleeping Rhinos Lie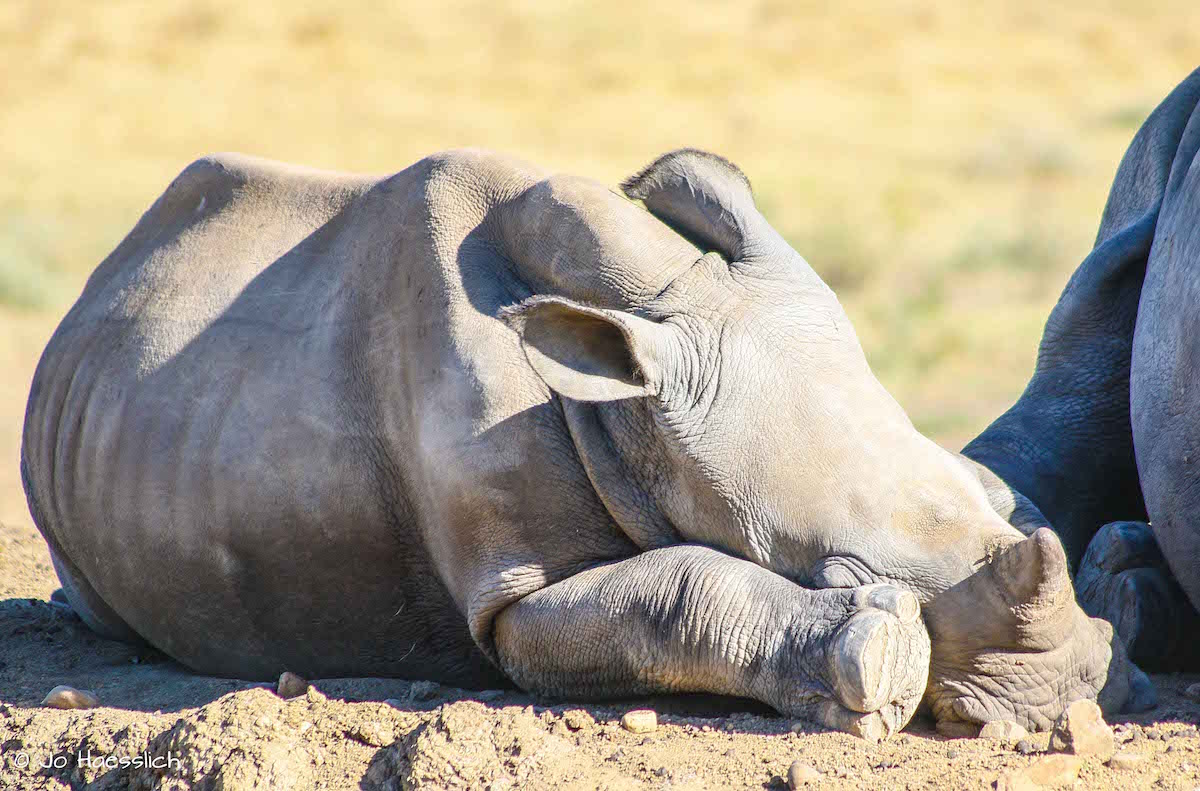 Rhinos need to sleep for about 8 or 9 hours each day. They usually sleep in stages at different times of the day. Rhinos feed at night, dawn and dusk and rest during the heat of the day. All rhinos are herbivores. White rhinos munch on lots of grass while black rhinos feed on the leaves of bushes and trees. 
White rhinos sleep lying down, rather than standing, and often sleep in the shade of a tree. When they take a deep sleep, they lie down with their feet curled up slightly to the one side. 
Field guide Jo captured this top 10 photo of rhino Colin having a nap when he was just two months old. Watch a video about rhino Colin.
Photo Eight: Crash of Rhino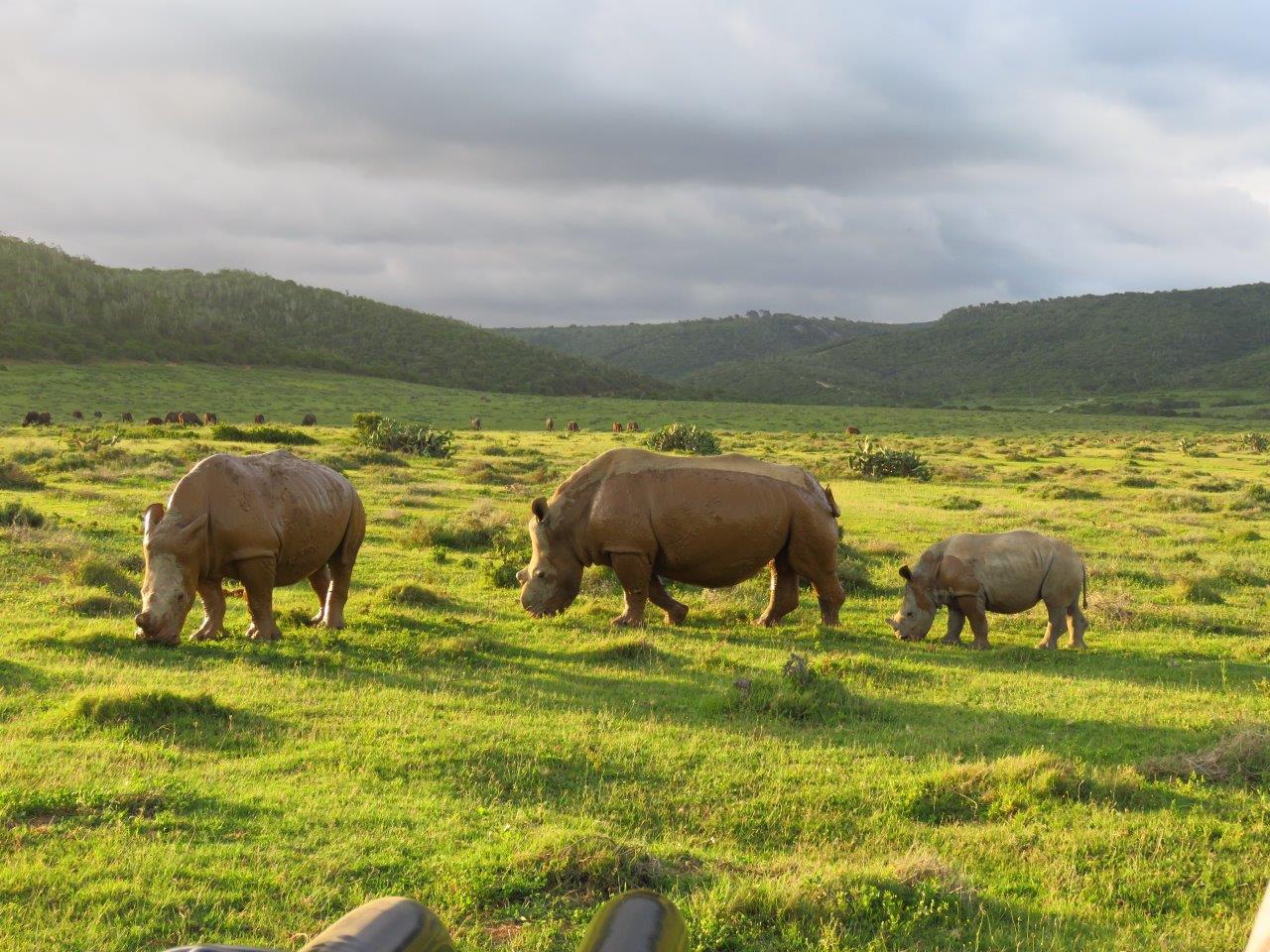 The collective noun for a group of rhino is a crash. You can also use a herd or a stubborness!
White rhino, like the trio pictured by guest Doreen Peacock, can often be seen in a group while black rhino usually live alone. White rhino crashes are usually made up of a female and her calves or a few adult females (and their calves) together. This photo beautifully captures rhino Thandi and her two calves together on the Kariega plains at sunset.
Read our blog to find out our Top 10 Safari Animal Collective Names.
Photo Nine: Rhino and Elephant Face-Off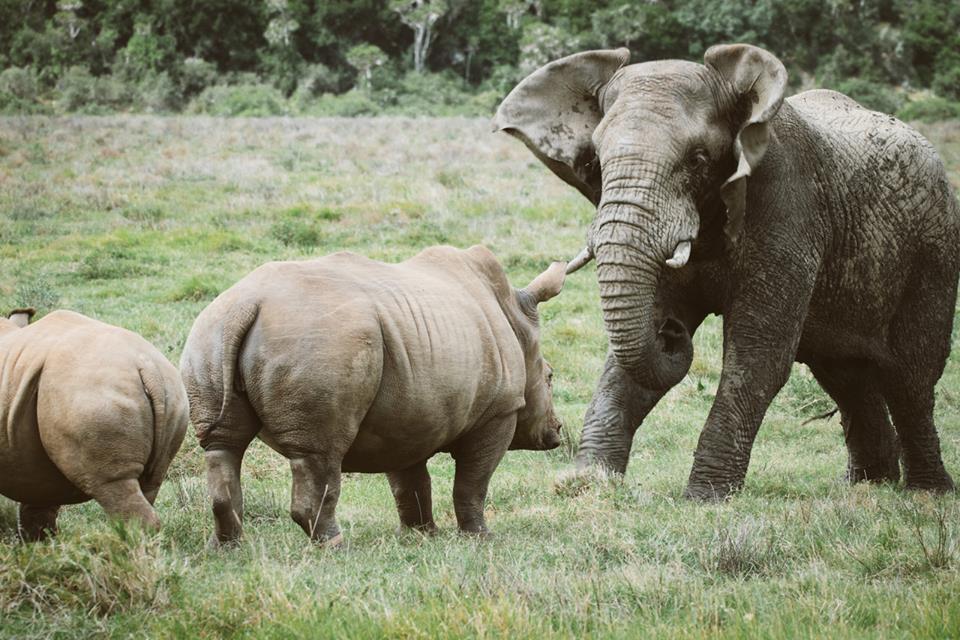 We love this amazing photo of an elephant and white rhino face-off taken by guest Jan-Niklas Wedig. Both rhinos and elephants have no natural predators because of their huge bodies and thick skin. Man is the biggest threat to both of these magnificent creatures.
Read more about the elephant and rhino in this top 10 photo.
Photo Ten: Help Protect Endangered Rhino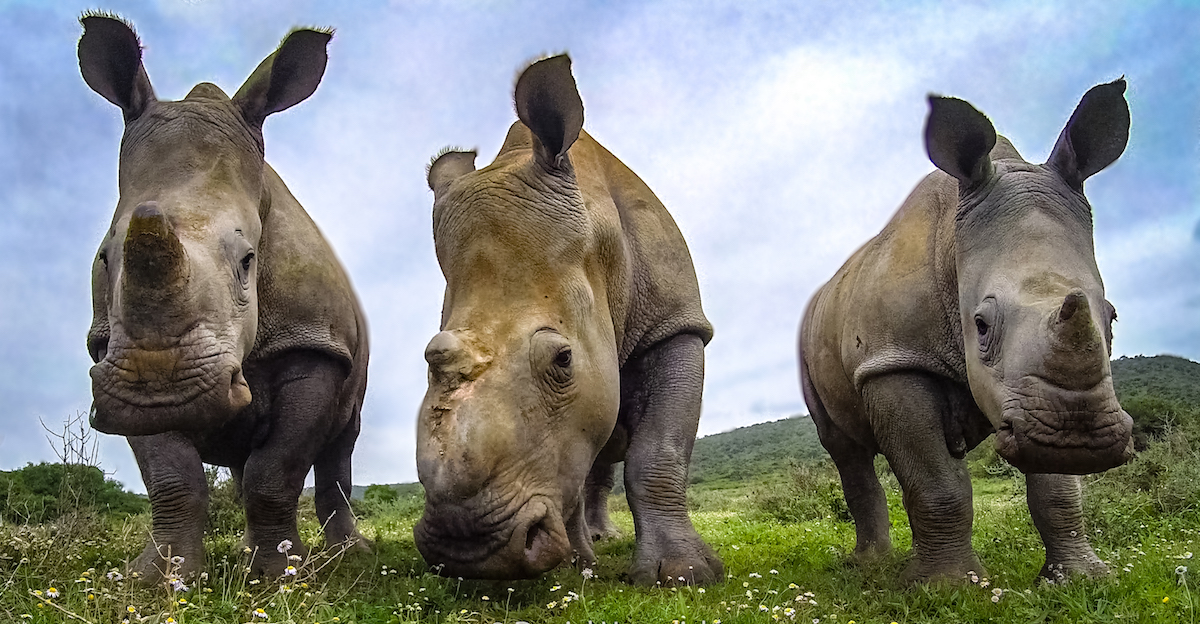 We can't protect rhinos without your help. There is no magic bullet to solve the poaching crisis: it will take a mix of the best tools we've got.
Having well-trained and equipped rangers is an important start. So too is secure habitat and good rhino monitoring. Making sure that the communities living near Kariega Game Reserve see and feel the benefits of conservation is another critical factor in preventing people from turning to poaching. Education is important – both in countries where rhinos live, but also in Asia, where consumer demand for rhino horn is highest.
Support us in our rhino conservation efforts. Find out more on our Kariega Foundation Save the Rhino page or contact us via email on foundation@kariega.co.za.