Save the Rhino
The COVID-19 pandemic has put rhino at Kariega at increased risk. The travel bans implemented by the SA government from 27 March 2020 have cut off the Kariega Foundation's primary source of funding used to maintain our active and effective Anti-Poaching Unit (APU).
Until our guests are able to return, the Kariega Foundation's core objective is to ensure that we have the funds to keep our APU fully operational so that Thandi, her family and the rest of the rhino at Kariega remain protected. We anticipate that as unemployment grows and people become more desperate the threat of poaching will increase and we need to be more vigilant than ever.
We need your help to raise funds to keep our rhino safe. Here are a few ways you can get involved.
1. SUPPORT OUR WALK WITH US FUNDSRAISING CAMPAIGN
The daily operating cost of the Anti-Poaching Unit is R5,000 (US$340, €280 or £250). Our short-term focus is to raise R210,000 to cover these costs for six weeks until the end of May 2021.
No donation is too small. DONATE NOW or START A FUNDRAISER because… little bits make a LOT.
Please email us on foundation@kariega.co.za if you need help with anything.
2. MAKE A DONATION
You can make a donation of any size directly to the Kariega Foundation in any of the following ways. Please email us on foundation@kariega.co.za if you need help with anything.
1. Transfer a Donation to our Bank Account
KARIEGA FOUNDATION TRUST
First National Bank (or FirstRand Bank Limited)
Account No: 62275606526
Branch: Newton Park
Branch code: 261050
Swift/IBAN: FIRNZAJJ or FIRNZAJJXXX
Bank Head Office Address: FNB Bank City, Simmonds Street, Johannesburg, 2000
Please add your name and RHINO as the reference.
2. Donate via Credit Card
Make an online donation via credit card with GivenGain, our online fundraising partner.
Download and complete this credit card authorization form and email to foundation@kariega.co.za or fax to +27 (0)41 581 2601.
3. Donate Online via EFT
Click on the DONATE NOW button either in the right column or at the end of this page. This will allow you to make an EFT donation in your currency via a secure online payment gateway called Exchange4Free. You can also request for us to send you an email link to make the online transfer.
Please email us on foundation@kariega.co.za to find out more or to ask questions about donating. We so appreciate your support.
3. ADOPT RHINO THANDI & FAMILY
Support us and adopt Thandi and her family via our partners Helping Rhinos. Funds raised will benefit our APU and our Kariega Foundation environmental education programme in neighbouring community schools.
How to Adopt Thandi & Family
Thanks to the Helping Rhino Adoption Centre you can adopt Thandi and her family in a few easy steps.
Go to Thandi's adoption page: https://www.helpingrhinos.org/adopt-thandi/ or Mthetho's page: https://www.helpingrhinos.org/adopt-mthetho/
Click on the Adopt button
Choose the adoption package that suits you best
Add the names of a friend or two who want to share the responsibility (if required)
Follow the online check-out process to register and pay online.
We are grateful to our partner Helping Rhinos, a non-profit organisation committed to delivering tangible results in rhino preservation, for making this possible.
---
South African Rhino Poaching Crisis and Impact on Rhino at Kariega
In the ten years between 2009 and 2019 there have been 8,288 rhinos recorded dead due to poaching in South Africa alone. Over 80% of the world's surviving rhinos live in South Africa as the populations elsewhere in Africa and Asia have been decimated. The killing has slowed slightly but at least one rhino continues to be brutally killed by poachers every day.
Unfortunately, Kariega Game Reserve has not escaped this scourge. On the 2 March 2012 one cow and two bull rhinos were poached at Kariega. Tragically, one bull was fatally wounded and died during the course of the night, whilst the remaining two were severely injured, but showed an incredible will to survive. For 24 days wildlife veterinary expert, Doctor William Fowlds, worked tirelessly with the Kariega team to give these survivors the best possible care and chance for recovery. Their bravery was unbelievable and inspired our rangers to nickname them Thandi and Themba, two isiXhosa names meaning courage (or to be loved) and hope. Sadly Themba (Hope) suffered a leg injury on the night he was poached and as a result of infection passed away on the morning of the 26 of March 2012.
Thandi continues to amaze us with her incredible fighting strength and miraculous recovery. She became the first rhino to ever survive a poaching attack. Her story spread around the world and has inspired many people to get involved in rhino conservation. 
Thandi endured numerous operations since her attack, including pioneering skin graft surgery under the care of Dr William Fowlds. In December 2013 blood tests after her last facial procedure revealed that she was pregnant. After waiting for many months, we were overjoyed that she gave birth to a female calf on 13 January 2015. We called the calf Thembi, meaning hope in isiXhosa.
"The name Thembi seemed to fit best given that this little calf has brought fresh hope and energy to those who struggle to secure the future of our rhino. She is a new generation of life, one I hope will never experience a poaching incident like her mother and namesake Themba," commented Dr William Fowlds when she was named.
Thandi surprised us again in January 2017 when she gave birth to another calf. The male rhino calf was born on 24 January 2017 and named Colin in memory of the visionary and founder of Kariega, Colin Rushmere. He passed just days before the rhino was born.
On Wednesday 3 April 2019 we celebrated the surprise birth of poaching survivor Thandi's third rhino baby. We decided to name the male white rhino calf Mthetho, which means justice in isiXhosa. This name was chosen to commemorate the conviction and sentencing of three rhino poachers which co-incidentally took place on the same day in nearby Makhanda (formerly Grahamstown).
Thandi became a grandmother rhino when her eldest calf Thembi gave birth to a baby on 21 October 2020.
On Monday 4 January 2021 Thandi delighted us again with a new calf. Our field guides named him Siya, after the legendary Springbok rugby captain Siya Kolisi. The addition of this baby boy brings her offspring to a fabulous four.
Read updates on Thandi and her beautiful family.
---
Caring for our Rhino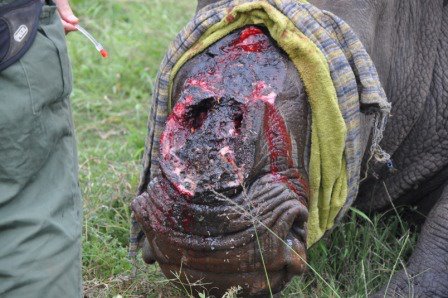 After Thandi and Themba were poached, Kariega was flooded with requests to contribute to the medical care of these two survivors. In response to this overwhelming support the Kariega Foundation created a special fund dedicated to the rehabilitation and care of our rhino.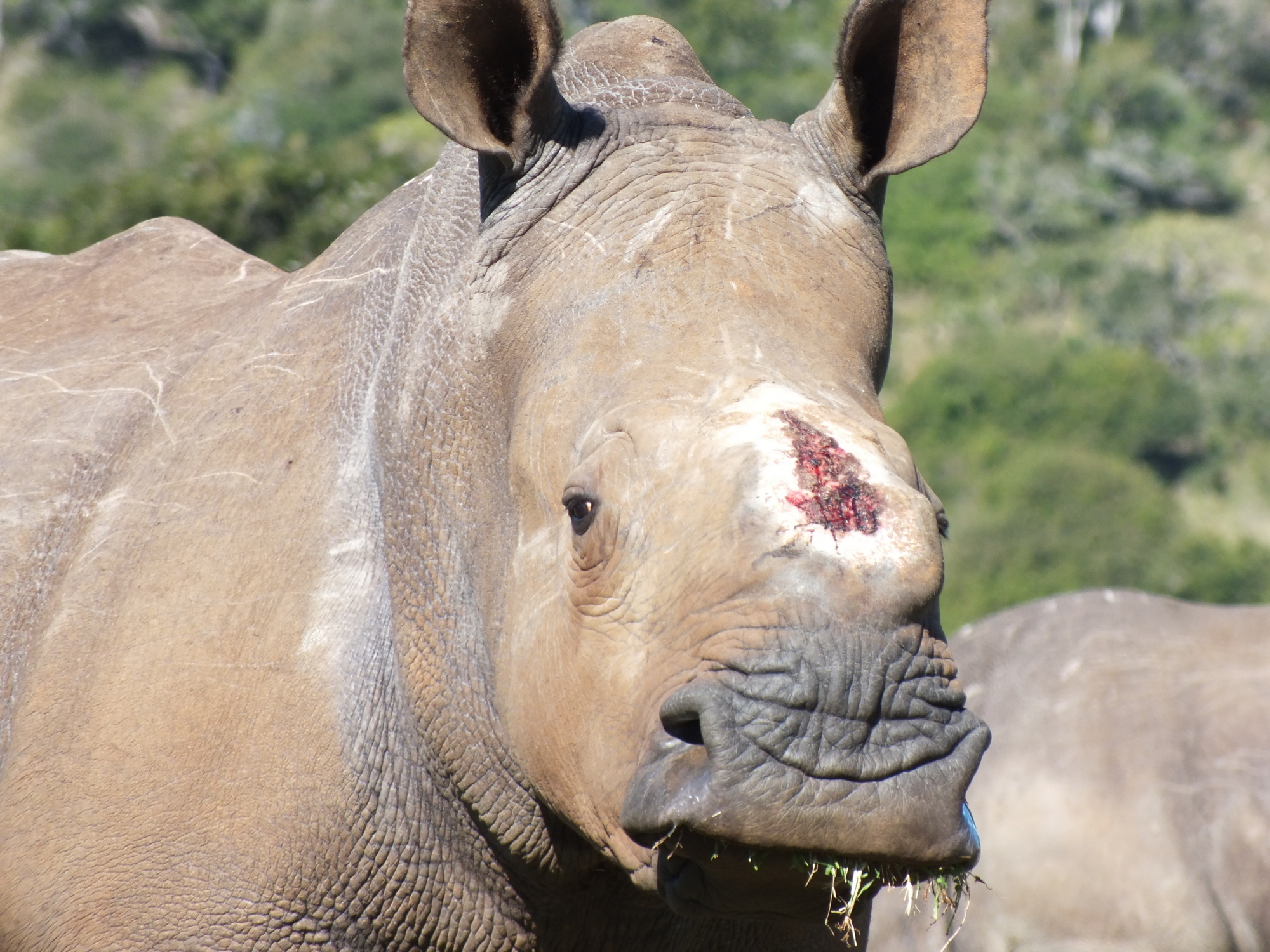 Since then we have been blessed with incredible support from so many amazing people. Our thanks to every single person or organisation for their support and generosity to the Foundation. From everyone at Kariega, especially our rhino, THANK YOU TO ALL INVOLVED.
Most of our efforts are now geared towards anti-poaching on the reserve and trying as best we can to continue protecting our rhino.
How can you Help Save our Rhino?
The following lists include the types of funding ideally required at Kariega (with the estimated type of costs involved). Although we would love to, we are not necessarily able to do all the listed measures as like everything, what we are able to do depends on the availability of funds (both ours and outside support). We are committed and determined to persevere in doing what we can.
Dehorning of Rhino - ideally at least once per year (between R6,000 - R10,000 per rhino - depending on number of animals per dehorning)
Fitting of Transmitter Devices (assists greatly with effective monitoring) including helicopter, veterinary drugs and bracelet transmitter (approximately R8,000 - R10,000 per rhino)
Helicopter Support Programme (R600 per hour of flying)
Purchasing Black Rhino (R750,000 to R950,000)
We have an Anti-Poaching Unit (APU) that actively monitors and protects our wildlife. This job is not for the faint-hearted and the unit works very long hours. The unit requires funding for the following equipment to assist them in their work:
Uniforms (approximately R3,000 per person)
Multi Tools (R900 each)
Handheld Radios (R2,200 each)
Thermal Night Vision Binoculars (R60,000)
Normal Binoculars (R2,000)
Headlamps (R700 each)
Spotlight (R1,500)
Small Digital Cameras and SD cards
Batteries of all sizes - rechargeable with charger would be ideal
First Aid Kits – Full and compact (R200 & R750)
Telemetry Aerial – (R1,500)
Telemetry Devices – For monitoring rhinos' location (R8,000 – R10,000)
Dedicated anti-poaching vehicle (R6,000 per month cost and running costs)
The story of Thandi and her family is part of the much broader issue of rhino poaching – an issue which we cannot fight alone. Kariega actively supports the Forever Wild Rhino Protection Initiative of the Wilderness Foundation and the Rhino Project of the Endangered Wildlife Trust. Both are incredible organisations which have our full trust and support in all their commendable endeavours toward saving the rhino.
If you have any enquiries, questions or comments, please feel free to email foundation@kariega.co.za.
Donate
Donate via credit card on GivenGain
Video: Rhino Horn is not Medicine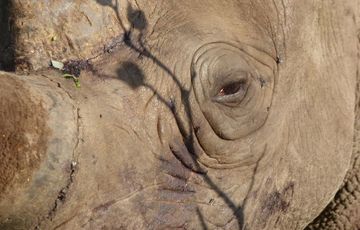 Donate Now
To make a donation in your currency by Electronic Funds Transfer (EFT) click on the DONATE NOW button below.
Payments are made via a secure online payment gateway called Exchange4Free. This is the most affordable way to pay with zero international bank charges or commission and great exchange rates. Your payment will be made in your local currency into a local bank account in your own country. We are paid in rands.
Please use your surname as the Payment Reference.
Thandi's Story: Help Save our Rhino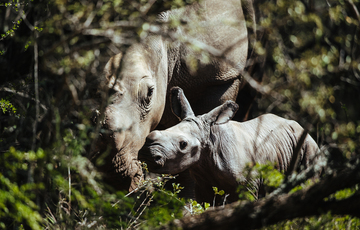 How Can You Help?
If you wish to contribute to our efforts in caring for Thandi and her family and protecting all our rhino, you can make a contribution in one of the following ways. Any size donation will help, and is hugely appreciated!
KARIEGA FOUNDATION TRUST
First National Bank 
(or FirstRand Bank Limited)
Account no: 62275606526
Branch:Newton Park
Branch code: 261050
Swift/IBAN: FIRNZAJJ or FIRNZAJJXXX
Bank Head Office Address: FNB Bank City, Simmonds Street, Johannesburg, 2000
Conservation Updates
We post regular updates on all of our Kariega Foundation conservation projects. Read our conservation updates.
Join the Cause
Support us by donating via GivenGain.