The Last Male Standing Film: Rhino Sudan Remembered
On 19 March 2018, Sudan, the last male northern white rhino in the world died at Ol Pejeta Conservancy in Kenya. Only two female northern white rhinos now exist in the world.
One year on, rhino Sudan's legacy lives on through the lives of those that cared for him on a daily basis. The extended trailer of documentary film, Kifaru (meaning rhino in Swahili) or The Last Male Standing, will be released on 19 March 2019and gives the world the opportunity to get to know the admirable men that give their lives to care for and protect rhino. We applaud the wonderful work of the director David Hambridge, producer Andrew Harrison Brown and all those involved in the film. We can't wait to watch the full documentary when it is released later this year. Find out more about the film and north American screening details in 2019.
Andrew Harrison Brown summarizes the documentary, "The Last Male Standing (KIFARU) is a feature documentary that journeys beyond the global headlines that have accumulated around 'Sudan,' the last male northern white rhino in existence, and explores the painful emptiness of extinction through the eyes of Sudan's three primary caregivers. Teetering on borrowed time and with his health in decline, Sudan's looming death and the uncertainty of employment that it will bring hangs over the heads of our three dynamic characters. Their only hope to save the species that they love - and perhaps their livelihood - rests fully in the success of a last resort IVF experiment."
Kariega Hosts Sudan's Carer Featured in Last Male Standing Film
Kariega Game Reserve will have the privilege of hosting Zacharia Kipkirui, one of Sudan's carers, at the beginning of March 2019. He will meet with our Kariega teams, members of our three local communities and children from our local schools. The aim is to share his experiences, and in doing so help to educate and inspire others to protect and conserve rhino. We look forward to learning many lessons from this passionate and experienced rhino conservationist.
We will also host Zac in a Facebook Live feed on the Kariega Game Reserve Facebook page at 10am (South Africa Standard Time) on Tuesday 19 March 2019. Please join us or log onto our page to view the video later in the day.
Thank you to our partners Dancing for Rhinos for their collaboration in both these activities. Please support the 2019 Dancing for Rhinos gala dinner and dance show on 23 March 2019 at the Deutsche Internationale Schule in Pretoria. This is the seventh annual event by this wonderful team. Their aim is to spread awareness, raise funds towards rhino conservation (protection, orphans and survivors) and thank the heroes on the ground for their dedication and passion. Our Kariega Foundation director Linda Bruce is one of the guest speakers.
Read more about when James Mwenda visited Kariega and spoke at the 2018 Dancing for Rhinos event. James is one of the carers of the last northern white rhino and is featured in Kifaru or the Last Male Standing film.
The Last Male Standing Film Shows White Rhino Under Threat
There are two sub-species of white rhino, northern and southern, named after the region in Africa where each of the sub-species are found. The total number of white rhino remaining is difficult to confirm, however, estimates are that there are less than 21,000 remaining. The white rhino species is classified as near threatened on the International Union for Conservation of Nature (IUCN) Red List.
The last two northern white rhinos are protected 24/7 by armed guards at Ol Pejeta Conservancy. The only hope for the survival of their sub-species is the development of in vitro fertilisation (IVF) techniques for rhino.
The southern white rhino sub-species that live at Kariega are constantly under threat from poachers who want to kill them for their horns. The horn is sold to people who incorrectly believe that rhino horn can cure disease. Read more about the work of our anti-poaching unit, their needs and the story of how the poaching of three rhino at Kariega in March 2012 continues to motivate our team to protect and conserve endangered species.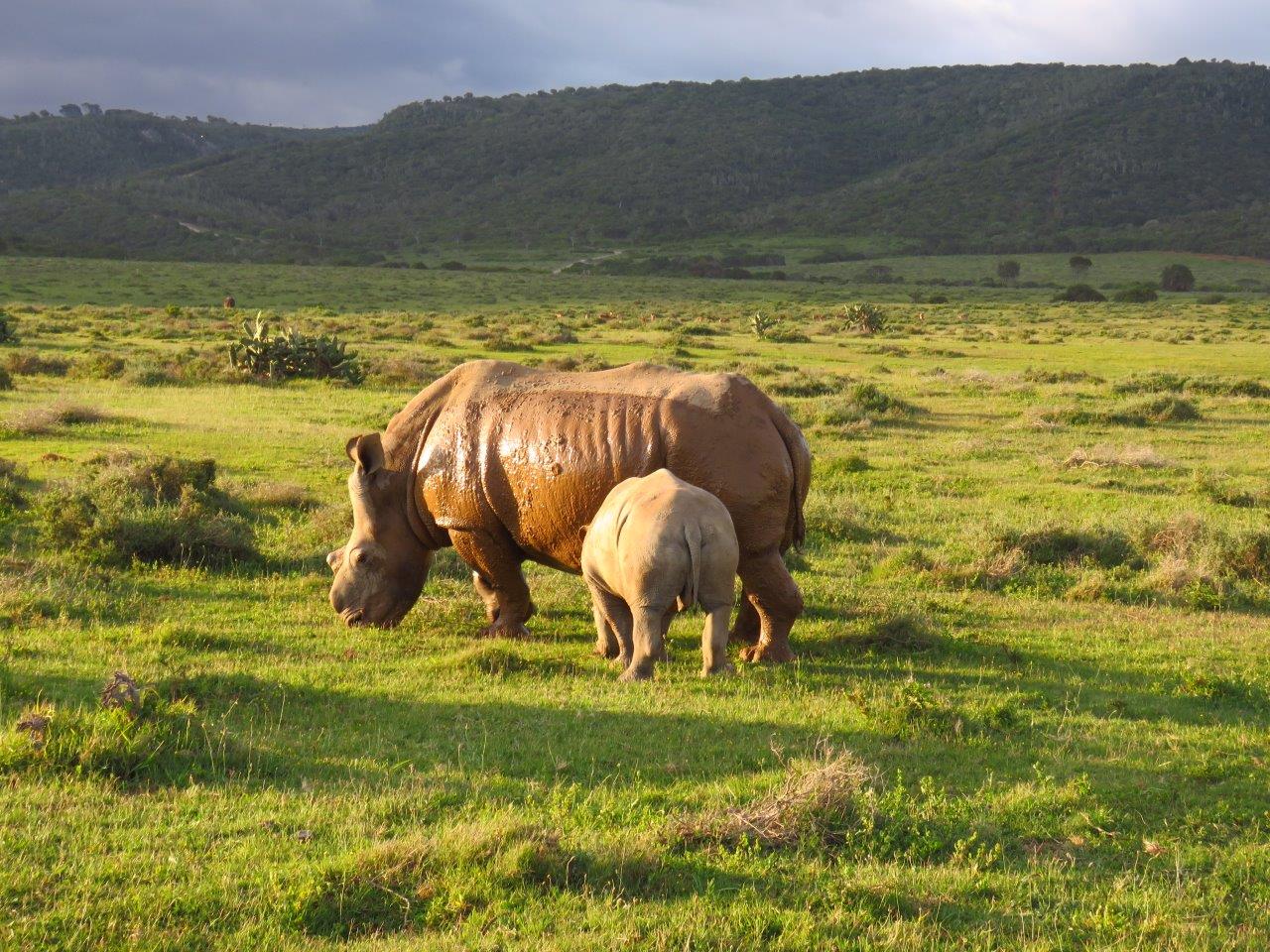 Adopt Thandi and Family: Help Protect Rhino
Helping Rhino, a UK charity dedicated to saving the rhino, in collaboration with the Kariega Foundation have provided a wonderful opportunity for you to help our efforts in protecting southern white rhino Thandi and her family and the rhino species at large, by adopting Thandi and her family through the Helping Rhino Adoption Center. Funds raised through the adoptions go directly to support Kariega's Anti Rhino-Poaching Unit (APU) and Environmental Education programmes.
Thanks to the Helping Rhino Adoption Centre you can adopt rhino Thandi and her family in a few easy steps.
1. Go to Thandi's adoption page: https://www.helpingrhinos.org/adopt-thandi/
2. Click on the picture of Thandi and her family
3. Choose the adoption package that suits you best.
4. Add the names of a friend or two who want to share the responsibility.
5. Remember to check out the benefits that form part of your adoption package.
The first 50 adopters will be entered into a lucky draw and one rhino lover will win an all-inclusive two night stay for two people at Kariega Game Reserve's luxurious Ukhozi Lodge.
Don't forget to log onto Kariega's Facebook page on Tuesday 19 March 2019 at 10am (SAST) for the live Facebook feed. Please also connect with us on Instagram, Twitter and YouTube. We post regular updates and news.
Photo thanks to past guest Doreen Peacock.