Thandi and Thembi Each Birth a new Calf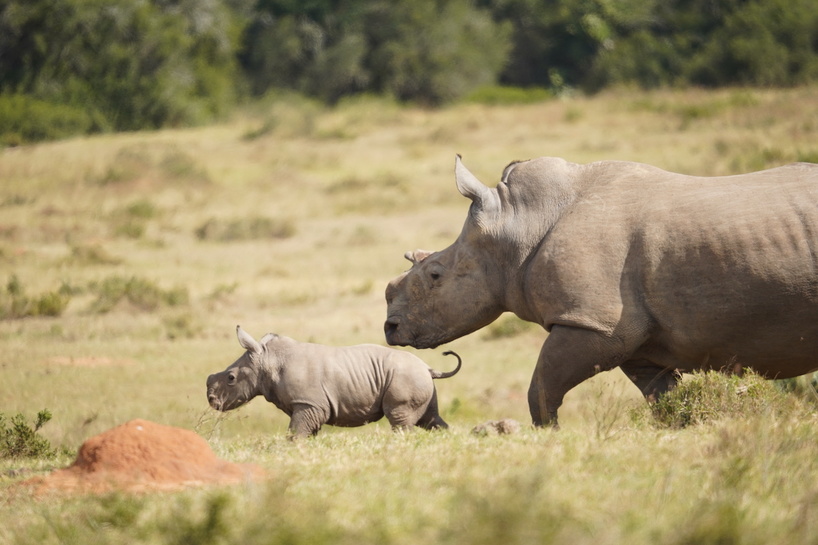 Kariega Game Reserve is a beautiful and world renown, privately owned game reserve located close to a small seaside village, Kenton-on-sea, in the richly biodiverse Eastern Cape province of South Africa. Spanning over 11, 500 hectares of pristine wilderness, Kariega is home to the Big 5, small 5 and many more species of animal and birdlife.
Guests from all over the world chose to visit Kariega because of it's unique combination of natural beauty and excellent game viewing. High on their list of hopes is a sighting of rhino Thandi, who survived a brutal poaching in 2012; endured a lengthy and painful period of recovery focused on closing the gash is her face where her horn had once been; and then inspired the world by birthing her first calf, Thembi in January 2015. Since then Thandi has birthed five calves and has become a grandmother twice over. Saving and protecting one rhino has created a legacy of seven to date and given much needed hope to a global community of conservationists who are fighting to save this iconic and majestic species.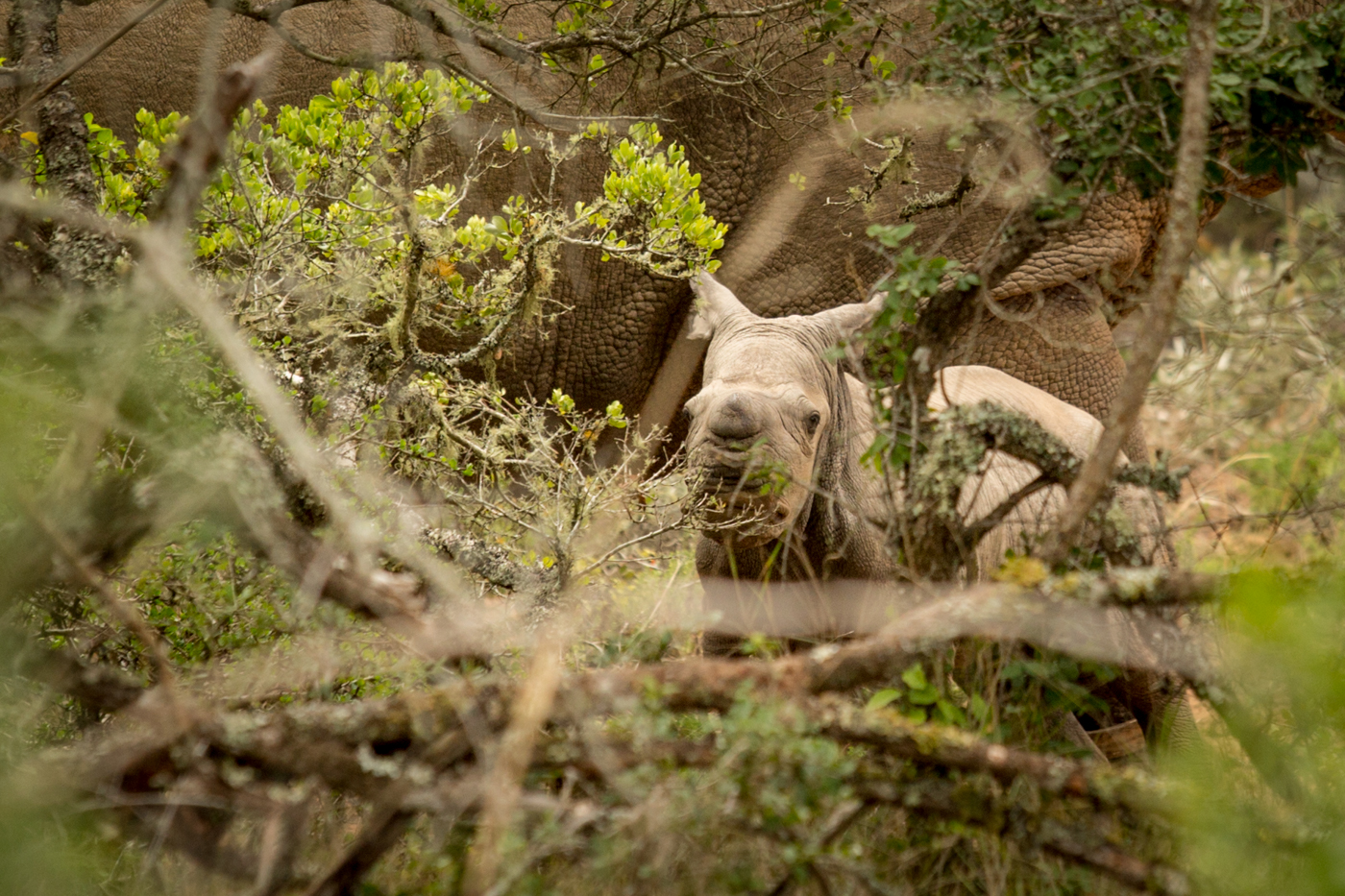 A sighting of Thandi and one of her calves or grand calves is a life changing experience. She has a presence that quietens ones soul and evokes the contradictory emotions of anger for the critically endangered status of the rhino but hope and inspiration that we might just save them. 
April, was a very exciting month at Kariega Game Reserve! On 1 April 2023, Thandi gave birth to her fifth calf and just three weeks later on 17 April 2023, Thembi gave birth to her second calf.  Both mums have kept their calves well protected in the thickets, but after the beautiful rains last week, Thandi has brought her 7 week old bull calf out onto the open plains for us all to enjoy! Field Guide, Brendon Jennings caught the little chap having a nap!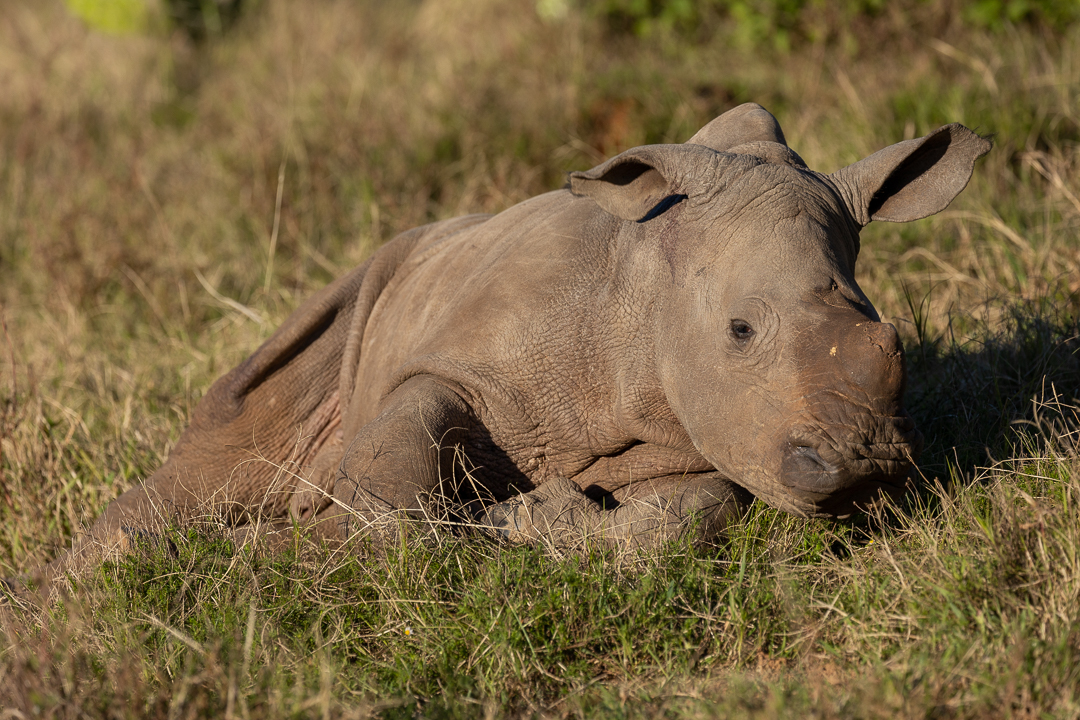 To our delight, Thembi brought her calf out too, which we were able to determine is a cow who will hopefully follow in the tradition of her mother and grandmother and produce many of her own young one day! A big thank you to Field Guide, Brendon Jennings who captured this image of Thembi with her five week old calf.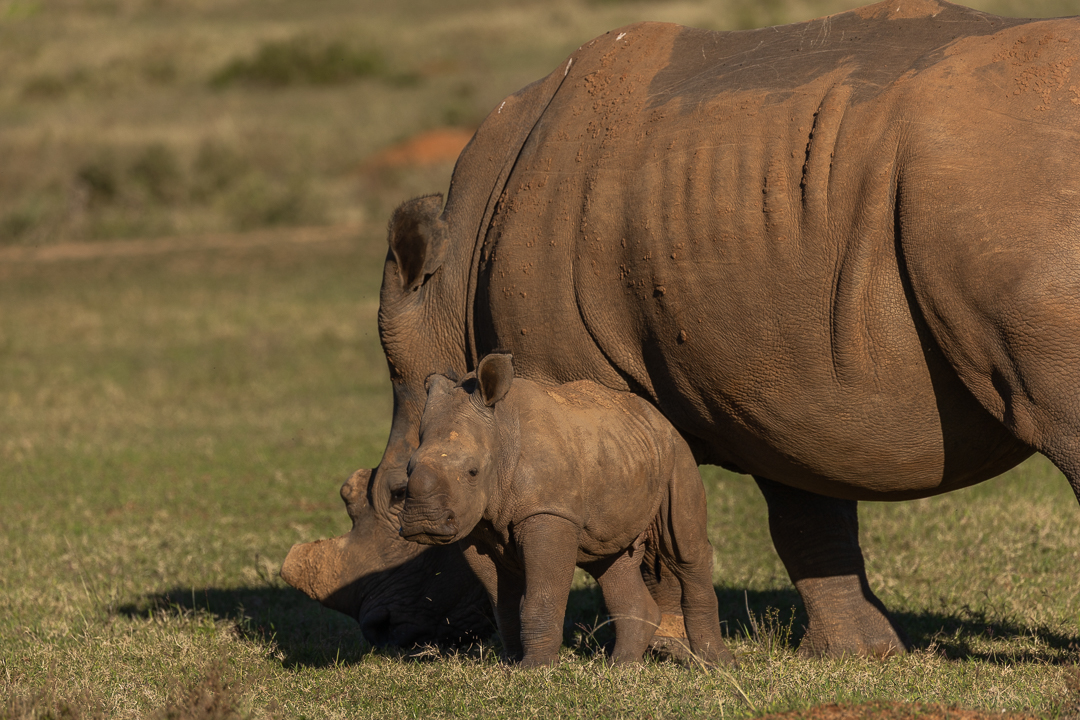 While it is not our conservation practice at Kariega Game Reserve to name wild animals, we have made an exception for Thandi and her family. In the spirit of the tradition of naming Thandi's calves we chose Zolani for this young bull, in memory of a much loved Kariega field guide her passed away in a tragic accident late last year. Zolani is an isiXhosa name which means 'free-spirited', beautifully encapsulating the nature of the man and the way in which we rhino should be able to live, free from the threat of poaching.
Thandi and Her Family
Thandi's remarkable story has given us the courage to speak about the brutality of poaching because it has a happy ending. With the birth of each of her calves we have had the opportunity to remind the world that this is not the norm. Usually, animals that are poached are left completely mutilated to die very painful deaths alone in the wilderness. Thandi's hornless profile is a compelling reminder of what is happening to our wildlife the world over and must be stopped.
After her poaching trauma we were not sure Thandi could reproduce but she first surprised the world just short of three years after her attacked when she gave birth to a female calf on 13 January 2015. We called this calf Thembi, meaning hope in isiXhosa. Thembi was our first beacon of light and hope in a grueling battle.
Since then, Thandi has given birth to four more calves in the space of eight years - a calf every two years. The norm is for a rhino cow to give birth every two to three years, making Thandi an exceptional breeding cow and mother. 
Her second calf, Colin, was born in January 2017; her third calf, Mthetho, was born in April 2019 and her fourth calf Siya was born in January 2021. Follow the links to discover the meaning behind each of these names.
A special milestone in the story occurred in October 2020 when Thembi birthed her first calf, making Thandi a grandmother for the first time and then again on 17 April 2023 (last month), when Thembi birthed her second calf, making Thandi a granny twice over! We are still to get our first proper sightings of Thembi and her new calf.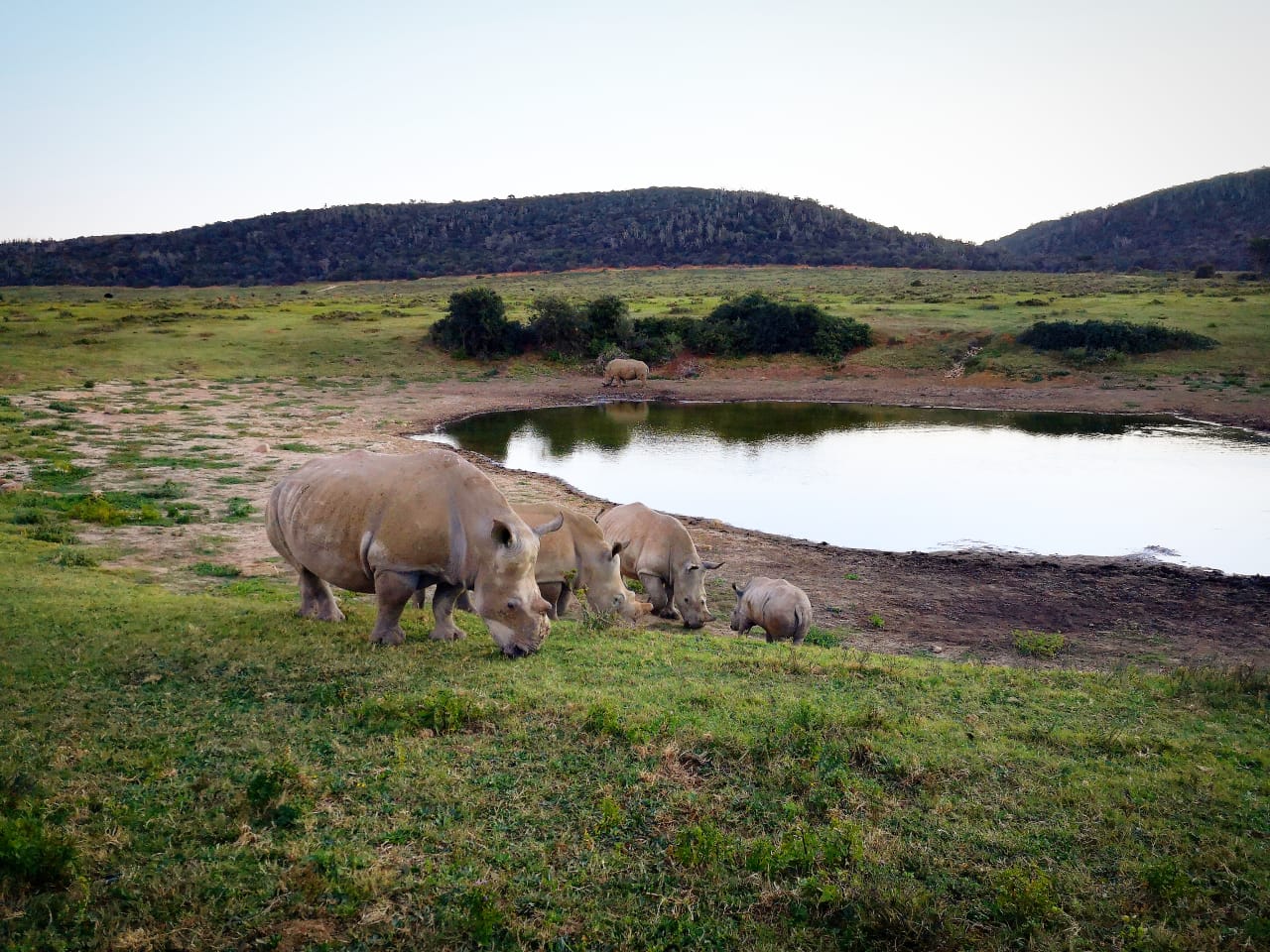 We Need Your Help
It took a village of dedicated, selfless and courageous people to help us save Thandi and it was worth it. 
The calling to save the rhino can feel lonely and draining. It is resource intensive and the Kariega Foundation does not receive any national funding or support to fund our multi-layered approach to rhino and wildlife protection including advanced technology, well trained and resourced anti-poaching foot patrol, K9 and Mounted Units as well as numerous community based programmes.
But there is strength in numbers. As our village of supporters grows in numbers so the weight of the burden lightens and hope for the future of the rhinoceros strengthens. A heartfelt thank you to our many partners in rhino conservation. 
The Eastern Cape province is in crisis once more with a number of rhinos being killed for their horns over the past 6 months. We must respond to the crisis with unity. 
These are some of the ways in which you can help.
1. Share this blog and create awareness around the rhino crisis.
2. Report any suspicious people or behaviour to the authorities. 
3. Donate any amount big or small to the Kariega Foundation, Save The Rhino, which will support our rhino protection efforts.
4. Adopt Rhino Thandi and family via our partners Helping Rhinos. 
Funds raised will benefit our APU and our Kariega Foundation environmental education programme in neighbouring community schools as well as other rhino conservation projects supported by Helping Rhinos.
How to Adopt Thandi & Family
Thanks to the Helping Rhino Adoption Centre you can adopt Thandi and her family in a few easy steps.
1. Go to Thandi's adoption page: https://www.helpingrhinos.org/adopt-thandi/
2. Click on the Adopt button
3. Choose the adoption package that suits you best
4. Add the names of a friend or two who want to share the responsibility (if required)
5. Follow the online check-out process to register and pay online.
5. Buy one of these 'conscious gifts' for yourself or a loved one.
Veldskoen and the Kariega Foundation share a mutual interest in nature conservation and creating improved living conditions and opportunities for South African citizens.
Together, through sales of the Kariega Veldskoen, we aim to generate funding that will contribute to initiatives that protect and rejuvenate Kariega's wildlife and local community, through conservation, education, and job creation.
Sarah Cobden-Ramsay founded Rhino Tears Jewellery following her unforgettable safari in the Kariega Game Reserve, when she first saw the majestic Thandi. In the hopes that sharing Thandi's tale will serve as a catalyst for change, Sarah created the Rhino Tear in her honor. All sales proceeds from this lovely jewellery are donated to rhino conservation efforts worldwide.
Lets stand together as a community to save and preserve Thandi, Thembi, their families and all other rhinos out in the wild.
We thank all our partners and donors along with each and every member from Anti-poaching units, veterinary teams and conservationists, who are working together to preserve this species for generations.