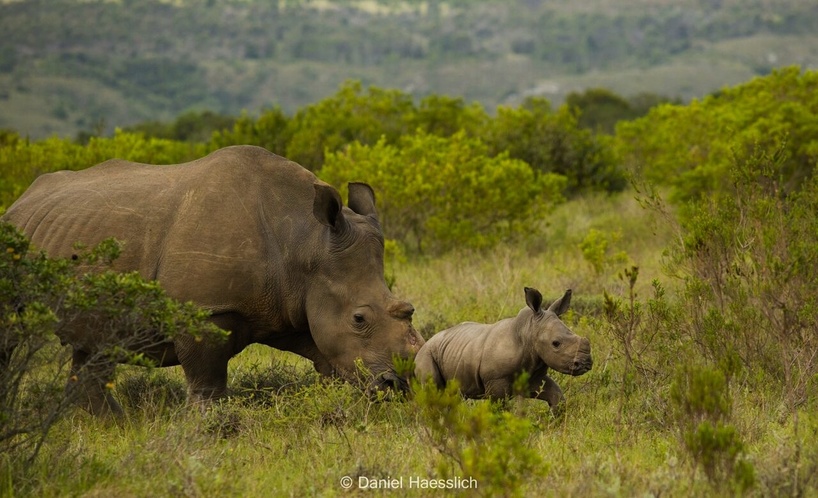 The favourite photo of the week from Kariega Game Reserve is the greatly anticipated and first clear photograph of rhino-super-mom Thandi, and her new calf. Thandi surprised us all by giving birth to her second calf on 24 January 2017. 
Thandi trusted us with a quick sneak peak just a few days after the birth, just to share the news! She then retreated deep into the thicket once again to protect and nurture her new baby.
Earlier this week rhino mum and calf graced us with a second sighting. Ranger Daniel skillfully captured this on camera so that we could all share the moment. 
Rhino Poaching Survivor's Calf is a Boy
The sighting also gave us a good view so that we could confirm that the calf is a boy! 
Thandi's New Calf Named Colin
We have decided to name Thandi's male calf Colin. This name was affectionately chosen by the Kariega family in honor of the Colin Rushmere, visionary, conservationist and owner of Kariega Game Reserve who passed away on 20 January 2017.
Rhino Calf Name Means Victory of the People
Colin is a Gaelic name that translates directly into 'young dog' and symbolically into 'victory of the people.' We think that this is very apt for a young male calf born to our courageous rhino poaching survivor Thandi. Since 2012 Thandi has inspired many people to take action to conserve and protect rhino. 
Her second calf, Colin, is a true embodiment of the collaborative victory of many people who have worked so hard and passionately on behalf of Thandi, Thembi and every rhino on our planet.
Names Tell a Powerful Story
The names of the Kariega rhino that have become international ambassadors for rhino conservation tell a powerful and inspiring story.
Thandi means courage, Thembi means hope and Colin victory of the people!
While our rhino are still under great threat, we will draw inspiration and renewed energy from Thandi, Thembi and Colin – and do everything within our power to ensure that these majestic animals live on for eternity.
Share your thoughts as a comment below or on Facebook, Twitter and Instagram. Watch the fantastic rhino videos on the Kariega YouTube channel.
Read more about the story of Rhino Thandi, Thembi and Colin on our blog.