Siya: Fourth Calf of Thandi Poaching Survivor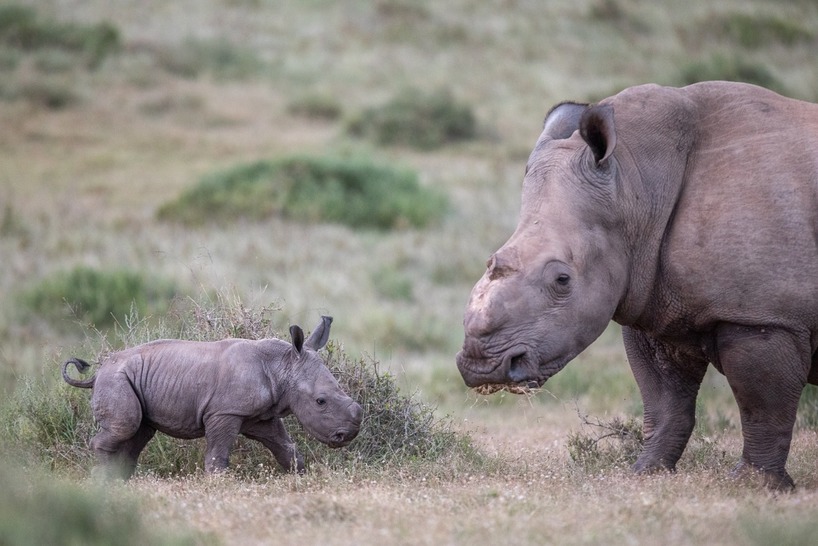 Rhino-super-mum and poaching survivor Thandi surprised us again on 4 January 2021 by giving birth to her fourth calf! The Kariega field guides, some of whom were the first to spot the newest addition to Thandi's lineage, have named the bull calf Siya, after South Africa's legendary Springbok rugby captain Siya Kolisi.
Siya is an abbreviation of the isiXhosa name Siyamthanda, which translates to 'We love him/her.' A most appropriate name for this calf considering:
We love him!
We love his mum, Thandi!
And, we love his name-sake Siya Kolisi!
Siya Kolisi was delighted at the news of the birth of the new rhino and said: "That is amazing and I would definitely love to meet Siya."
Thandi has been keeping little rhino Siya protected in the thicket since his birth on 4 January. These wonderful images were captured by senior field guide Brendon Jennings an hour after Thandi's gave birth to rhino Siya.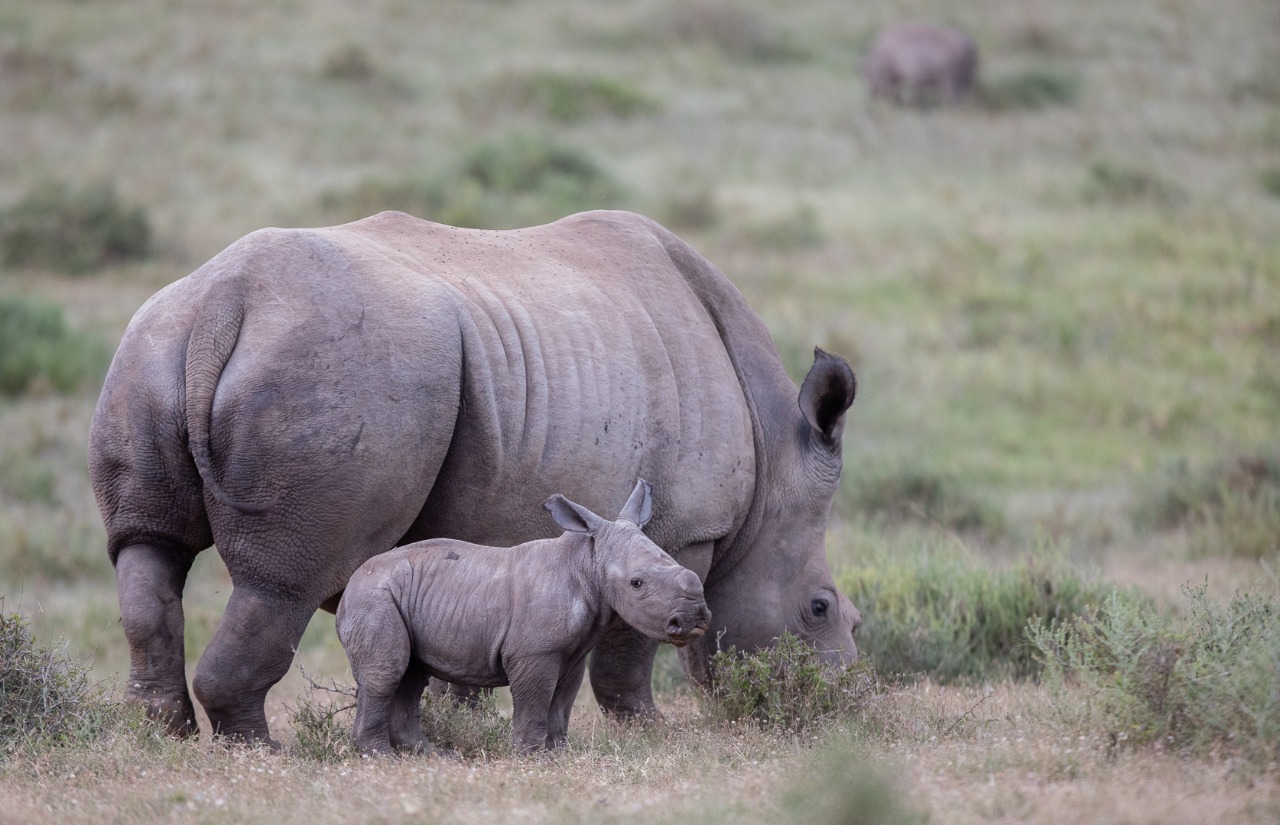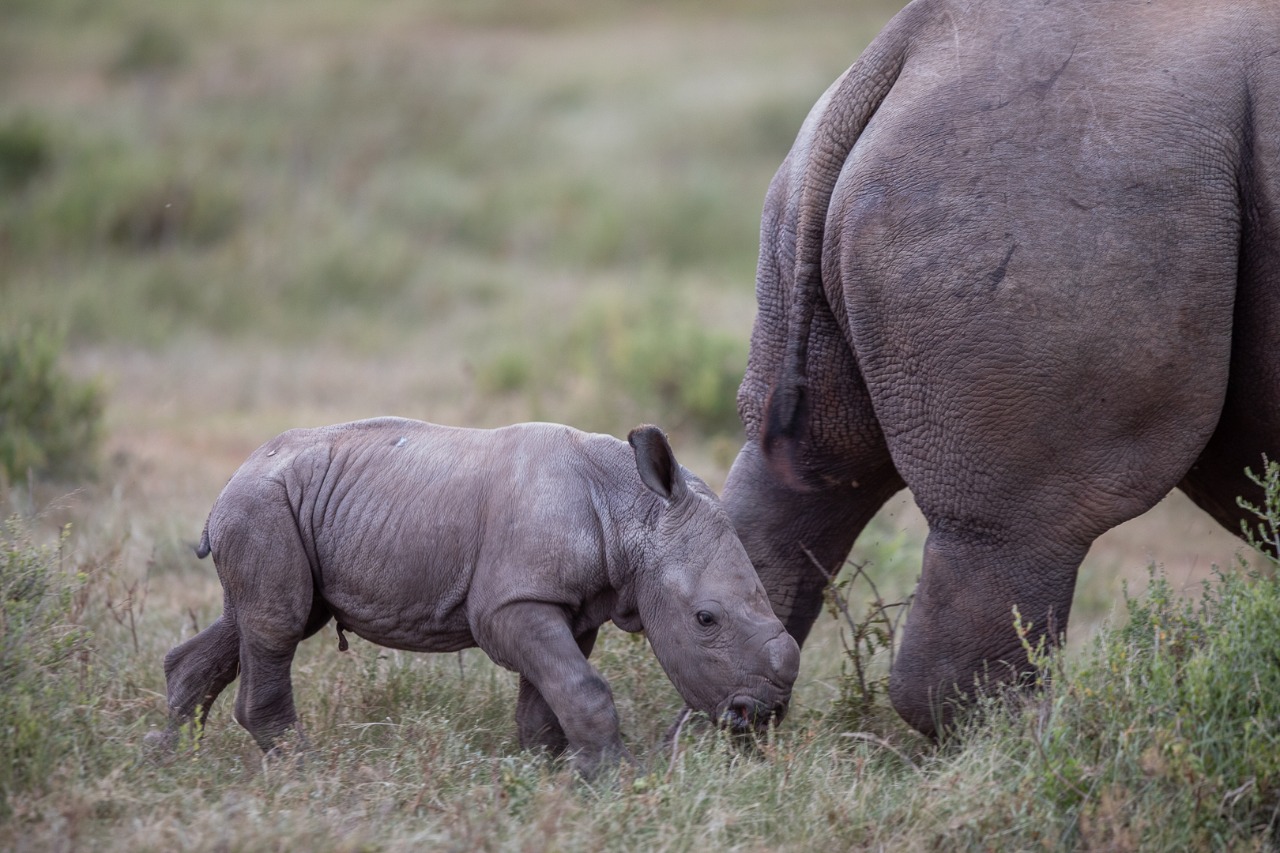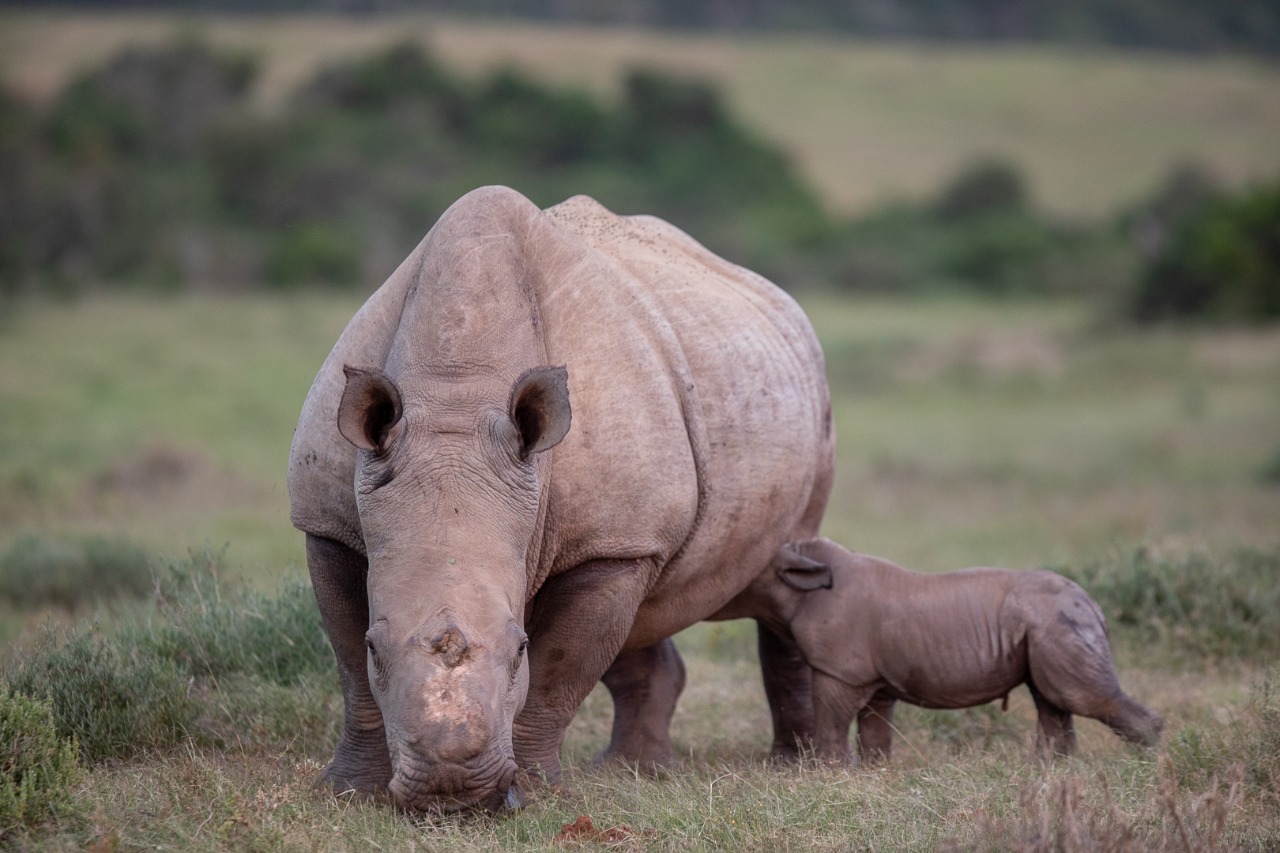 Siya Kolisi and Thandi Have Much In Common
Thandi and Siya Kolisi have much in common. The Eastern Cape of South Africa is their birthplace, they have both triumphed in life despite adverse circumstance with the odds stacked against them, and they are both vibrant beacons of hope in a world hungry for inspiration and positivity.
Siya Kolisi led the Springbok rugby team to a historical 2019 Rugby World Cup victory which united South Africans and reminding us that it is our diversity and care for one another that makes South Africa truly great. Siya Kolisi and his teammates inspire us to use our skills and talents in service of our country and people. We are all part of the solution.
Similarly, Thandi's being the first rhino to survive a brutal poaching and go on to birth four calves (to date) has inspired and united a global team of energised and passionate people to fight for the survival of her species. Like rugby, conservation is a team sport and Thandi has become one of the legendary leaders.
Now, through the birth of little rhino Siya, the legacies of Thandi and Siya Kolisi are connected.
Kariega Game Reserve and the Kariega Foundation will do all we can to ensure that rhino Siya grows to be as big and strong as his namesake, have the opportunity to live a long and peaceful life and grow his mother's legacy and lineage by siring many offspring.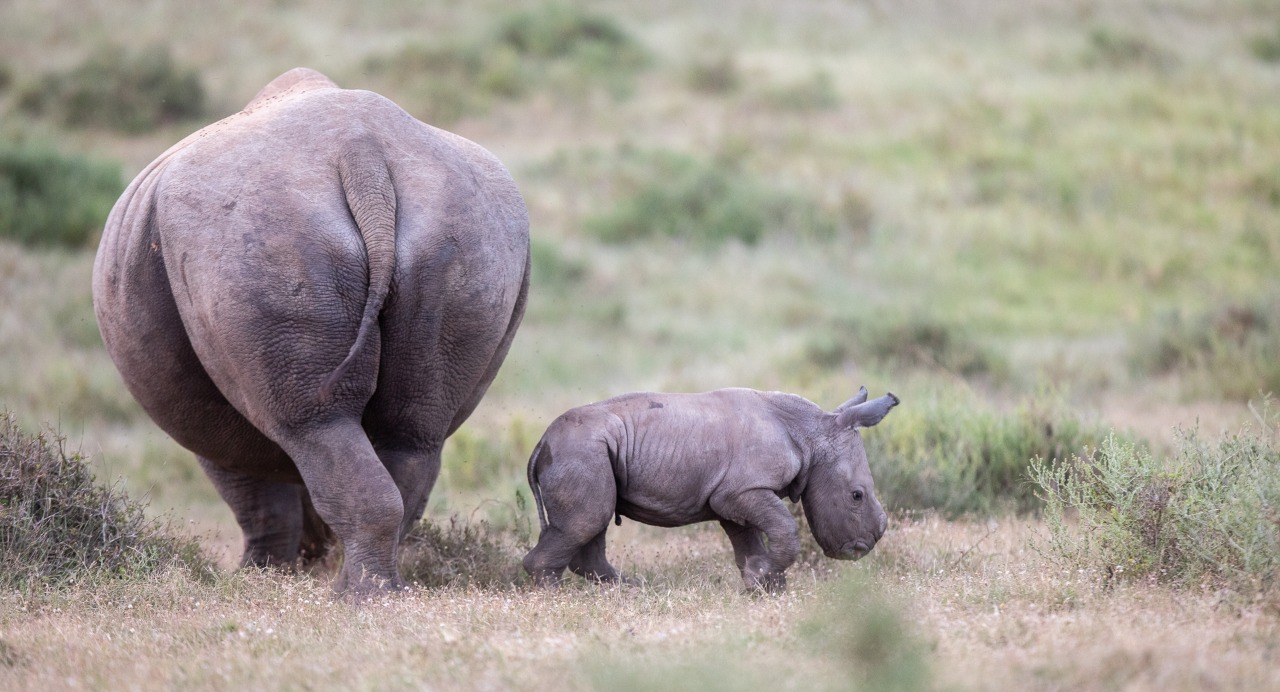 Timeline of Thandi's Lineage of Hope
Here is the timeline of Thandi's story, her growing lineage and powerful legacy of hope.
2 March 2012
Thandi and two other rhino were found in pools of blood with their horns savagely hacked off. One bull died during the attack, the second bull Themba suffered injuries that caused his death 24 days later. Thandi survived. It was the start of a harrowing and painful journey which included numerous painful treatments and surgeries. Despite all the odds stacked against her, Thandi made a full recovery. Her name means 'to be loved' in our local isiXhosa language.
13 January 2015
Thandi surprised us with the birth of her first calf, a much needed beacon of hope for all involved in the fight again poaching. Thandi's first calf was named Thembi, meaning hope in isiXhosa.
24 January 2017
Within days of the passing of the beloved founder and visionary of Kariega Game Reserve, Colin Rushmere, Thandi gave birth to her second calf, a boy who we named Colin in memory of a man who was loved and admired by many. The name Colin means 'victory of the people'.
3 April 2019
On this Wednesday in 2019 we celebrated the surprise birth of Thandi's third rhino baby. We decided to name him Mthetho, which means justice in isiXhosa. This name was chosen to commemorate the conviction and sentencing of three rhino poachers which coincidentally took place on the same day in nearby Makhanda (formerly Grahamstown).
21 October 2020
In October 2020 Thembi gave birth to her first bull calf, making Thandi a granny! He was named Umkhosi, meaning army in isiXhosa by the winner of a fundraising contest to help raise funds for rhino protection and conservation.
4 January 2021
In the midst of the Covid-19 crisis, Thandi gifted us with a much needed beacon of hope and birthed her fourth calf. We named this calf Siya, after Springbok rugby captain Siya Kolisi. Siya is an abbreviation of Siyamthanda, which means 'we love him' in isiXhosa.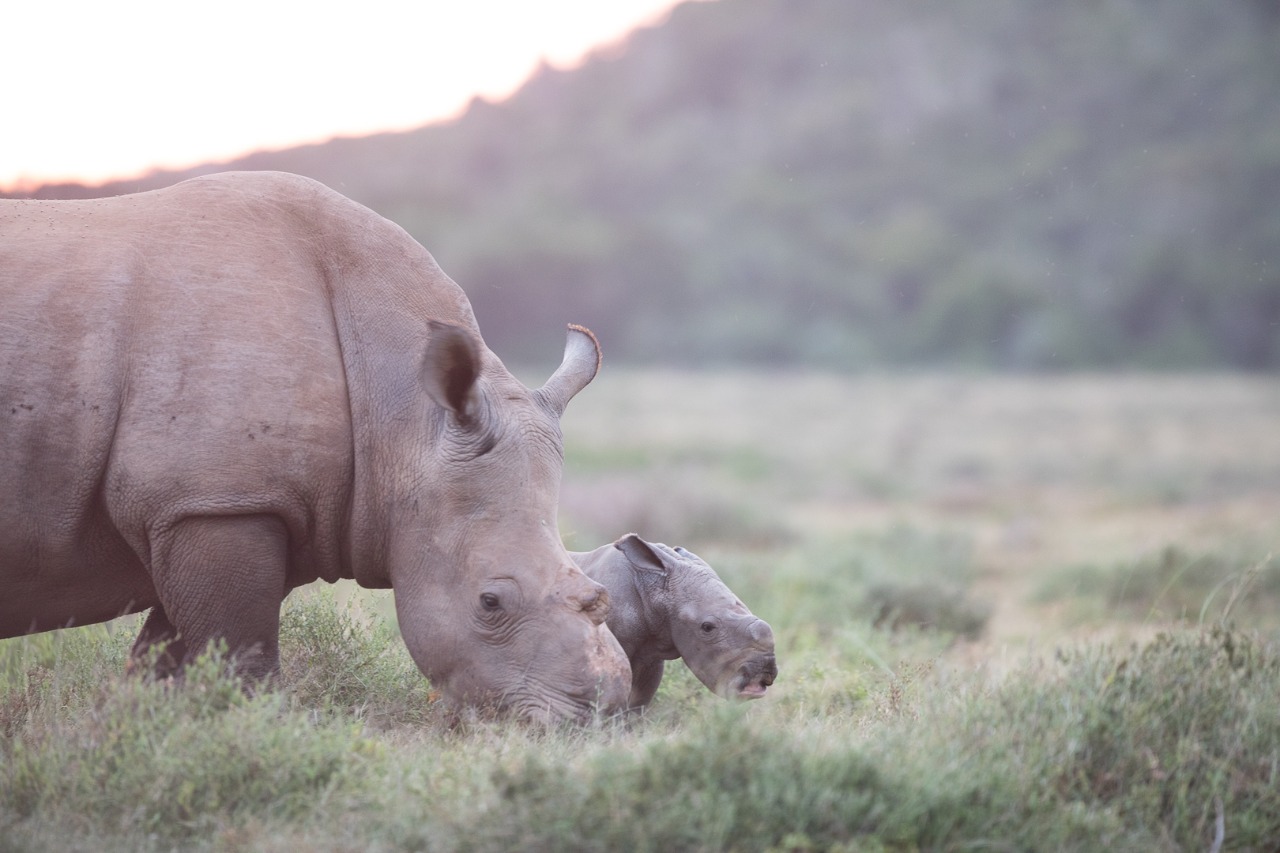 Join The Team | Support Rhino Conservation
There are three ways in which you can join our conservation team and help ensure Thandi and her families protection.
1. MAKE A DONATION
You can make a donation of any size directly to the Kariega Foundation in any of the following ways. Please email our Foundation on foundation@kariega.co.za if you need help with anything.
1. Transfer a Donation to our Bank Account
KARIEGA FOUNDATION TRUST
First National Bank (or FirstRand Bank Limited)
Account No: 62275606526
Branch: Newton Park
Branch code: 261050
Swift/IBAN: FIRNZAJJ or FIRNZAJJXXX
Bank Head Office Address: FNB Bank City, Simmonds Street, Johannesburg, 2000
Please add your name and RHINO as the reference.
2. Donate via Credit Card
Make an online donation via credit card with GivenGain, our online fundraising partner.
Download and complete this credit card authorization form and email to foundation@kariega.co.za or fax to +27 (0)41 581 2601.
3. Donate Online via EFT
Click on the DONATE NOW button on our Kariega Foundation page. This will allow you to make an EFT donation in your currency via a secure online payment gateway called Exchange4Free. You can also request for us to send you an email link to make the online transfer.
Please email us on foundation@kariega.co.za to find out more or to ask questions about donating. We so appreciate your support.
2. ADOPT RHINO THANDI & FAMILY
Support us and adopt Thandi and her family via our partners Helping Rhinos. Funds raised will benefit our APU and our Kariega Foundation environmental education programme in neighbouring community schools.
How to Adopt Thandi & Family
Thanks to the Helping Rhino Adoption Centre you can adopt Thandi and her family in a few easy steps.
Go to Thandi's adoption page: https://www.helpingrhinos.org/adopt-thandi/ or Mthetho's page: https://www.helpingrhinos.org/adopt-mthetho/
Click on the Adopt button
Choose the adoption package that suits you best
Add the names of a friend or two who want to share the responsibility (if required)
Follow the online check-out process to register and pay online.
We are grateful to our partner Helping Rhinos, a non-profit organisation committed to delivering tangible results in rhino preservation, for making this possible.
If you would like to keep updated on the progress of rhino Siya please connect with us on social media, including Facebook, Instagram, Twitter and YouTube. You can also subscribe to our blog so you will never miss out on news and stories from Kariega Game Reserve.
Photo credits: Kariega senior guide Brendon Jennings.