Dr Fowlds' Greatest Rhino Day Ever
Seeing Thandi's Calf: My Greatest Rhino Day Ever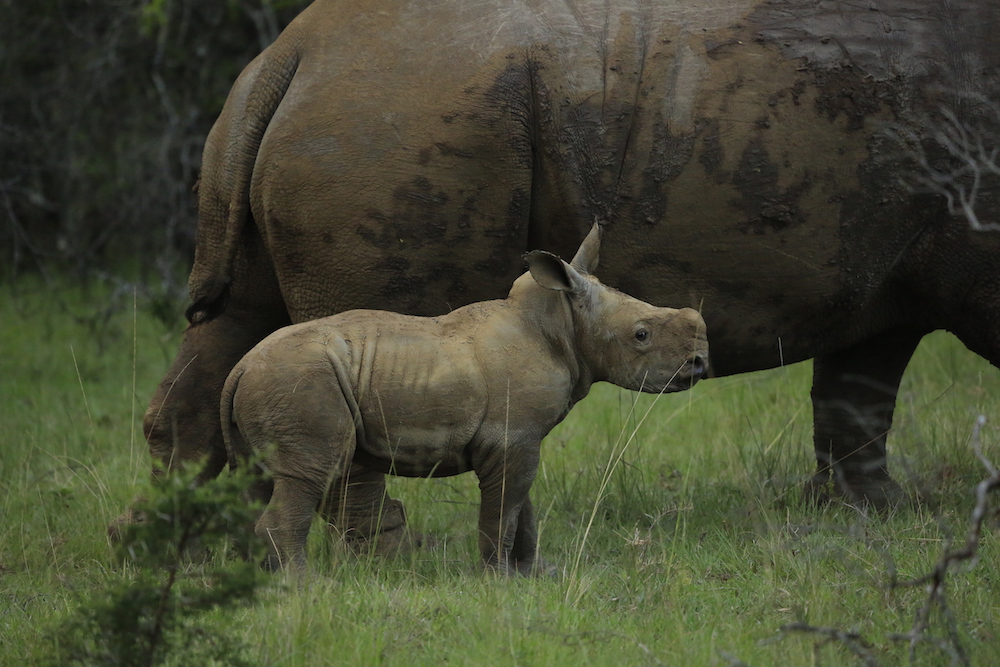 We are so pleased to share these words from wildlife vet Dr William Fowlds written after he saw Thandi's calf for the first time up close and in the open. Dr Fowlds has treated Thandi since the awful day in March 2012 when her horn was hacked off by poachers and she was left to bleed to death. We are so grateful for the incredible support that he constantly provides Kariega and our rhino. He is a passionate rhino conservation ambassador.
Our thanks also to Paul Mills for the photograph and video. Paul was there to film Thandi the day she was found in a pool of her own blood. He has filmed her throughout her struggle and inspirational journey of survival. He has provided this footage at no cost to all media. The material has been used to educate millions of people around the world and inspire so many to get involved in the fight against rhino poaching. We are so grateful to Paul.
Dr Fowlds sees Thandi and her Calf in the Open for the First Time
"My greatest rhino day ever! Seeing Thandi's calf for the first time, up close and in the open, un-phased by our existence and positively adorable will always rank as a highlight in my life. We sat there quietly soaking up the privilege of being in their presence, and… it…was… amazing! Such a content, peaceful and natural scene in a small clearing in the thicket they have been hiding out in since her birth. If it wasn't for Thandi's deformed facial features, everything would have seemed as it was created to be.
But her profile is a constant reminder of her tortured past and has almost become an icon of what her species is threatened with at the hands of man's greed and ignorance. Even today, almost 3 years on, her face is vulnerable to injury despite the considerable efforts of so many people.
Our memories of her struggle for survival, the brutality and the trauma will always be a part of her tragic but amazing story and now the delightful bundle of ears, feet and folded skin that scurries around at her feet is what makes her victory, against all odds, complete. 
The prospects of enjoying the thrill of life through this little calf and sharing this with the world are exhilarating and she brings fresh hope and energy to those who struggle to secure their future. 
As we sat there in silence savouring those precious moments with these two rhino, it was difficult not to be overwhelmed by the emotions of three years past and the responsibility of keeping them alive through the war that rages on. 
Stay safe Thandi's baby girl. Your mommy must be very proud of you. And we, are VERY proud of her."
Our thanks to every single person and organisation that has lent their support and generosity to Thandi, Kariega and our rhino.
The story of Thandi is part of the much broader issue of rhino poaching – an issue which we cannot fight alone. Kariega actively supports the Forever Wild Rhino Protection Initiative of the Wilderness Foundation and the Rhino Project of the Endangered Wildlife Trust. Both are incredible organisations which have our full trust and support in all their commendable endeavors toward saving the rhino. See more on our Kariega Foundation Save our Rhino page.