Rhino Conservation: A Team Effort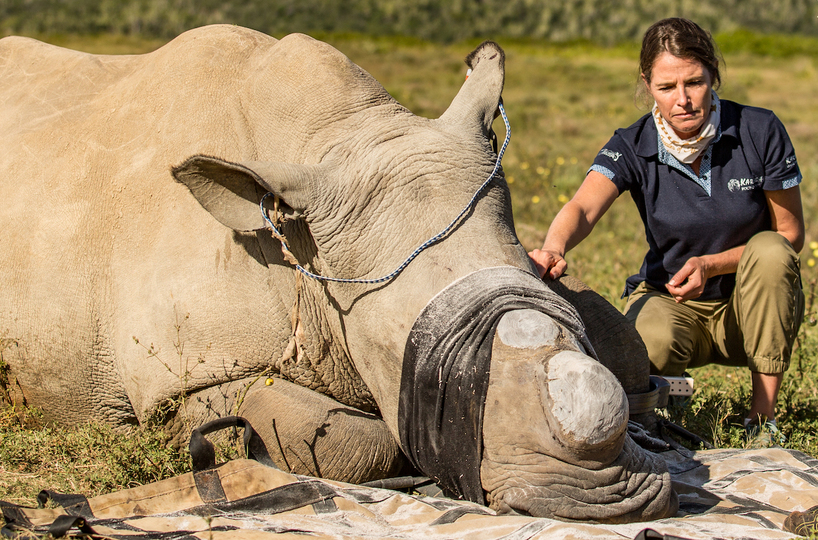 On 2 March 2012, Kariega Game Reserve was thrust into the depths of our national rhino crisis when three white rhino were simultaneously poached for their horns. One of those rhino was Thandi , the first ever rhino to survive after her horns were brutally removed. Despite being forever marked by a hornless face and enduring untold pain and suffering, Thandi has gone on to triumphantly produce three white rhino calves, Thembi, Colin (pictured above) and Mthetho. All live in the wild at Kariega Game Reserve in the Eastern Cape of South Africa.
In the weeks and months after the 2012 triple poaching, our Kariega Game Reserve and veterinary teams scrambled to save Thandi and protect the rest of our crash, we learnt in a very humbling and tangible way that rhino conservation requires a team effort. We were deeply grateful for the local and international support that flowed to our Save the Rhino initiative via numerous individuals and organisations who offered expertise, resources and critical funds.
Rhino Conservation: Dehorning Critical to Protect Rhino
It was also during this time that Kariega Game Reserve and the Kariega Foundation, acutely aware of the fact that we did not have the resources for a dedicated anti-poaching unit, adopted dehorning as a critical layer of protection for our crash of rhinos.
Over the past eight years we have made huge progress in the area of wildlife protection and have adopted a very broad and multi-layered approach to rhino conservation. We now run a professional and well-resourced Anti-Poaching Unit (APU) with canine support.
In addition, our Kariega Foundation has implemented an active environmental education programme in our local schools and engages children and youth in social emotional learning (SEL) to develop the awareness, self-management and responsible decision making. We believe that educating and inspiring people to change their hearts and minds, and inviting them to join our conservation efforts is the most sustainable way of protecting the rhino species.
However, the results of our youth programmes will only be enjoyed in the long term. In the interim, dehorning remains a critical layer of rhino conservation and protection at Kariega Game Reserve.
Dehorning rhino is a controversial topic as it is invasive, comes with risks and is very costly. Our veterinary team, including Dr William Fowlds (pictured below), are very experienced at managing the risks and assure us that the rhinos do not feel any pain during or after the procedure. Our Kariega Foundation team also continually fundraises to pay for the regular dehorning. We are very grateful that our dehorning programme has been largely funded through incredible individuals and organisations who so generously come to our aid. While our rhinos remain at risk, dehorning is not a practice we will compromise on.
Please email us on foundation@kariega.co.za if you would like to contribute to our rhino conservation and dehorning procedures.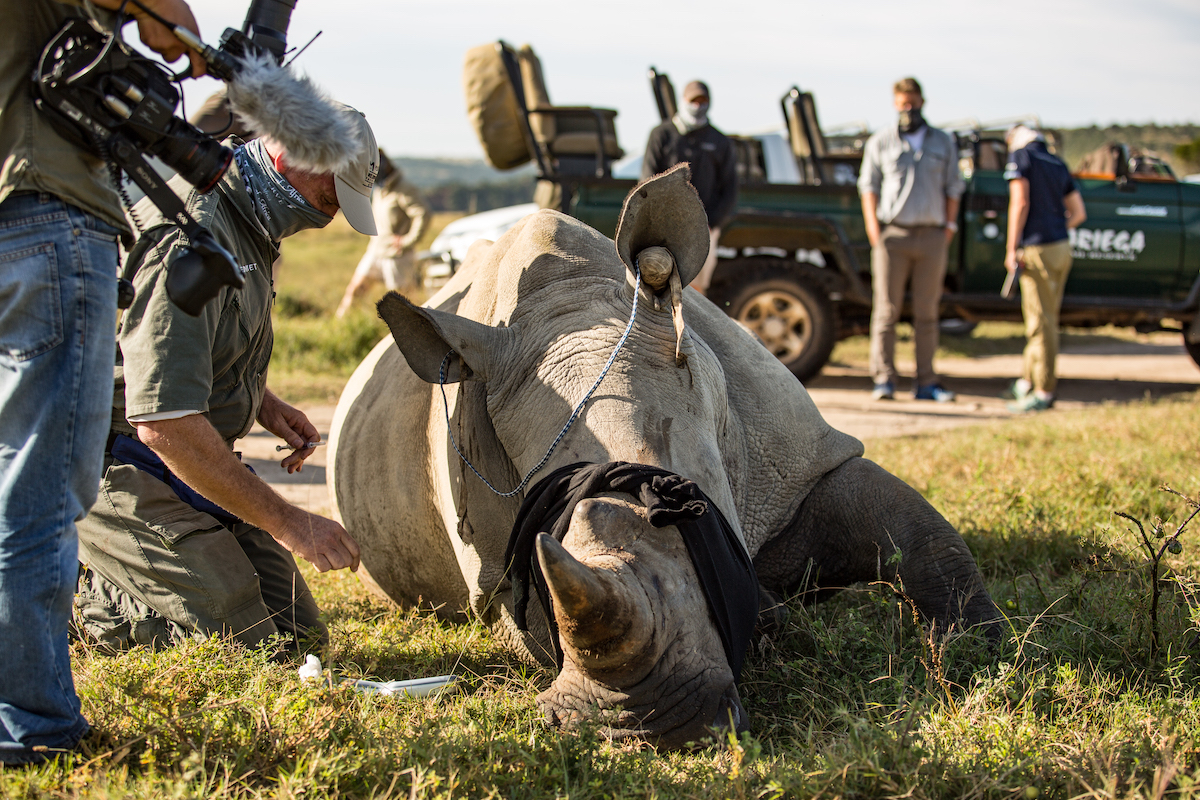 Rhino Conservation Thank You: Dhahran Tower Nursery & Preschool
We recently carried out a series of dehorning procedures at Kariega Game Reserve, all of which were funded through the efforts of the children and teachers at Dhahran Tower Nursery and Preschool in Saudi Arabia. Over a number of months the school arranged various fundraisers from bake sales to craft markets, and raised an incredible R33,000 which they donated to the Kariega Foundation, specifically to fund our rhino dehorning programme. These efforts were all co-ordinated by the amazing teacher Florina Froneman-Gerber.
The Dhahran Tower team were also motivated to be the sponsors of rhino Colin's first dehorning. Colin is the second calf born to Thandi and is named after the much loved founder and visionary of Kariega Game Reserve, Colin Rushmere. Rhino Colin was born days after Colin Rushmere passed away in January 2017.
The beautiful first image in this article is of Colin just after he was dehorned. Sitting at Colin's side is Lindy Sutherland, director of the Kariega Foundation and daughter of Colin Rushmere. The photograph captures Lindy in a moment of deep gratitude and reflection and she comments:
"Thank you Florina and Dhahran Tower for helping us keep all our rhino safe, especially Colin, who we dream will live a long, peaceful life and sire many offspring."
Rhino Conservation Thank You: Dancing For Rhinos
Each dehorning procedure gives us the opportunity to conclude a health check on the rhino, administer vitamins and antibiotics, extract DNA samples for the South African rhino DNA database and attached a radio collar for tracking and anti-poaching surveillance. These collars are an expensive resource and we are deeply grateful to our good friends and long times supporters, Tanya and Gerhard West and the Dancing for Rhino team, for generously donating the collars for our most recent procedures. 
Dancing for Rhino was founded in 2012 when Tanya and Gerhard were moved by Thandi's poaching to take action for rhino conservation. The duo created a dance to tell the story of Thandi's brutal poaching and her courageous fight to survive. The troupe have performed an annual fundraiser ever since and generously donate some of the funds to the Kariega Foundation. Thank you deeply and always – we never take your support for granted.
Rhino Conservation: Invitation to Collaborate
The Kariega Foundation, a non-profit trust, was born out of the desire to contribute to the upliftment of local communities, sustainable wildlife management and conservation. The Foundation works in collaboration with Kariega Game Reserve in these key areas.
The Kariega Foundation is funded by a community and conservation levy paid by all adult guests visiting Kariega Game Reserve. These funds are invested into numerous and diverse projects inspired, led and managed by passionate and energetic people from the Kariega Foundation team and our neighbouring communities of Kenton-on-Sea, Ekuphumleni, Marselle and Klipfontein.
The Kariega Foundation is currently active in the following areas:
Early childhood development
Youth development through sport and dance
Education transformation through Social and Emotional Learning
Anti-poaching and wildlife protection
Rhino protection, conservation and preservation
Endemic and rare species research and reintroduction
Alien and indigenous plant management.
Kariega Game Reserve, in partnership with the Kariega Foundation, stand resolute in our commitment to leave a legacy of sustainable eco-tourism and rejuvenation for our people, land and wildlife.
If you would like to collaborate or support us in any of these areas please email foundation@kariega.co.za or visit our Save the Rhino page for more information. Together we are so much stronger.
Photo credits to the talented Daniel Haesslich.