Dancing for Rhinos: Inspired by Thandi
Dancing for Rhinos: Inspired by Thandi
During March we celebrate Thandi's amazing recovery and highlight how it has fueled public passion for this species and motivated people from far flung places to get actively involved in helping to save the rhino. We are so proud to publish some of the wonderful achievements and projects that have been inspired by this brave rhino. Our sincere thanks to everyone who has, and continues to fight for our rhino.
Thanks to Tanya and Gérard West for the update on Dancing for Rhinos. This fantastic fundraising event that will be held for the third time on 14 March 2015 at the Deutsche Schule in Pretoria from 7pm. Tickets are R500 per person for the show and three-course dinner. Please book by calling +27 (0)72 518 3926 or emailing rhinos@letournesol.co.za. Dr William Fowlds and Dr Johan Marais (who did the first skin graft on Thandi) will be speaking at the event.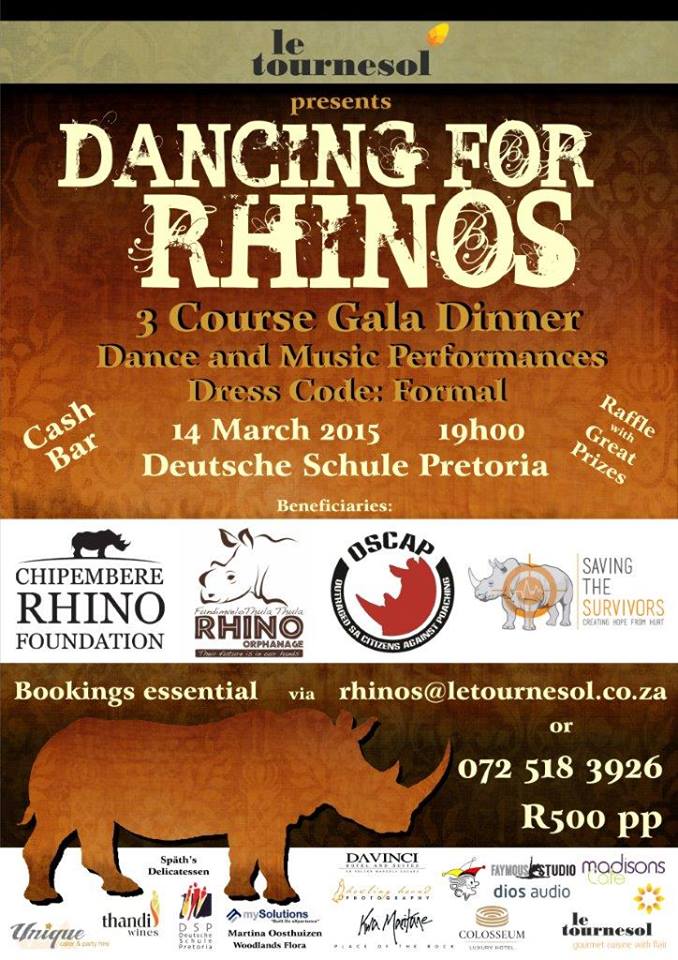 How Dancing for Rhinos Began
"On 02 March 2012 I received a telephone call from my sister Urda who has been following the rhino crisis very closely. She was very distraught about yet another poaching attack… this time three rhinos at Kariega Game Reserve in the Eastern Cape were the victims. One rhino, bull #84 died immediately, and the other two rhinos survived the initial attack but were fighting for their lives.
My sister's words got stuck in my mind and I embarked on a journey that would change my life forever…
From that day on I read every single article I could lay my hands on about the progress of these two injured rhinos - the story of Thandi and Themba.
I forced myself to look at their injuries on the photos. I watched all the videos I could find and I was shattered about the terror that was happening around us. I read about ABSA, Geza, Lady, Higgins, Roccy and Clova and all the other rhino poaching victims. I watched in shock the climbing statistics and I knew that I could not sit and watch this senseless cruelty without doing something. I read all the posts written by Dr William Fowlds. I cried whilst reading most of them and one day I wrote to him, thanking him for his dedication and that we are all hoping with him for the survival of these two rhinos. I then asked him how ordinary people like me could help. He wrote back to me and I will forever remember his words: "It is good to have a soft heart but better to have strong hands"… and that was it! I knew that I had to contribute somehow.

It was so painful to see the video of Themba lying next to Dr Fowlds, I felt so ashamed of what we as humans are capable of. The sight of this beautiful iconic animal lying there and knowing that he simply did not have the strength to get up anymore. It took me a long time to come to terms that Themba was no longer with us and I did the one thing that I could do for my own pain at that moment, I wrote the poem about Thandi and Themba.
Still grieving Themba's death, I forced myself to keep faith for Thandi and I watched with amazement how she just got stronger and stronger! Then her story went viral and the world got to see the struggle of our rhinos.
But it was simply not enough. Gérard, my husband, and I wanted to know more, we wanted to see rhinos that were affected by this cruelty and so we met two orphan rhinos at another game reserve. Both of these young rhinos had lost their moms due to the cruelty of poaching. At only three months one of them became an orphan. It was such an incredible experience seeing these beautiful animals and watching how light-footed they are. One thing stuck with Gérard and I was their sounds, their cries for affection and that they simply did not want to be alone. For Gérard some these sounds reminded him so much of a video where a rhino got shot several times and cried out before he died a painful death and Gérard had shivers down his spine. We left the game reserve and for many hours we simply could not speak a word, our emotions were so intense.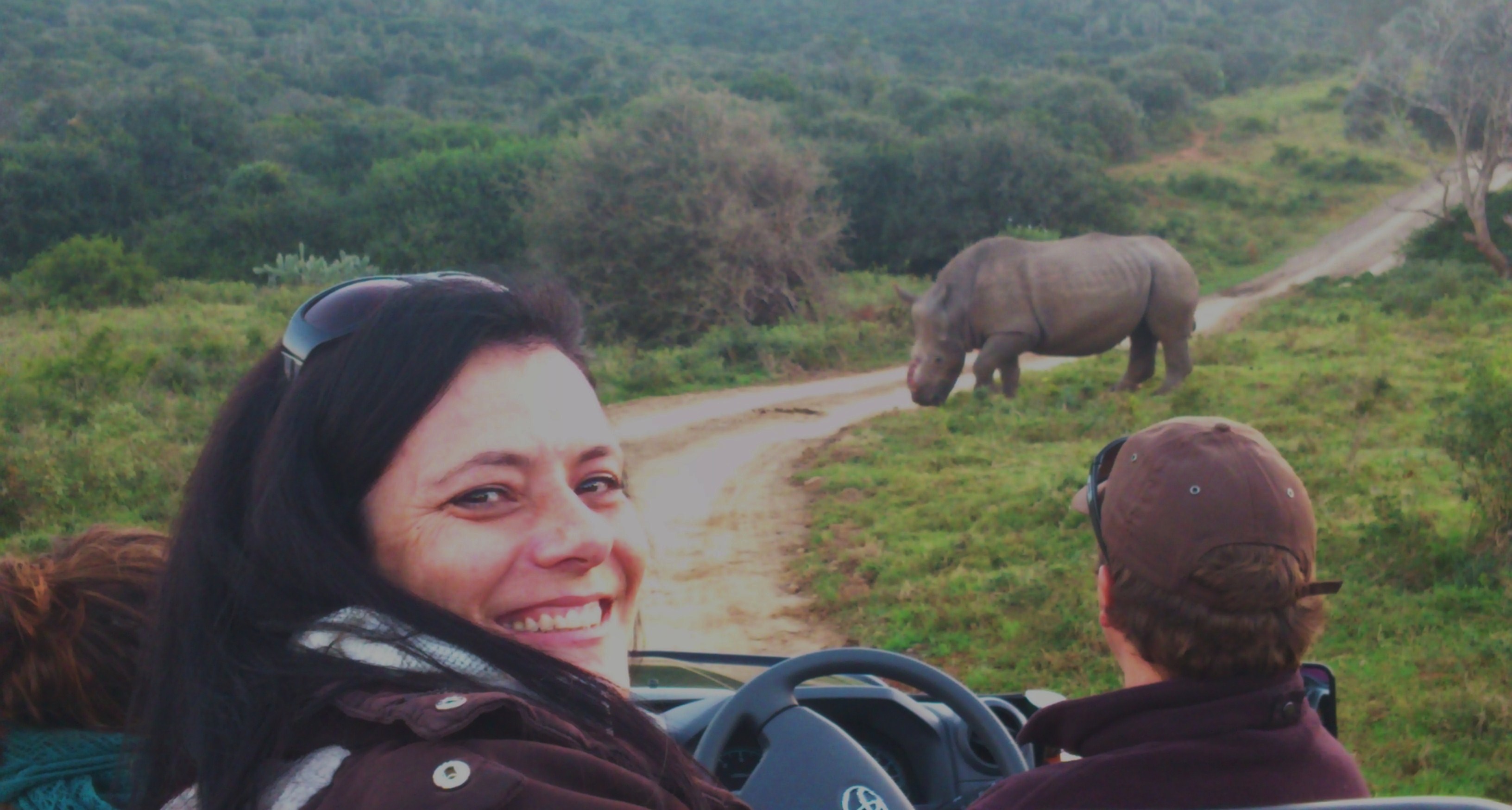 In July 2013 we headed off to the Eastern Cape, to Grahamstown and Kariega Game Reserve to meet the girl who started it for us. Our special star Thandi. We were greeted by a very friendly ranger who immediately got to work to find this special lady. Everyone around me was a bit nervous that she might hide herself, however, I never realized any of this – I was so sure that we would see her and my excitement was so high. Our game ranger Ryan realized very quickly that this was a very important moment for us and we were so lucky. 
At first she was quite far away, then she came closer and closer, and after a while she was standing a mere 5 meters away from the vehicle and gave us a very intense look. I was ecstatic! Here we were with a survivor, the rhino that carried the message out into the world and she was standing next to us. I could not believe how trusting she was after the ordeal she endured at the hands of humans. We spent a long time there, quietly just watching her roaming around the vehicle and soaking up her presence. Needless to say that my emotions ran very high and Gérard, being the wonderful support that he is, made sure he captured all of this on camera and just pressed my hand very tightly! A day we will cherish forever.
Dancing for Rhinos: A Passion to Conserve Rhinos
As our passion for rhinos was growing and as Gérard and myself always wanted to help somehow, we decided this was the cause we wanted to support. Gérard's love for cooking and my love for dancing would give us the opportunity to create something that we could do together, and so Dancing for Rhinos was born.
Dancing for Rhinos has become an annual formal event in Pretoria - a dance and music show and it includes an exquisite three-course dinner. This function is hosted to raise funds for rhino beneficiaries.
We hosted our first show on 11 May 2013 and our third event will be hosted on 14 March 2015 in honour of Thandi. I have choreographed a musical which tells the story of Thandi and Themba and my dancing team will perform this musical at Dancing for Rhinos 2015.
Many people ask me what can they do to help and I echo the words that Dr William Fowlds says: "What are you doing on a daily basis?" So we have incorporated the plight of the rhinos into our daily business. The whole team at our business Le Tournesol wear  t-shirts in support of our beneficiaries on "Rhino-Fridays" and on special markets the entire team is dressed in these t-shirts to help raise awareness.
The annual event is a huge team effort and has been driven by the dedication of many wonderful people and amazing mentors. We will strive to assist wherever we can by Dancing for Rhinos.
And to me personally the song "Special Star" will always be a dedication to this amazing Rhino Thandi. It will always stay my theme song for Dancing for Rhinos.
Focus for 2015
Please support our event on at the Deutsche Schule in Pretoria from 7pm on 14 March 2015. Tickets are R500 per person. There is a cash bar and lots of spot prizes. We are so pleased to have Dr William Fowlds and Dr Johan Marais (who did the first skin graft on Thandi) speaking at the event. 
Our focus is to involve more and more people and create not only awareness but also knowledge around all rhino-related issues. We strive to acknowledge and motivate the heroes who deal with this terrible ordeal at the frontline. We ensure that we constantly do research to stay informed and we assist our rhino beneficiaries by means of financial funding which we raise through our Dancing for Rhinos event.
This year we will definitely focus on the success stories at Dancing for Rhinos. We need to motivate people again as the rhino fatigue is huge and if we can share positive news (Thandi is our best example for this!), we can motivate and mobilise people for action again.
We cannot lose momentum in this; if we do, we will lose our rhinos…
Dancing for Rhinos: Book or Get in Touch
To book for Dancing for Rhinos please contact Tanja and Gérard West via email on  rhinos@letournesol.co.za or call +27 (0)72 518 3926. They also post regular updates on their  Facebook page.