Adopt Rhino Thandi: Win Kariega Safari
One never tires of spending time with our favourite rhinoceros family in the Kariega wilderness. Poaching survivor rhino Thandi and her calves Thembi and Colin are a tight unit right now, and are very rarely seen apart. They are happy and relaxed in their environment where they graze, wallow and interact with the rest of the rhino crash. It is only Thandi's hornless profile that reminds us of the trauma of her poaching and courage of her recovery.
Read on to find out more about this rhino family, how you can adopt rhino Thandi and by doing so, stand a chance to win a Kariega safari! The first 50 adopters will be entered into a draw and one lucky rhino lover will win an all-inclusive two night stay for two people at Kariega Game Reserve's luxurious Ukhozi Lodge. The winner may be fortunate enough to meet rhino Thandi and her family in the wild.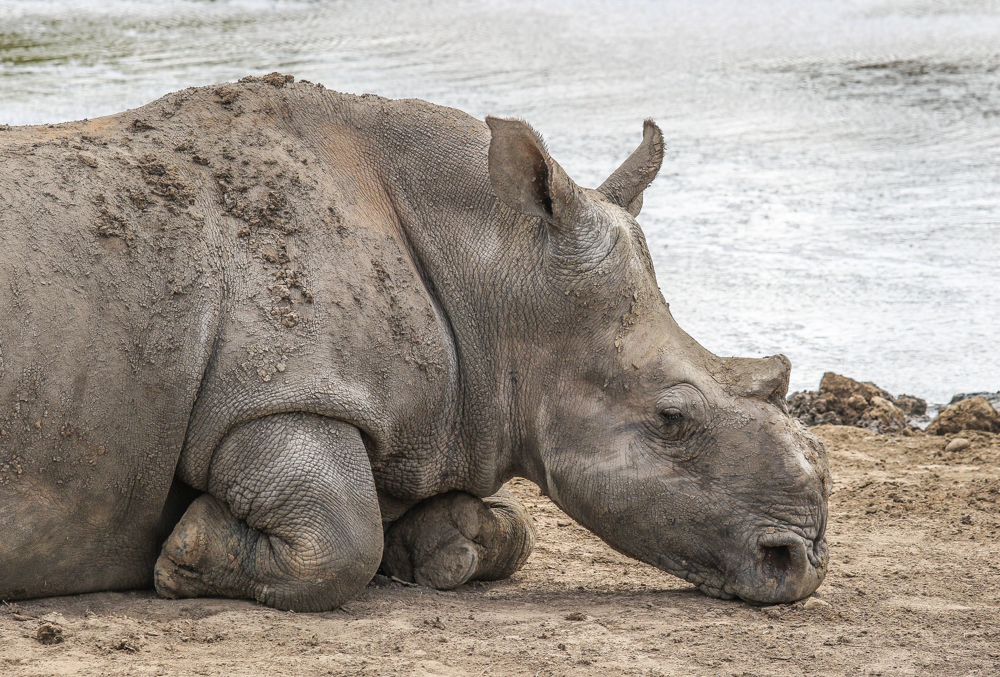 Rhino Thandi and Growing Family
The current status quo of rhino Thandi and her family will of course change as new calves are (hopefully) born to Thandi and Thembi, and as Colin continues to grow and reach his sexual maturity in years to come. There is speculation that Thandi may be currently pregnant and that the arrival of a new calf may be imminent. The gestation period of a white rhinoceros or square-lipped rhinoceros is 16-18 months, and mothers give birth to one calf every 2-3 years. Rhino Colin was born on 24 January 2017 and is just over two years old.
The Kariega field guides have also observed rhino bulls taking an interest in Thembi. This suggests that she is starting to reach her sexual maturity and may produce her own calf in at least two years. Female white rhinos usually reach sexual maturity at around 6-7 years old. Thembi was born on 13 January 2015 and is just over four years old.
We marvel at this growing rhino family. Seven years since that fateful night in March 2012, it is evident that the time, effort and resources selflessly offered by so many dedicated and passionate people to save one rhino have paid dividends and will continue to do so through Thandi, Thembi and Colin's lineage.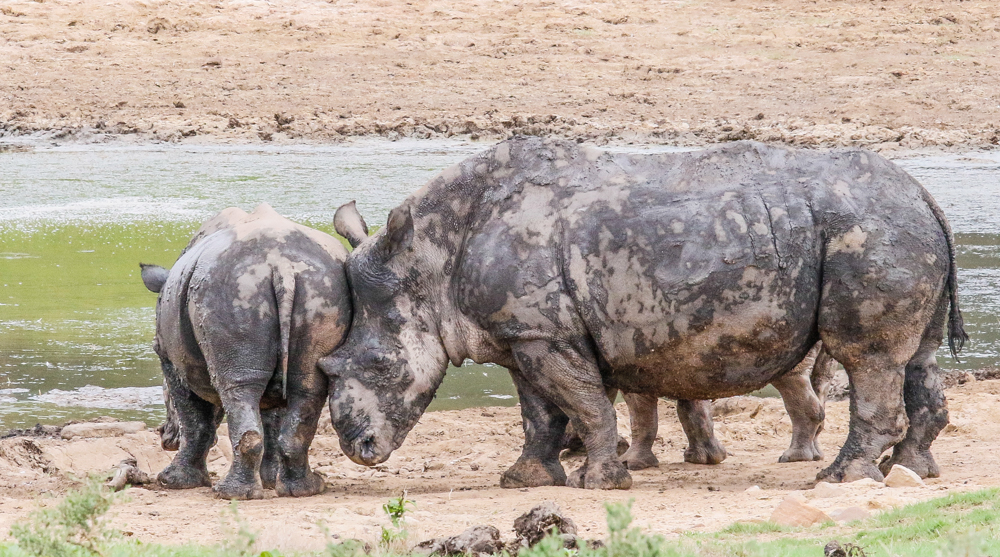 2018 Poaching Stats Down: Concerns for Rhino Remain
While we feel much joy over Thandi's unfolding story, we feel equally daunted at the task of protecting her and her family at a time when rhino poaching continues to be a real and tangible threat. 
Statistics released on 13 February 2019 by the South African Department of Environmental Affairs state that 769 rhino were poached in South Africa in 2018. A shocking figure considering that this amounts two rhinos being killed by poachers every day. 
It is the first time in five years that the number of rhinos poached has fallen below 1,000. The department suggests that anti-poaching strategies are beginning to work, but we have to remain vigilant in our efforts to protect the remaining rhino population and encourage breeding in an attempt to replenish their depleted numbers – the rhinoceros population is still under threat.
We support the comments by the WWF International's African rhino lead Dr Jo Shaw, "The overall status of our rhino populations remains a concern and we need continued commitment to address the systemic challenges for rhinos across the region."
Adopt Rhino Thandi to Help Protect Her Lineage
We need your help to protect Thandi, Thembi and Colin. The Kariega Foundation, in collaboration with Kariega Game Reserve, invests a substantial amount of funds in various rhino protection and education programmes. This includes the operations of an extensive anti rhino-poaching unit (APU) on the reserve, comprehensive environmental education in local communities and domestic animal outreach programmes. We believe these are three critical pillars of rhino protection and preservation. It is a heavy burden to carry alone and we are immensely grateful to so many people who offer support through donations and fundraising initiatives.
How Can You Help? Adopt Thandi and Her Family
Helping Rhino, a UK charity dedicated to saving the rhino, in collaboration with the Kariega Foundation have provided a wonderful opportunity for you to help our efforts in protecting Thandi and her family and the rhino species at large, by adopting Thandi and her family through the Helping Rhino Adoption Center. Funds raised through the adoptions go directly to support Kariega's APU, Environmental Education and domestic animal outreach programmes.
Steps To Adopt Thandi and Family
Thanks to the Helping Rhino Adoption Centre you can adopt Thandi and her family in a few easy steps.
1. Go to Thandi's adoption page: https://www.helpingrhinos.org/adopt-thandi/
2. Click on the picture of Thandi and her family
3. Choose the adoption package that suits you best.
4. Add the names of a friend or two who want to share the responsibility.
5. Remember to check out the benefits that form part of your adoption package.
Adopt Rhino Thandi: Win Kariega Safari Experience
The first 50 adopters will be entered into a lucky draw and one rhino lover will win an all-inclusive two night stay for two people at Kariega Game Reserve's luxurious Ukhozi Lodge, where they have the life changing experience of meeting Thandi and her family in the wild.
Thank you for being our partners in rhino conservation and doing all you can to ensure your children and grandchildren will experience the awe of seeing a rhinoceros in the African wild. For further information please contact us via email at foundation@kariega.co.za or via our social media channels. You are also welcome to add your questions and comments below.