Video: Rhino Siya is Six Months Old
On 6 June 2021 poaching survivor Thandi's fourth calf rhino Siya reached his six month old milestone!
This enchanting video is courtesy of one of Kariega Game Reserve's talented and knowledgeable field guides, Reece Dodd who had the privilege of sitting quietly with rhino mum and calf in the African wilderness to capture this intimate footage. The soothing bush noises in the background immediately transport one to the Kariega plains and the magical safari experience with us.
If you have visited Kariega Game Reserve and were lucky enough to see Thandi with one of her four calves, namely Thembi (born January 2015), Colin (born January 2017), Mthetho (born April 2019) or Siya (born January 2021) you will resonate with the privilege of the experience. Thandi has a presence that quietens ones soul and a story that has changed many lives. After surviving a brutal poaching that robbed her permanently of her horn in 2012, Thandi has gifted us with four calves and a grand-calf!
The robust male calf in the video is Siya, named after Springbok rugby captain Siya Kolisi. Siya is an abbreviation of the isiXhosa name Siyamthanda, which translates to 'We love him/her.' A most appropriate name for this calf considering how much we love him, his mum and Siya Kolisi.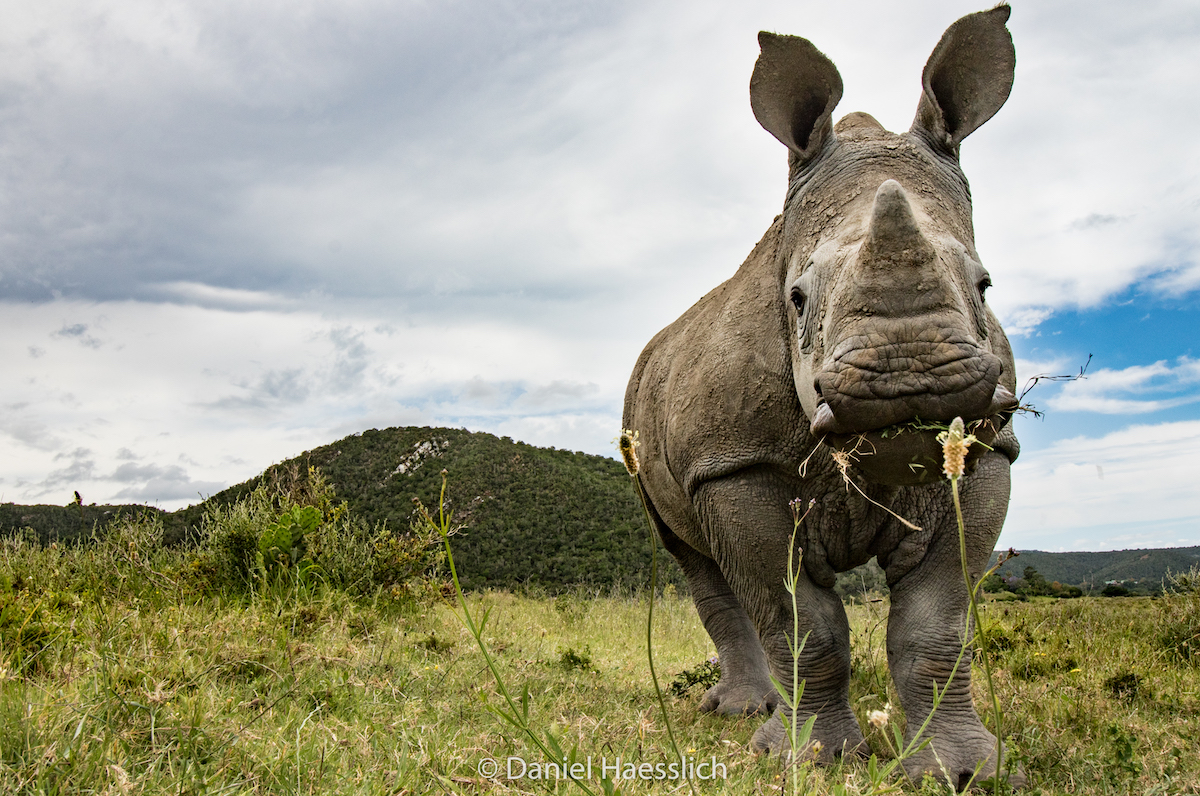 Female Rhino Have Fierce Maternal Instincts
Female white rhino gestate for 15-16 months before giving birth to a single calf.
Their fierce and protective maternal instincts kick in immediately and they develop a close bond with their young often demonstrating attentive, caring and patient characteristics. A white rhino calf may stay with its mother for two to three years, during which time the mother does her best to protect them from potential threats.
I was fortunate enough to witness this maternal instinct at Kariega Game Reserve during a routine rhino dehorning procedure. Kariega Game Reserve pro-actively dehorn rhino as one of the strategies to help protect them against the very real threat of poaching. In the procedure I was observing the female being dehorned had a three year old calf and the two animals were temporarily separated for the duration of the procedure which took approximately 30 minutes. Once the procedure was finished, we watched the mother and calf found their way back to each other. They were no more than 100m apart, but due to the rhinos poor eyesight (a defining characteristic of a white rhino), they had to rely on smell and sound to find another. The mother circled, nose to the ground, while the calf called out in a high pitched squeal. Within five minutes they were reunited. Their joy and relief was tangible! It was a truly heart-warming moment in the African wilderness that left me pondering the innate intelligence in these majestic animals.
Help Protect Rhino Siya and Family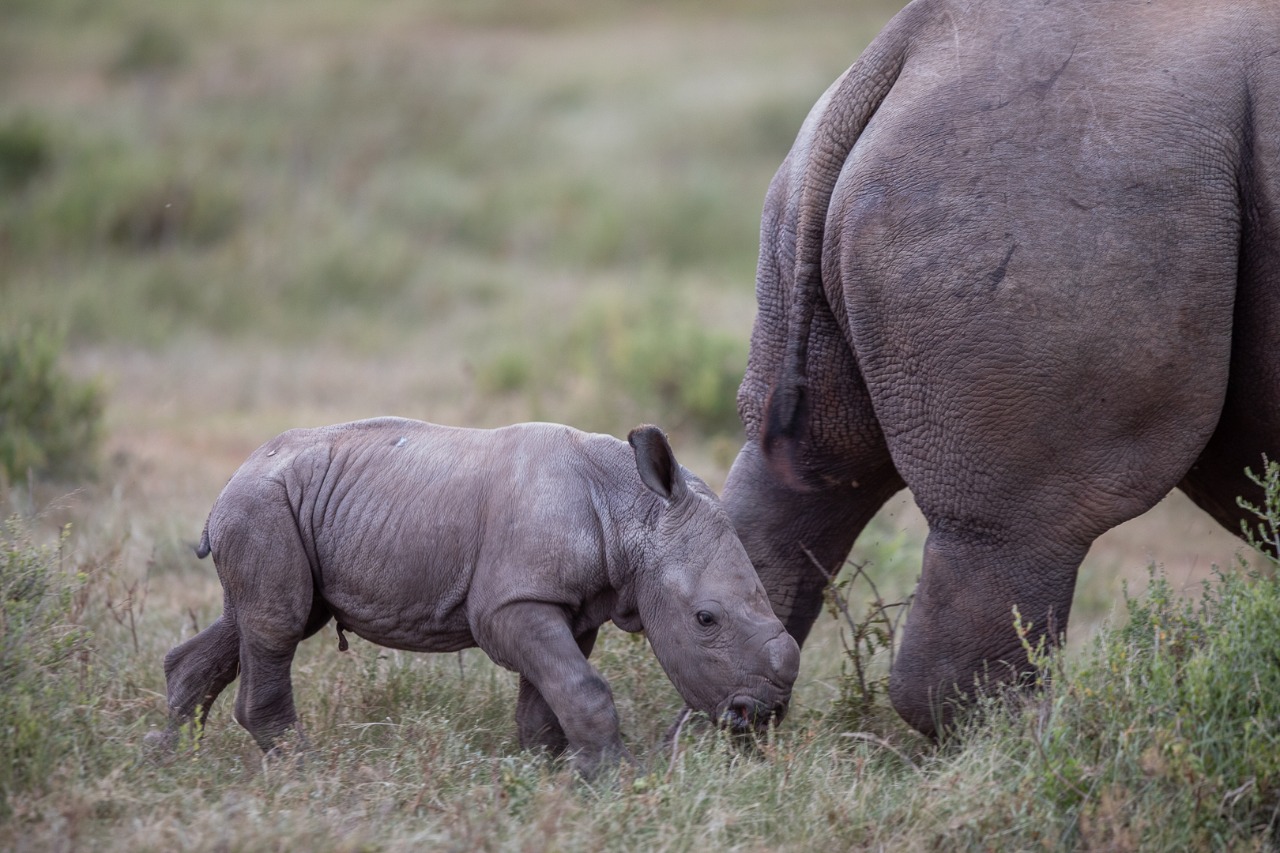 Kariega Game Reserve, in partnership with the Kariega Foundation, have adopted a broad and holistic approach to conservation, with a particular focus on rhino conservation. Our projects address three critical components of sustainable conservation: protection, preservation and education. Protection focuses on anti-poaching practices, the alleviation of hunger and food scarcity as well as job creation; preservation includes habitat restoration and expansion and finally our education projects aim to engage neighbouring communities as conservation partners through environmental education and social emotional learning programmes.
Sadly, COVID-19 has crippled eco-tourism in South Africa. The Kariega Foundation has been working tirelessly to raise the funds needed to maintain these critical conservation and wildlife protection programmes that were typically funded via the conservation and community levy paid by each guest visiting Kariega Game Reserve. We have been incredibly grateful for the support offered by many global partners and individual donors who have helped us through this difficult period. We are optimistic that travel to South Africa will return soon and Kariega Game Reserve will be able to rebuild its' robust model of sustainable and responsible eco-tourism.
The Kariega Foundation is a non-profit trust and can accept donations from around the world. If you would like to support our efforts, donating is as simple as clicking the donate link, but the hope you give is immeasurable.
Donate now: Make a credit card donation via the GivenGain payment platform.
Create a linked fundraiser: Set up your fundraising page by visiting www.givengain.com/c/kariegafoundation. Your donation will automatically be transferred to the Kariega Foundation.
Make a direct deposit using our bank details below.
KARIEGA FOUNDATION TRUST BANK DETAILS
First National Bank (or FirstRand Bank)
Account No: 62275606526
Branch: Newton Park
Branch code: 261050
Swift/IBAN: FIRNZAJJ or FIRNZAJJXXX
Bank Head Office Address:
FNB Bank City,
Simmonds Street,
Johannesburg, 2000
Reference: Yourname_Rhino
If you're a South African taxpayer or the organisation on whose behalf the donation is being made is a South African taxpayer, please email Cindy on marketing1@kariega.co.za to request your 18A tax exemption certificate.
Please contact us on foundation@kariega.co.za if you would like to know more.
Share Your Rhino Stories, Images and Videos
Did you have a poignant moment on your Kariega safari where you pondered the intelligence of a wild animal? Email us so we can share your story, or share it by tagging us on Facebook, Instagram, Twitter, LinkedIn and YouTube. We love hearing from you.
Images thanks to Daniel Haesslich and Brendon Jennings.