Video: Hippo Out of Water on Daytime Safari
In the South Africa's summer months (November to March) the maximum temperature can reach 40°C (104°F) and you don't expect to see a hippo out of water on a daytime safari. This is exactly what happened at Kariega Game Reserve and we fortunately captured this great sighting on video.
Hippo: Top 10 Dangerous Animals to Humans
Hippos are regularly listed in the top 10 most dangerous animals to humans in Africa. This is strange fact considering that hippos are vegetarians! Other dangerous animals to humans include mosquitos (thankfully our reserve is in a malaria-free area) and crocodiles (none live as far south as Kariega Game Reserve).
Hippos are mostly dangerous to people in rural areas where they need to share the rivers and ponds to bath, wash their clothes and collect water. Male hippos are very territorial and will aggressively defend their space. Female hippos are also very protective of their young and are known to attack people who come between them and their young. Thankfully the hippo at Kariega live in a protected wilderness area and none of the waterholes are shared with any of our local communities. Also, all safari activities at Kariega Game Reserve are led by experienced and trained guides who are responsible for the safety of all guests.

Hippo Don't Usually Feed Out of Water in the Daytime
Hippos are mostly nocturnal and usually spend most of the daytime in the water with their group called a pod, school, herd or bloat. It is rare to see a hippo out of water on a daytime safari. The fact that hippo spend around 80% of their lives in water meant that they were not included in the Big 5 as these as this term was originally created by hunters to describe the five most dangerous animals to hunt on foot. The Big 5 includes black rhino, lion, elephant, buffalo and leopard.
Hippos usually emerge from their watery resting places to start feeding once the temperature starts to cool down. Hippos are grazers and adults eat an average of 35 kg (80 lbs) of grass each night. Hippos can also be seen grazing during the daytime if the weather is cool or rainy.
A bloat of hippos will generally have one dominant male, numerous females and their young. Other males can also live in the group as long as they are submissive to the dominant male.
In the video you can see a mother hippopotamus and her calf out of the water on a sunny day. If you look closely you can see scars on both of the hippos and a wound on the calf's right side (half way through the video). These may have been caused by the dominant male hippo to protect his territory. The calf in the video is most probably a male calf and his mother is trying to protect him from further harm by the dominant male by feeding out of the water during the day. When night falls, she may move into thicker bush further away from the rest of the herd when they come out to graze. She may also return to the water to rest with the calf.
Hippo Produce Sunscreen to Protect Skin from Sunburn
The skin of a hippo is around 6 cm (2 in) thick which is much thicker than an elephant whose skin is usually around 2.5 cm (1 in) thick. The skin of a hippo is specifically adapted to protect it from predators and the African sun.
A hippo's skin is one of the wonders of nature as it can produce its own sunscreen/moisturiser to keep its skin from sunburn and cracking, both of which would be very painful. The sunscreen initially looks like little drops of red liquid on the hippo's skin before it spreads across over the body via the network of wrinkles. This secretion also acts as an antiseptic for the skin when it is damaged, for example during a fight with other hippo or a predator such as a lion.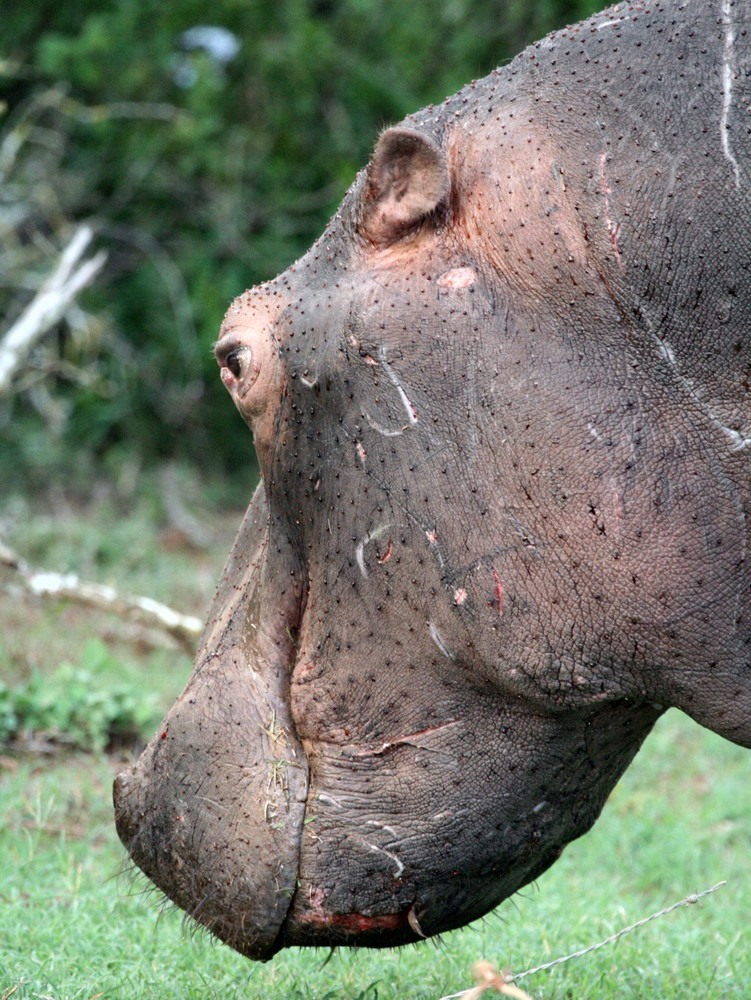 Learn More About Hippos
Read our blogs, watch our videos, enjoy great photographs and learn more fascinating facts about hippos seen while on safari at Kariega Game Reserve in South Africa's malaria-free Eastern Cape region.
Post Your Hippo Photo and Win!
Were you lucky enough to see hippos during your Kariega Game Reserve safari? If you have photos and videos of these incredible creatures please share them with us by posting them on our social media channels including Facebook, Instagram, Twitter and YouTube. We would also like to read your comments about your hippo sightings.
You can also enter your best photographs into the Kariega 2020 Facebook photo competition and 2020 Instagram photo competition. The prize for each competition is a two night stay for two at our luxurious Ukhozi Lodge.
The 2020 Facebook Photo Competition opened on 1 May 2019 and closes on 30 April 2020. The competition is open to all Kariega Game Reserve safari guests. To enter share your wildlife photographs from your Kariega safari on our Kariega Facebook page and we will add your photograph(s) into the competition. One winner is selected by our panel of judges and one winner is selected by our Facebook community.
Our first Instagram Photo Competition started on 1 July 2019 and will close on 30 June 2020. We select one photo each week. At the end of the competition all of the weekly winners will be reviewed by our panel of judges and one overall winner will be selected. To enter post your favourite wildlife photograph taken at Kariega on your Instagram feed, use the hashtag #KariegaPhoto in the caption and ensure you are following @kariega.game.reserve. Read more tips about entering the Instagram wildlife photo competition.
Video thanks to Fergus Clarke and photos thanks to Kariega senior guide Brendon Jennings.