Rhino Thembi | Three Years Old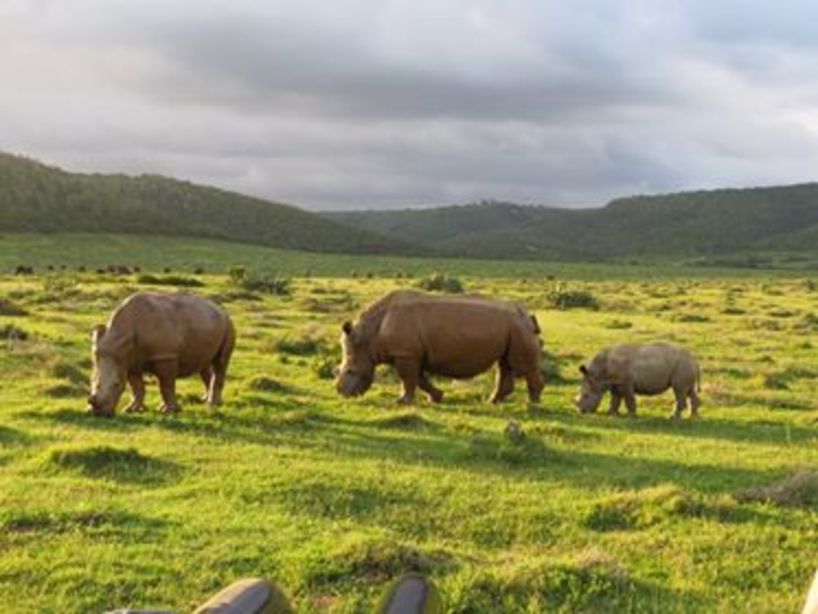 Today, Thembi (meaning Hope in isiXhosa) celebrates her third birthday as a healthy female white rhino who continues to be a symbol of hope for a future free of rhino poaching. She is pictured above with mum Thandi and younger brother Colin. Our thanks to guest Doreen Peacock for the photograph.
Thembi is the female calf of rhino poaching survivor Thandi, one of three rhinos who were brutally attacked by poachers on Kariega Game Reserve on 2 March 2012. Two male white rhinos died as a result of their horns being hacked off by the attackers but Thandi fought to survive, and with unfailing care from wildlife Vet Dr William Fowlds, the Kariega conservation team and supporters from around the world, she continues to thrive on the reserve with her two calves.
Thandi and her family are a constant reminder of the importance of conserving and protecting endangered rhino. An average of three rhino are killed every day in South Africa. This statistic has hardly slowed over the past three years (2015-2017) and over 3,000 rhinos have been brutally murdered. Their horns are sold to customers who incorrectly believe it can cure ailments from the common cold to cancer.
Celebrate Rhino Thembi from Birth to Three Years Old
Rhino Thembi's story was called "the rhino that should never have been born" by international wildlife conservationist, filmmaker and photographer Adrian Steirn. Adrian captured footage of Thembi moments after her birth on 13 January 2015, nearly three years on from the brutal poaching of her mother Thandi. The film also includes footage of Thandi's journey from attack to recovery.
We have included other links to five of our favourite blogs and videos that document Thembi's life from birth to three years old. We hope you enjoy them and that they motivate you to continue or to get involved in the fight for the survival our rhino. Visit our Kariega Foundation Save the Rhino page for how you can help Thembi and the other rhino at Kariega Game Reserve.
Do you have any other favourtite videos, images or blogs that you think we should add to this list? If so, please add links in the comments below or on our Facebook page, via Twitter or Instagram. We'd love to hear from you.