NEW: Adopt Rhino Thandi and Family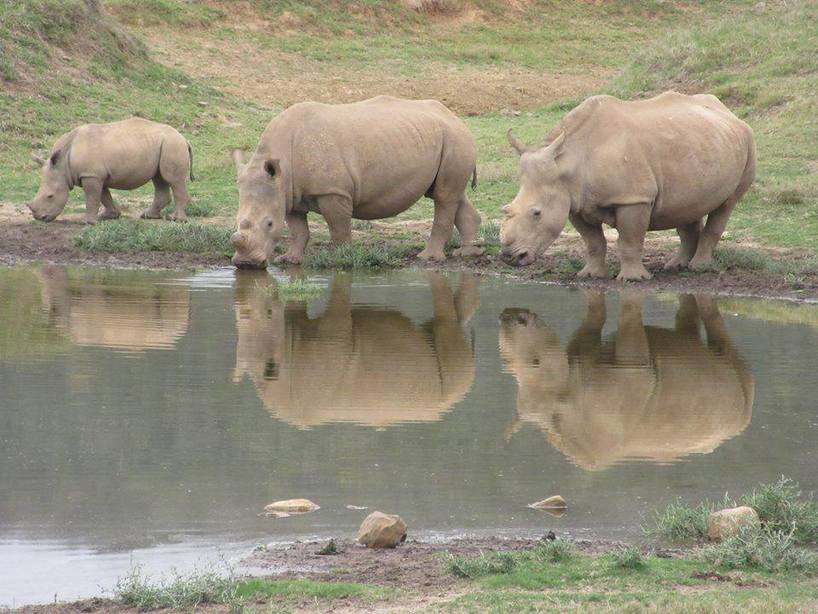 An unrivalled highlight of a Kariega safari experience is meeting rhino Thandi and her offspring Thembi and Colin. Through her heroic story of survival, recovery and triumphantly producing two rhino calves to date, Thandi has established herself as an international icon for rhino conservation and protection. She has inspired more individuals and organisations to advocate for the survival of her species than any other rhinoceros globally. You can now join hands with us and non-profit Helping Rhinos in a new initiative to adopt rhino Thandi and family.
Kariega Game Reserve and the Kariega Foundation has launched a new collaboration with Helping Rhino, a UK based non-profit organisation committed to delivering tangible results in rhino protection and preservation. We invite you to support Thandi and her life's work and ADOPT RHINO THANDI AND FAMILY!
Your adoption will help support the implementation of the Kariega Foundation's environmental education programme in our neighbouring community schools and support Kariega's anti-poaching unit in protecting Thandi and her family.
Education Vital for Rhino Conservation and Protection
Environmental Education (EE) is a vital part of the solution to connecting children to nature and eradicating the poaching of rhino and other endangered species. The Kariega Foundation EE programme is run in six local primary and secondary schools in communities where poaching syndicates could lure youth into poaching and crime. Our EE team, in collaboration with the Kariega Volunteers, deliver interactive and thought provoking presentations twice a month at each school. The topics include: climate change, water conservation, biodiversity, oceans, endangered species and saving wildlife.
Adopt Thandi and Her Family in a Few Easy Steps
Thanks to the Helping Rhino Adoption Centre you can adopt Thandi and her family in a few easy steps.
1. Go to Thandi's adoption page: https://www.helpingrhinos.org/adopt-thandi/
2. Click on the picture of Thandi and her family.
3. Choose the adoption package that suits you best.
4. Add the names of a friend or two who want to share the responsibility.
5. Remember to check out the benefits that form part of your adoption package!
About Rhino Thandi and Her Family
On 2 March 2012 Kariega Game Reserve was targeted by rhino poachers. Thandi was one of three rhinos attacked that night, and the only survivor. The poachers hacked off Thandi's horn so deeply that it will never grow back, leaving her with a distinctive and iconic profile. Her recovery, although long and undoubtedly painful, was miraculous and the result of Thandi's courage and endurance as well as the love and commitment of all the people who cared for her. But it was all worth it as Thandi has since had two calves - Thembi and Colin. We call her the rhino-super-mom and believe, that if we are successful in our efforts to keep her safe, Thandi will leave a legacy of healthy offspring that will in turn produce healthy rhinoceros calves so that our children and grandchildren may also savour the experience of seeing these majestic rhinos in the wild.
Put a Rhino in a Christmas Stocking this Year!
So why not surprise your loved ones this Christmas by popping a Thandi and family Adoption Certificate in their stocking? Perhaps they have already met Thandi, Thembi and Colin which will make the gift of her adoption that much more special. Or perhaps they will visit Kariega in the future and have the heart-felt experience of meeting Thandi, Thembi and Colin with the knowledge that they play an active role in their protection and the survival of their species.