Enterprise Development
The levels of unemployment within our neighbouring communities are alarmingly high and a major contributing factor to social issues like drug and alcohol abuse, crime and domestic violence. The Kariega Foundation supports sustainable local enterprise development, particularly to create jobs and build capacity and skills in people.
Meshack and Makana Ceramics
Kariega Game Reserve is located next to the Makana district that boasts the largest deposit of kaolin in South Africa. Kaolin is used to make clay for tiles, porcelain and pottery items. Worthy of less acclaim is the fact that absolutely no kaolin is processed in our district and no jobs or enterprise have been created in manufacturing products from it. The area is plagued by poverty with very high levels of unemployment.
Master potter and artist Meshack Masuku is determined to change this status quo. His aim is to impart the skills necessary to create enterprise from this natural resource.
Apart from running his studio on a farm outside Kenton-on-Sea, where tourists and locals can buy his studio's incredible work, he has been working tirelessly at getting Makana Ceramics off the ground.
Makana Ceramics is a training and manufacturing facility in Grahamstown that has the capacity to train up to 60 technicians and artists at any one time as well as produce ceramic products for local industries, including tourism.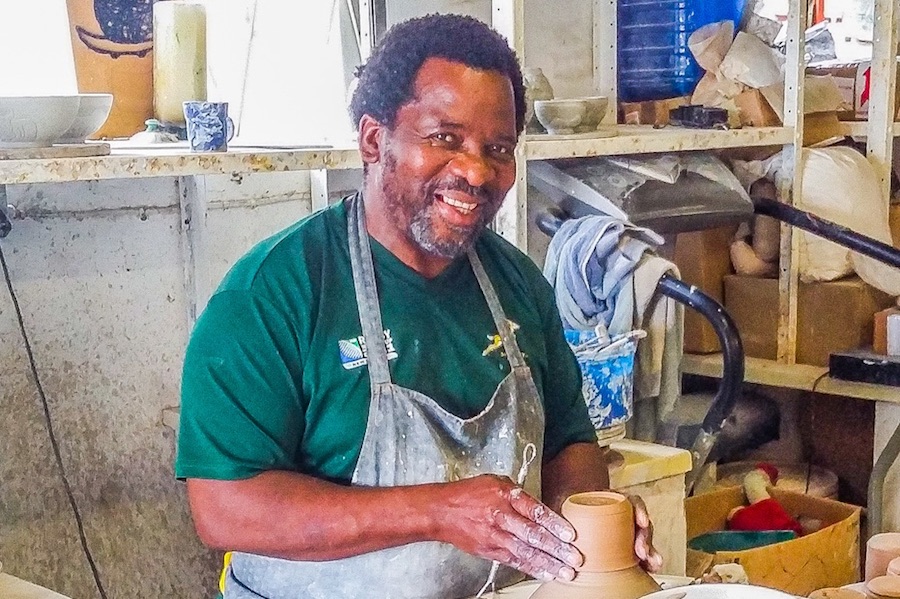 The Kariega Foundation is taking the following steps to support Meshack Ceramics and Makana Ceramics:
We purchase our lodge crockery and ceramic products from Meshack Ceramics where possible. 
We are developing custom made pottery by Meshack, the Thandi range, in support of rhino conservation.
We fund pottery classes for the local children.
How can you Support this Project?
Purchase Meshack Ceramic's creations from the Kariega curio shops.
Visit his studio a short distance from the reserve.
You can also assist by making a donation to help a child learn the skill and art of ceramics:
R50 funds 1 lesson for 1 child
R200 funds lessons for 1 child for a month
R600 funds lessons for 1 child for a term
R2,400 funds lessons for 1 child for a year
---
The Aloes Community Tour
The Aloes are a group of young entrepreneurs from Ekuphumleni Township. The Kariega Foundation has supported them to get the necessary accreditation and skills to run their tour company, which shares township experiences from the community where they grew up.
The Aloes community tour allows guests to learn about the Xhosa culture, township life and includes a visit to the studio of potter Meshack Masuku.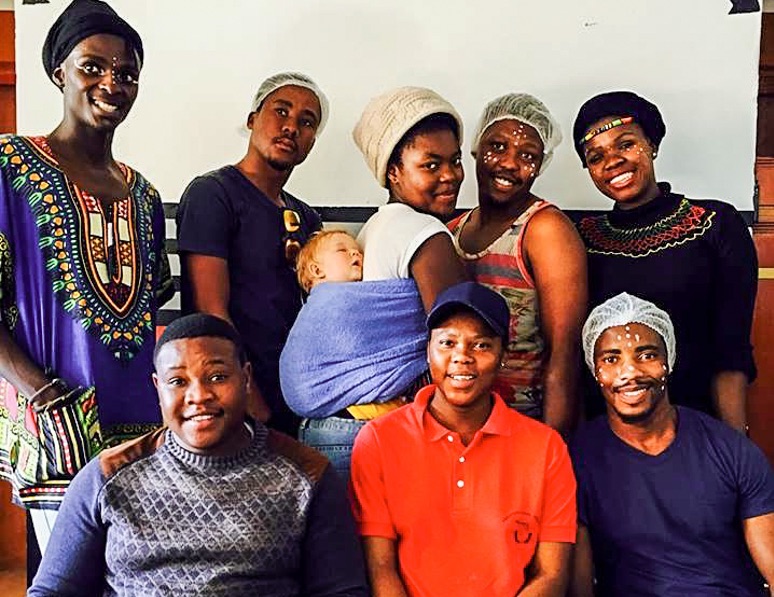 How can you Support this Project?
Kariega guests staying at Main Lodge, Ukhozi Lodge or the Homestead are encouraged to book a community tour with the Aloes through our reception at least 24 hours in advance. (Maximum 14 people per tour.)
The tour runs on Tuesdays, Thursdays and Saturdays from Main Lodge reception.
Depart reception at 11h00 and return by 14h00 for lunch.
For 2 or 3 people – R550 per person.
For 4 or more people – R450 per person.
Please also contact our Kariega Foundation co-ordinator Joné Haesslich on jone@kariega.co.za for information and bookings.
Donate
Donate via credit card on GivenGain
How can you Help?
Any help and support we get from anyone is hugely appreciated.
You can help in many ways:
First National Bank
(or FirstRand Bank)
Account no: 62275606526
Branch:Newton Park
Branch code: 261050
Swift/IBAN: FIRNZAJJ or FIRNZAJJXXX
Bank Head Office Address: FNB Bank City, Simmonds Street, Johannesburg, 2000
Contact us regarding other ways to donate and support a project of your choice.
Community Updates
We post regular updates on all of our Kariega Foundation community projects. Read our community updates.