World Rhino Day 2020 | Rhino Conservation Collaboration
On World Rhino Day 2020 the Kariega family is feeling very grateful and inspired by the many selfless, talented and creative people that have actively collaborated with our rhino conservation, protection and preservation efforts, especially over the past six months of exceptionally trying circumstances due to COVID-19.
The COVID-19 pandemic meant that Kariega Game Reserve had to temporarily close from 26 March to 1 September 2020, when we were able to partially re-open to South African guests. The consequence of five months of zero revenue was not only catastrophic for the three hundred strong staff of the reserve, but also disastrous for the Kariega Foundation who hold the responsibility of wildlife protection, with a particular focus on the endangered rhino.
Facing the challenge of zero income for an unknown period, and a very real and capital intensive responsibility to wildlife and people, the Kariega Foundation knew instinctively that creativity, positivity and collaboration were going to be the essential ingredients for our survival, and the survival of our rhino and wildlife.
World Rhino Day 2020 | Celebrating Collaborative Rhino Conservation Partners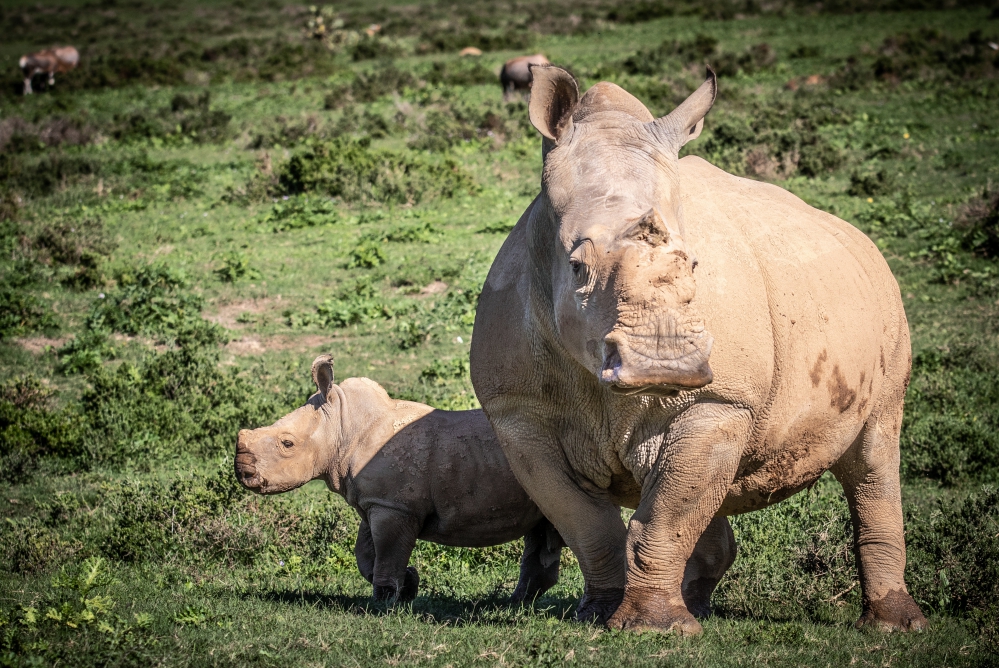 Since the poaching of three rhino on the reserve in March 2012 (poaching survivor Thandi and calf pictured above), Kariega Game Reserve and the Kariega Foundation have cultivated strong partnerships with rhino warriors around the world. The COVID-19 lockdowns gave this tribe of like-minded people the unique opportunity to focus their time and talents to support wildlife and people in need.
Thanks to the strength of these collaborations and the generosity of donors, the Kariega Foundation has raised almost R1 million since the 26 March 2020. These funds have ensured the continued operation of our dedicated Anti-Poaching Unit as well as providing food for our neighbouring communities.
Together we have navigated uncertain and challenging waters and come out stronger for it. We have worked hard, but the team effort has made the journey lighter and hugely rewarding! We are deeply grateful to everyone for their support.
World Rhino Day 2020 | Collaborative Rhino Conservation Achievements
We are very proud that our collaborative efforts have not only resulted in raising funds to continue rhino protection and conservation at Kariega Game Reserve, but also delivered much needed funds to other rhino conservation projects in South Africa, Kenya, the United States of America and the United Kingdom.
Our Kariega Foundation team have delivered the following four collaborative fundraising campaigns since 26 March 2020.
1. Name a Baby Rhino Campaign
The Name a Baby Rhino campaign, a collaboration with international rhino conservation charity Helping Rhinos, was launched within days of South Africa going into lockdown. Helping Rhinos hosted this campaign during April 2020 and raised almost R270,000 (£13,000) for the Kariega Foundation and Helping Rhinos projects in the Eastern Cape, Kwa-Zulu Natal and Kenya. Thank you to Simon Jones (pictured below) and the Helping Rhinos team, and all of the generous donors who supported this campaign.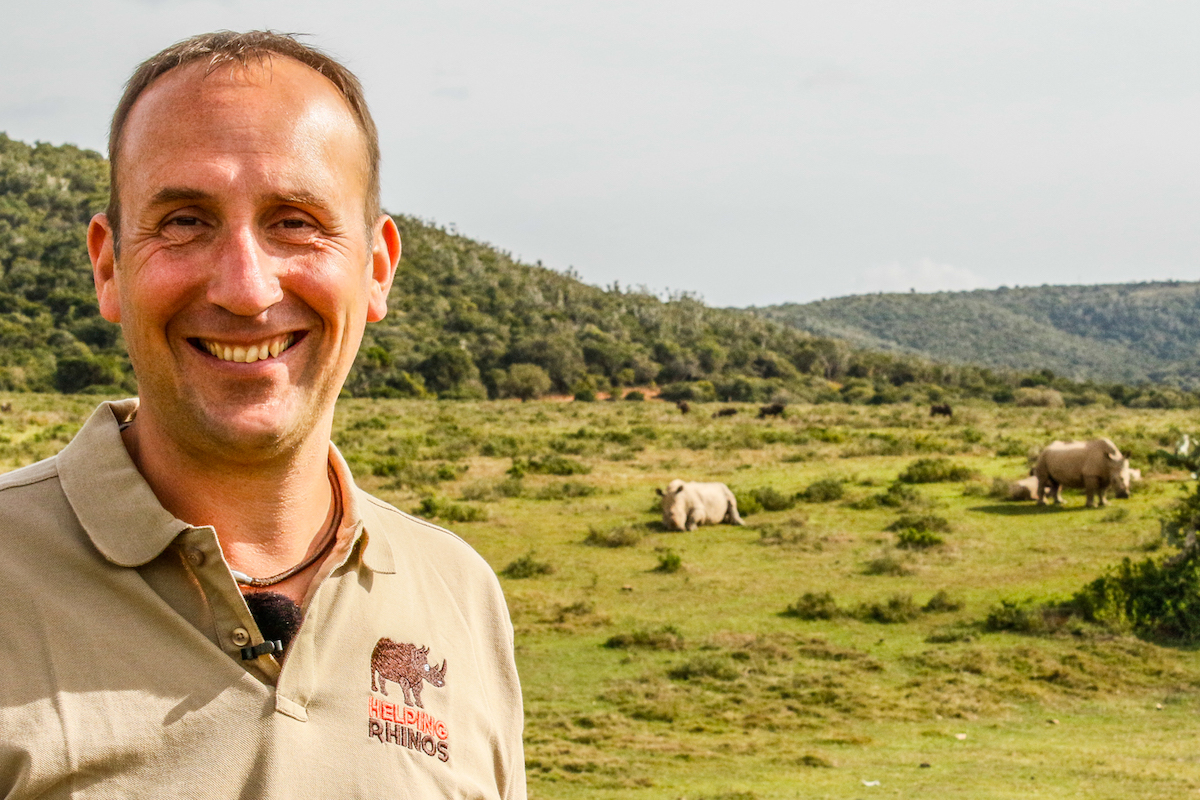 We would also like to thank Sarah Cobden-Ramsay, creator of Rhino Tears Jewellery, who contributed £1,360 (R28,000) worth of jewellery sales to the Name a Baby Rhino campaign. In addition to this, Rhino Tears Jewellery donated £5,000 (R105,000) to the Kariega Foundation in March 2020. This was used to pay for operational expenses for our Anti-Poaching Unit. 
Thank you also to our other contributing partners: Dancing for Rhinos, One Land Love It Expedition, the Rhino Run and Worldwide Experience.
Kariega Foundation director Lindy Sutherland (pictured below with Sarah) comments: "Sarah, your love of rhino and support of the Kariega Foundation has been a beacon of light through a very difficult time. Thank you."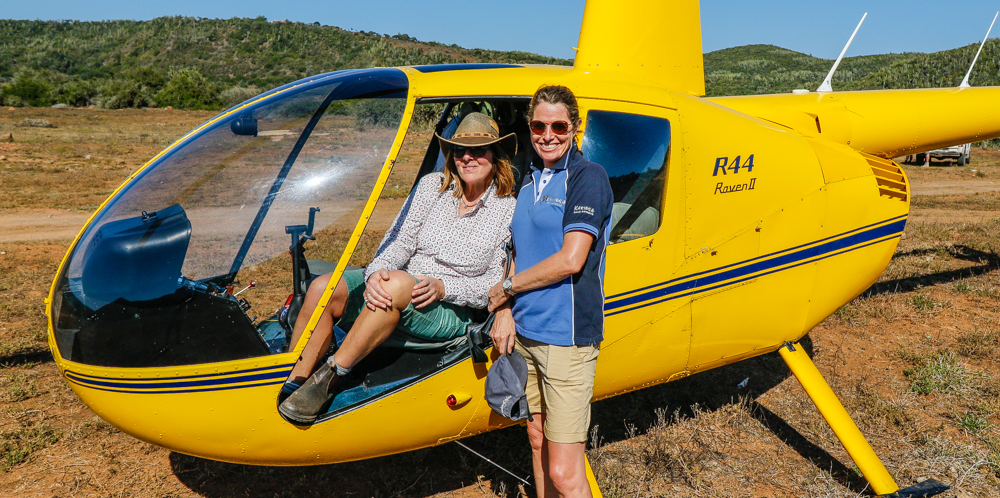 2. Rapid Response For Rhino Collaboration
In June 2020, the Kariega Foundation came together with Helping Rhinos (again) and our neighbour, friend and trusted wildlife veterinarian Dr. William Fowlds from the African Rhino Conservation Collaboration (ARCC). With the support of talented film makers Fergus Clarke and Cherique Pohl, the team leveraged Kariega's rhino dehorning programme and produced an informative documentary, including a dehorning and health check procedure.
The documentary was shown as part of a virtual Rapid Response for Rhino fundraiser. Thanks to the generous prizes and donations from supporters, the online auction raised R210,000 (£10,000) for each of the three collaborators.
Our thanks to the Helping Rhinos team and Dr Will Fowlds (pictured below after completing the dehorning procedure).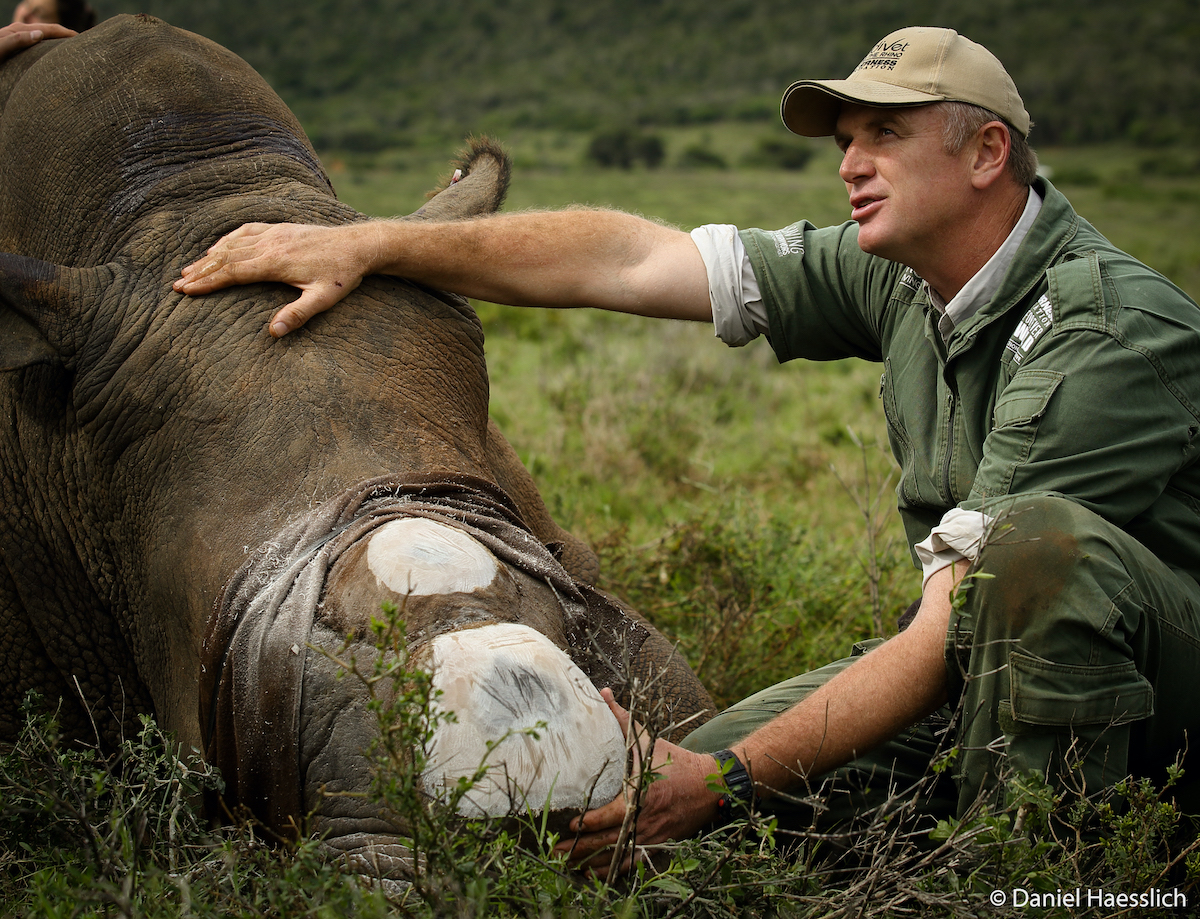 We would also like to thank the children, parents and teachers from Dhahran Tower Nursery and Preschool who raised and donated the funds to the Kariega Foundation dehorning programme. Thanks also to our good friends Tanya and Gerhard West and the Dancing for Rhino crew who donated all of the GPS tracking collars which are fitted to rhinos during the procedure.
3. Jamie Rides for Rhino Fundraising Event
During the last weekend of August 2020, Jamie Marais became the only known person to cycle a vertical ascent of 9,000 metres, the equivalent elevation of Mount Everest (8,845m), in a Big 5 game reserve over 36 hours.
Jamie chose to put himself through extreme discomfort and great personal risk to raise much needed funds to protect Kariega's endangered wildlife and feed communities affected by COVID-19.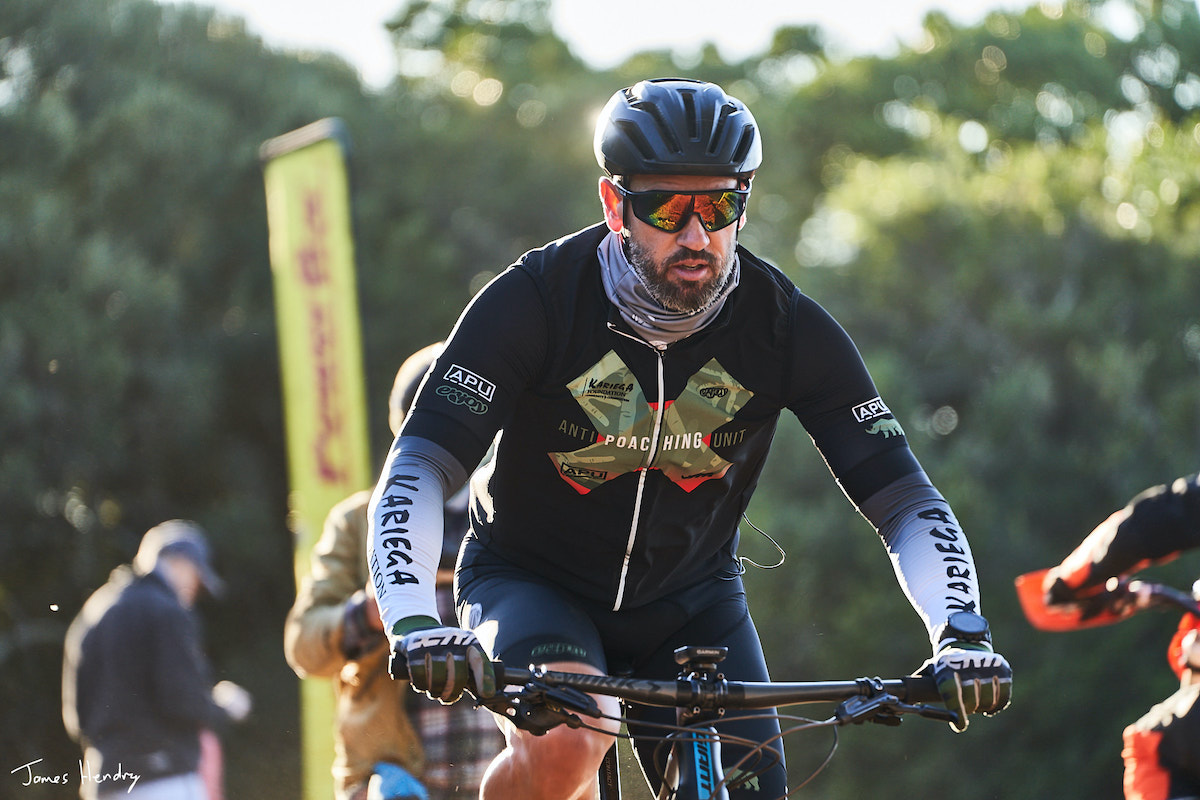 Thank you Jamie and everyone who supported this extraordinary event. Our efforts have raised over R400,000 to date.
Thanks also to the event sponsors: Mountain Bike SA, KTM SA, Hikvision SA, Enjoy, Extreme Lights, Compex SA, D'ville Cyclery and Powerbar SA. Your support was critical to the success of the event. Thank you.
The campaign is still in progress and open for donations . All funds go directly to the Kariega Foundation Anti-Poaching Unit and Community Food Support Programme.
On World Rhino Day 2020 please make a donation, and become part of our team of rhino conservation collaborators.
4. Rhino Conservation Challenge Fundraiser
Our fourth collaboration is with Global Conservation Force and Coyote Petersen from Brave Wilderness on a hugely exciting Rhino Conservation Challenge fundraiser.
Thank you to those who have already collaboratively raised over US$22,000 (R350,000) so far. We are hugely grateful. The challenge closes on 31 October 2020.
The prize for the winner of the Rhino Conservation Challenge includes the opportunity to go on safari at Kariega Game Reserve, spend a wild week enjoying the beautiful Big 5 game reserve, enjoy luxury accommodation, go on daily photo safari game drives, meet Coyote Peterson, and have the opportunity to be in an episode of Brave Wilderness!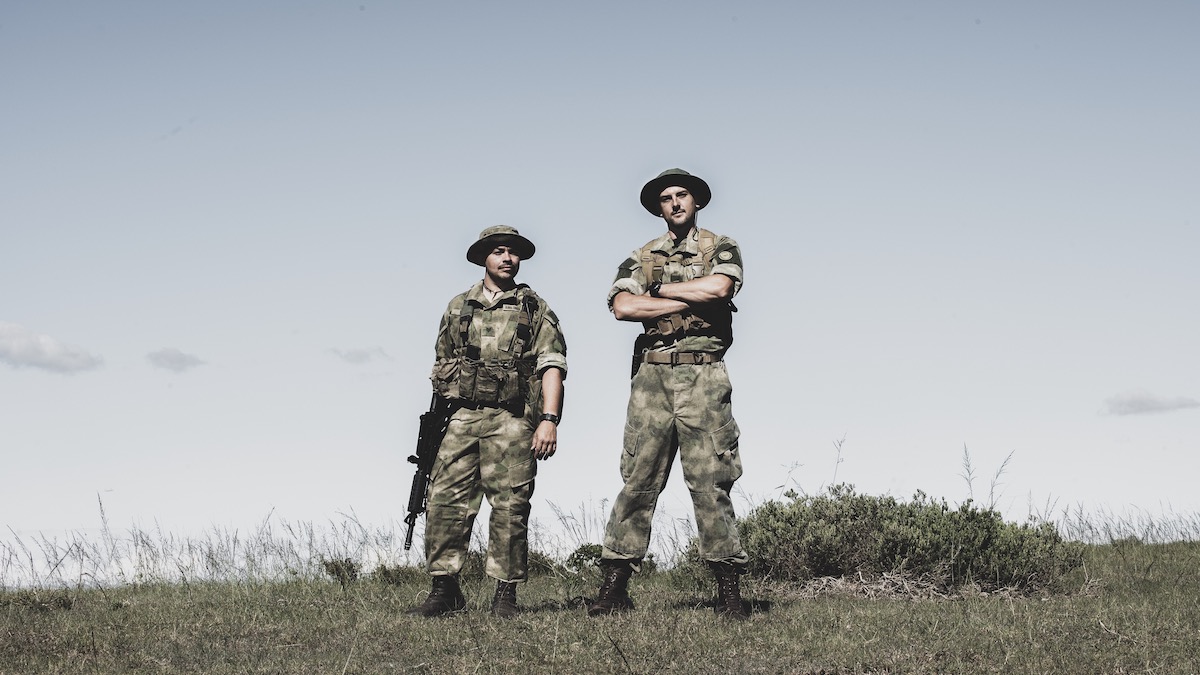 An additional and heartfelt thank you to Mike Veal (pictured on the left above) and Global Conservation Force for donating $3,000 (R48,000) to the Kariega Foundation Save the Rhino fund in May 2020, to help keep our Anti-Poaching-Unit operational at a time that we needed it most. We are eternally grateful.
World Rhino Day 2020 | Reflecting on Conservation Collaboration
2020 has been an extraordinary year on so many levels. We ask ourselves the question: would the creativity, passion and the spirit of collaboration have been unleashed as powerfully in the absence of COVID-19? Probably not!
We are hopeful that this global pandemic has brought about a critical shift in the world. People are thinking less about what they can do for themselves and more about how they can help and support others.
"Being at the centre of this shift, and receiving so much global and local support for our wildlife protection and people in need, has been humbling beyond words. Thank you. As the world slowly reopens, let us not loose this momentum, connection and intention to combine our diverse talents for the benefit of our planet and our people. Thank you to all of you for being a part of our journey so far and for allowing us to experience the enormous power of collaboration and purpose for a greater good. We are grateful. We are inspired. We are motivated. We are stronger together." - Lindy Sutherland, Kariega Foundation director.
Contact Us: Donate to Rhino Conservation
Every donation to our Kariega Foundation rhino conservation projects is appreciated and will be used to protect, preserve and conserve rhino at Kariega Game Reserve in South Africa's Eastern Cape. Please donate online or email us on foundation@kariega.co.za to find out more or to ask questions.
The Kariega Foundation is a non-profit trust that working in collaboration with Kariega Game Reserve on conservation and community projects. We so appreciate your support.
Video and photo credits: Ferg Clark, Daniel and Jone Haesslich, Brave Wilderness and James Hendry.