UK Rhino Lovers Win South African Safari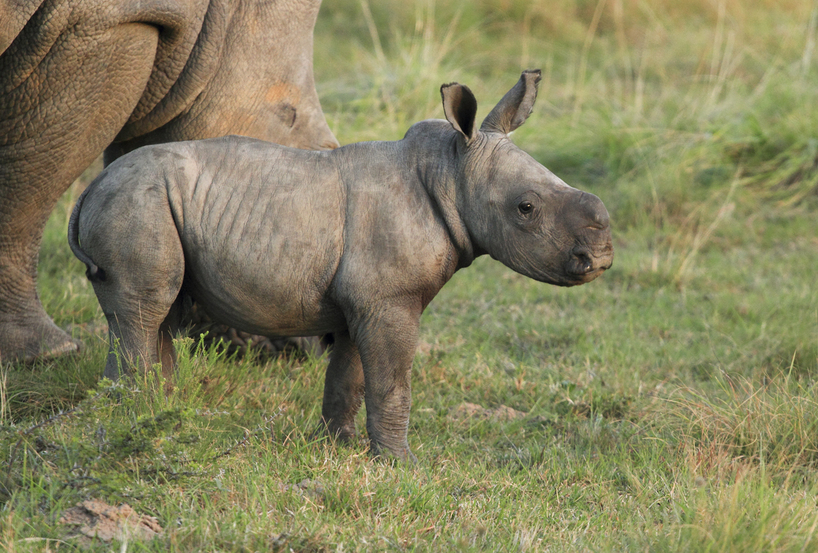 During March and April 2020 we joined forces with UK charity Helping Rhinos to raise funds for rhino conservation. The collaboration included an online contest to name the next baby rhino born at Kariega Game Reserve! Anyone could enter by purchasing one or more tickets at £10 each. The winner was selected by random draw after the prize draw closed on 1 May 2020.
We are hugely grateful to all of those who entered the Name a Baby Rhino prize draw and all of the people and organisations who helped us to share and promote the fundraiser. We would particularly like to thank our contributing partners: Dancing for Rhinos, One Land Love It Expedition, Rhino Tears Jewellery, the Rhino Run and Worldwide Experience.
The contest raised approximately £13,000. These funds are being used to support the Kariega Anti-Poaching Unit who protect all the rhinos and wildlife at Kariega Game Reserve. It is also being used to fund other projects supported by Helping Rhinos.
We are very grateful to Rhino Tears Jewellery who made a donation of £1,360 to this fundraiser. These funds came from the profits made on the sale of Rhino Tears jewellery during the course of the campaign.
UK Rhino Lovers Win South African Safari
We are delighted to announce that the contest was won by UK rhino lover Alan Apted. Alan's prize includes the unique opportunity to name the next rhino calf born at Kariega Game Reserve and the chance to see the new baby rhino in the flesh. Alan and his wife Lynne received a voucher for a three-night all inclusive safari at Kariega Game Reserve. They will be able to take up this prize once we re-open for international guests. Alan is pictured in the photo below.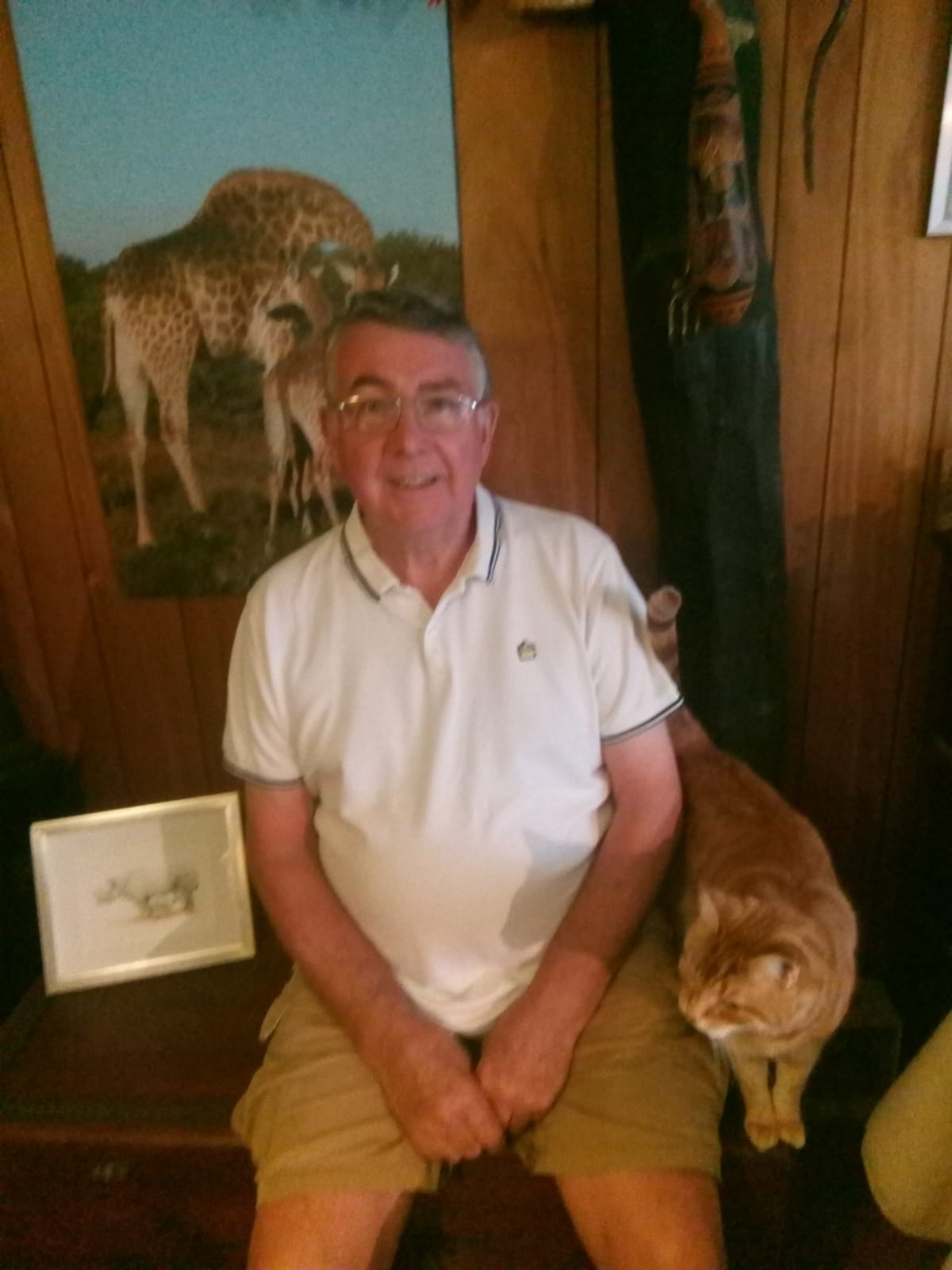 We asked Alan to share why he entered the contest and how he felt when he heard he had won. Here are his comments:
"My wife decided to donate her birthday money to Helping Rhinos as we thought it a more worthwhile cause than a spa day! That was when we saw the Name a Baby Rhino competition. My wife Lynne entered me as rhino have always been my favourite animal. 
I was over the moon when I found out I had won. It's such a fabulous prize. I have had a passion for rhinos ever since I was a child and it is vital we save these magnificent creatures and stop the vile trade in their horns.
We have never been to South Africa but our daughter, who is a vet, spent time helping at Amakhala Game Reserve with the rhinos and also visited Shamwari and Baviaanskloof. We have visited Kenya on three occasions and been lucky enough to see wild rhinos each time. We visited the Nairobi rescue centre and a rhino who was being treated for a leg injury caused by a snare allowed me to feed him grass and tickle his ears. Such an honour!
I am really excited about seeing the new baby rhino. They are such characters and really cute. I will be bringing my wife with me. Like myself she is passionate about all animals, as are our son and daughter. We have looked up boys and girls names on the Internet to find a name that we think will suit a rhino and have decided on Grace for a girl and Dakari for a boy.
With very best wishes, Alan and Lynne Apted."
South African Rhino Poaching and the Impact on Kariega
In the ten years between 2009 and 2019 there have been 8,288 rhinos recorded dead due to poaching in South Africa alone. Over 80% of the world's surviving rhinos live in South Africa as the populations elsewhere in Africa and Asia have been decimated. During 2020 the killing has slowed slightly but at least one rhino continues to be brutally killed by poachers every day.
Unfortunately, Kariega Game Reserve has not escaped this scourge. On the 2 March 2012 one cow and two bull rhinos were poached at Kariega. Tragically, one bull was fatally wounded and died during the course of the night, whilst the remaining two were severely injured, but showed an incredible will to survive. For 24 days wildlife veterinary expert, Doctor William Fowlds, worked tirelessly with the Kariega team to give these survivors the best possible care and chance for recovery. Their bravery was unbelievable and inspired our rangers to nickname them Thandi and Themba, two isiXhosa names meaning courage (or to be loved) and hope. Sadly Themba (Hope) suffered a leg injury on the night he was poached and as a result of infection passed away on the morning of the 26 of March 2012.
Thandi miraculously became the first rhino to ever survive being poached. Her bravery throughout this ordeal was truly inspirational.
Thandi continues to live in the wild at Kariega Game Reserve and has gone on to have three calves, Thembi in 2015 (pictured with mum Thandi above), Colin in 2017 and Mthetho in 2019.
Mthetho's name means 'Justice' in our local language isiXhosa. This name is symbolic as at the time of his birth, members of the notorious Ndlovu gang were each sentenced to 25 years in prison. The gang had been responsible for many rhino poaching incidents in the Eastern Cape, and quite possibly the poaching of Thandi.
UK Rhino Contest Celebrates Rhino's First Birthday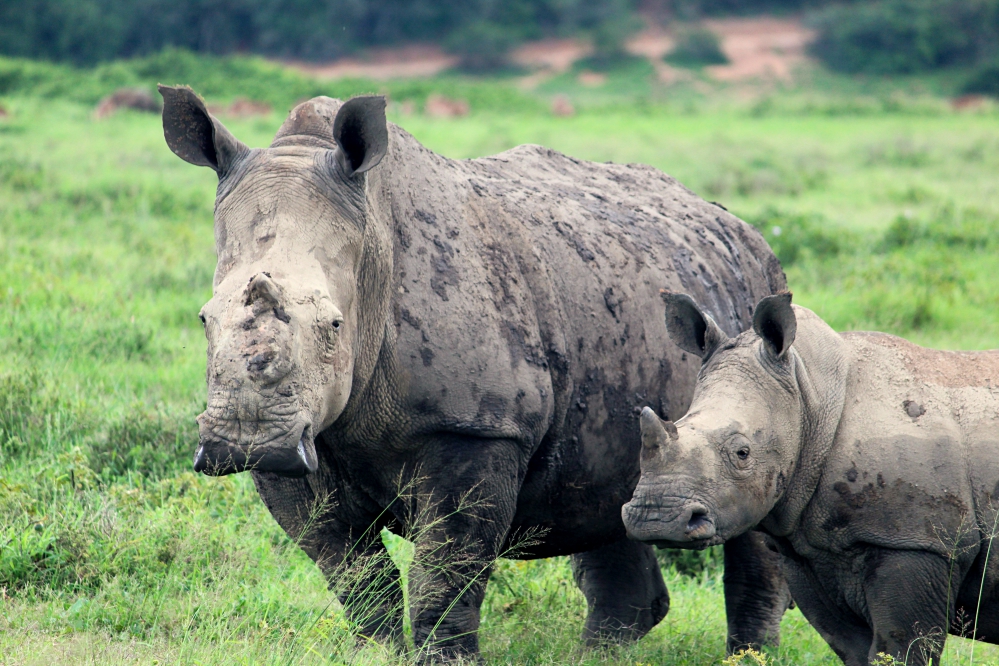 The Name a Baby Rhino contest celebrated the first birthday of rhino Mthetho's on 3 April 2020. Mthetho is still very much under the protection of super mum Thandi, occasionally seen with his brother Colin and sister Thembi when they come together as a family.
Mthetho is a curious, free-spirited one-year-old rhino calf growing up completely oblivious to what his mother went through and the actions that have to be taken on a daily basis to keep him safe. We must do everything we can to keep this family and other rhino and wildlife safe at all times.
If you would like to support our rhino conservation, please consider donating to our fundraising programmes on our Save the Rhino page. You can also contact us on foundation@kariega.co.za, leave a comment below or connect with us on Facebook, Instagram and Twitter.
Images thanks to Daniel Haesslich, Amber Tweedie and Alan Apted.