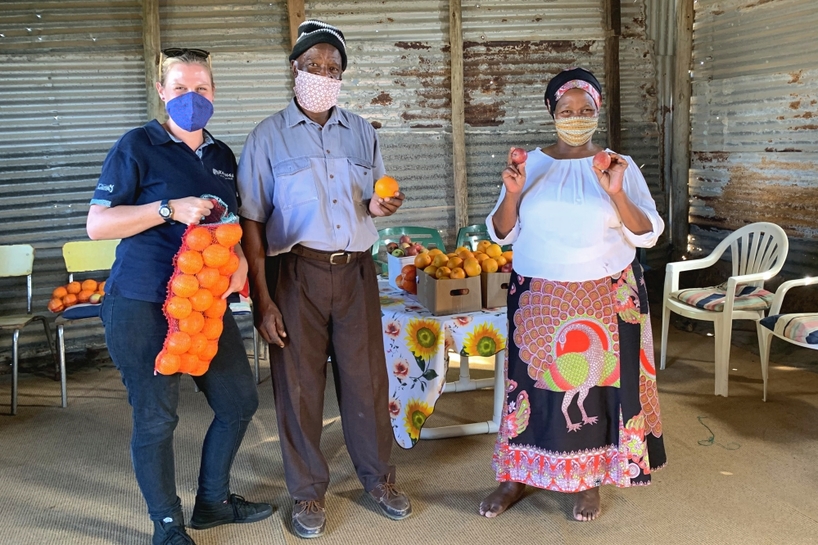 South Africa continues to face the coronavirus head-on. Our country marked 100 days in Covid-19 lockdown on 5 July 2020. While this pandemic has wreaked havoc in all our lives, the impact is more devastating on the poor and vulnerable.
Our Kariega Foundation team has been working throughout lockdown. We appealed to past and future guests for support and received a number of generous donations for both community food relief and conservation projects. We are extremely grateful for this financial assistance.
We are now appealing for cash donations to support eight community food relief projects and over 510 people in our local area.
Community Food Relief Appeal: What is Needed?
Our Foundation is working with eight existing community projects in our surrounding area. These include five soup kitchens and three facilities that care for the elderly. We need cash donations so these organisations can buy food for over 510 people.
Donations can be made in any of the following ways:
1. Transfer a Donation to our Bank Account
KARIEGA FOUNDATION TRUST
First National Bank (or FirstRand Bank)
Account No: 62275606526
Branch: Newton Park
Branch code: 261050
Swift/IBAN: FIRNZAJJ or FIRNZAJJXXX
Bank Head Office Address: FNB Bank City, Simmonds Street, Johannesburg, 2000
Please add your name and FOOD as the reference.
2. Donate via Credit Card
Donate online via credit card using the GivenGain platform.
Download and complete this credit card authorization form and email to foundation@kariega.co.za or fax to +27 41 581 2601.
3. Donate Online via EFT Using our Secure Payment System
Click on the DONATE NOW button either in the right column or at the end of the Kariega Foundation page. This will allow you to make an EFT donation in your currency via a secure online payment gateway called Exchange4Free. You can also request for us to send you an email link to make the online transfer.
Please email us on foundation@kariega.co.za to find out more or to ask questions about donating.
Community Food Relief Appeal: What Will Funds Buy?
Funds will buy fruit, soup powder, soya mince and specialised porridge (for the elderly). The first delivery of fruit was made on 6 July 2020 and further food deliveries will be made later in the week. July deliveries have been funded by previous donors. We need funds to ensure we can provide sustainable support for at least August and September. The more funds we have the more nutrition we can add to the daily meals and the longer we will be able to support these feeding initiatives.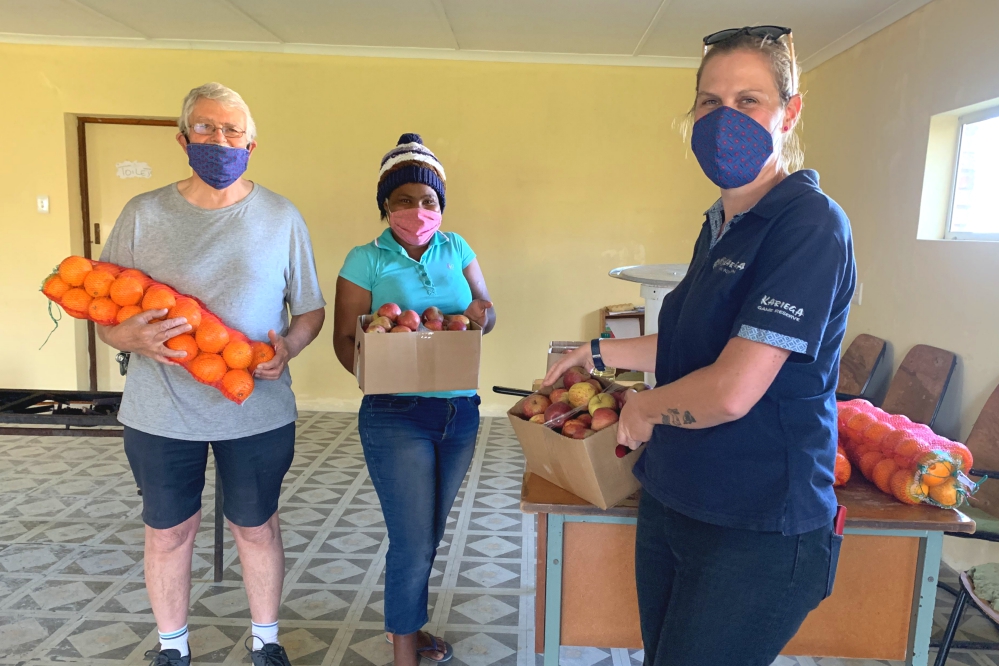 Thank You: Community Food Relief Donors
We can't express how grateful we are for the donations that the Kariega Foundation have received over the last few months. Some of the donors have not yet visited us at Kariega Game Reserve! Special thanks to John Hayes, Rita Baker, Markus Weber, Graham Harvey, the Lions Club of the Isle of Man, Mecky Pothmann-Leven, Naomi & Paige Bonner and Nicole & Michael Schürmann for your incredible support. Your funds are making an immense difference to so many hungry individuals.
In April and May 2020 our Kariega Foundation also supported the Kenton-on-Sea Rate Payers Association (KOSRA) and Cannon Rocks Rate Payers Association community food relief programme. Read more about how guest donations helped to provide vulnerable families with basic food supplies.
Contact Us: Donate to Community Food Relief Appeal
Any donation to our community food relief appeal are appreciated and will be used to feed needy people in the communities surrounding Kariega Game Reserve in South Africa's Eastern Cape. Please email us on foundation@kariega.co.za to find out more or to ask questions about donating. 
Our Kariega Foundation is a non-profit organisation that is working with existing community organisation to help bring relief to the communities and individuals in our area who need it most. We so appreciate your support.
Photo credits: Sarah Powell and Jo Haesslich