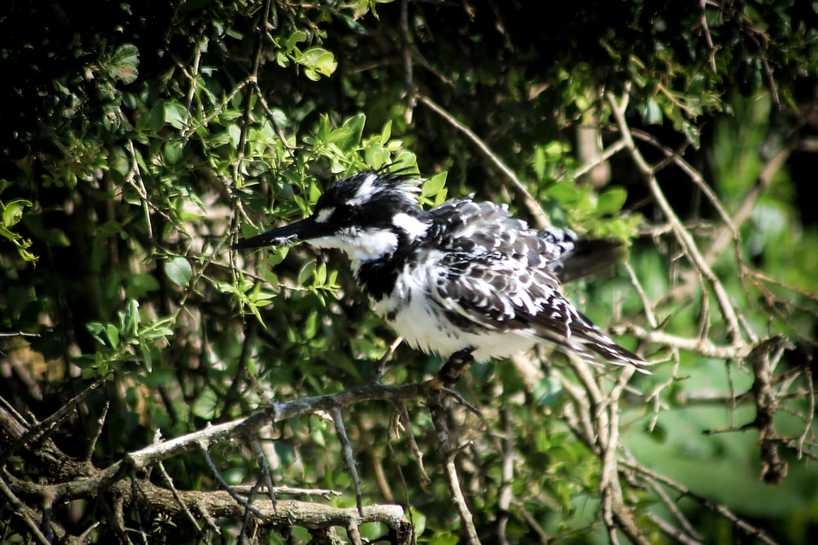 Kariega Game Reserve is an expansive 10,000 hectare wilderness area that includes two majestic river valleys and is a paradise for wildlife and birds. Safari guests always enjoy the opportunity of seeing animals but are often surprised and delighted by the wide variety of birds. One of the most fascinating bird species is the kingfisher. This blog includes 10 fascinating facts about the pied kingfisher.
10 Fascinating Facts About Pied Kingfishers
These are our ten favourite facts about this striking water bird.
It is the only black and white kingfisher.
The pied kingfisher is the largest of the 'hovering' birds. Hovering describes the ability to stay in one place while flying. You may be fortunate to see a pied kingfisher hovering over a dam or river while hunting.
Pied kingfishers are widely distributed across Africa and Asia.
Males have a double black band across their breast.
Females have a black chest that is often broken with a white stripe in the middle.
They are sociable birds that are usually found in pairs or small family groups and form large roosts at night.
When perched they usually bob their heads and flick up their tail (as captured in the photo)
They feed mainly on fish and can swallow their prey in mid-flight.
They are fast moving and fly at speeds of up to 50 km/h.
They call frequently with a loud "chirruk chirruk" sound.
The pied kingfisher is one of six species of kingfishers found at Kariega. The other species are the giant, brown-hooded, pygmy, half-collared and the malachite kingfishers. Kingfishers are small to medium size birds with distinctive large heads, long, sharp, pointed bills, short legs, and stubby tails. Pied kingfishers mainly eat fish but can sometimes be seen eating frogs, insects and even snakes.
Thank you to field guide Braden Colling for this photo of the pied kingfisher. We take great pride in the photographic talents of our field guides and enjoy sharing the remarkable images of Africa captured through their lenses. We love how Braden has captured the distinctive features of the pied kingfisher, particularly the black and white markings and long, spear-like beak of this proficient little hunter.
Were you lucky enough to see the pied kingfisher on your Kariega safari? Tell us about it on Facebook and share your photos if you got any! We love hearing from you. You may also be interested to find out more about pied kingfishers in our previous blogs: