2019 World Rhino Day: A Global Fight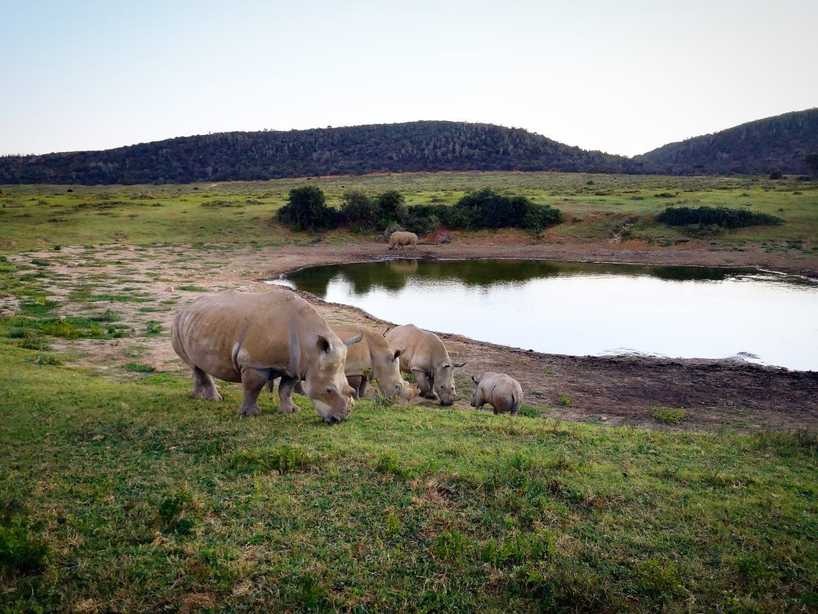 Kariega Game Reserve and the Kariega Foundation are at the forefront of rhino protection, conservation and preservation in South Africa. The world may pause on 22 September 2019 for World Rhino Day to contemplate the crisis, but for us it is a daily commitment. We remain focused on ensuring our crash of white and black rhino are protected by an active, well-resourced and growing anti-poaching unit (APU) including trained dogs, regular dehorning, as well as proactively educating and changing the hearts and minds of our neighbouring communities (where the youth are perpetually at risk of being lured into poaching syndicates) through our environmental education and domestic animal care programmes.
We are often so focused on the task at hand that we lose perspective on the global fight. What better time, than around World Rhino Day, to look up and get a broader perspective on where we are globally in our efforts to save these gentle giants form extinction and what is still required from us collectively to ensure the rhinos survive to be revered by future generations.
WWF Summary of Global Rhino Crisis
According to worldwildlife.org rhinos once roamed freely and unharmed throughout Eurasia and Africa. At the beginning of the 20th century, approximately 500,000 rhinos lived in Africa and Asia. Today, due to poaching and habitat loss the picture looks very different.
The southern white rhino, found at Kariega Game Reserve, is classified as near threatened with a total population of just over 20,000.
The black rhino, also found at Kariega Game Reserve, is critically endangered at a total population of around 5,000.
The one-horned or Indian rhino is classified as vulnerable with a population of around 3,500.
The Javan rhino is critically endangered with only 58-68 animals remaining.
The Sumatran rhino is critically endangered and the population is around 80 individuals.
The western black rhino and northern white rhinos have recently gone extinct in the wild.
A subspecies of the Javan rhino was declared extinct in Vietnam in 2011.
Thanks to on-going conservation efforts in Africa the southern white rhino numbers have grown and populations are now increasing in protected sanctuaries and reserves, including Kariega Game Reserve. Significant resources and funds are spent on protection and habitat acquisition. Black rhino numbers have doubled over the past two decades from their low point of fewer than 2,500 individuals, but total numbers are still a fraction of the estimated 100,000 that existed in the early part of the 20th century.
We are certainly not out of the danger zone and we must remain vigilant in our efforts.
Only Science Can Save Northern White Rhino
The only two remaining female northern white rhino are kept under 24-hour guard in Ol Pejeta Conservancy in Kenya. The last male of this sub-species, Sudan, died on 19 March 2018.
Helping Rhinos, a registered charity and innovative conservation partner of the Kariega Foundation, announced that in August 2019 a team of Kenyan vets successfully harvested eggs from the last two northern white rhino females. The procedure was the result of years of research, development, adjustments and practice.
The eggs will now be artificially inseminated with sperm that was taken from a northern white rhino bull in 2014 and then frozen. Neither females are able to carry a pregnancy and so the laboratory-created embryo will be transferred to a southern white rhino female who will act as a surrogate.
Thandi's Contribution to Saving Southern White Rhino
In 2012 Kariega Game Reserve was catapulted into the rhino protection spotlight with a traumatic triple poaching. Two of the brutally mutilated rhino survived the attack – a bull Themba and cow Thandi. Themba died 24 days later, but Thandi survived. She came through numerous medical procedures to reconstruct her face and repair her breathing passageways, but her horns will never grow back. 
She inspired us and people from all around the world with her courage and resolve to live and thrive. In the seven years since her poaching Thandi has produced three calves, Thembi, Colin and Mthetho and motivated many individuals and organisations to become actively involved in rhino protection, conservation and preservation.
Adopt Thandi. Help Save Her Species. Win a Safari & Meet Her in Person.
Rhino conservation is a team sport! National parks, private game reserve and sanctuary owners cannot carry the financial burden of protecting and growing current populations and habitats as well as the scientific procedures to save those that are already extinct. We need your help.
There are many ways to get involved, but one of the simplest is to support the Thandi adoption initiative by our partner Helping Rhinos. It is a quick and simple online process and funds raised directly support the protection of Thandi and her family as well as global conservation initiatives, including the scientific measures taken to bring the northern white rhino back from extinction.
Helping Rhinos, in partnership with the Kariega Foundation, are now nearing 50 adopters. You still have time to make it into the top 50 and be entered into a lucky draw. The winner will enjoy a complimentary two night safari for two people to Kariega Game Reserve's luxurious Ukhozi Lodge and most likely meet Thandi and her family in the African wild.
The message this 2019 World Rhino Day is one of hope. We may just win this fight and save the rhino, but we all need to be 100% committed to the cause. Adopt Thandi now. Extinction will not be our legacy.
To find out more about how you can get involved with our Save the Rhino project please email us on foundation@kariega.co.za, leave a comment below or connect with us on Facebook, Instagram, Twitter and YouTube.
Photo credit: Kariega guide Craig Brown.