World Rhino Day 2019 makes us pause to remember the horrific poaching of three rhinos, Thandi, Themba and Bull #84, on 2 March 2012 at Kariega Game Reserve. This attack left one rhino dead and two others badly injured. Only one of the rhinos survived. This incident is a constant reminder of the ongoing need to protect, conserve and preserve our rhino population, and all wildlife.
Thandi (Thandiswa, a Xhosa name meaning courage or to be loved) proved to be a rhino with an inspirational will to live. She is to us, and a huge group of South African and international supporters, a beacon of hope in this fight against poaching. Thandi has produced three healthy calves since she was poached, adding essential numbers to the white rhino population at Kariega and in South Africa. On World Rhino Day 2019 we celebrate Thandi, all our rhinos at Kariega Game Reserve and across our planet along with the people who keep them safe.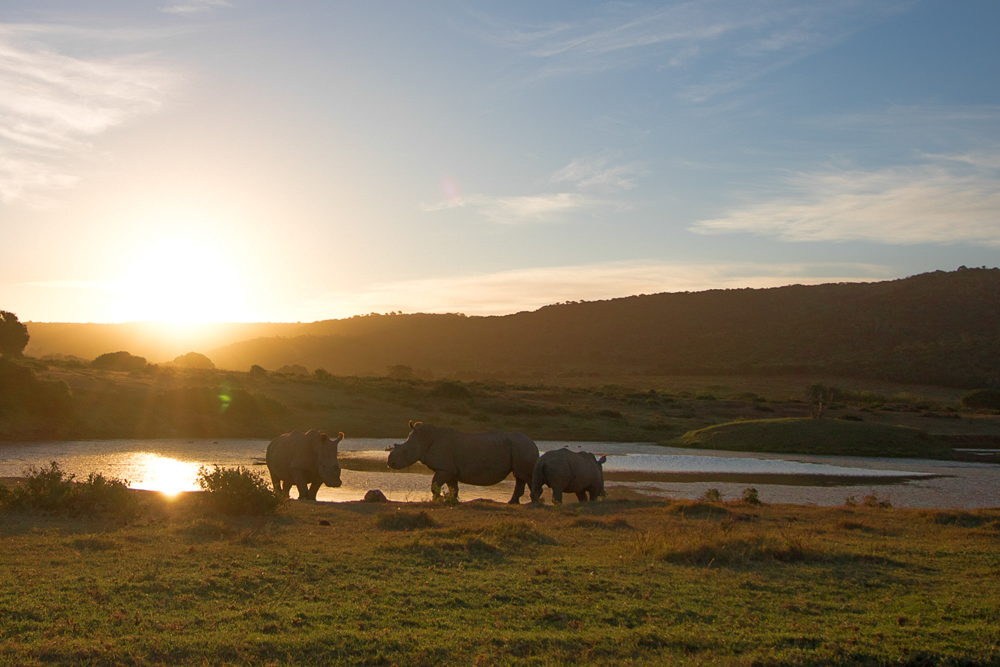 Rhino Thandi's Miraculous Story
Looking back at the day Thandi and Themba were found barely alive but still fighting, it seems unbelievable that today she grazes freely on the plains at Kariega Game Reserve with three healthy calves. It is a daily source of delight to us that she did she not succumb to her awful injuries like her two crash members.
With the hard work of our Kariega team, many veterinarians, wildlife professionals and supporters locally and internationally, Thandi has been given a chance to live her life to the fullest and she is definitely doing just that. She has not only recovered from her poaching attack but has gone on to produce three calves. Daughter Thembi was born on 13 January 2015 and was a huge surprise to everyone. As filmaker Adrian Steirn said when he saw her for the first time, "this is the rhino that should never have been born." Thembi is now the big sister to Colin, who was born on 24 January 2017 and Mthetho who joined the family in April 2019.
The collective names of these rhino, love and courage (Thandi), hope (Thembi), victory of the people (Colin) and justice (Mthetho) reminds us how teamwork and determination can make a difference in rhino conservation. When we unite for a cause we are much stronger and will achieve our goals. We need your help on World Rhino Day 2019 to protect and conserve our rhino.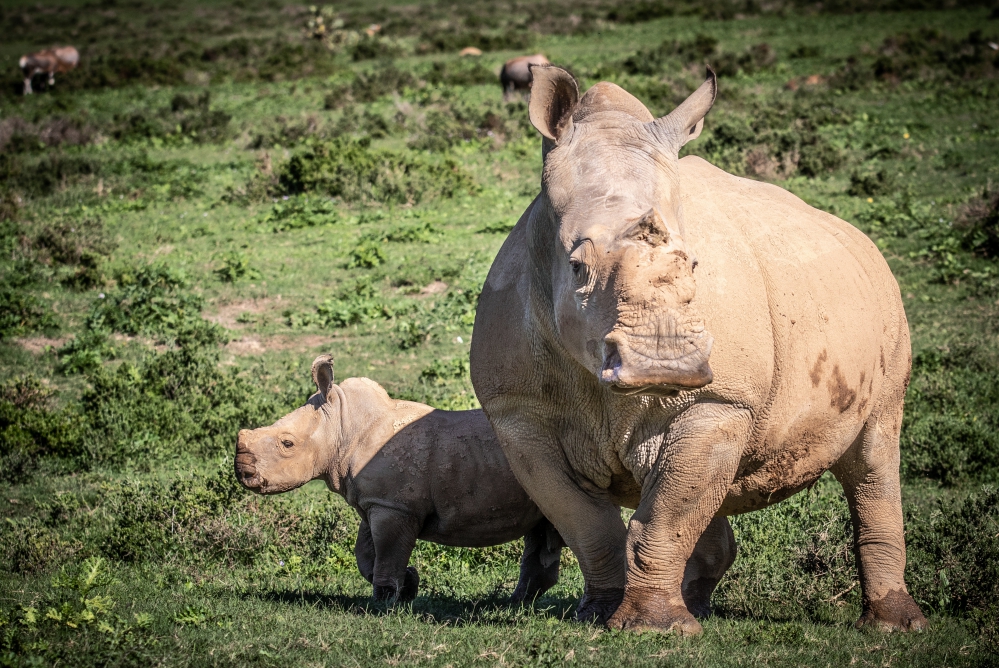 Support Rhino Conservation on World Rhino Day 2019
Recently Kariega Game Reserve, the Kariega Foundation and Helping Rhinos (an international charity based in the UK) started an initiative where you can adopt rhino Thandi and/or calf Mthetho to help raise funds for rhino conservation. The adoption costs as little as GBP5/US$7/ZAR90 per month and makes a great gift for someone's birthday, a Christmas gift or just because you care. The quick and easy adoption process can be completed online on the Helping Rhinos website.
The funds raised from both of these adoptions is used to directly support the Kariega anti-poaching unit (APU) which monitors and protects rhino 24 hours a day. Our APU includes a dog (K9) unit which is used on and off the reserve to monitor and track any suspicious activities. If the unit can be expanded and use improved tools, including binoculars, drones, telemetry sets, tracking collars, camera traps, night vision equipment, and security camera systems, they will provide better security for the rhino and other wildlife in and around the reserve.
The funding also goes towards the regular dehorning of all of the rhinos on the reserve. This needs to be done at least every two years or so to make sure it is an effective anti-poaching management strategy.
Please consider making this a very thoughtful gift for a friend or family member (or for yourself), and help us to conserve our rhino and keep them as safe as possible.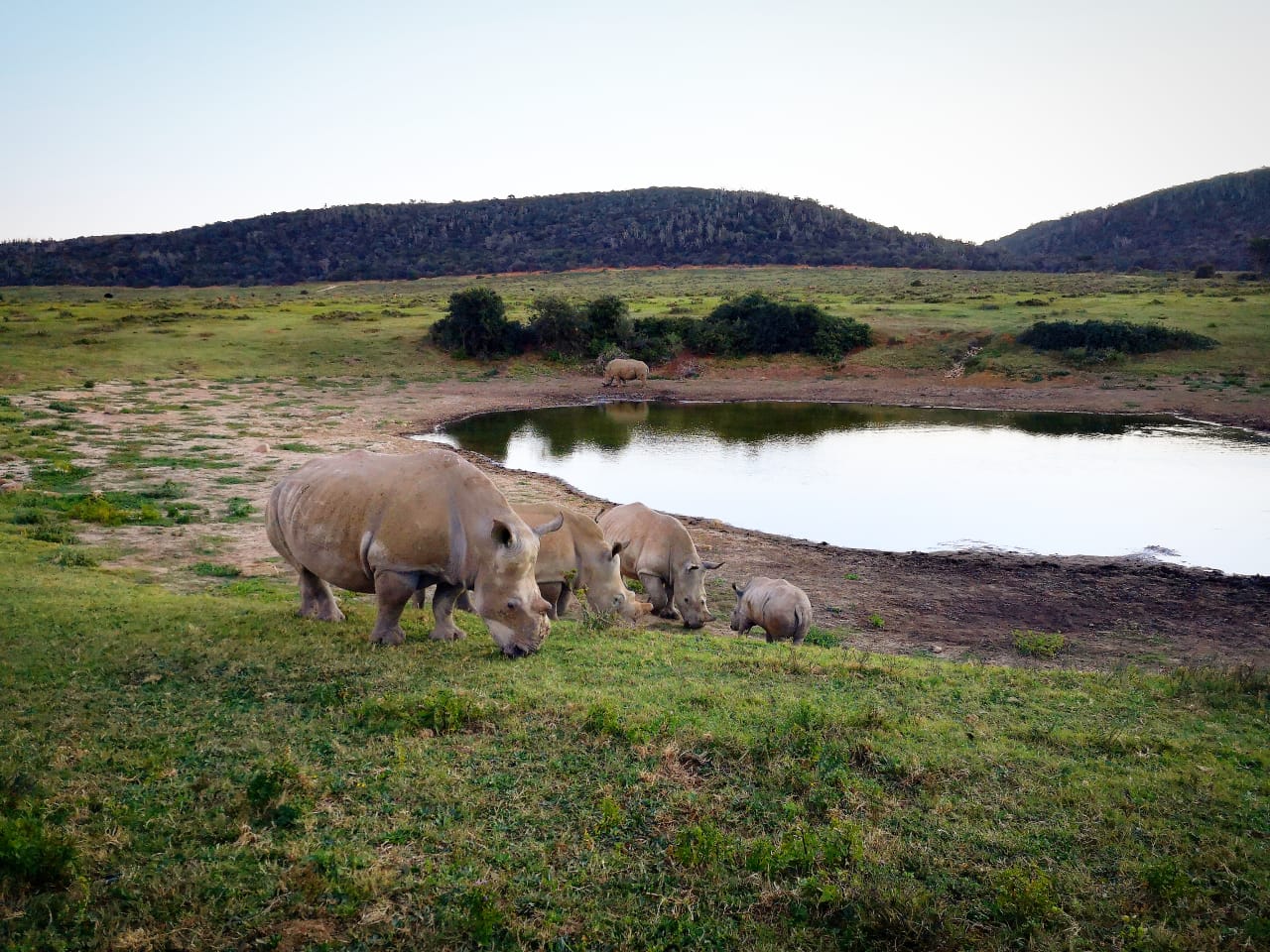 Steps to Adopt Thandi and/or Mthetho
Go to Thandi or Mthetho's adoption page: https://www.helpingrhinos.org/adopt-thandi/ and https://www.helpingrhinos.org/adopt-mthetho/
Click on the adoption button and complete the form fields. You can choose to pay monthly or annually and also add the names of a friend or two who want to share the responsibility.
Complete the check out process by creating an account and adding your payment method.
The first 50 adopters will be entered into a lucky draw and one rhino lover will win an all-inclusive two night stay for two people at Ukhozi Lodge. In addition the winner will enjoy a personal field guide dedicated to looking for Thandi and Mthetho in the wild.
If you have been fortunate to see Thandi, Thembi, Colin or Mthetho on a Kariega safari please tell us about it in the comments below or share your experience on our Facebook page, via Instagram and Twitter. We'd also love to find out if you have become a rhino adopter and supported rhino conservation.
Images thanks to Kariega APU leader Daniel Haesslich, Jone Haesslich and guide Craig Brown.