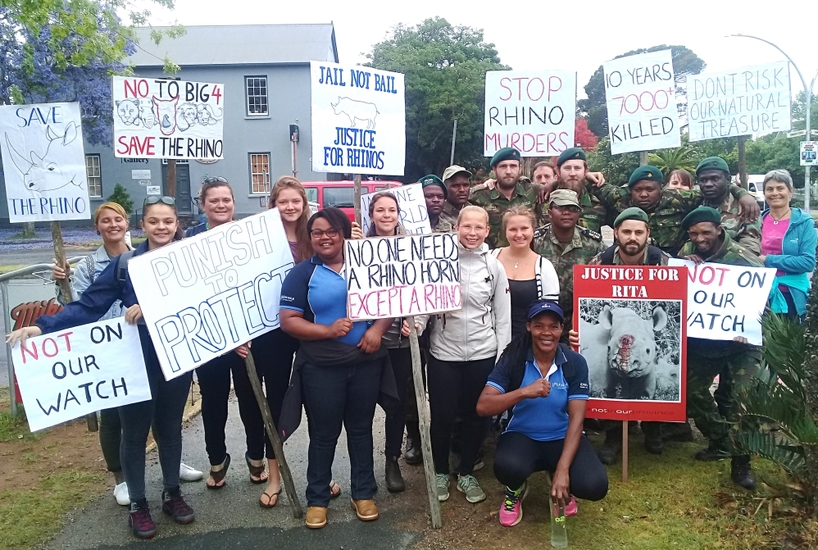 This is our Volunteer Update for Oct - Dec 2018. How did we reach the end of the year so quickly? As the saying goes, "Time flies when you're having fun", and we definitely have had a lot of that! With tons of great adventures, amazing wildlife sightings and some hard conservation work, this year for the Kariega Conservation Volunteer Programme has been very productive and successful.
Wildlife Monitoring
Wildlife monitoring has taught volunteers a variety of new skills to help locate animals. Key skills learnt have been how to identify tracks and signs and how to use a radio telemetry set. After successfully locating the animals, the team spent many hours with rhinoceros, lions and elephant, observing their behaviour, feeding and spatial preferences. Apart from the valuable data collected, this has afforded volunteers unforgettable close encounters with some of Africa's most renowned species. Witnessing elephants enjoying mud wallows and experiencing lions hunting successfully, are but some of the many exhilarating encounters we have enjoyed recently.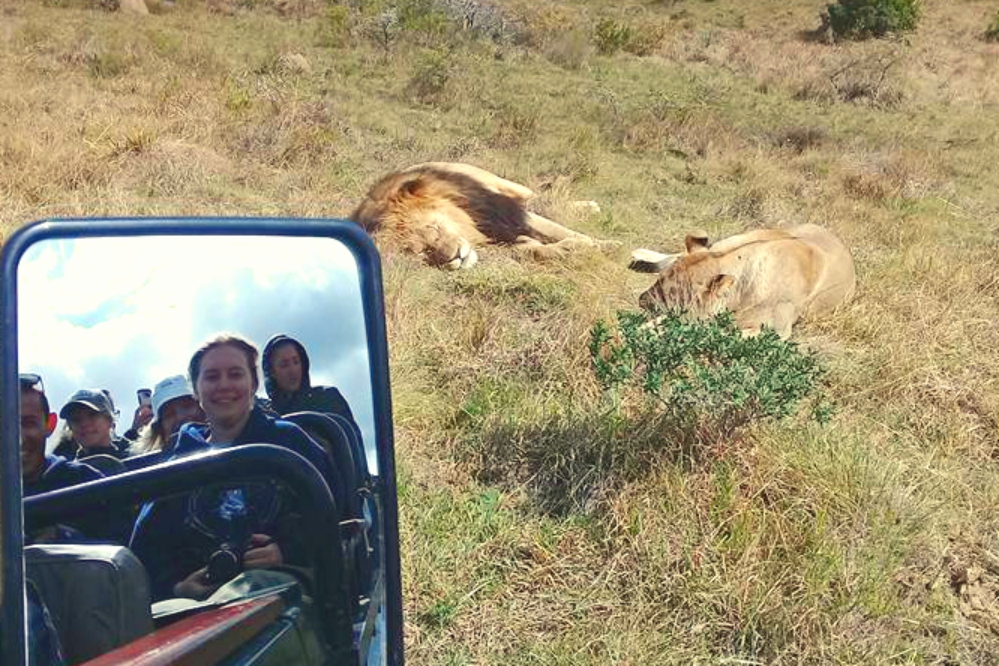 Serval Husbandry
The Kariega Conservation Volunteers have continued to assist with the serval reintroduction programme. One of the breeding pairs of servals were relocated so that they could be monitored to determine what challenges the pair are facing regarding offspring viability. Our work in assisting with the serval reintroduction programme yielded success when three new kittens were born. Unfortunately our joy was short lived, as the kittens all passed away within two weeks of birth. The kittens were collected for autopsy and the mother was darted so that blood samples could be collected and so that the female to be examined by a vet. Although the circumstances are unfortunate, this presented a great opportunity for volunteers to learn about veterinary procedures and to get close to these amazing cats. The male and female have been temporarily separated until the problem facing this pair is better understood.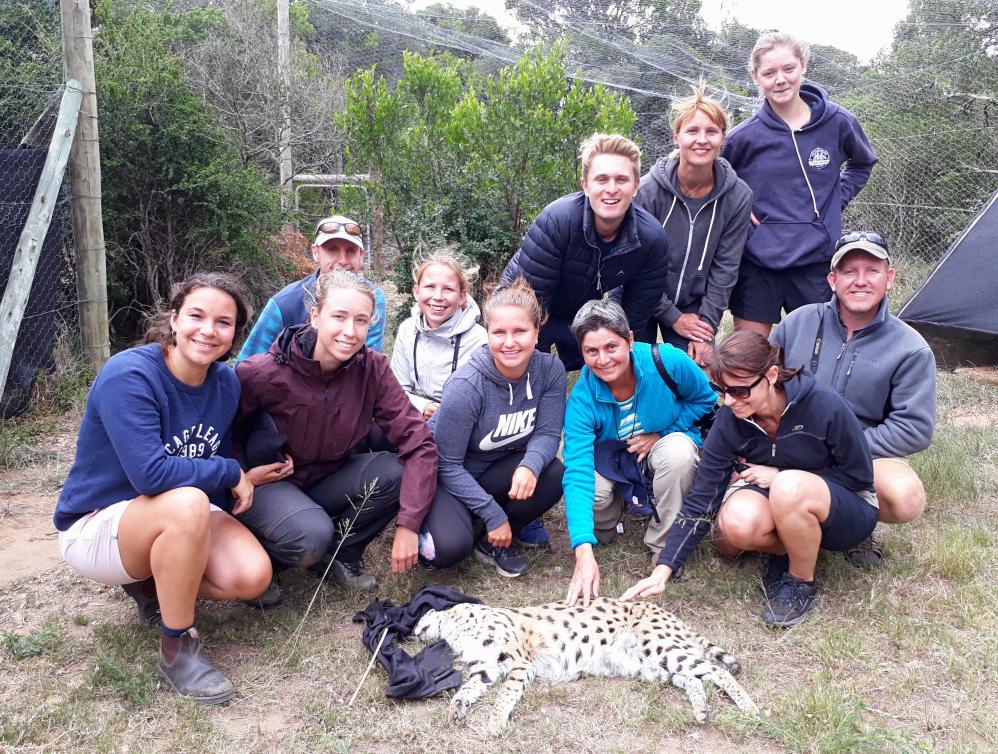 Alien Invasive Plant Eradication
Alien invasive plants management has been a resounding success during the period. We have taken on the eradication of a new species called Opuntia ficus-indica or the prickly pear. Our newly acquired trailer has been put to work to support the energetic volunteer team. Despite the large quantities of prickly pear that our team has eradicated, the stands of this invasive plant are still abundant and ongoing efforts are required to make a significant impact. Furthermore, our consistent efforts in managing black wattle have also been productive and we have removed 1300 plants from the reserve. Some plant species enrich and improve the landscape and assist with carbon sequestration. These are harvested and spread through our best efforts. Volunteers have planted 1400 Portulacara afra (porkbush) off-cuts this term. All this hard work has ensured that invasive stands are kept in check and favourable species proliferated.
Community Involvement
Community outreach has remained a very important role as volunteers have assisted with environmental education and uplifting the surrounding communities. At the Helping Hands soup kitchen there is always a great need during the end of year period. Generous volunteers have collectively donated 14kg of food, 8kg of clothing and R6,000 to support this worthy cause. 
Volunteers also engaged in a public protest for the protection of rhinos against poaching at the march to the Grahamstown High Court. This was very important as this protest has furthered awareness of the plight rhinos are facing and has been recognised as a significant public pressure to the courts for justice. This was done in collaboration with many other conservation entities which made a great public impact.
Fun Times
With the return of summer, volunteers have enjoyed bush sleep outs under the stunning African sky, sunny social bush lunches, night drives, refreshing swims, tranquil canoe adventures, and breath taking cliff drives and views. These activities have been rewards for many hours of hard work on the reserve. When people commit to contributing their time and effort in a place of need, our world is made a better place, one day at a time. Thank you to all who have contributed to conservation and community work on Kariega throughout 2018.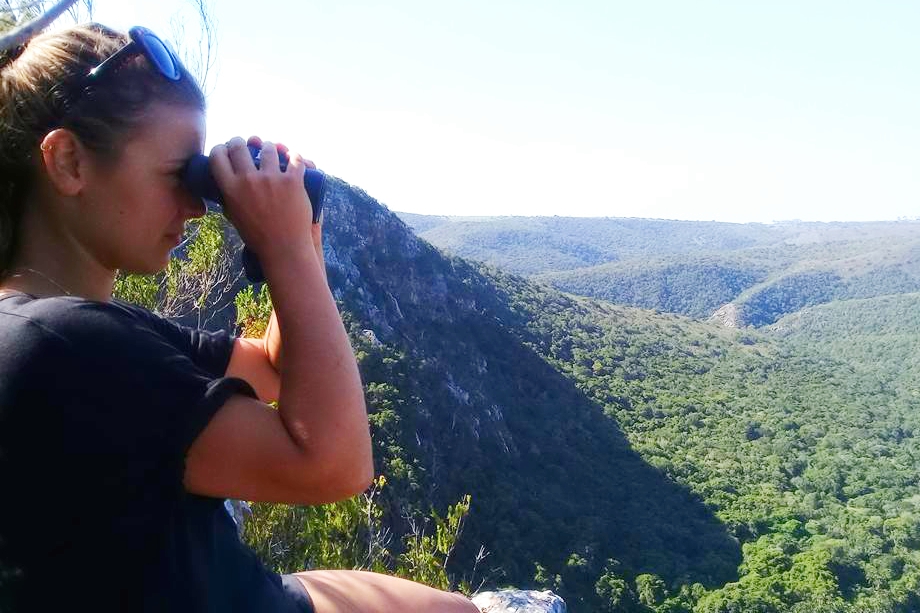 Thank you to all the volunteers who have participated in the Kariega Conservation Volunteer Programme during 2018 and we hope you have many great memories to hold onto until your next visit to Kariega.  Wishing everyone a happy and blessed festive season!
Yours in conservation, Jarrett Joubert, Kariega Conservation Volunteer Coordinator