Today is Human Rights Day. Each year the United Nations selects a theme and this year it is equality and our human right to freedom and dignity.
It is our collective responsibility to create a society that delivers on this basic human right which we action through our collective values, choices and the way in which we treat each other.
The Kariega Foundation upholds these human rights and is actively working to empower youth and adults in the communities neighbouring Kariega Game Reserve with the principles and practices of Social Emotional Learning, so that they may become conscious citizens and community members who play an active role in creating a society where equality, freedom and dignity are lived and celebrated.
Thank you to Kariega Field Guide, Reece Dodd on this video compilation that gives powerful insight into the impact and potential of SEL in the communities of Ekuphumleni, Marselle and Klipfontein. Thank you to the Kariega Foundation team who are bringing SEL alive in these communities.
Foundational Principle and Practice
Social and Emotional Learning is the foundational principle of the Kariega Foundation and SEL practices and tools are integrated into all of our community projects as well as the way in which we work as a team.
Our Youth Development Programme engages over 700 children in SEL during the school day and approximately 300 children in an after-school sports programme (including SEL) across the disciplines of netball, rugby and soccer.
The Kariega Foundation employs five sports coaches and SEL facilitators, all of whom have completed the COOL TO BE ME, SACE Accredited SEL Continued Professional Development Training as well as training on the implementation of the COOL TO BE ME, SEL curriculum.
The partnership with COOL TO BE ME, the leading authority on SEL in South Africa has been hugely beneficial and given a strong framework and structure to our the Kariega Foundations Youth Development programme.
On the sports side we have partnered with CoolPlay, an innovative programme that creatively integrates SEL and sports coaching. COOL TO BE ME and CoolPlay work seamlessly together to ensure that we maximise every opportunity to enrich and empower the youth that we work with through SEL.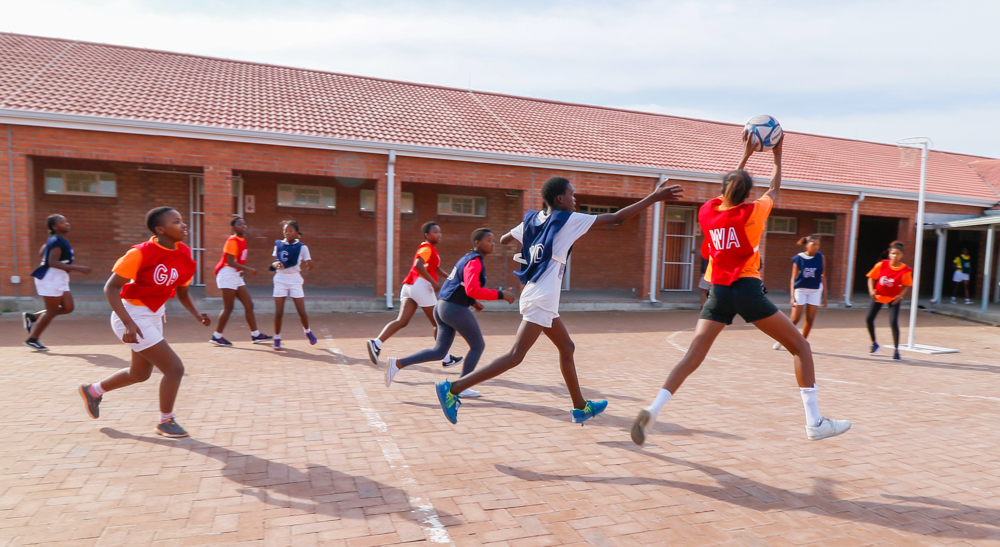 What is Social and Emotional Learning?
Social-emotional learning is the purposeful development of a child's emotional literacy (EQ). It teach them the skills and tools that can be used to manage daily challengers and stress as well as developing confidence, resilience and the ability to self-manage, make good choices and build healthy relationships.
The specific SEL. Competencies taught in the Kariega Foundation Youth Development Programme are:
Self-awareness: I can identify and acknowledge my emotions and know my character strengths and areas of development.
Self-regulation : I can calm down when I feel emotionally overwhelmed.
Goal-directed behaviour: Rather than being emotionally reactive I can choose a response that is aligned with a value or goal.
Social awareness: I show empathy and respect to others and am aware of the impact I have on them.
Effective communication: I listen actively with my head and heart and seek to understand. I communicate clearly so that I may be understood.
Conflict resolution: I co-operate. I compromise. I seek peaceful solutions.
Personal responsibility: I am responsible for myself. I help others and make a contribution to the greater good of my community and environment.
Decision making: I try and make good decisions and learn from my mistakes and failures.
Optimistic thinking and a positive growth mindset: I am always willing to learn and grow.
Research and data world-wide, shows that Social and Emotional Learning is possibly the best investment educators and parents can make for children as it contributes significantly to overall health and happiness, academic progress and good citizenship.
Children who engage in SEL can expect to show:
 better academic performance
improved attitudes and behaviours including greater motivation to learn, deeper commitment to school, increased time spent on schoolwork, improved classroom behaviour and healthier family bonds; 
improved decision making: increased ability to make choices more closely aligned with personal, school or family values and goals;
fewer negative behaviours: decreases in disruptive behaviour, non-compliance, aggression and disciplinary referrals, sibling rivalry;
reduced emotional distress: less likely to become depressed, anxious, stressed or withdrawn.
Thank you to our Programme Sponsors : The Ferguson Family
The Kariega Foundation and all the beneficiaries of our SEL and Youth Development Programme would like to say a heart-felt thank you to our programme sponsors, the Ferguson family.
This philanthropic family (taking their lead from their father and grandfather Sir Alex Ferguson), have turned their great love for soccer and conservation into action for positive change! As the founders of Little Lions Kenya, ambassadors of Grass Roots Soccer, sponsors of GROW, conservation collaborators to Kariega Game Reserve and donors of the Kariega Foundation's Environmental Education and Social Emotional Learning programmes, they personify the most important values of our time – custodianship and care of our planet, people and wildlife.
Thank you so much to Mark and Fiona and their sons Hamish, Freddie, Murray and Callum.