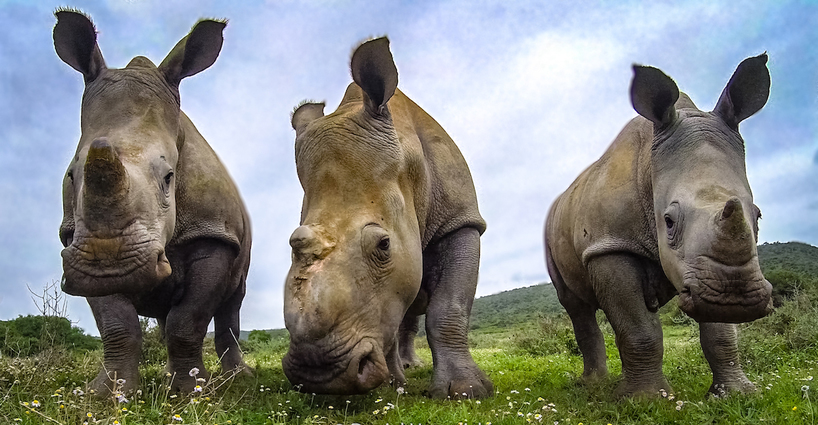 Since the beginning of 2018 a total of 508 rhinos have been killed by poachers in South Africa. These numbers started to escalate over 10 years ago. In 2007 there were 13 rhinos poached and in 2017 the total had soared to 1,028. In the last 10 years over 7,700 rhinos have been killed for their horns. 
The fight against this horrible act of rhino poaching requires us to stand together. Kariega Game Reserve has been incredibly fortunate to receive support from various wonderful individuals, organisations and businesses from around the world. We would like to thank some of our recent donors for their contributions to help us protect our rhino. We are so grateful to everyone who has helped us over the years. You know who you are! Thank you.
Recent Donors: Fighting Rhino Poaching
Laura Valentine
Laura Valentine volunteered in the Kariega's Conservation Volunteer Programme in 2017 where she heard the story of the horrific poaching at Kariega Game Reserve in 2012. Three rhinos were poached and only one, Thandi, a female white rhino survived and still roams free on the reserve with her two adorable calves. Laura wanted to do something to help the fight against rhino poaching and she did just that! She set up a GoFundMe campaign and raised enough money to purchase a DJI Mavic Pro Platinum drone with 3D Goggles. These were delivered to Kariega Game Reserve in July 2018! We are forever grateful for this donation which is being used by our Anti-Poaching Unit (APU) to monitor rhinos, fence lines and other vulnerable areas.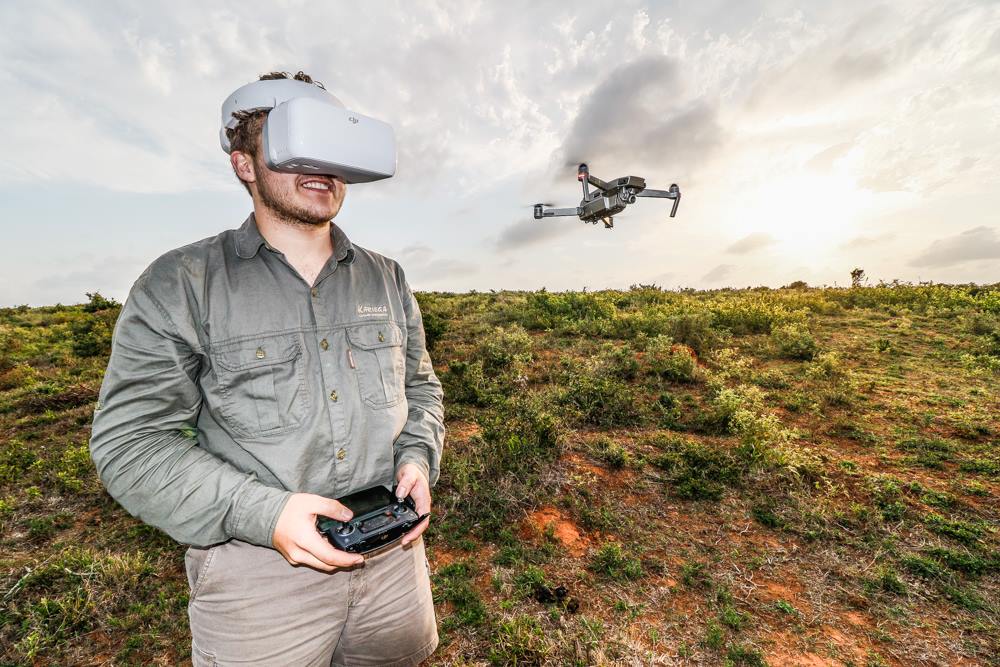 PAWS Wildlife Foundation
PAWS Wildlife Foundation donated much needed tactical equipment to the APU unit. Items donated include bullet proof vests, torches, boots, monoculars, spotlights, backpacks and much more. Thank you for your amazing contribution.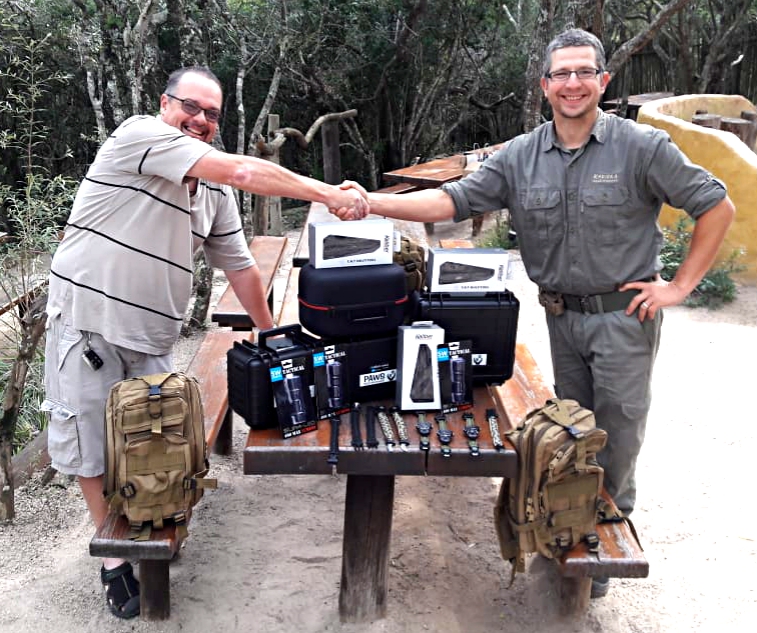 Rhino Tears Jewellery
Rhino Tears Jewellery was started by Sarah Cobden-Ramsay after she visited Kariega Game Reserve in 2017. Her guide, Daniel Haesslich, told her and his other guests the story of Thandi's poaching. Sarah was inspired to help in the fight against rhino poaching and she created Rhino Tears Jewellery. The range includes a variety of gorgeous pieces, including a gorgeous rhino tear. Sarah donates 100% of the profits made through sales of Rhino Tears jewellery to rhino protection initiatives. We are very grateful to all of the funds that Sarah has donated to our Kariega Foundation Save the Rhino Fun. Read more about Rhino Tears.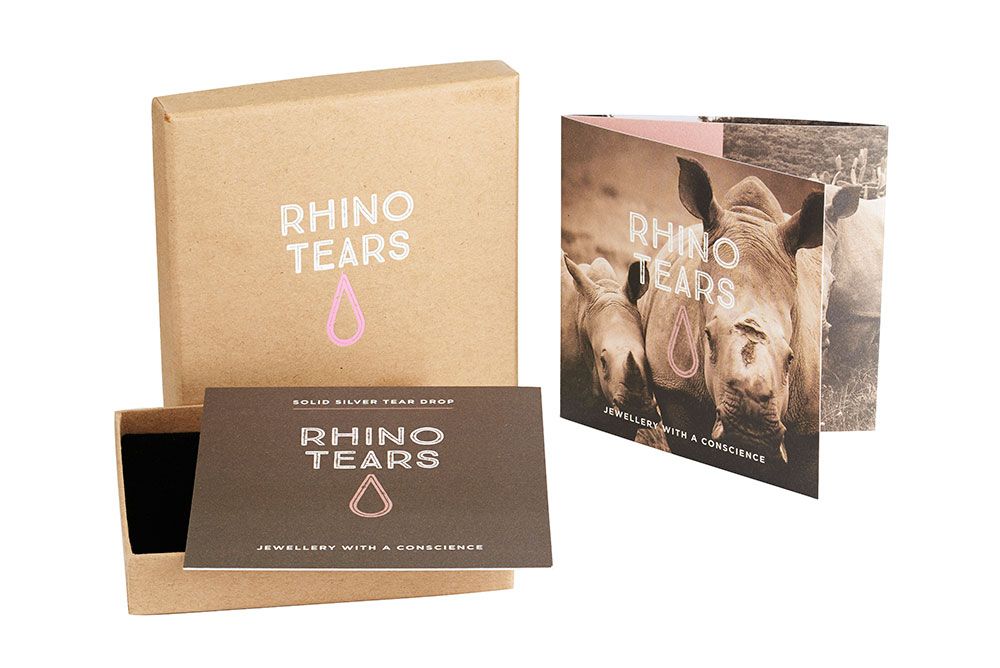 Global Conservation Force
Global Conservation Force (GCF) is based in USA and are dedicated to the protection of endangered species and habitats all over the world through direct action, education and creating awareness. GCF has been an integral partner in sponsoring training courses and bringing film crews like NBC's Dagmar Midcap to Kariega Game Reserve. The recent documentary Down to Earth with Dagmar - "The Extinction Crisis" has helped to create awareness about this crisis.
Reserve Protection Agency (RPA)
Reserve Protection Agency (RPA) was started after the Kariega rhino poaching incident in 2012. Their focus is to use technology to fight against poaching and other wildlife crimes. The RPA have also brought many film crews from all over the world to Kariega to film Thandi and spread awareness about the rhino poaching crisis. The most recent crews have been YouTube personality Coyote Peterson and his Brave Wilderness Channel and BBC's Newsround special documentary Defending the Rhino.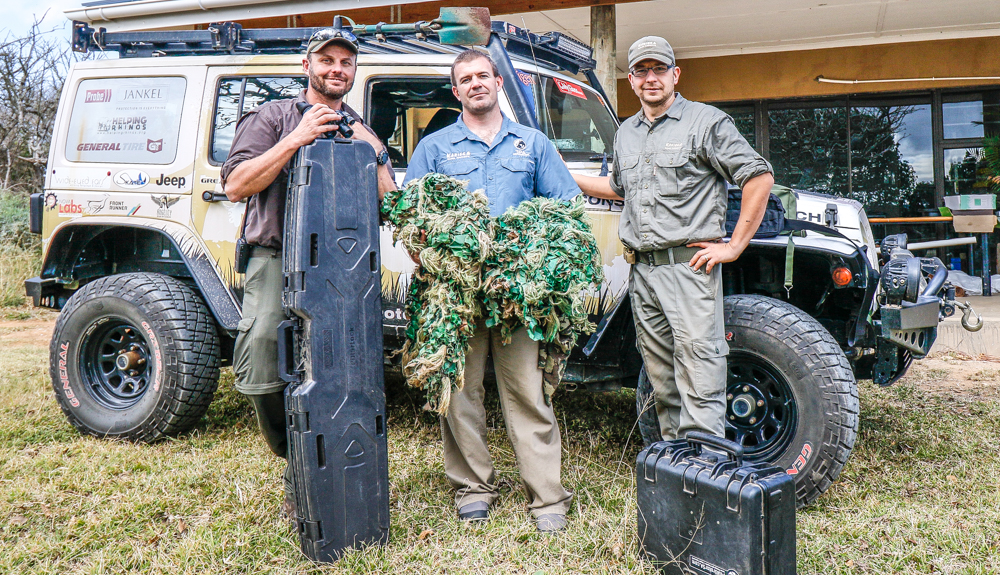 After the poaching incident in 2012 at Kariega Game Reserve, Sian and Sheena O'Keeffe decided to start an annual trail run at various locations around South Africa. This has helped is to create awareness and about the plight of rhino. The events raise funds for various rhino conservation initiatives, including our Kariega Foundation Save the Rhino Fund. Read about the 2018 Rhino Run event.
Dhahran Tower School
A small school with a big heart! The community of Dhahran Tower Nursery & Preschool in Saudi Arabia decided they wanted to do more than just learn about the problem of rhino poaching, they wanted to help save rhinos! They raised R6,000 at a market day and donated this to our Kariega Foundation Save the Rhino Fund. Read more about their help to fight rhino poaching.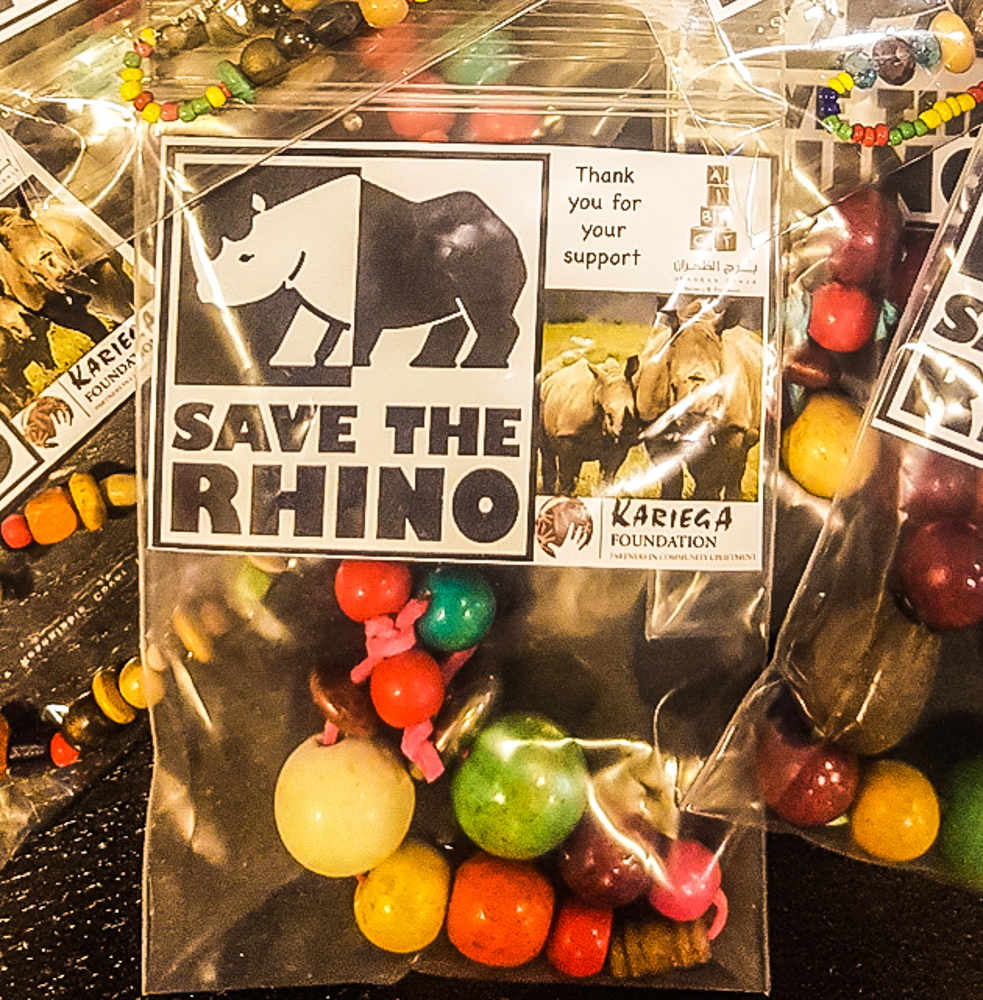 Protecting Kariega's Rhino
At Kariega Game Reserve we have a full time Anti-Poaching Unit (APU) who are out 24/7 on patrols, monitoring wildlife and following up on suspicious activity. We are also proactively educating the youth in our surrounding communities about wildlife crime and hoping to influence them from a young age to make the right decisions in life. 
Our Anti-Poaching Unit work tirelessly to protect the wildlife, natural resources and people living in and around our reserve. This unit is extremely costly and we have implemented a conservation and community levy to assist us. We are grateful for the contribution of every Kariega guest as well as those who donate additional funds and equipment. Please see our Save the Rhino page for details of equipment and funds that will assist us. 
To everyone who has donated to to the Kariega Foundation Save the Rhino Fund, we can not thank you enough for the support. Every single cent helps us to conserve the wildlife on our beautiful reserve. 
If you would like to know more about how you could help please contact Jone Haesslich via email on jone@kariega.co.za.