Special Rhinos Celebrate Birthdays!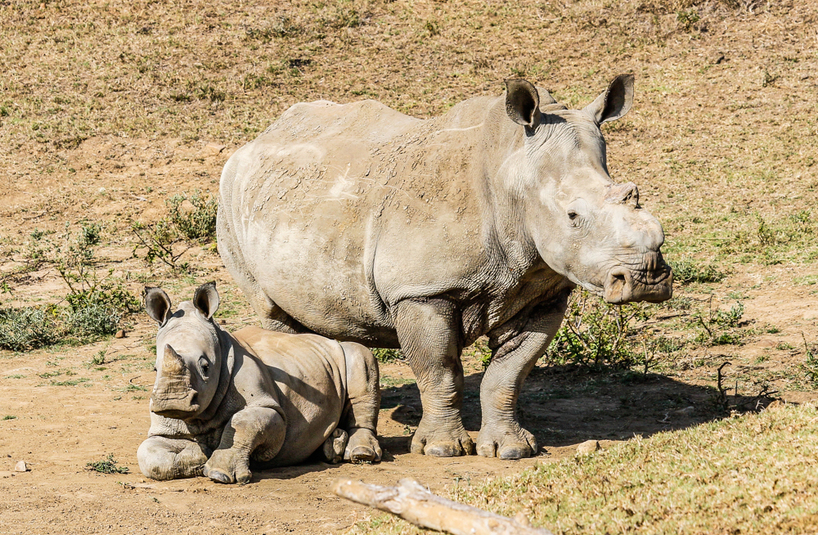 In January 2020 we celebrate the birthdays of two special rhinos, the eldest two calves of the rhino Thandi, the first ever rhino to survive after her horns were hacked off by poachers in March 2012. Rhino Thembi turns five on 12 January and rhino Colin is three on 24 January 2020.
Thandi's story has been shared around the world. It is a tale of extreme sadness, utmost greed, exceptional teamwork and in the end the greatest light at the end of the tunnel… happy healthy rhinos living a life in the wild as they should be. 
As a result of this poaching incident people from all walks of life became aware of the brutality of rhino poaching. It was a catalyst for like-minded individuals and organizations to start working together to raise awareness, educate the public about wildlife crime and fund-raise to provide much needed funding for the protection, preservation and conservation of rhinos.
Thandi continues to surprise all at Kariega Game Reserve with her tenacity and will to survive. She has produced three calves since 2012 and they all have bold, bright and courageous personalities. Safari guests enjoy spending time these special rhinos and watching their entertaining interactions, mud-wallowing and just being wild rhinos.
Thembi the Miracle Rhino Celebrates her Fifth Birthday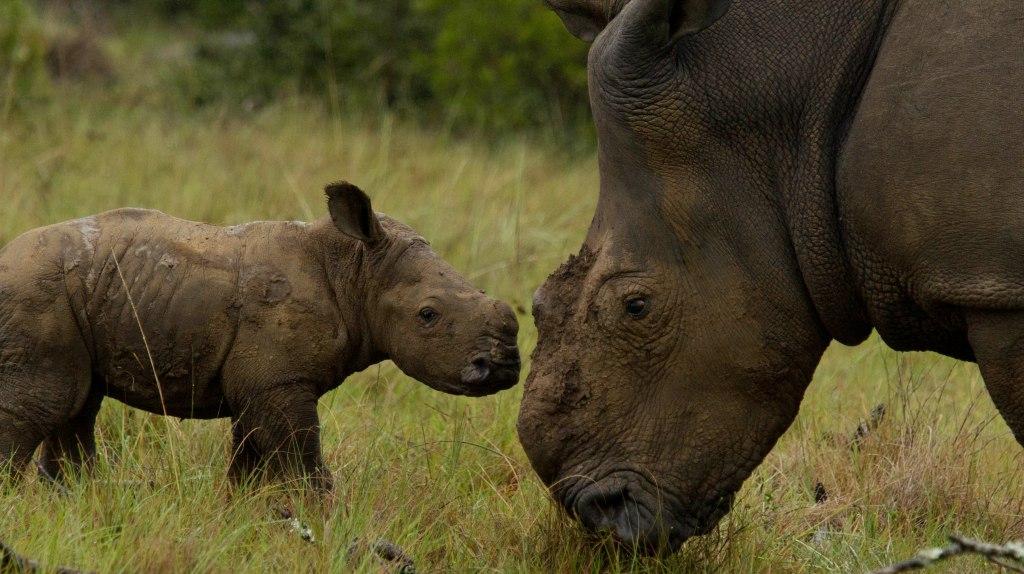 Not many people thought that Thandi would ever survive the poaching attack never mind get back to a point where she would ever fall pregnant and give birth. However, in early January 2015 Thandi disappeared into the thick bush at Kariega and was seemingly nowhere to be found. The Anti-Poaching Unit (APU) and field guides had a few very stressful days looking for her until she was finally located. She had moved into an area of very thick vegetation, with no access roads, and given birth to a miracle baby!
We named the female white rhino calf Thembi which means hope in isiXhosa. On 12 January 2020 we celebrate the fifth birthday of this special rhino. We hope that perhaps soon she add her own adorable calf to the family herd.
Wildlife photographer and filmmaker Adrian Steirn captured footage of Thandi and Thembi immediately following the birth. Steirn is the WWF Photographer-in-Residence for South Africa and has documented the fight against poaching across Africa for many years. This footage has been used to bring the brutality of rhino poaching into the living rooms of people across the world and stir action in ways that we could never have hoped for. 
At the time of Thembi's birth Steirn said: "I have been photographing wildlife for years but to have been able to capture this incredible moment was a once in a lifetime experience. Thandi's story has captivated the world since she became a beacon of hope in the fight against rhino poaching. To see her with a beautiful, healthy calf is truly a privilege and should inspire optimism and renewed commitment to protect these incredible creatures."
Colin the Special Rhino Legend Celebrates his Third Birthday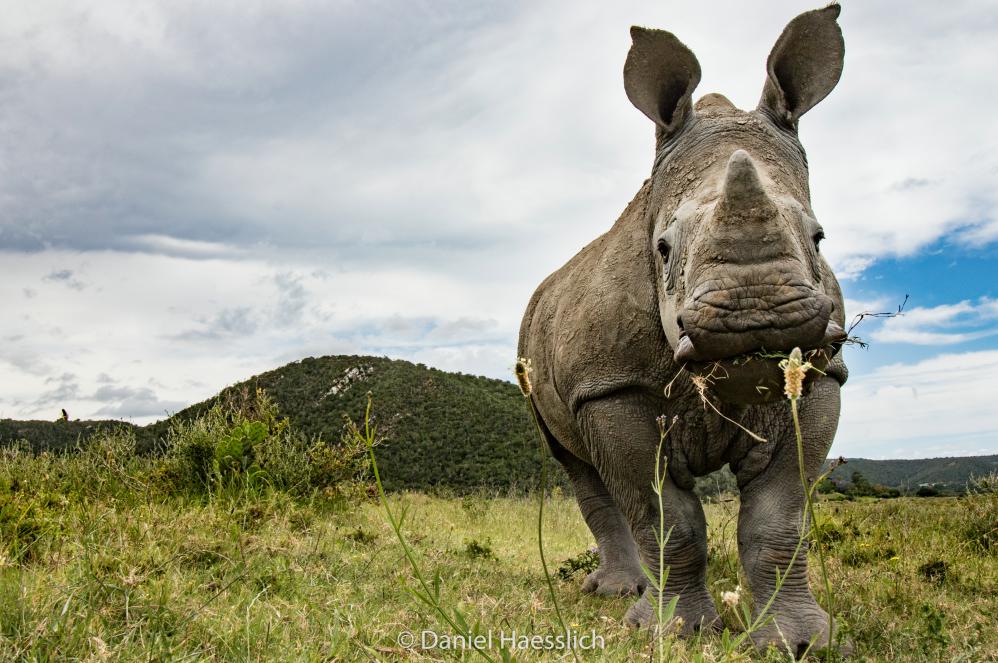 When Thandi gave birth to Thembi in 2015 we didn't expect her to have another calf for quite a few years, if ever again. However this feisty-don't-waste-time rhino provided us with another surprise on 24 January 2017. With the help of wildlife vet Dr. William Fowlds and his very handy drone, we discovered Thandi in the thick bush again with her newest bundle of joy!
Watch the drone footage when we discover the special rhino and her second calf.
Only two years after her first calf, Thandi became the proud mother of her second calf, a little boy. This birth came only four days after the founder and visionary of Kariega Game Reserve, Colin Rushmere passed away on 20 January 2017. To commemorate this great man, Thandi's newest addition to her family was named Colin. 
Rhino Colin turns three years old on 24 January 2020. He is mostly seen hanging out with his sister, Thembi, as they explore the beautiful landscapes of Kariega Game Reserve, wallow in the mud on hot summer days and graze for hours on the African plains.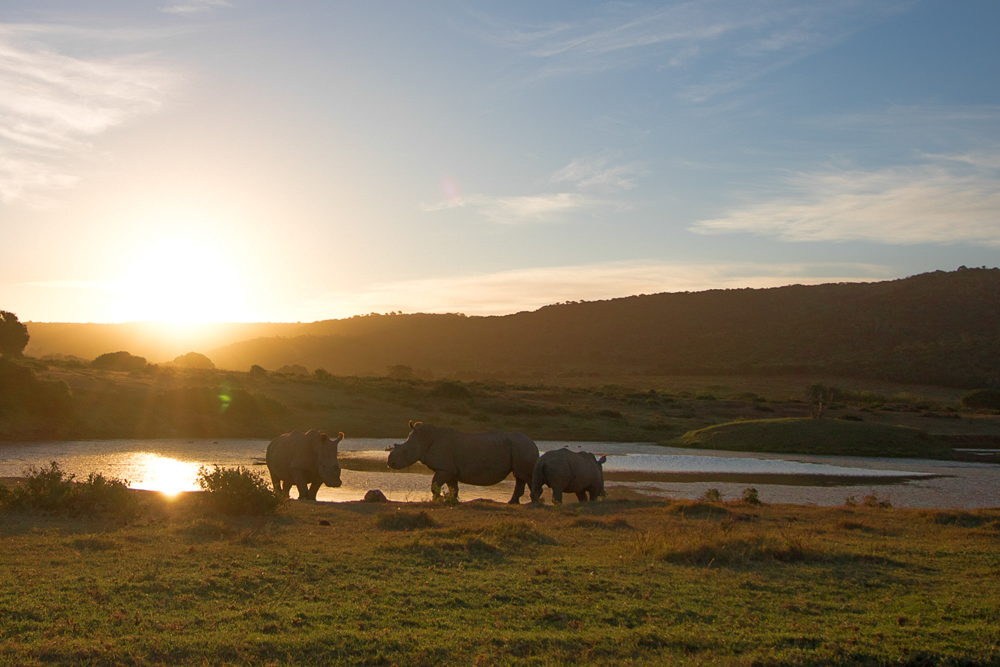 Thank You for Supporting our Rhino Conservation
Kariega Game Reserve and our rhinos are tremendously grateful to all the people who have been a part of Thandi's journey and for every ounce of support given. Without this help she would not be here today, living life with her three happy, healthy calves and perhaps even planning to have another! We are sure if she could talk, she would express her thanks to you all.
The journey of these special rhinos is far from being over. Keep a close eye on this unique rhino crash as you never know what is coming next! 
Subscribe to our blogs to make sure you never miss our articles and stay up to date with what is happening at Kariega Game Reserve. You can also connect with us on Facebook, Instagram, Twitter and YouTube.
Photo credits: Daniel and Jo Haesslich.