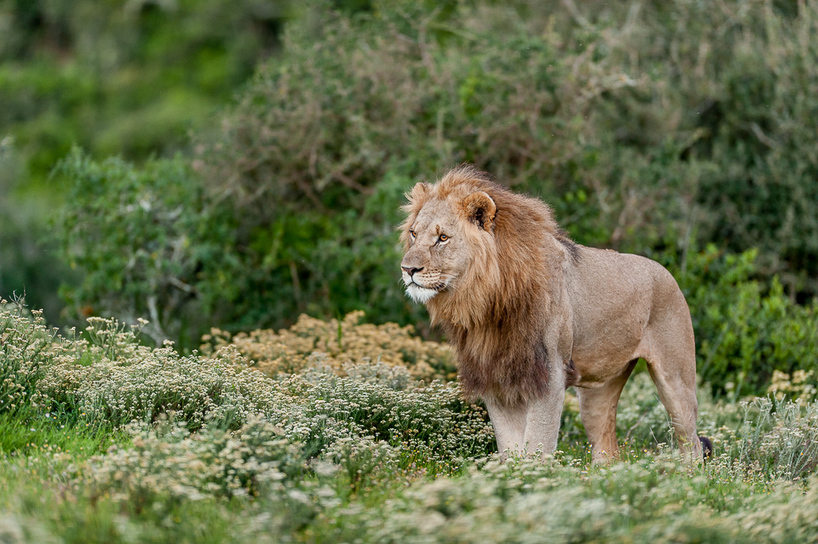 Spring (September to November) is a superb season to enjoy a safari in the malaria-free Eastern Cape region of South Africa. You may even see a lion in the spring flowers while on safari! 
Our region has a wonderfully mild climate and is blessed with sunshine year round. Although spring temperatures can fluctuate, they usually ranger between 16º and 26º C (60º to 78º F). The highest temperatures in spring can be in the low to mid 30's (around 88º F). A superb climate to enjoy a safari on open vehicles with your experienced guide.
Kariega field guide Brendon Jennings captured this close-up photograph of a male lion in the spring flowers. 
Lions usually spend around 20 hours a day resting. They are very sensitive to heat because they can't sweat like we do to cool down. This is why you will usually see lions resting in the shade during the day. According to the World Wide Fund for Nature, lion numbers have plummeted by over 40% in the last 100 years. There are now estimated to be only around 20,000 lions remaining in the wild. They are officially classified as 'vulnerable'.
Lion in Spring Flowers
This lion is walking through flowers that are part of the Cape Floral Kingdom, the smallest of the six Floral Kingdoms in the world. According to the South African National Biodiversity Institute there are 8,700 plant species in the Cape Floral Kingdom and approximately 5,900 (68%) grow nowhere else in the world! The Cape Floral Kingdom has incredible floral diversity.
Fynbos forms part of the Cape Floral Kingdom and can only be found in the southern corner of South Africa in a 100-200km wide coastal belt that includes Kariega Game Reserve. You won't be able to see a lion in fynbos flowers anywhere in the Kruger National Park!
Kariega Spring Safaris
If you are interested in a spring safari please get in touch with our reservations team via email on reservations@kariega.co.za. You can also use our contact form. 
Read more about a spring safari at Kariega Game Reserve:
Please share your photos, videos or comments about your spring safari with us via our Kariega Facebook page, on Instagram, YouTube and Twitter. Connect with us to keep up to date with what is happening at Kariega Game Reserve.