Safari Guest Raises Funds for Rhinos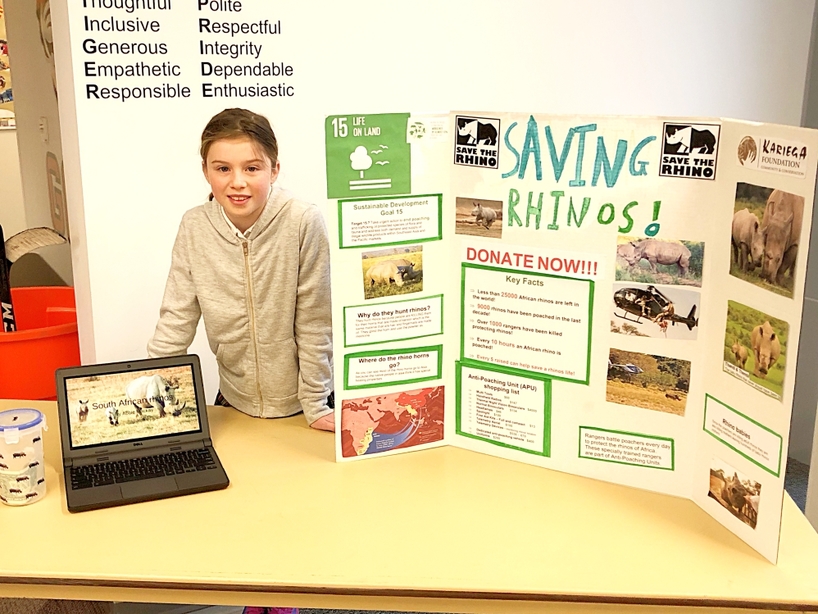 We are hugely grateful to safari guest Abbie Mackay and her family for raising funds to protect rhinos at Kariega Game Reserve in South Africa. Thank you Abbie for turning your love of rhinos into action and donating the money you raised to help keep our rhinos safe. 
Abbie Mackay and her family visited Kariega Game Reserve in December 2019 and stayed at the Homestead private safari lodge. The family live in the USA but both of Abbie's parents were born in South Africa. During their stay safari guide Temba Chuma told them about the plight of rhinos and how they are being killed for their horns. He also shared the story of how three rhino had been poached at Kariega in May 2012, that one rhino called Thandi miraculously survived and has gone on to have three calves. These chats with Temba sparked something in 10 year-old Abbie and when she got back home she started planning and working on a fundraiser to help support Kariega's efforts to protect, conserve and preserve rhinos and other wildlife.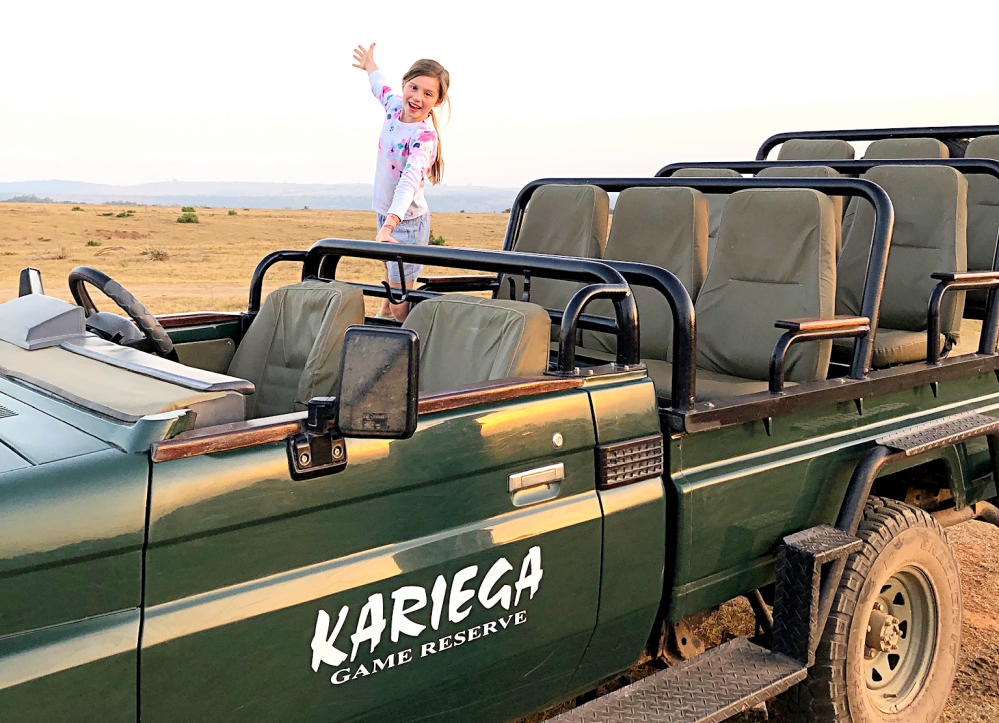 Safari Guest School Fundraiser to Help Rhinos
Abbie jumped into action when she returned to school after her South African safari and holiday. She wanted to create awareness about the rhino poaching crisis and raise funds to donate to the Kariega Anti-Poaching Unit who help to protect the rhinos at Kariega. Abbie asked her school principal, Mrs. Jenkens, if she could liaise with the head of fundraising to support this project. Thankfully they both felt this was a brilliant idea and a worthy cause.
Abbie's school held a Support-A-Thon where students set up booths to create awareness and collect funds for their different causes. All of the students could choose to donate to whichever booth they wanted to support. Abbie's booth looked amazing with a lots of pictures and information about rhinos and the rhino poaching crisis. Abbie and her mum then took the money raised and donated R6,300 to the Kariega Foundation Save the Rhino fund.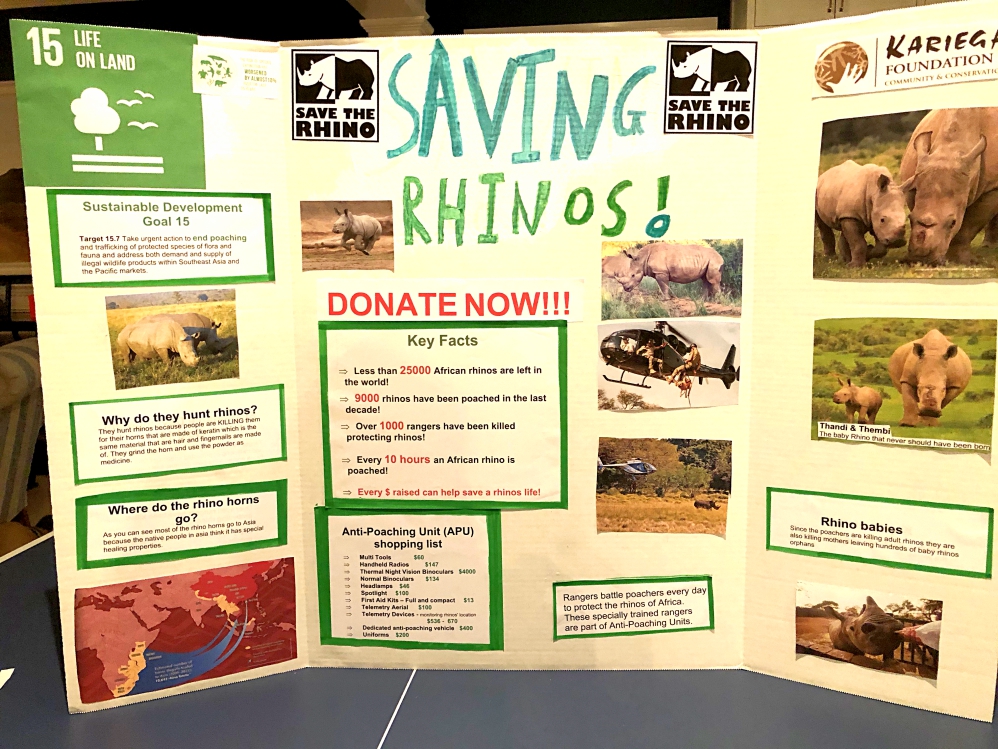 We were delighted to learn that Abbie has also supported our Adopt a Rhino fundraising campaign. After her first safari at Kariega Game Reserve Abbie decided to use her pocket money to pay for the online adoption of Thandi and her family. This young lady is quite amazing!
You Too Can Raise Funds for Rhinos
If you are inspired by Abbie and her fundraising you too can get involved to help us protect and conserve our rhinos. Here are the two ways that Abbie helped:
1. Direct Donation to the Kariega Foundation Save the Rhino Fund
You can make a tax-deductible donation of any size directly to the Kariega Foundation in any of the following ways:
Donate via EFT (for international currencies) via our secure online payment system. Click on our Save the Rhino page and find the DONATE NOW button either in the right column or at the end of the page. This will allow you to make a donation in your currency via a secure online payment gateway called Exchange4Free.
Transfer a donation into the following bank account:
KARIEGA FOUNDATION TRUST
First National Bank
Account No: 62275606526
Branch: Newton Park
Branch code: 261050
Swift: FIRNZAJJ
Contact us to find out about donations via credit card.
2. Adopting Rhino Thandi & Family
Support us and adopt Thandi and her family . Funds raised will benefit our APU and our Kariega Foundation environmental education programme in neighbouring community schools.
Thanks to the Helping Rhino Adoption Centre you can adopt Thandi and her family in a few easy steps.
Go to Thandi's adoption page: https://www.helpingrhinos.org/adopt-thandi/ or Mthetho's page: https://www.helpingrhinos.org/adopt-mthetho/
Click on the Adopt button
Choose the adoption package that suits you best
Add the names of a friend or two who want to share the responsibility (if required)
Follow the online check-out process to register and pay online.
We are grateful to our partner Helping Rhinos, a UK based non-profit organisation committed to delivering tangible results in rhino preservation, for making the online rhino adoption possible.
Please email us on foundation@kariega.co.za if you need help with anything.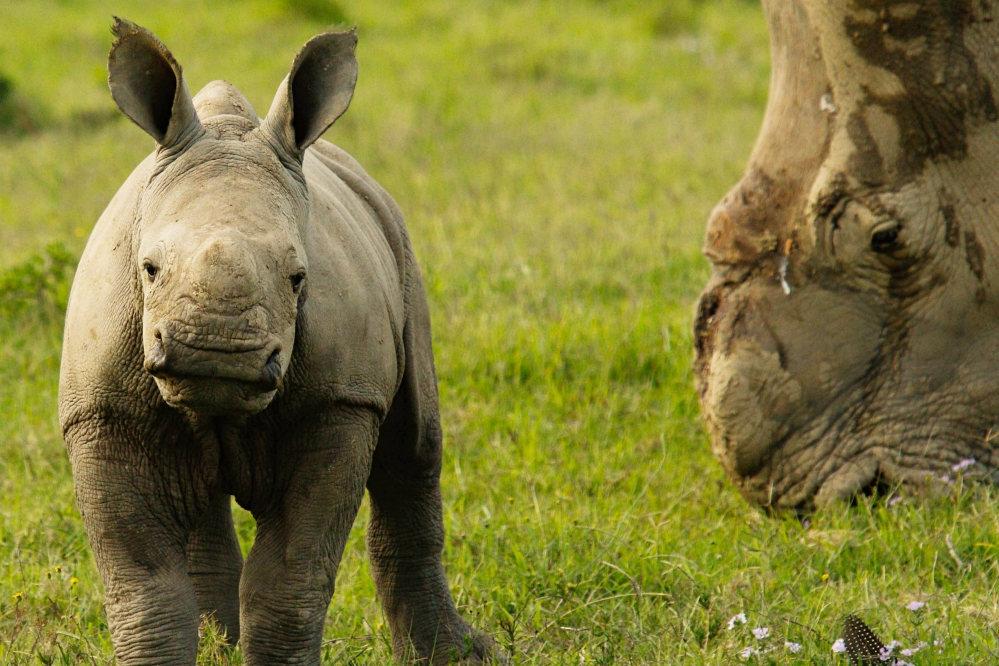 We are delighted and very grateful that Abbie was inspired to take action to help protect rhino. The conservation of rhino is very close to many of our hearts. The brutal slaughtering of these gentle animals for their horns doesn't make any sense. The horn of a rhino is falsely believed to have the power to cure illnesses including cancer, arthritis and many others. To date there has been absolutely no scientific data to support these beliefs. Without conservation and protection these magnificent creatures may disappear from our planet forever. Every bit of energy put into fundraising, creating awareness, sharing facts and any other support will help the rhinos who so desperately need it.
Rhino Thandi is pictured above without her horns as these were hacked off when she was attacked by poachers in May 2012. Thandi is joined by one of her three calves.
Find out more about our Kariega Foundation, join us on Facebook, Instagram, YouTube and Twitter, subscribe to receive our blogs via email or email us on foundation@kariega.co.za.
If you would like to find out more about a Big 5 safari at Kariega Game Reserve please contact us directly via our online form or email us on reservations@kariega.co.za. We offer accommodation in five safari lodges to suit a range of budgets. The reserve is located at the end of the popular Garden Route and a short flight 80 minute flight from Cape Town. We look forward to welcoming you and perhaps you will some rhinos, including poaching survivor Thandi and her family in the wild.