Rhino Thandi, Thembi and Colin on Kariega Plains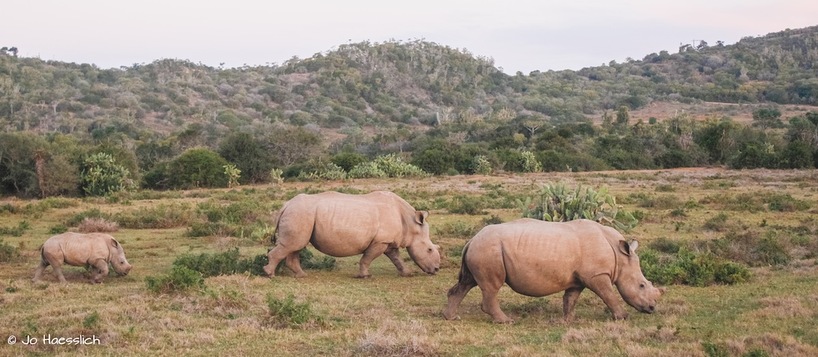 As the content manager for Kariega Game Reserve, I write about rhino Thandi, Thembi and Colin every month and work with photographs and video of them continuously, but I do not often get the privilege of actually spending time with them in the Kariega wilderness.
Earlier this month, while working at Kariega Game Reserve for a few days, I was presented with one of those rare opportunities and was greatly blessed with an incredible sighting of Thandi, Thembi and six month old Colin grazing together peacefully on the wild, wide plains at Kariega.
Magical Sunset with Rhino Thandi and Family
While sitting on the open safari vehicle enjoying a magical sunset with Thandi and her family I was reminded of some things that photographs and video do not reveal:
Thandi has the presence of a rhino superstar. She is huge in stature and spirit.
She is beautiful despite being permanently scarred by the loss of her horn.
She is calm, peaceful and totally comfortable and happy in her environment with Thembi and Colin.
She is trusting and generous - frequently moving towards the vehicle to commune with us and share the joy of her offspring.
Rhino Thandi an Inspiration for Saving Rhino
In those beautiful moments together she walked right up to the vehicle with Thembi and Colin at her side and looked directly at us. There was wisdom in her eyes that told me she understood so much of the world around her and the role she was playing in fighting for the survival of her species.
In those beautiful moments together I understood, with a gravity like never before, why this single female rhino has inspired so many people to fight alongside her for the survival of her species.
In those beautiful moments I felt a heavy responsibility to protect her, Thembi, Colin and her species. We simply cannot allow the extinction of the rhino to be our legacy.
I left Thandi, Thembi and Colin on the open plains with renewed determination to get actively involved wherever I could to ensure their right to continue to graze peacefully on the open plains.
If you would like to get involved you can donate to The Kariega Foundation Save The Rhino project,  Together we can ensure that Thandi and her species survive and thrive.