Sharing guest feedback and videos helps us to show prospective visitors what to expect during a malaria-free South African safari experience at Kariega Game Reserve. This guest video is thanks to guest Megan McCall who stayed her family at Main Lodge in July 2019. Megan and her family visited our malaria-free Eastern Cape safari reserve from Scotland. This was their feedback after their stay:
"It was superb! Thank you for a wonderful experience!"
Malaria-Free South African Safari Experience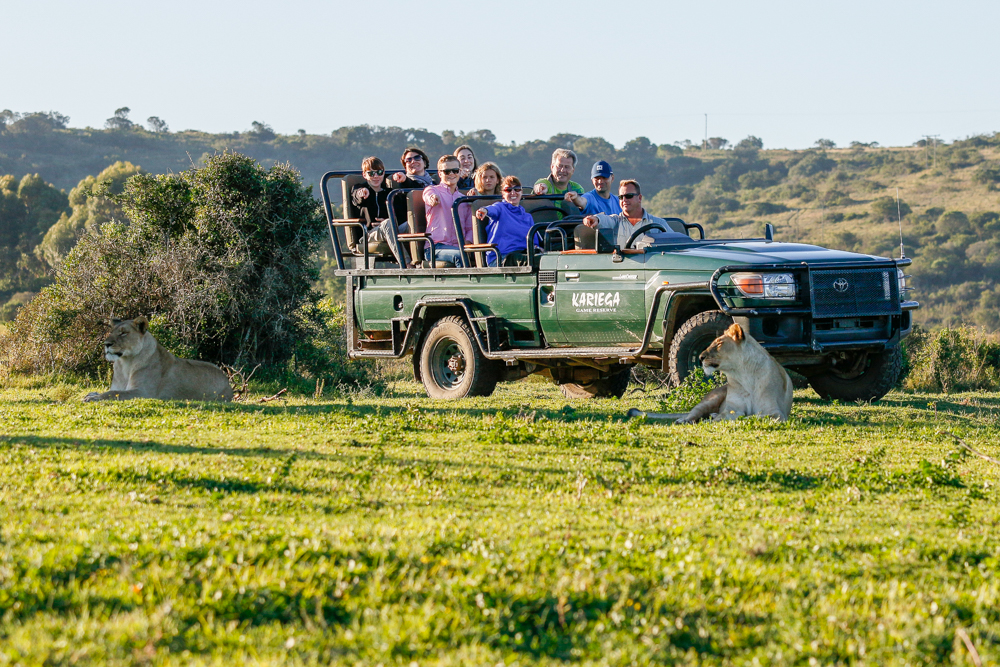 Kariega Game Reserve offers Big 5 safaris in a malaria-free private game reserve in the Eastern Cape, South Africa. Kariega is known for its beauty and variety of eco-systems. The game carrying capacity is extremely high resulting in fantastic game viewing and birding and the ultimate safari experience.
In addition to the Big 5 - rhino, elephant, buffalo, leopard and lion - Kariega is home to giraffe, hippo, zebra, serval, caracal, hyena, jackal, genet, bushpig, warthog, baboon, monkey, aardvark, otter, honey badger and porcupine to mention just a few. Kariega is bordered in the east and west by two magnificent rivers, a delight for birdwatchers who will have the chance to view an abundance of birdlife including the magnificent African fish eagle.
Everything at Kariega revolves around our twice-daily safari drives where guests enjoy unforgettable encounters with South African wildlife. Our experienced guides host the drive every morning and afternoon/evening in open safari vehicles. Megan's family were hosted by guide Matthews and her video shows some of the wildlife that she and her family saw on their malaria-free South African safaris. Within the first 30 seconds of the video you see blesbok, impala and wildebeest and then warthog, Cape buffalo, giraffe and southern white rhino.
The video shows a river cruise which is also included with one of the game drives on stays of more than two nights. The McCalls were fortunate to see African elephants from the boat. The video also shows numerous other close-up experiences with African elephants. Find out more about our Kariega safari activities including guided bush walks, canoeing and river fishing. Spending time in the African bush guided by an experienced and qualified ranger is a highlight for all of our guests.
Other safari experiences in the video are seeing hippos both in and out of the water, numerous journeys (group) of giraffe, lions, ostriches and vervet monkeys.
Malaria-Free South African Safari Lodge

Kariega Game Reserve offers a choice of five safari lodges to suit all needs. Main Lodge offers 24 spacious log chalets, which are expertly integrated into the bush offering privacy and stunning views of the Kariega river valley. Ukhozi Lodge captures the romance and intimacy of Africa, with 10 superbly appointed luxury suites, each with a private plunge pool and deck offering panoramic valley views. River Lodge is uniquely located on the banks of the Bushman's river and offers 10 luxurious suites. Settlers Drift is a 5-star luxury lodge located in a remote part of the Kariega wilderness, offering a unique tented safari combined with 5-star luxury. The Homestead is a private sole-use lodge offering privacy and comfort and includes seven large bedrooms. It is perfect for a group or family of up to 14 people and guests enjoy the flexibility to plan their day according to their own specific needs.
All lodge rates are on a fully inclusive basis, including all meals, all selected beverages, morning and evening game drives and other game activities (only Main Lodge excludes beverages). Rates exclude the conservation & community levy of R150 per adult paying guest per night.
Megan and her family stayed at our Main Lodge which offers a relaxed and friendly environment to enjoy the African bush. Accommodation is in spacious, comfortable log chalets set in the indigenous vegetation with excellent views onto the reserve. All bedrooms are en-suite and air-conditioned. The bedrooms connect into a shared spacious lounge and living area which is great for socializing before retreating to the privacy and comfort of your bedroom. There is also a large private viewing deck, kitchenette, fireplace and satellite TV. The dining area, bar, main lounge, outdoor pool, gym and spa are expertly integrated with the surrounding bush to create a natural environment where guests can enjoy meals and relax.
Guest Feedback from Malaria-Free South African Safari Experience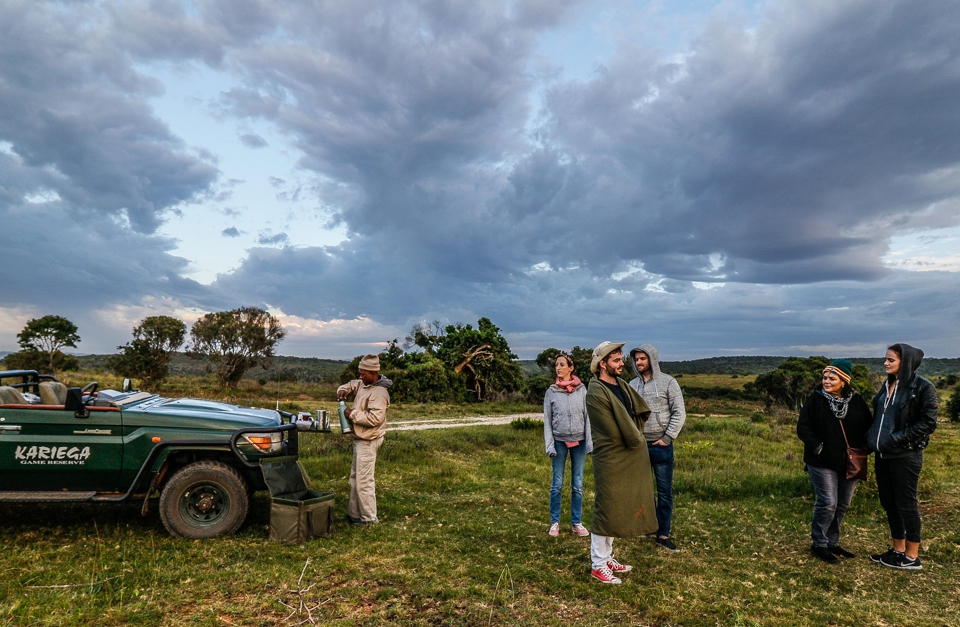 We are constantly delighted by the feedback from all of our safari guests. We so appreciate the time that each guest takes to send us feedback via our paper and digital questionnaires as well as the public reviews added to TripAdvisor, Facebook, Instagram and the many other channels. We read each review and take action to try to keep improving the Kariega experience for our valued guests.
Here are some recent guest reviews that we received about Main Lodge and guide Matthews:
"Our ranger was Matthews. A special person, dedicated, friendly, caring and kind to children and adults. We did six games and he was dedicated to making all safaris different experiences. We really enjoyed having Matthews as our ranger. He made our stay in Kariega very special and unforgettable. Thanks very much. We will be back" Cristiane Montibeller, Brazil.
"It was just what we needed, and we particularly liked both the self-serve element (we'd been struggling with large South African servings so nice to be able to take smaller portions) and the arrangements for breakfast and dinner, where you eat together with your ranger and other guests you're travelling with. Also loved the boma dinner, with singing and dancing from local children." Alan & Karen Murrel, UK.
"We appreciated the sunrise drives that Matthews took us on. Overall we loved the experience and wouldn't hesitate to recommend Kariega to other people." Richard & Catherine Williams & family, UK.
If you would like to find more about Kariega field guide Matthews you can read his profile and watch a video on our blog: Meet Field Guide Matthews.
If you would like to read more reviews about our Main Lodge, please visit our TripAdvisor listing for Kariega Game Reserve Main Lodge.
Contact us to find out more about Kariega Game Reserve in South Africa's malaria-free Eastern Cape.
Book Your South African Malaria-Free Safari
We would love to assist you to plan and book your South African malaria-free safari at Kariega Game Reserve. View our safari special offers, check availability and rates online, book via our secure online system or contact us via email on reservations@kariega.co.za for more information. We also offer assistance with South African tours and can put you in touch with experienced and trusted tour specialists. Contact us to plan your malaria-free South Africa safari today!