Kariega Foundation Hosts Education Workshop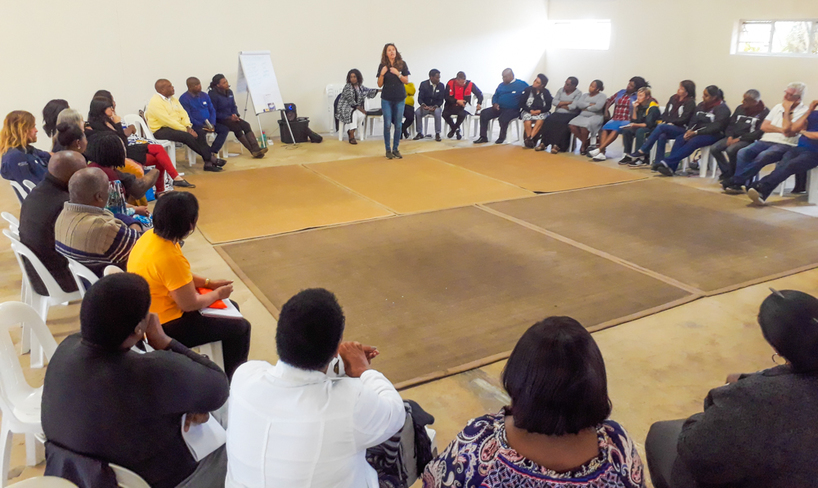 In October 2019 our Kariega Foundation hosted an education workshop focussing on leadership and motivation. The workshop was endorsed by the Department of Education, school principles and senior management from the schools that fall under the Ndlambe District. Over 60 delegates attended the workshop and expressed genuine excitement at being involved. This was the first time leaders in education in the area had met under the same roof to connect and collaborate.
The Kariega Foundation was motivated to host the workshop and bring educators together to create a community of support to work more effectively as a collective toward solving the many challenges faced by schools in rural and poverty-stricken areas. Many heads are better than one to solve problems and, knowing you have the support of a broad network of colleagues goes a long way to rejuvenate and reignite passion for teaching. Education is a difficult vocation and many involved sometimes feel burnt out and hopeless.
Kariega Foundation Education Collaboration
The workshop was developed and facilitated by social and emotional learning experts, COOL TO BE ME. The content of the workshop was designed to create a trusting and empathetic connection between the group; identify areas of need and possible solutions; open doors to collaboration and motivate each individual to offer their unique blend of strength and intelligence for the benefit of the whole. COOL TO BE ME calls this process 'maximizing human capital' and believe that human resources are the most valuable part of any school or organization. When maximized, it is human resources that creates sustainable transformation and solutions to on-going challenges.
The next step in this on-going collaboration between all stakeholders to transform and uplift education in the Ndlambe District is to run follow-up workshops with the full staff component of each school. The first follow-up workshop will be held in November 2019.
Thank you to the Department of Education for supporting these workshops and for the significant movement towards collaboration. Thank you to all the school principles and staff members for attending and participating so whole heartedly in the process. Thank you to the incredibly motivated Kariega Foundation team for working so hard to bring everyone together.
More About Our Kariega Foundation
To f ind out more about the work of our Kariega Foundation please visit the various sections on our website. You can read more about the focus on education and visit our blog to read updates on all our community initiatives and conservation projects.
You are also welcome to contact us via email on foundation@kariega.co.za or come and chat to us in person while on your safari. The Kariega Foundation office is located at Main Lodge reception. The Kariega Foundation community and conservation levy already makes every guest a valued partner but many guests feel like they want to do more.
Here are some ideas if you would like to support the work of the Kariega Foundation:
Chat to us about what is in your heart and we will try to find a way to make a difference together.