Habitat Expansion and Cheetah Reintroduction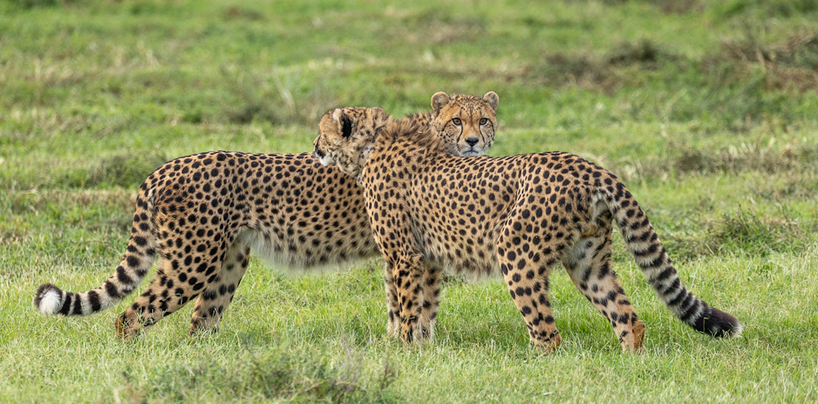 Kariega Game Reserve has recently concluded phase one of an exciting habitat expansion project in the Bushmans River Valley.  The newly incorporated land, on the banks of the Bushmans river with the perfect mix of open plains and Albany thicket, created the opportunity for Kariega Game Reserve to expand into cheetah conservation and support a species that is being increasingly threatened due to the loss of habitat. Broad plains, dense foliage, and mountain ranges make up the ideal habitat for cheetah.
Earlier this year, in partnership with Ashia Cheetah Conservation and Endangered Wildlife Trust (EWT), Kariega welcomed the first coalition of two male cheetah onto the reserve. A female in due to follow shortly to complete the coalition and create the opportunity for procreation. Once weaned, any cubs born at Kariega will become part of the EWT meta population management programme and will be distributed to other wildlife reserves to ensure continued genetic integrity of the population under management. 
There is a crucial need for additional reserves to join the programme and help manipulate the natural dispersal of cheetah to increase the population size of this threatened species.
It takes a dedicated team of conservationists to successfully reintroduce a species into a protected area. We want to thank the Kariega Foundation, EWT, Ashia Cheetah Conservation;  Save The Horn campaign with Global Conservation Force and Brave Wilderness; the Ferguson Family for purchasing the new land and incorporating it into the Kariega protected area and finally all our partners who donated funds to complete phase one of the habitat expansion project, Freedom to Roam Adventures 2022 and Helping Rhinos in particular.
Conservation is a team sport! Thank you.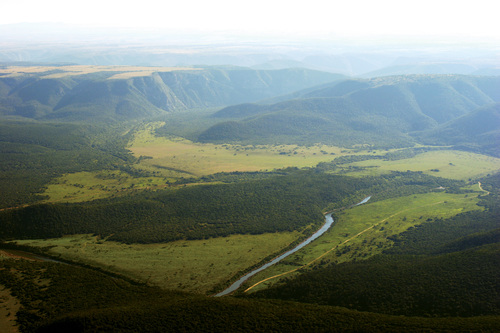 Cheetah Conservation in South Africa
Because only 40% of cheetah in South Africa reach reproductive age, the country has a limited cheetah population. Large predators such lion, hyena, wild dog, or even a leopard can easily kill cheetah that are at the bottom of the predator food chain, making them particularly vulnerable. 
In order for the cheetah population to grow, it is crucial that private game reserves, like Kariega Game Reserve, introduce cheetah and establish a gene pool that can be dispersed into other game reserves. In South Africa, where there is a small bottleneck population of cheetahs, interbreeding can take place covertly. This is where EWT intervenes to prevent this problem.
The Endangered Wildlife Trust  is  a non-governmental organisation that works with the government to protect species and habitats through many different work groups across 21 countries. Due to the threat of inbreeding, EWT researchers have built a large database of cheetah called a meta population, that are managed across numerous and separate habitats. All animals in the meta population are checked for genetic resemblances before they are disseminated to a host reserve to prevent interbreeding between cheetah populations.
Once any cubs produced within the managed population are weaned from their mother they need to be removed from the host reserve and held in a sanctuary while a new home is researched and found for them. This makes Ashia Cheetah Conservation a critically important partner in the programme.
Ashia Cheetah Conservation, is a cheetah sanctuary located close to Cape Town  that cares for cheetah cubs while they are waiting for relocation. In addition the Ashia team facilitate and fund all relocations from their sanctuary to host reserves and participate in research initiatives to ensure the project's survival and give our wild cheetah population the best change of sustained growth.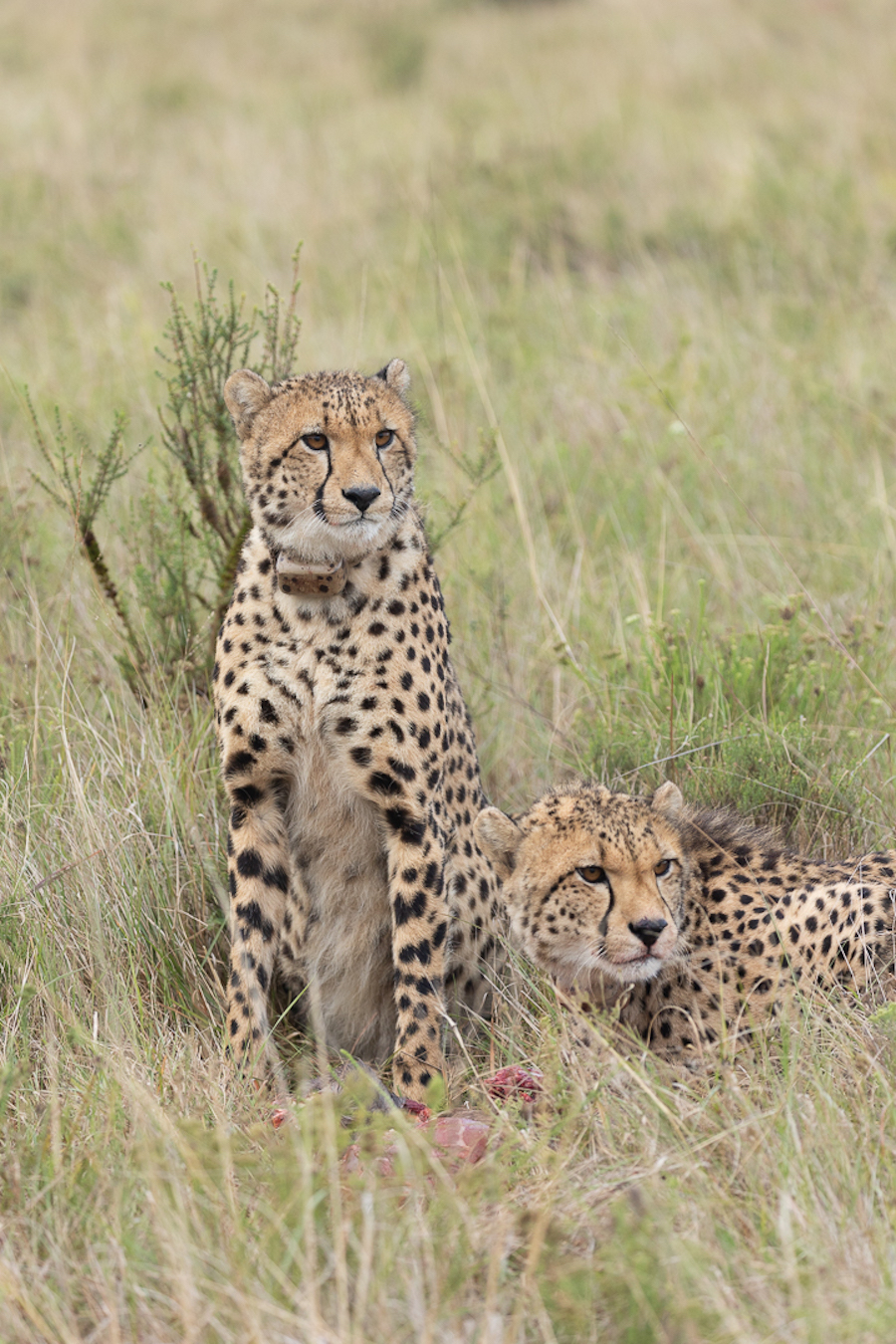 Cheetah Conservation at Kariega
The males that Ashia recently introduced are from two separate litters, although they have a shared father. The two males were bonded by Ashia from an early age and are a month in age difference. When a cheetah litter is born in the wild, the mother separates from her young at around 18 months, the cubs remain together, and at around 21 months, when they reach sexual maturity, the female or females of the litter depart in search of a mate while the males of the litter remain together and form a coalition. A coalition is required as mutual vigilance is vital meaning there are two hunters, two predator watchers, and a bond is formed.
To help the coalition adjust to their new surroundings, they were first placed in a spacious boma on the reserve. Later, they were released onto the reserve where they are now thriving.
Together with EWT, Ashia Cheetah Conservation has been searching for a female cheetah that is unrelated to our males for our population. A female has been found and is due to arrive at Kariega in the next few week. Like the male, she will spend around two months in the boma before being released onto the reserve with the males. 
Future plans call for her to have a litter with one of the males. Once the cubs are weaned at around 18 months old the Kariega conservation team will contact EWT and Ashia to arrange for their dispersal to associated reserves. By being part of this programme, we increase the number of cheetahs and contribute to their genetic diversity. 
A heartfelt thank you to Ashia and EWT for this opportunity and their on-going support.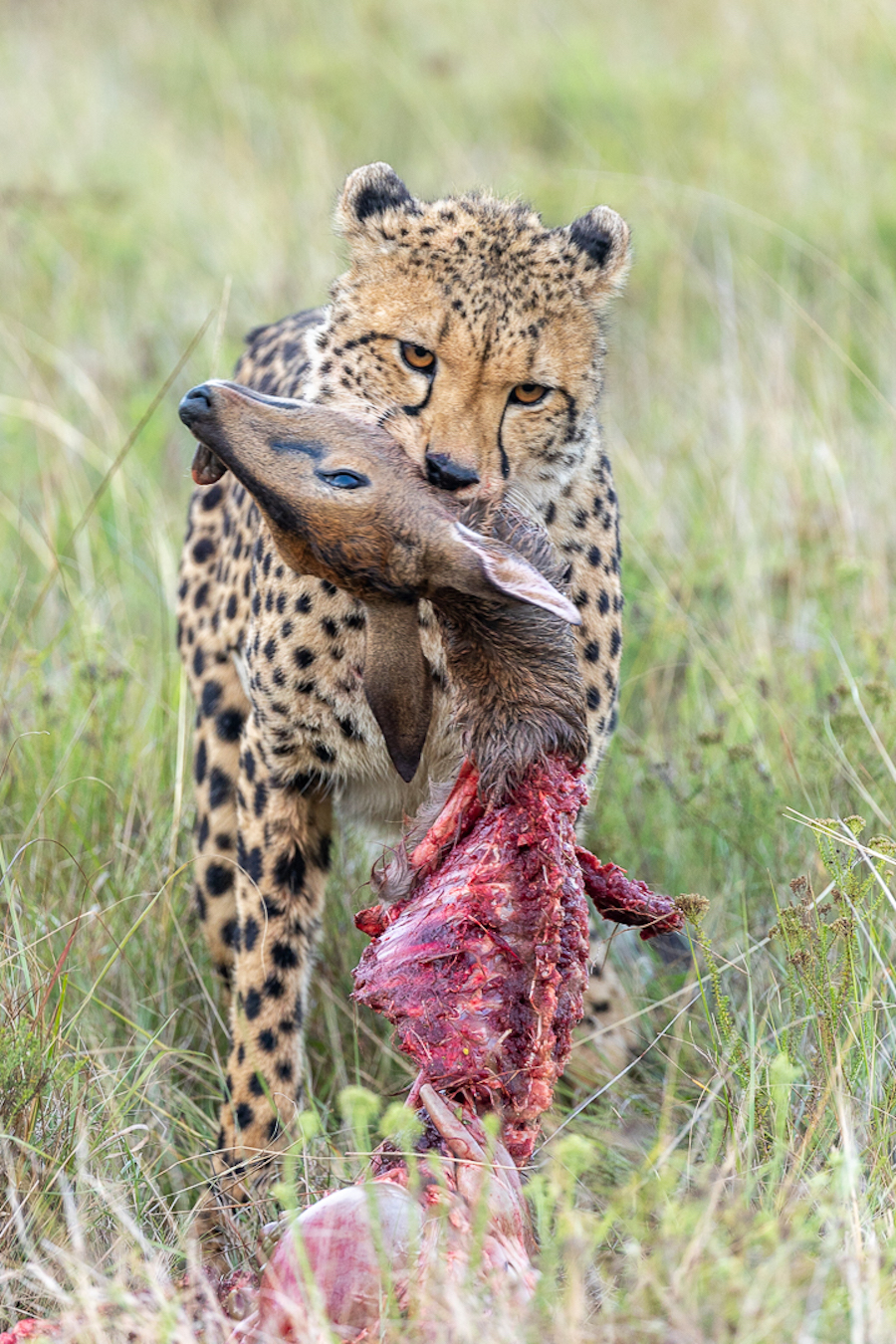 Share your images with us
If you recently visited us and captured a photo or video of our cheetah, share it with us on Facebook or Instagram; or book your stay with us to go on a Kariega Safari and experience the new cheetah population and the big five.