Freedom To Roam Adventures with Phil and Trish Liggett, 2022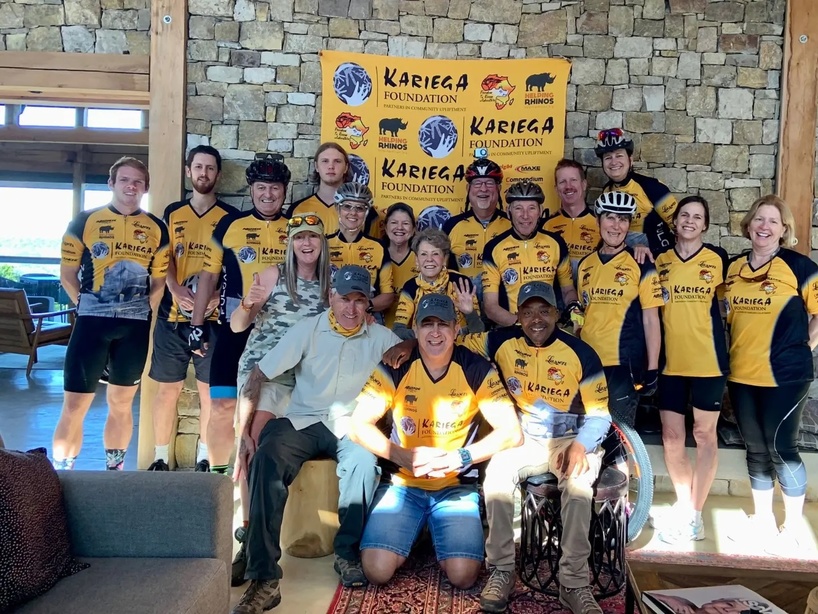 Nic Mortley was the field and cycling guide for Freedom To Roam Adventures (FTRA) 2022 at Kariega Game Reserve.
FTRA is a platform created by Trish and Phil Liggett to share their love of nature and play an active role in its protection and preservation. The primary goal of FTRA is to give in order to get. The FTRA team worked with Kariega Game Reserve to curate a bespoke experience for 16 guests to enjoy 6 nights at the reserve, spread across the beautiful Ukhozi Lodge, River Lodge and Settlers Drift Lodge; enjoying beautiful environments, outstanding cycling, game viewing, river cruisers and walking safari's on the reserve as well as information evenings with conservation experts and fun afternoons playing sport with the kids in the Kariega Foundation Youth Development programme. 
As a lifelong fan of Phil Liggett and a cycling enthusiast, FTRA was the highlight of Nic's year! He shares a first-hand account of the experience in this blog!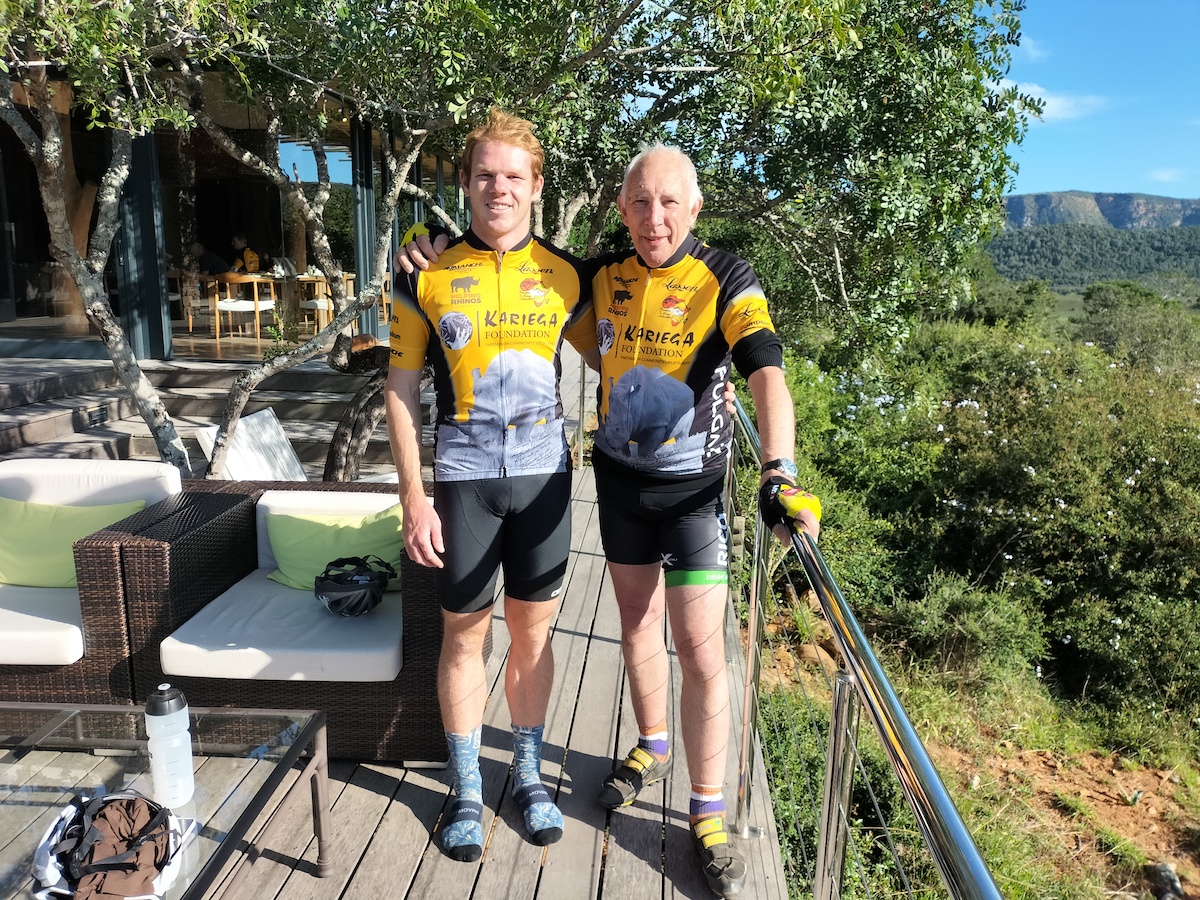 FTRA 2022 Through The Eyes of Nic Mortley
In April 2022, I had the privilege of hosting the Freedom to Roam Adventure group, which included Phil and Trish Liggett; a legend of the cycling world. If anyone has watched the Tour de France, they'll know the voice of Phil Liggett! 
The group was comprised of people from all over the world (UK, Uganda, America) with a common interest with a love for nature, the outdoors and adventure.
Day 1 : Arrival Day
The guests arrived at Ukhozi Lodge, full of excitement, had lunch and later in the afternoon went out on a relaxed safari drive, while Mike and Scott were assembling the bicycles.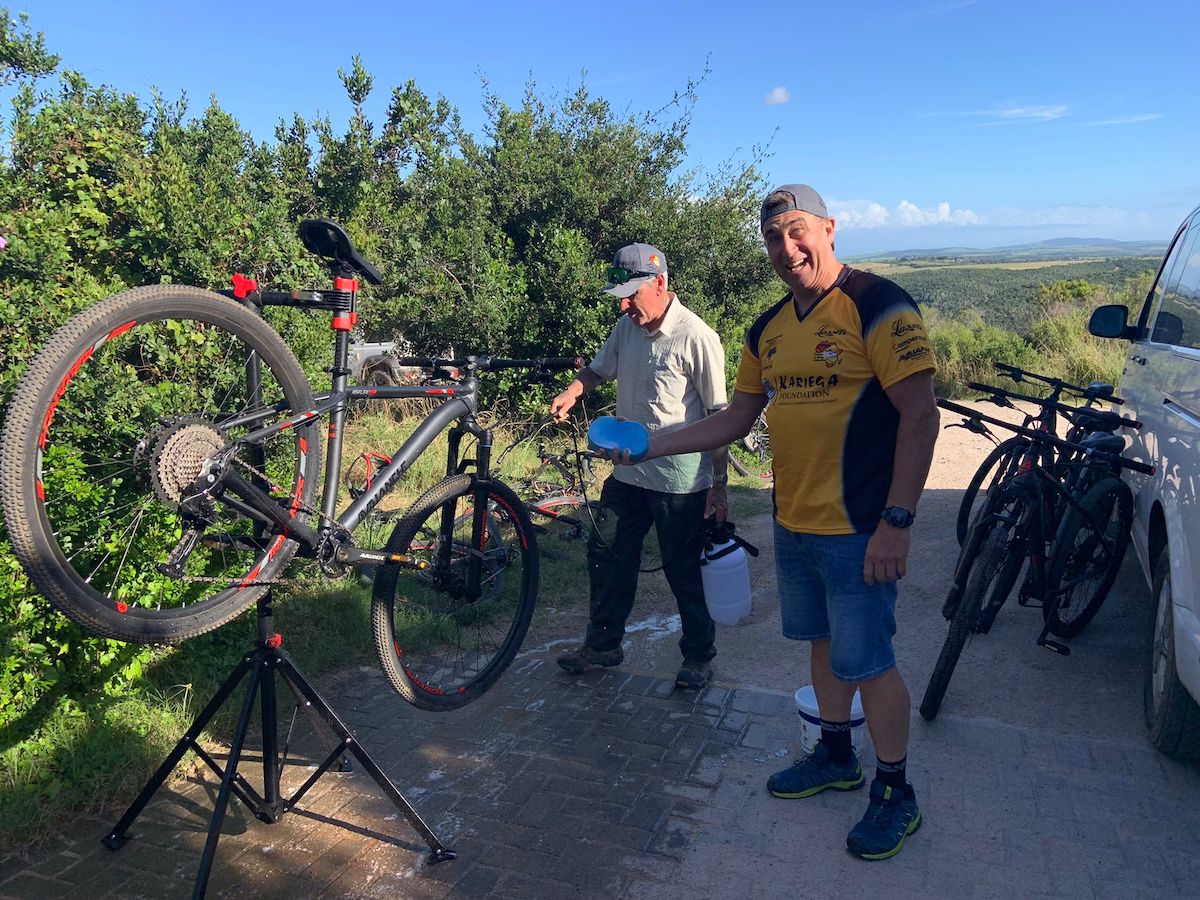 While out on a safari drive, the rest of the group was greeted by Kariega's most famous celebrity Thandi and her current calf Siya (White Rhinos) and this was followed by drinks in the bush. Upon returning, we had Mark Rushmere and Lindy Sutherland (Family owners of Kariega Game Reserve) welcoming the group and sharing a little about the history of the reserve and the Kariega Foundation and the plans for its future.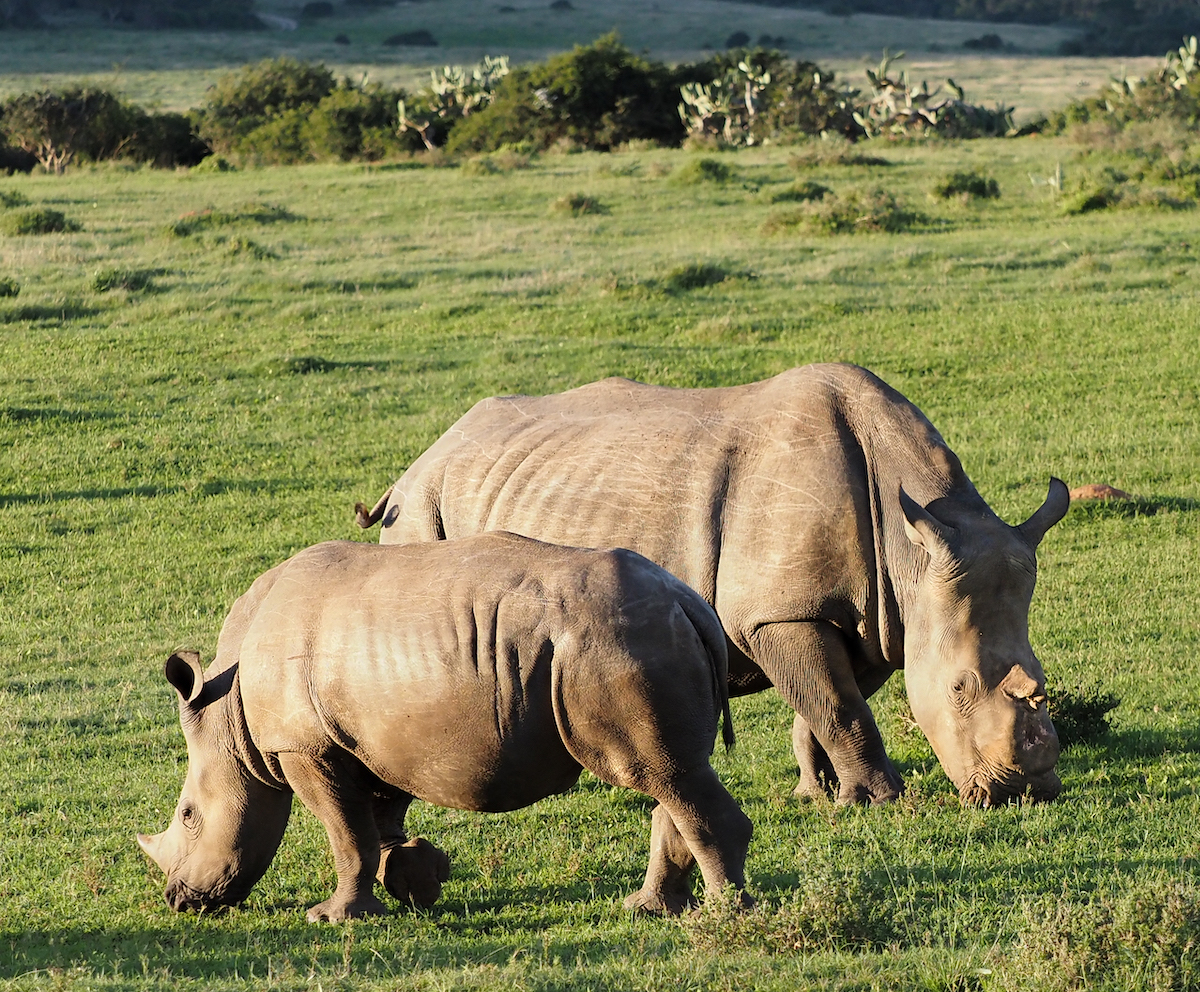 Day 2 : Cycling Excitement
We had a relaxed start in the morning with breakfast, followed by a bike selection and fit to make sure everyone was comfortable. 
There was a sense of excitement and nervousness in the air before setting off on our bush cycle which is something that has never happened on the reserve before! We all set off after a few practice laps around the lodge. Then it was into the reserve where we encountered several animals, many antelope species, giraffe and two close encounters with the herd of buffalo and rhinos.
The route was a one way with a pick up point at the end where the ice cold beers and cool drinks were waiting for us. A few of the stronger riders rode part of the way to the bottom of a big climb while Ralph and Rolf tackled the climb with me and rode back to the lodge. We rode 13 kms to the first point, where the beers waited and in total about 20 kms back to the lodge.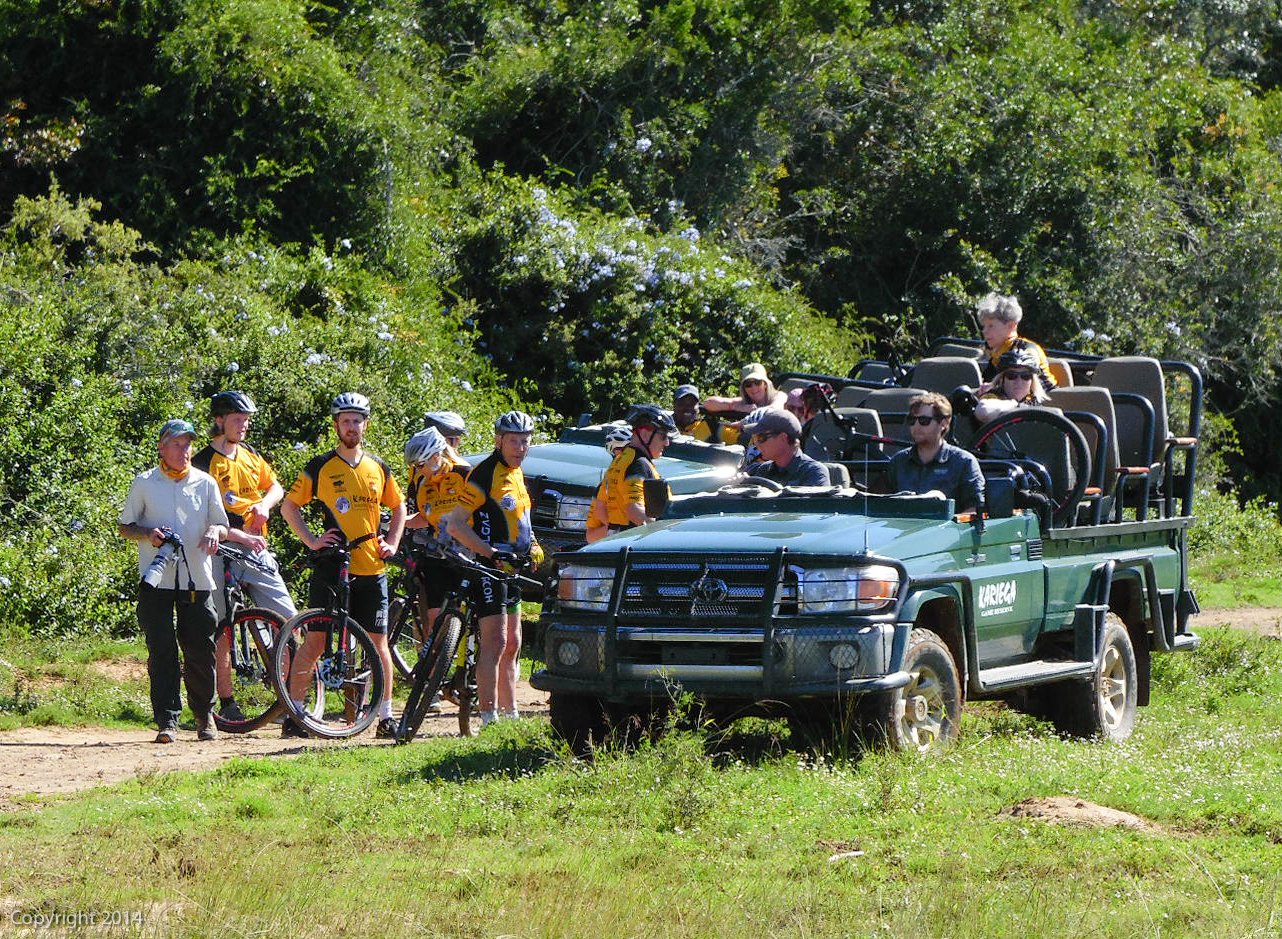 That afternoon was followed by a relaxed game drive and boat cruise down the Kariega River.
Once back at Ukhozi Lodge the group enjoyed an informative presentation by the Kariega Conservation Interns about the exciting conservation and habitat expansion plans of the reserve and region. 
This was followed by more drinks, dinner and excited chatter about the day.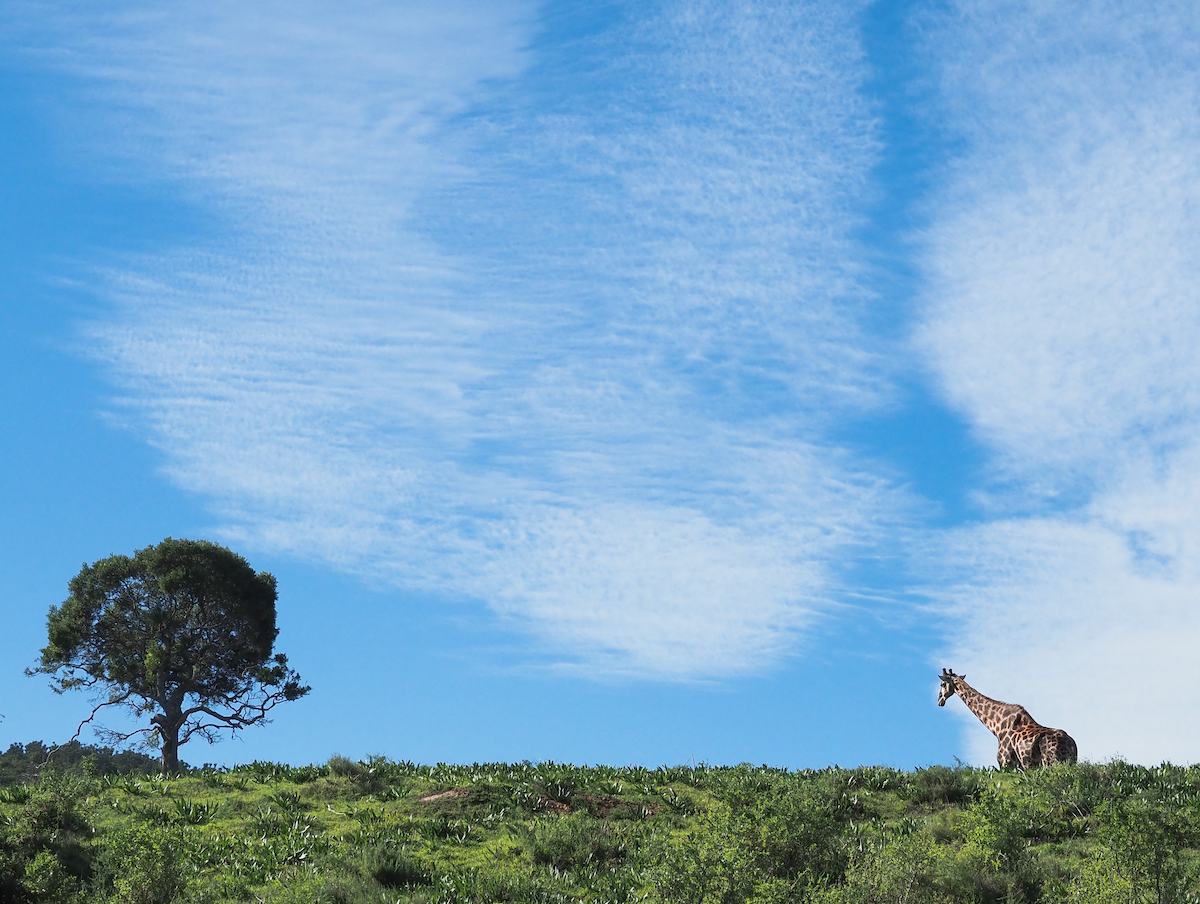 Day 3 : Move To River Lodge and Elephants!
It was a relaxing start to the day with most of the group choosing to sleep in. A few guests including Trish and Phil did the Blue Duiker Trail, in and around the Ukhozi Lodge area and came back with amusing stories about the number of spiders they had encountered! 
By 9h00 everyone had packed their bags and was ready for the next cycle all the way down to River Lodge! A beautiful lodge positioned on the banks of the Bushmans River.
Some of the group drove to the next lodge via a safari drive and came across the lions and a black rhino which is always very special to see!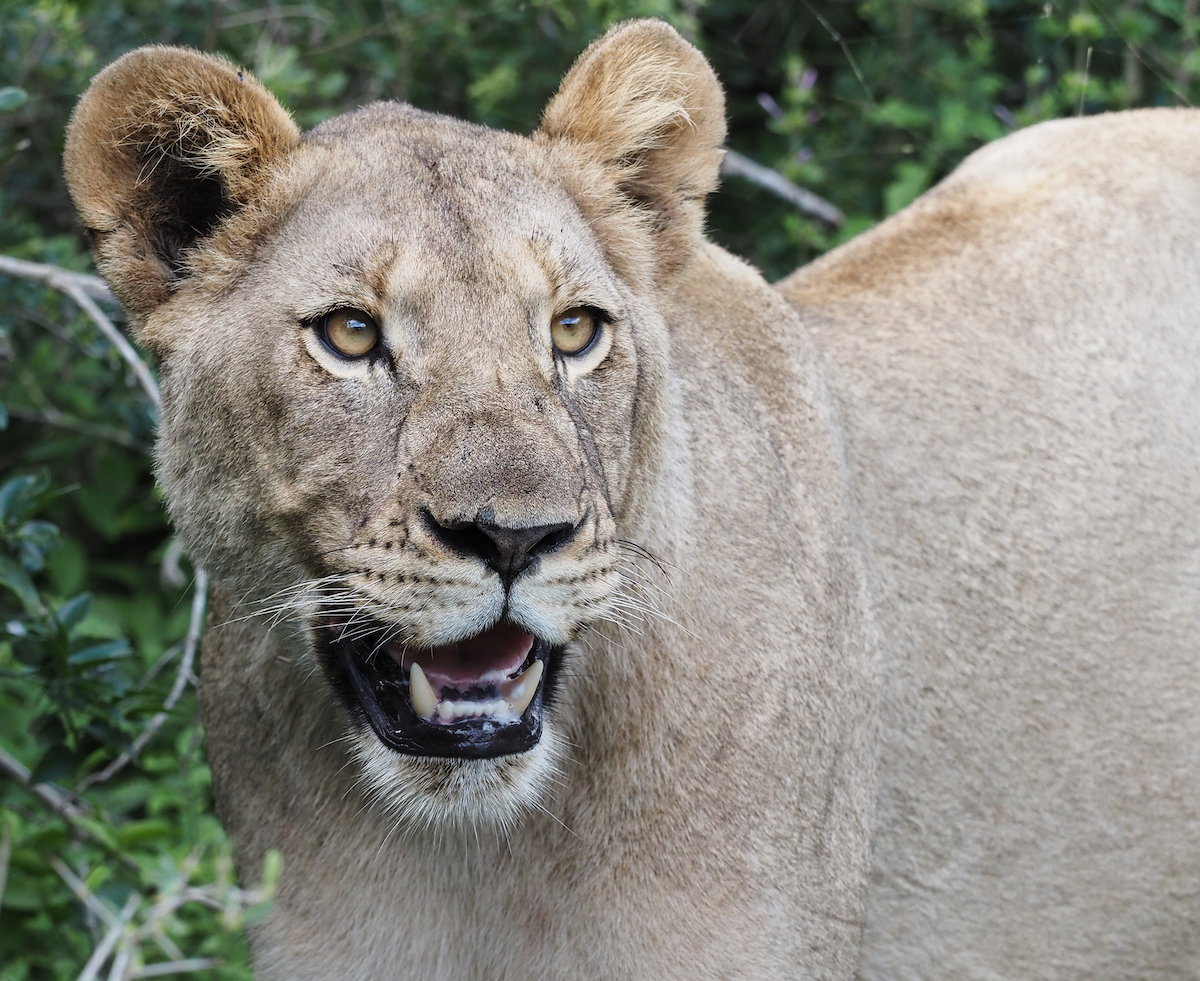 The rest of us had a very relaxed cycle to River Lodge where we also saw many animals and arrived in time for lunch. We rode roughly around 20 kms, which was a combination of going through the reserve and using public roads to River Lodge. A few of us, including Rolf, Ralph, Phil and Mike rode a little extra upon arriving and it included a bit of an adventurous uphill which resulted in us half walking up, which we won't be planning on doing next year! That afternoon everyone went out on a game drive, with guides Trust, Talent and Mathews, in search of the herd of Elephants and sunset!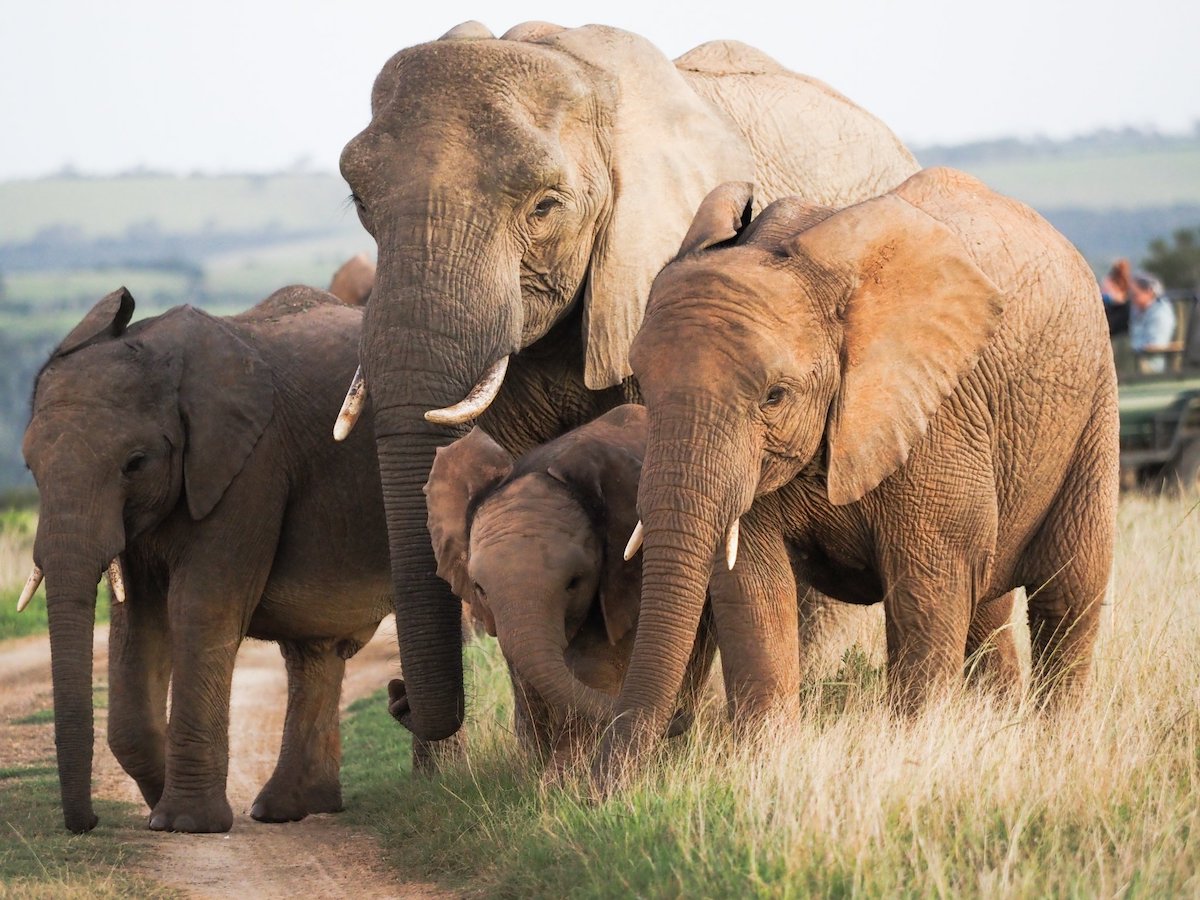 Day 4 : Into the Community for a Netball Match
This was the busiest day of the trip that started at 5:30am for a safari drive to go find lions, which we found with a zebra kill. 
After breakfast most of us went for a cycle and a few went for a safari walk around River Lodge. This ride was flat and relaxed, everyone chatting and laughing. Rolf, Ralph and Andy went a different route, in search of hills and giraffe trails. After this there was a little bit of time to relax and have some lunch. 
In the Afternoon we split into two groups, a few went down river by boat to the beach at Kenton-on-Sea and the rest were picked up by the Kariega Foundation Youth Development project leader, Khayalethu, who took us into the nearby community to meet some of the local children. 
Khaya introduced us to some of the children who have built some veggie gardens to grow extra food in the community. 
We then moved on to the sports grounds where we met up with the Kariega Foundation Community Manager, Nomawethu. After a few warmup drills with very clear objectives were completed by the group the much-anticipated netball match took place. Everyone was divided into two teams, and it was game on! 
This was the highlight of the week, watching the netball girls run and pass circles around our guests. There was lots of laughing, smiling and plenty of cheering from the side-lines! The game ended after all of the guests were exhausted. We were meant to move on and play some local games but sadly we ran out of time. Nomawethu and Khaya are such incredible role models and are doing an amazing job inspiring children in the community.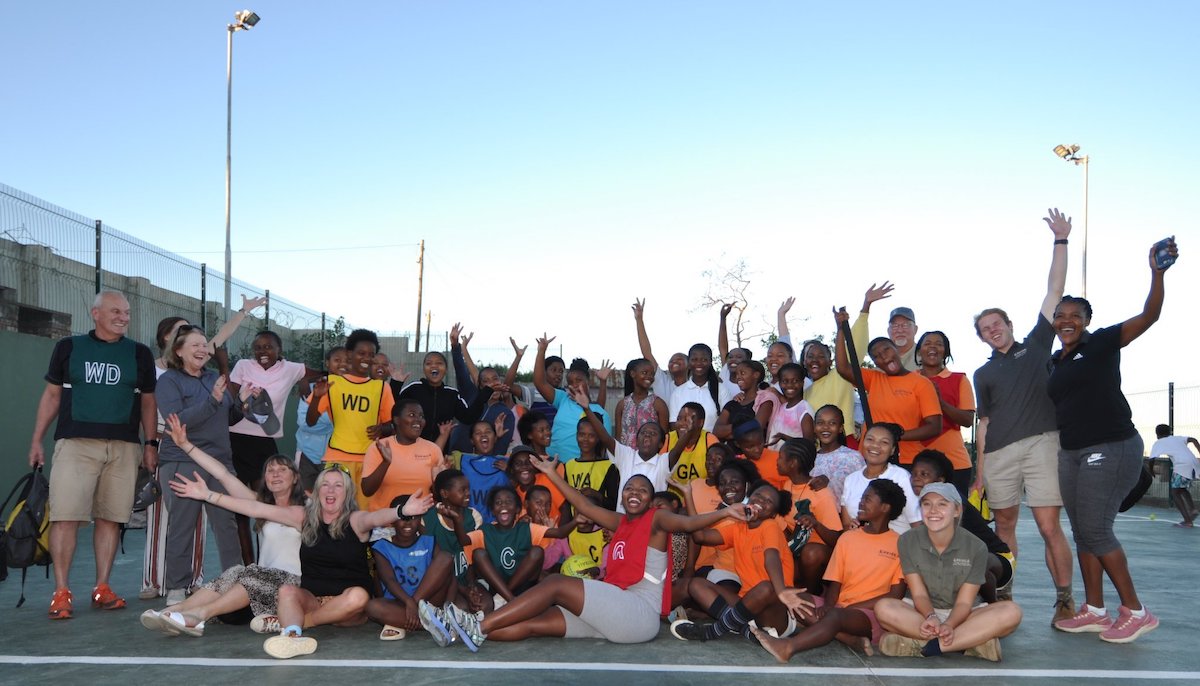 We then returned to the reserve and had some sunset drinks at Owners Homestead, which has one of the most incredible views on the reserve.
Our Group met up with Dr Fowlds who does all of the veterinary work on the reserve, which includes saving Thandi's life. Dr Fowlds had prepared a presentation about some of the work he had done as was well as a long-term conservation vision of creating corridors between the reserves and creating a mega reserve in the Eastern Cape. 
Dinner followed which included a fascinating wine pairing hosted by Bruce Jack from Bruce Jack Wines. Needless to say everyone slept very well after such a jam-packed day.
Day 5 : A Day to Relax
Moving day again and off to one of the most beautiful lodges on the reserve, Settler's Drift. 
So, with bags packed and tummies full of breakfast everyone jumped on the boats at River Lodge and cruised up the Bushmans River to Settlers Drift. A few guests including Phil and Trish decided to spend a bit of extra time on the river to do some birding.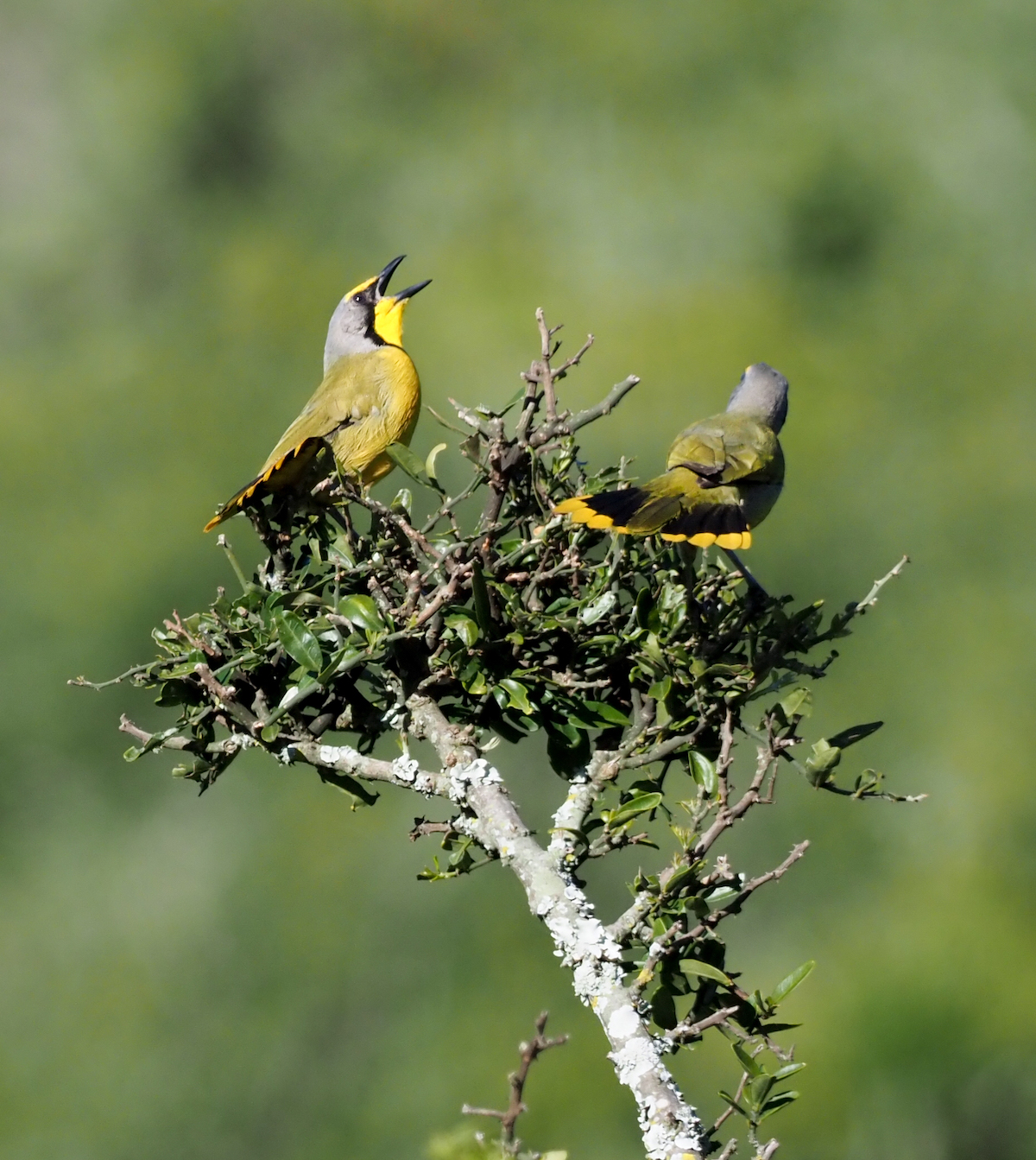 Later in the afternoon everyone jumped on the Land Cruisers for an afternoon safari, in search of lions and elephants.
Day 6 : The Last Cycle
With a relaxed start to the day, birds chirping and the sun shining we departed on our last cycle on the reserve, saving the best one for last. Flat and smooth we cruised passed a number of antelope such as kudu, eland many giraffe and even the occasional ostrich.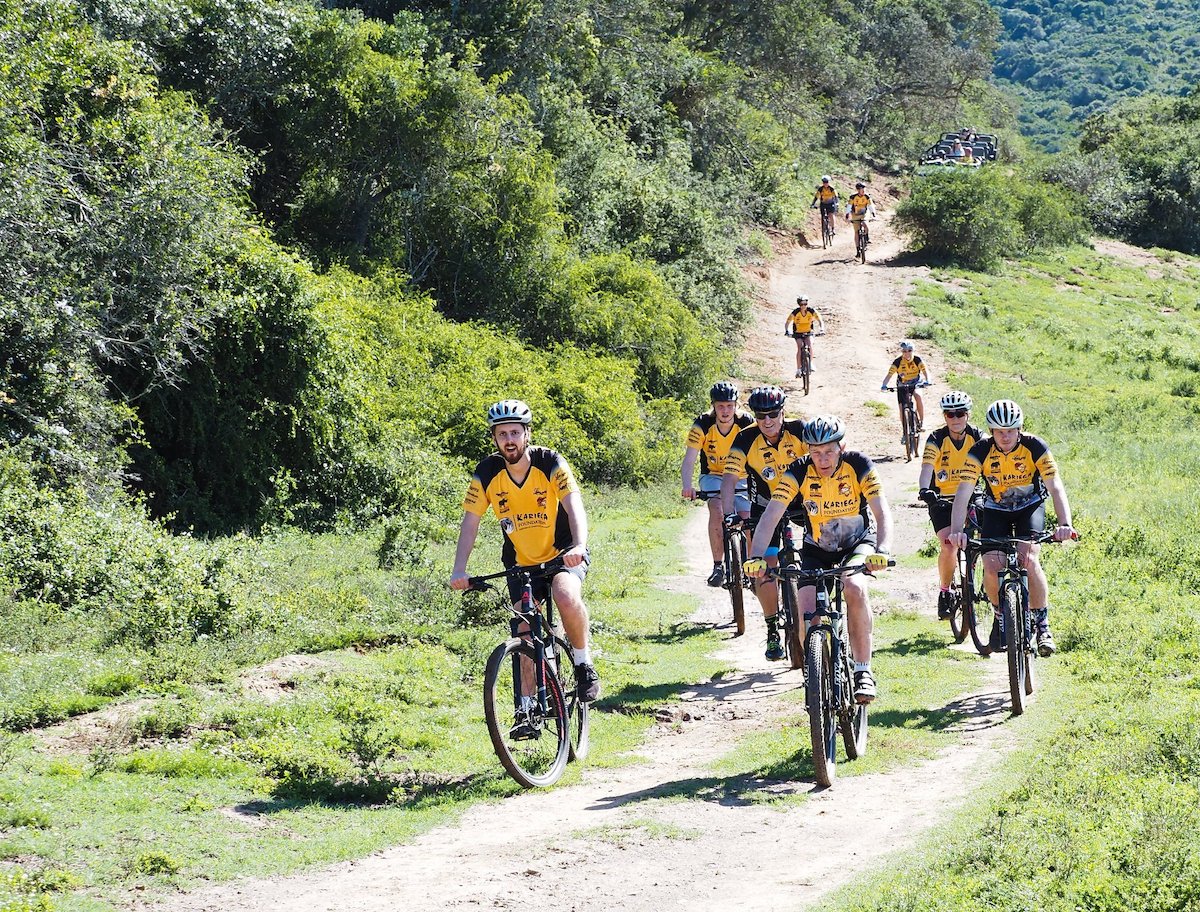 We rode along the picturesque Bushmans River, with the most perfect weather. In total we cycled 17kms. (We had our first flat tyre on this ride!)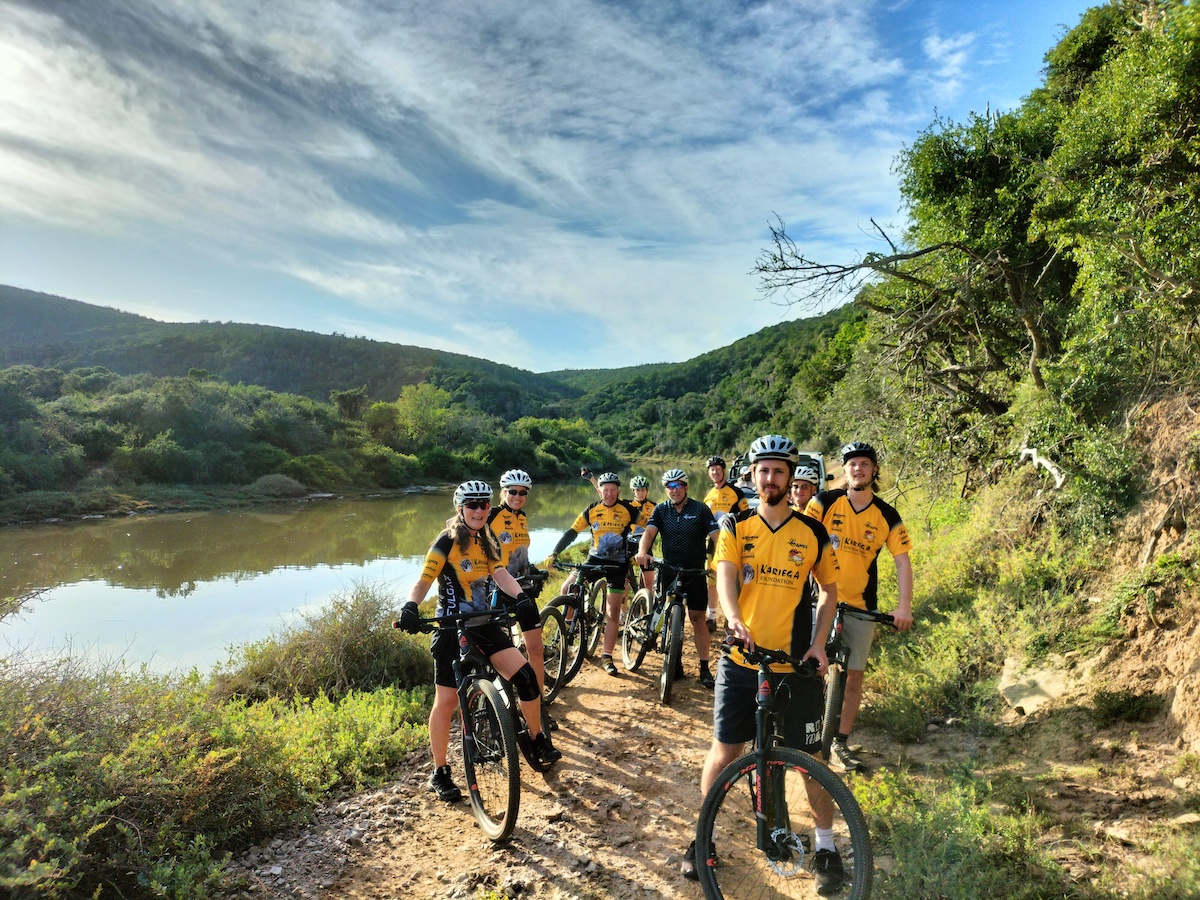 Those who didn't join for the cycle did a bush walk and came back with stories of a peaceful walk with close encounters of giraffe and a bunch of cyclists. Once back at the lodge, a quick breakfast and then we sat down after moving all the lodge's furniture around to watch Phill's new documentary about his life as the Voice of Cycling. It's a truly incredible documentary capturing his and Trish's life perfectly. It was incredibly emotional to watch with him and I don't think there was anyone that didn't shed a tear. It was a special privilege to watch with Phil, Trish and Katherine Sherwen, a moment I'll never forget. 
That afternoon we were all off on safari, however we suddenly stopped, and we all got out of the cars and the whole group went for a bush walk. 
Walking along the plains looking and stopping for some of the smaller things, often overlooked such as tracks and signs and interesting plants. We even got rather close to a group of giraffe, despite being such a big group. 
Time for sundowners, so we moved to a special spot and were surprised to see a fire going and a bush bar set up with plenty of champagne and snacks. Lots of laughs and stories were shared.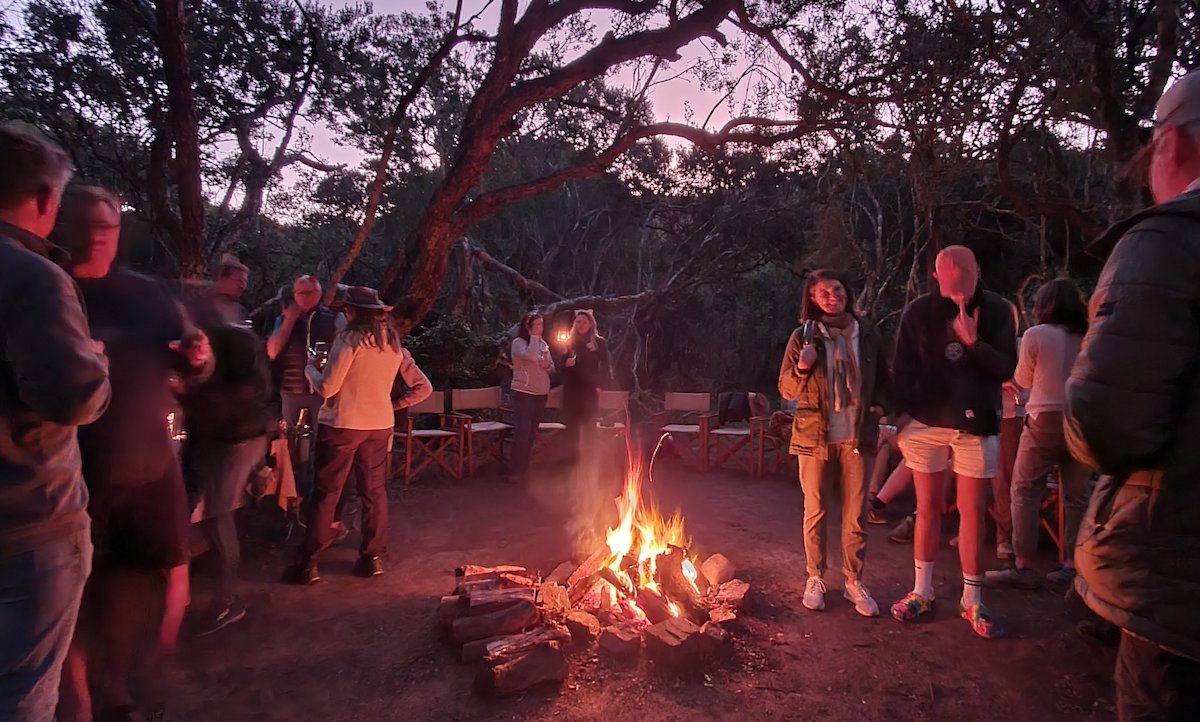 At our last dinner there were many speeches, together with many songs and there was even an entertaining poem recited which had everyone in tears of laughter! It was the perfect end to an incredible week with some amazing people from all around the world.
A special and heartfelt thank you to Phil and Trish Liggett for bringing this amazing group of people together. I am counting the sleeps until FTRA 2023! Contact Trish on trish.ftra@gmail.com to make enquiries. It is simple an experience not to be missed.
Photo credits to the amazingly talented Trish Liggett.