Exclusive Safari Holiday | Kariega Owners Lodge

Protecting, preserving and conserving wildlife is a key objective of both Kariega Game Reserve and our Kariega Foundation. We are pleased to announce the opportunity for you to support our wildlife conservation by bidding for an exclusive safari holiday at our Owner's Lodge. 
This opportunity is part of our Rapid Response for Rhinos fundraising campaign in partnership with UK charity Helping Rhinos and wildlife vet Dr William Fowlds. The campaign includes an exclusive live stream event on 18 July and fundraising through online bids (closing on 19 July 2020).
Rapid Response for Rhinos Live Stream Event
Using the wizardry of technology, our fundraising partner Helping Rhinos are offering a unique experience to follow TV wildlife vet Dr William Fowlds, known to the Kariega family and guests as Thandi's saviour and more recently for his fame on BBC Channel 4's 'Work On The Wild Side'. Dr Will and his team will carry out essential health checks on three year old rhino Colin at Kariega Game Reserve. Colin is the second calf of Thandi, the first ever rhino to survive being poached in March 2012. 
This event will stream live across Helping Rhinos' social media platforms on Saturday 18 July at 19:00 SAST / 18.00 BST / 13:00 EDT / 10:00 PDT. 
Dr Fowlds and Kariega Foundation director Lindy Sutherland will transport viewers to the South African bush for this exclusive online rhino encounter. The event will include a controlled de-horning of Colin, a sad but necessary poaching deterrent that Dr Fowlds and Lindy will explain in detail during the procedure. 
Customised Safari Experience at Kariega Owners Lodge
Get involved in fundraising for rhino by bidding for any of the 33 items on offer. The offers include a Rhino Tears pendant to original artwork by Darren Baker and other artists to Horni coffee and mugs. Bids can be made using your credit card in any currency.
One of the main fundraising items is the opportunity for six guests to enjoy a customised safari holiday at Kariega Game Reserve. Lindy Sutherland, director of our Kariega Foundation, invites six people to be her guests for four nights at the private and luxurious Owners Lodge, used by the owners of Kariega Game Reserve and not open to the public for general bookings.

Perched high above the Bushman's river with breathtaking views up and down the valley, Owners Lodge offers the opportunity for a customised safari, including plenty of rest and relaxation, game viewing with a dedicated guide and exclusive use of a game drive vehicle (with all best efforts to visit Thandi and family). Also included are all meals, drinks, various river activities as well as the opportunity to experience first-hand the symbiosis of a sustainable eco-tourism-system.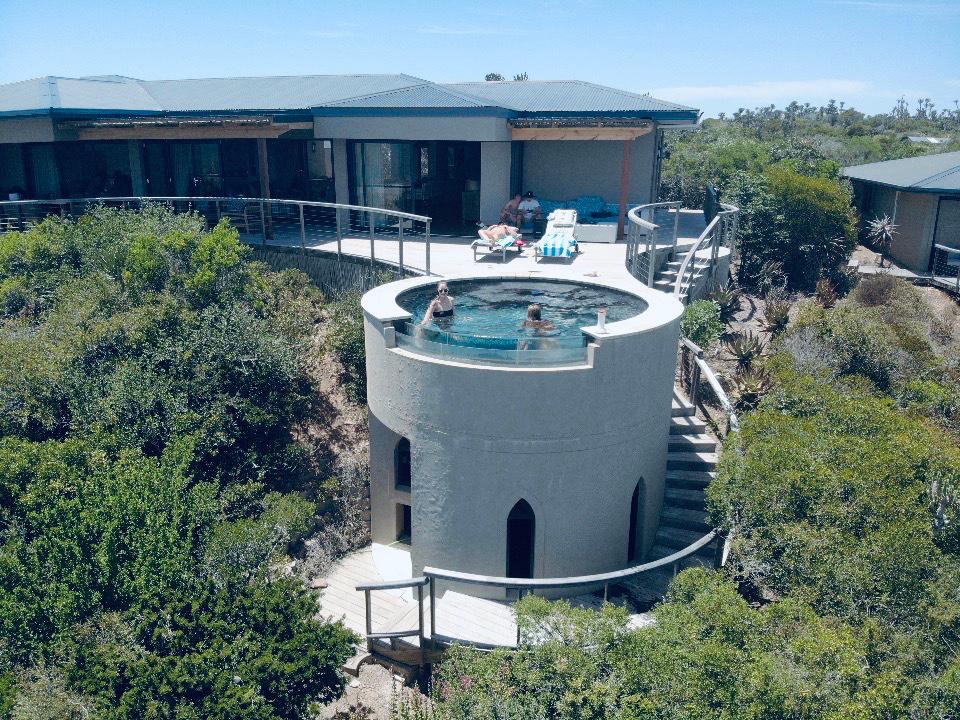 A customised itinerary will be created to follow the interests of the group and may include some of the following: early childhood development, environmental education, youth development through sport and dance, pottery classes, a meet and greet with our anti-poaching unit (APU) and a APU patrol dog (K9) demonstration.
The auction winner booking is subject to availability in October or November 2021, or from February 2022 to November 2022. International and any internal flights are not included as part of this auction item. The auction closes after the live event on 19 July 2020.
Impact of COVID-19 on Rhino Conservation
At first glance you may not think that the COVID-19 global pandemic has much of an impact on the world's rhinos, but the reality is quite the opposite. These unprecedented times could spell disaster for rhino and many other endangered species as organisations responsible for their care and safety, including the Kariega Foundation, rely extensively on income from tourism, which has effectively been switched off over night!
Kariega Game Reserve, through a 30 year history of dedication and passion, has built a solid commercial platform that enables the Kariega Foundation to make significant investments back into the communities and natural environment that support us to deliver an unforgettable safari experience to guests from across the globe.
The Kariega Foundation is funded by a community and conservation levy paid by all adult guests visiting Kariega Game Reserve. These funds are invested into numerous and diverse projects including running a professional and well-resourced anti-poaching unit. Due to COVID-19 all funding from the conservation and community levy has ceased, and the Kariega Foundation is now wholly reliant on fundraising initiatives to ensure the continuity of the APU and other community projects.
With your help we can raise urgently needed funding to keep out rhino safe and continue to support our neighbours and friends though this global crisis. Join the Helping Rhinos event or make a donation directly to the Kariega Foundation. Ever cent helps and we are always deeply grateful.
Please contact us on foundation@kariega.co.za if you have further questions.