Rhino Original Artwork by Darren Baker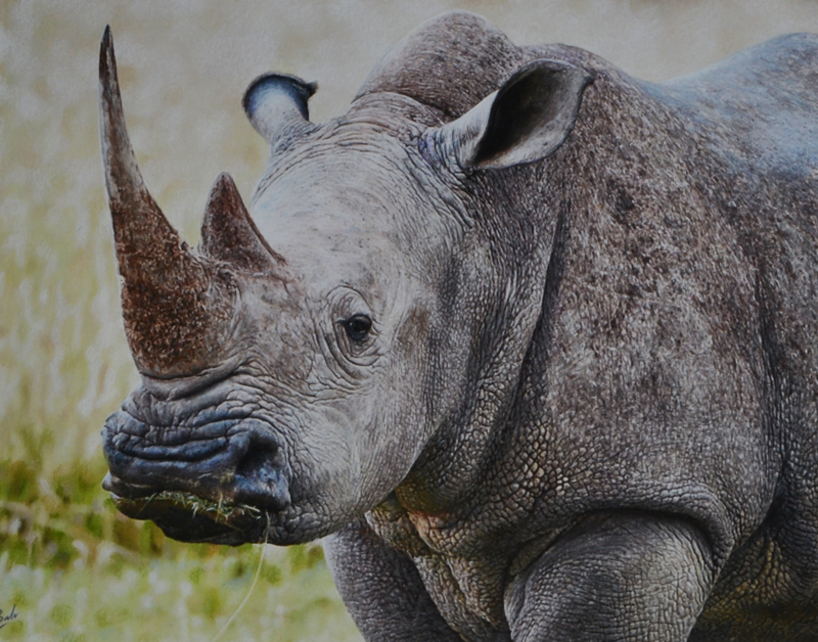 Darren Baker has become one of the UK's most well known and collectable artists of this century. Darren has painted Royalty, Prime Ministers and the sporting elite. His portfolio also includes impressive animal portraiture.
We are incredibly humbled that Darren has gifted two original artworks, both of white rhinos, to raise much needed funds for African rhino conservation.
Anyone can add a bid online for the original artworks. The bidding will close on 31 May 2020. The funds raised will be donated to our Kariega Foundation and to UK charity Helping Rhinos for the protection and conservation of rhinos in the wild.
Click here to make a bid online before 31 May 2020.
Spirit of the Savanna by Darren Baker
The first piece, pictured above, is a pastel and pencil original artwork of a white rhinoceros by artist Darren Baker. The paper size is is 25cm x 17.5cm (10 x 7 inches) and is presented unframed.
Darren comments: "I have been in awe of Africa since visiting Kariega Game Reserve two years ago. And most notably seeing the family of white rhinos on the plains. Sat in the jeep with my family and being so close to Thandi and the calves, we were moved by the story of poaching, and the miraculous survival. And the stillness and peace that enveloped the reserve so much, that we could hear the rhinos breathing. An incredible experience with these remarkable prehistoric animals that was both humbling and incredibly moving. Ever since I have been compelled to do something to help."
Click here to make a bid online before 31 May 2020.
White Rhino Original Artwork by Darren Baker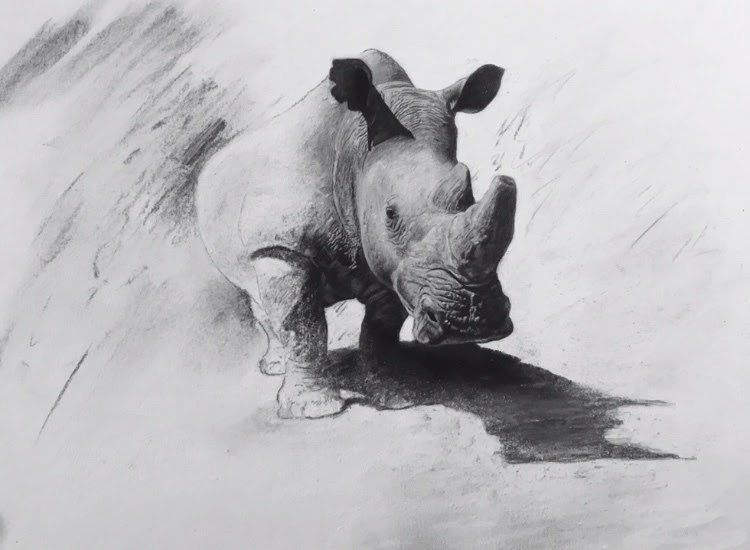 The second piece, pictured above, is a charcoal and pencil original drawing by artist Darren Baker. The paper size is is 25cm x 17.5cm (10 x 7 inches) and is presented unframed.
Darren has received many accolades in his career, including:
Official Portrait artist to Her Majesty The Queen 2011
Official artist to the 2012 Olympic Games
Fine Art Trade Guild Award Winner – Best Artist 2010
Winner of The Garrick Prize at Christies, London.
Click here to make a bid online before 31 May 2020.
Darren Baker Original Artworks Raise Funds for Rhino Conservation
The Kariega Game Reserve, the Kariega Foundation and Helping Rhinos are hugely grateful to UK artist Darren Baker for his generous gift of two original artworks.
During the temporary closure of Kariega Game Reserve due to COVID-19 our Kariega anti-poaching unit (APU), which protects all wildlife including rhino, is under resource and funding pressure. A significant portion of the funding for this team comes from our guest conservation levy, and this has dried up. 
Our Kariega Foundation has put together various fundraising campaigns with some of our global partners to help keep these important teams operational until guests can return. This is one of these campaigns. Funds raised will go directly to protecting rhino in the wild at Kariega Game Reserve.
In the ten years between 2009 and 2019 over 8,000 rhinos have been killed by poachers in South Africa alone. Over 80% of the world's surviving rhinos live in South Africa as the populations elsewhere in Africa and Asia have been decimated. In 2020 at least one rhino continues to be brutally killed by poachers every day.
Unfortunately, Kariega Game Reserve has not escaped this scourge. On the 2 March 2012 one cow and two bull rhinos were poached on our reserve. Sadly, both bulls died but the female became the first rhino to ever survive a poaching attack. Her story spread around the world and has inspired many people to get involved in rhino conservation. Our safari guides nicknamed her Thandi, meaning courage (or to be loved) our local isiXhosa language. Thandi continues to amaze us with her incredible fighting strength and has gone on to have three calves.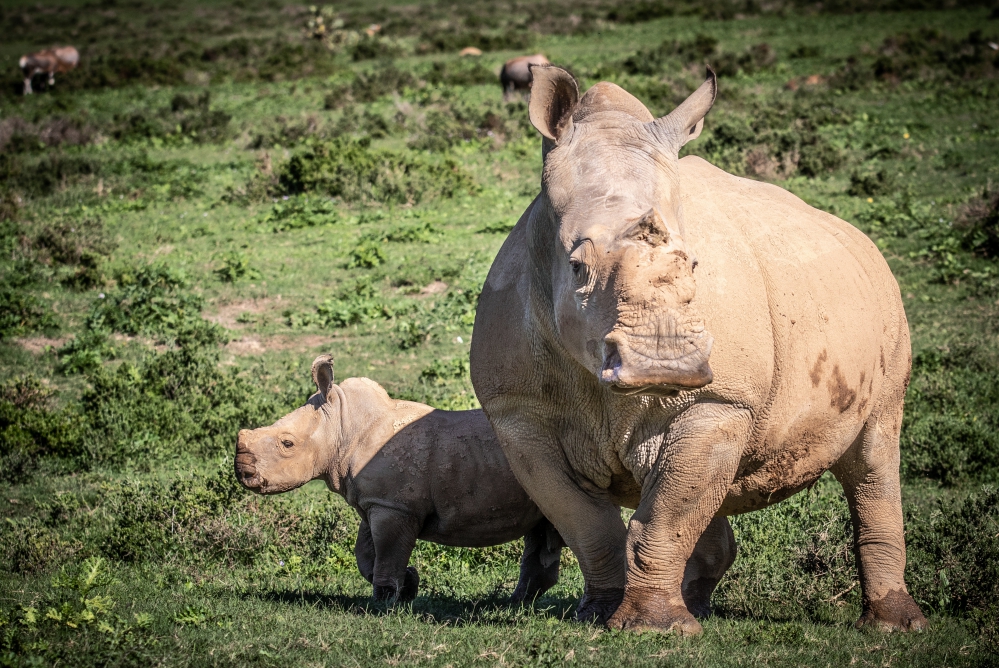 For more information on the first ever poaching survivor Thandi and her family, please visit our Save the Rhino page.
For more information on why rhinos are endangered and how the sale of Darren's artwork will help to protect them, please visit Helping Rhinos.
Connect with Kariega Game Reserve on Facebook, Instagram, YouTube and Twitter, subscribe to receive our blogs via email or email us on foundation@kariega.co.za.
If you would like to find out more about a Big 5 safari at Kariega Game Reserve please contact us directly via our online form or email us on reservations@kariega.co.za. We look forward to welcoming you and perhaps you will some rhinos, including poaching survivor Thandi and her family in the wild.
Original artwork images thanks to Darren Baker. Rhino Thandi and calf Mthetho thanks to Kariega APU leader Daniel Haesslich.