Elephant-Size Cycle Raises Funds for Rhino and People
During the last weekend of August 2020, Jamie Marais became the only known person to cycle a vertical ascent of 9,000 metres, the equivalent elevation of Mount Everest (8,845m), in a Big 5 game reserve in 36 hours. 
Jamie chose to put himself through extreme discomfort and great personal risk in this elephant-size cycle to raise funds for rhino and people.
Jamie comments, "These heart wrenching causes pushed me to press on through brutally cold conditions on a treacherous route to reach the summit of a gruelling gravel circuit 40 times and cycle 337 kilometres in the heart of the Kariega Game Reserve. Knowing the defenceless animals and starving locals needed help inspired me to soldier on through the night as temperatures plummeted to near freezing and snow fell on high-lying areas, including Table Mountain. The heartfelt donations gave me the strength and perseverance to ride alongside wild animals, including an ever-present bull elephant nicknamed Charlie."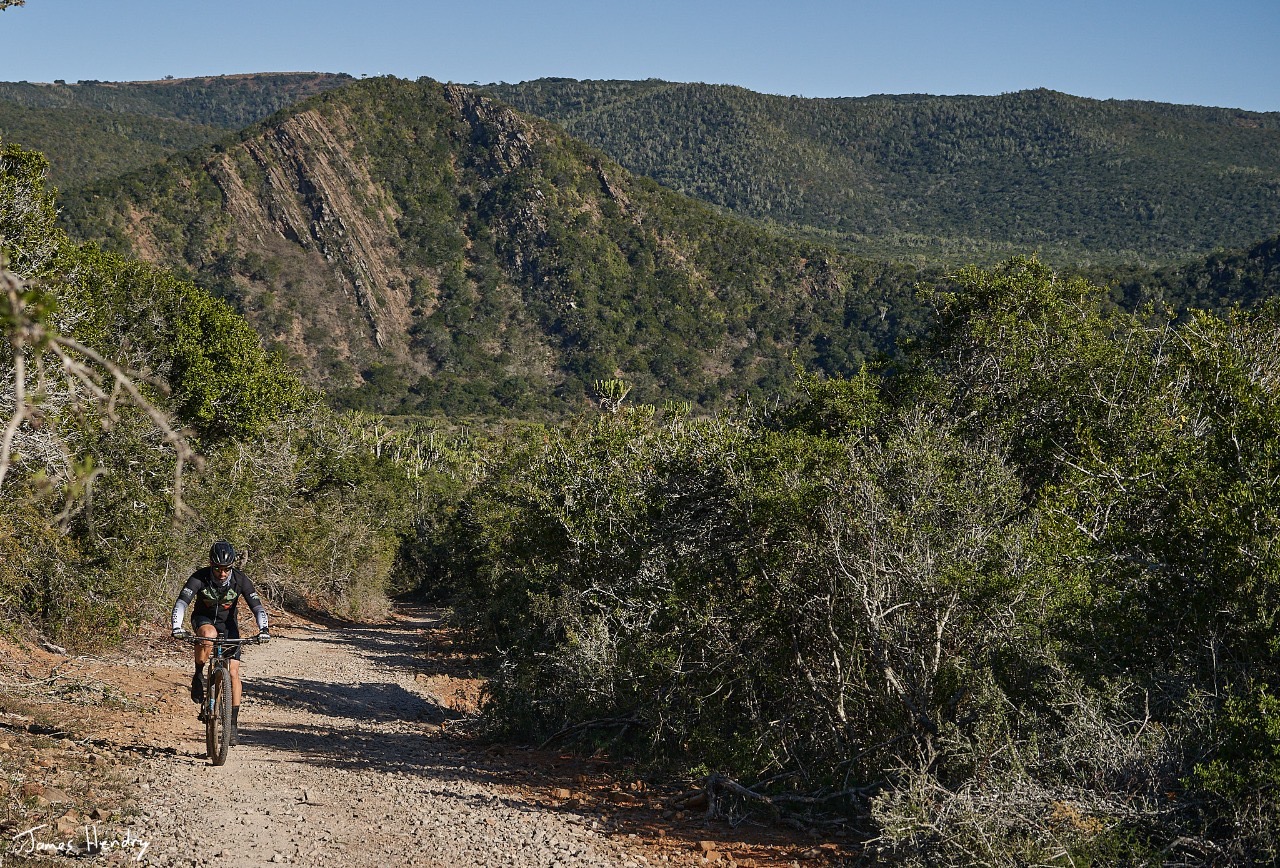 Elephant-Size Cycle Supports Kariega Foundation Projects
The event was born after Jamie called Lindy Sutherland, director of the Kariega Foundation. Jamie understood that COVID-19 lockdowns meant zero revenue for tourism businesses. Neither he nor the host of volunteer media and event helpers realised the impact of these community projects and conservation programmes, such as these run by the Kariega Foundation, usually funded by guest levies.
"In the aftermath of COVID-19 it is so important for all of humanity to look outward and beyond their own needs to the plight of those who cannot help themselves. Raising funds to ensure the safety of our endangered species and keep our neighbours and friends fed has become our priority," comments Kariega Foundation director Lindy Sutherland (pictured below with Jamie Marais).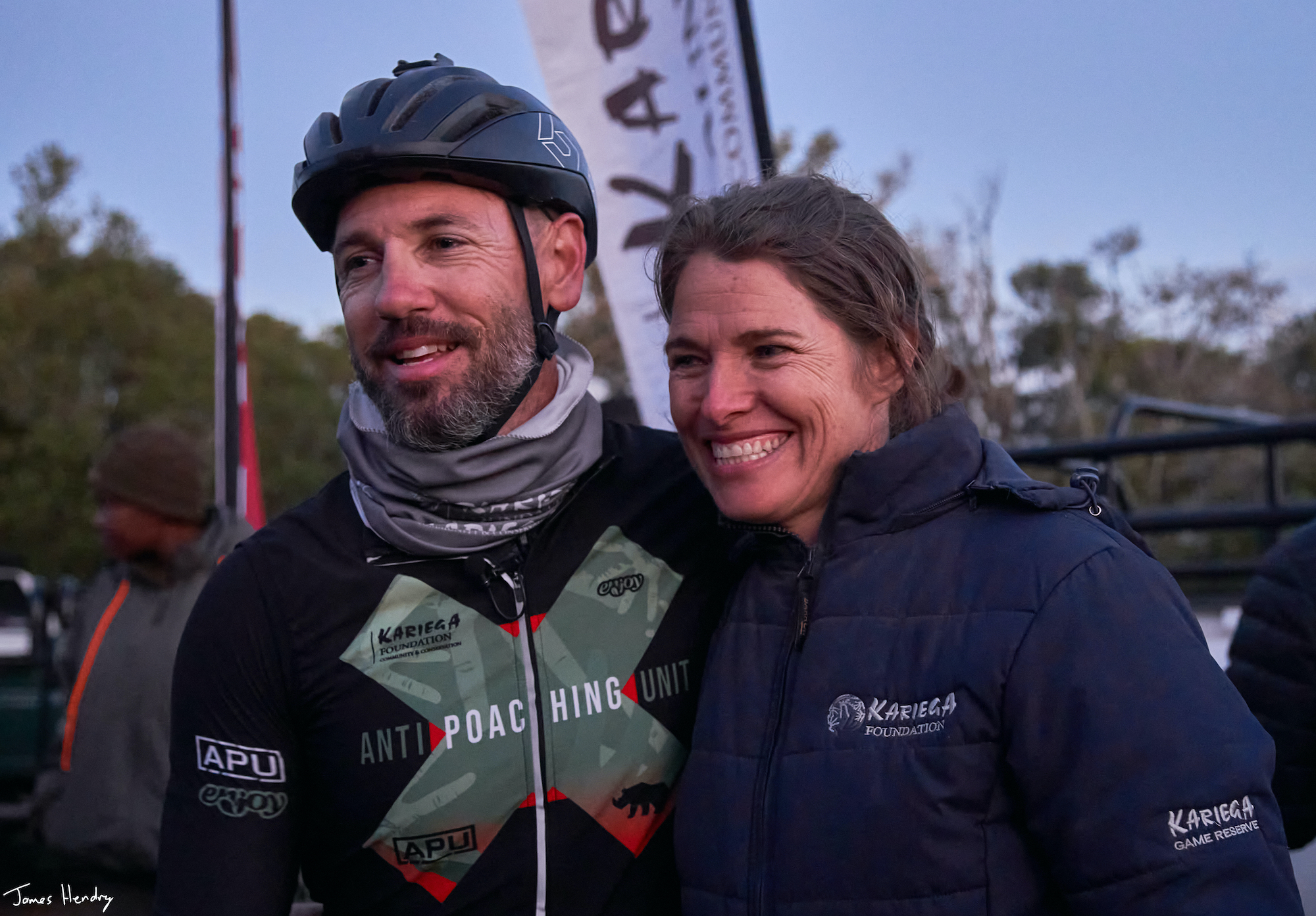 International Team Donate Time to Raise Funds
An international team of positive and creative people donated their time, talents and sponsorship to plan and run the event. These included legendary cycling commentator Phil Liggett, three time winner of the Roof of Africa off-road endurance motorbike race Louwrens Mahoney of KTM, Mountain Bike SA magazine editor Paul Ingpen, and film maker Fergus Clark, who aims to use the footage to create a documentary, plus many others.
Paul Ingpen comments: "Like the rest of the talented crew of volunteers assembled by the Kariega Foundation, I was deeply moved by this cause. When a team shares a genuine, selfless common goal, the result is pure poetry to witness. No egos, no agendas, just sharing the unfolding story with the world, and that we did. The results speak for themselves."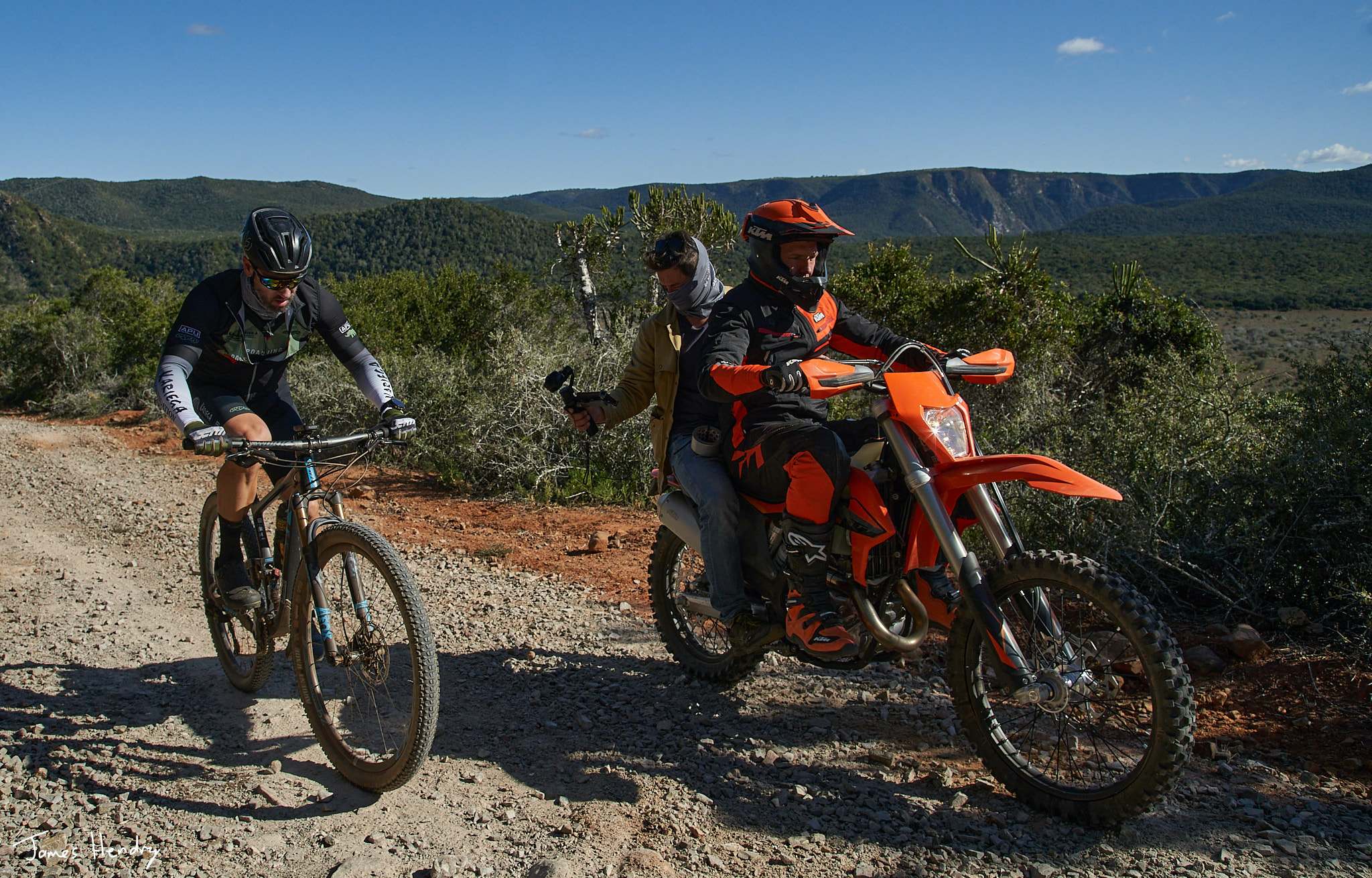 Thank You For Helping to Raise Funds for Rhino and People
Family, friends, media, staff and supporters assembled at Kariega Game Reserve for the uniquely South African event on 29 and 30 August 2020. Many others from around the world tuned in to the live social media broadcasts.
The event breathed much needed energy back into the reserve after being closed for five months due to COVID-19 lockdowns. The Kariega Game Reserve lodges partially re-opened to South African guests from 1 September.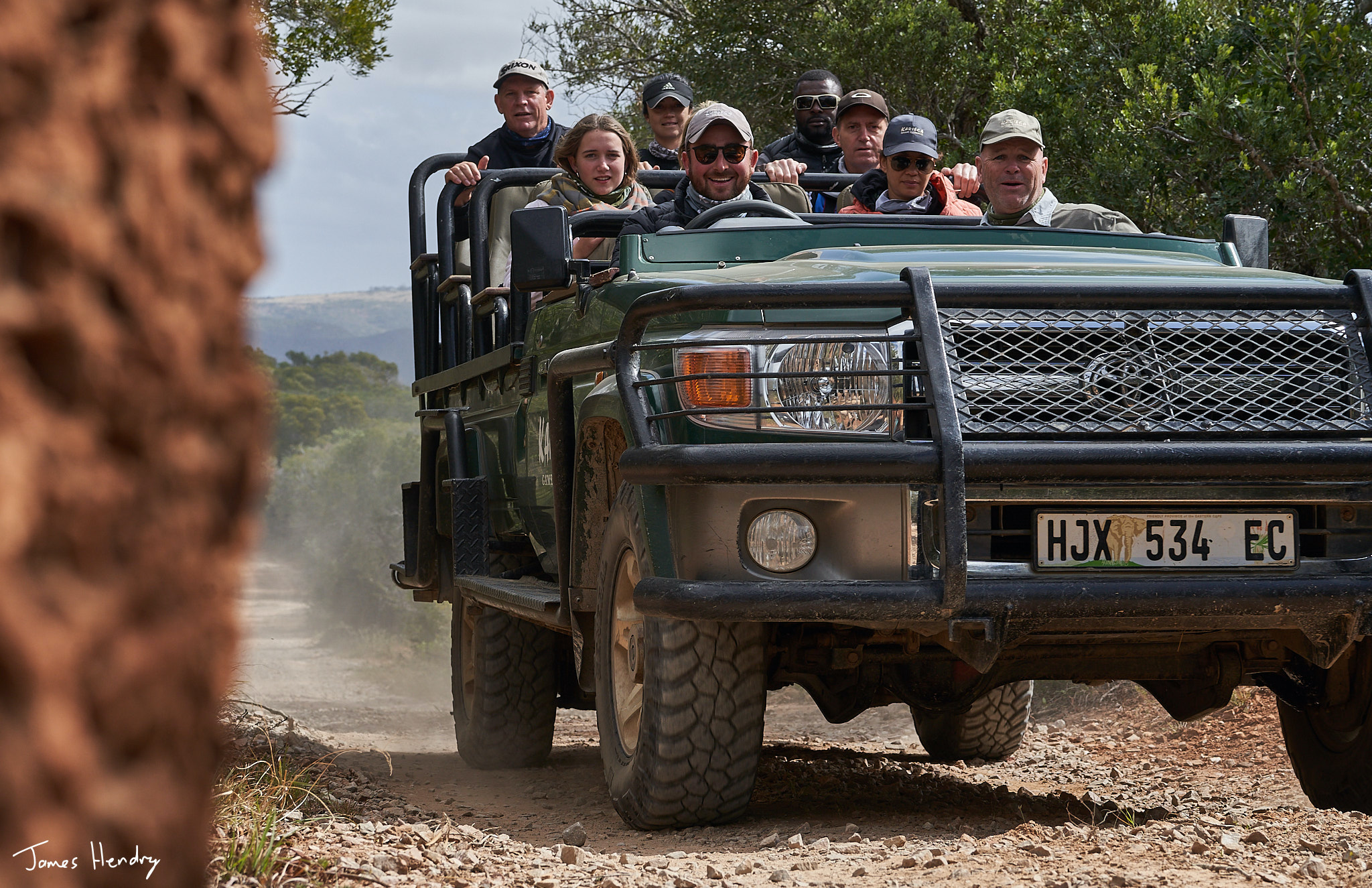 Graeme Rushmere (right front above), Kariega Foundation trustee and Kariega Game Reserve co-owner comments, "We have been blown away by the support from around the world. We are hugely grateful to everyone who has contributed and donated. Over R400,000 has been raised for the Kariega Foundation Anti-Poaching Unit and community food relief programmes to date. Our hope is that Jamie's cycle and the collaborative event will inspire others to face the fear, stress and hardships of the COVID-19 epidemic, and find similar motivation to build unity and help others in need."
Donate Funds to Rhino and People
The campaign remains open for donations until at least the end of 2020. All funds will be used for rhino conservation to support the Anti-Poaching Unit and to pay for the Soup Kitchens supported by the Kariega Foundation. Any amount is appreciated. Donations can be made online via credit card on: https://www.givengain.com/cc/jamierides4rhinos/.
Please email us on foundation@kariega.co.za to find out more or to ask questions about donating.
Video thanks to Bruce Engelbrecht. Images thanks to James Hendry