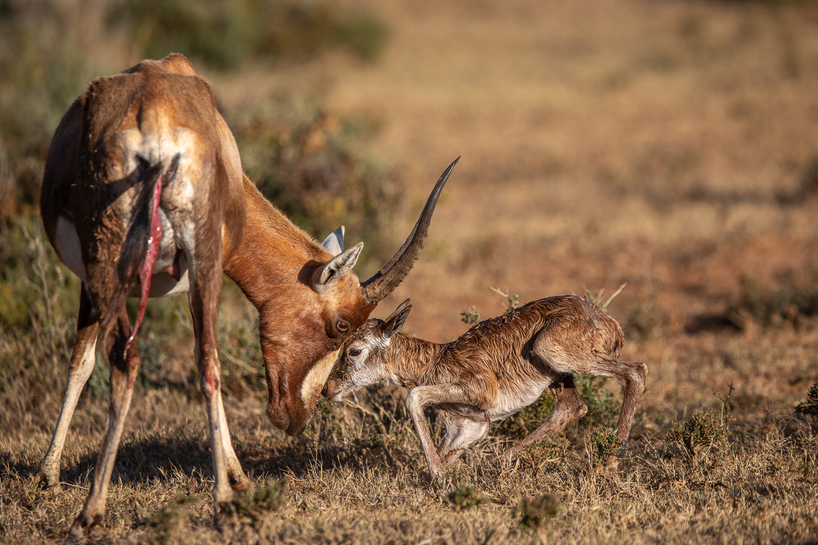 The best months to see baby wild animals on a South African safari at Kariega Game Reserve are from November to March. This is mostly because many antelope species give birth to their young at this time of year. Other baby wild animals, including giraffe, hippo, elephant, rhino and buffalo can be seen throughout the year in South Africa as their gestation periods are significantly longer and they do not have a lambing season.
It is summer in South Africa between November and March and the long sunny days, warm temperatures and rainfall helps grass and vegetation to thrive. Many wild animal species live in herds on the open savannah and their main source of food is grass so it makes sense that they give birth when this is plentiful.
Best Months to See Antelope Baby Boom on South African Safari
The body clocks of many antelope, including impala (pictured below), wildebeest and blesbuck (pictured above), are set to mate in late April or May and give birth after six to eight months, usually from late November. These antelope species mate around the same time so they give birth around the same time when there is normally ample food and water available.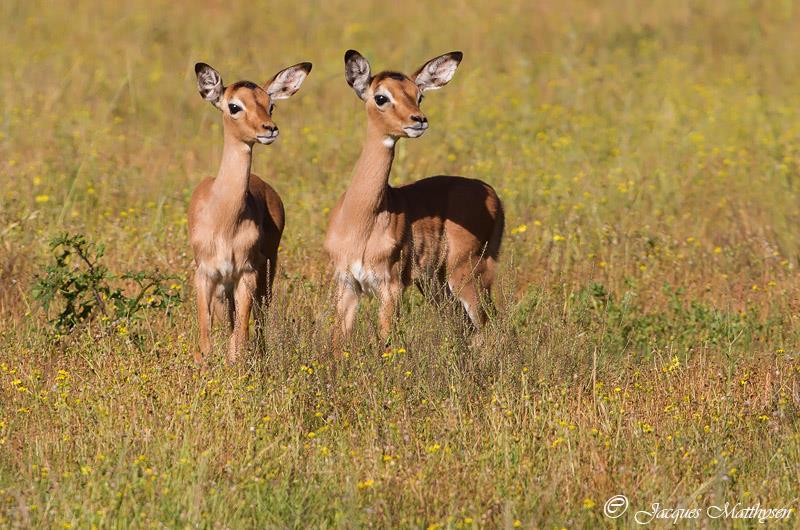 When the first ewe or cow starts to give birth, this puts the process in motion for the other females in the herd and they usually all give birth in quick succession. There is a bit of a survival strategy to this synchronised birthing tactic. Baby antelope are easy prey and so the antelopes overload the market for the predators! Some of the babies do fall prey to predators such as caracals, jackals and lions, but with so many babies born at the same time it increases the overall chance of survival.
There are 15 species of antelope found on Kariega Game Reserve. The most common species are the blesbuck, impala, waterbuck, kudu and blue wildebeest. Antelopes come in many shapes and sizes, all highly adapted for their own special niche on the African savannah. From the smallest blue duiker weighing a mere five kilograms to a mighty eland bull weighing approximately 900 kg.
Refer to these blogs to find out more about baby antelope:
You can view all of the mammals whose babies you could see while on safari at Kariega Game Reserve in South Africa in the guide below.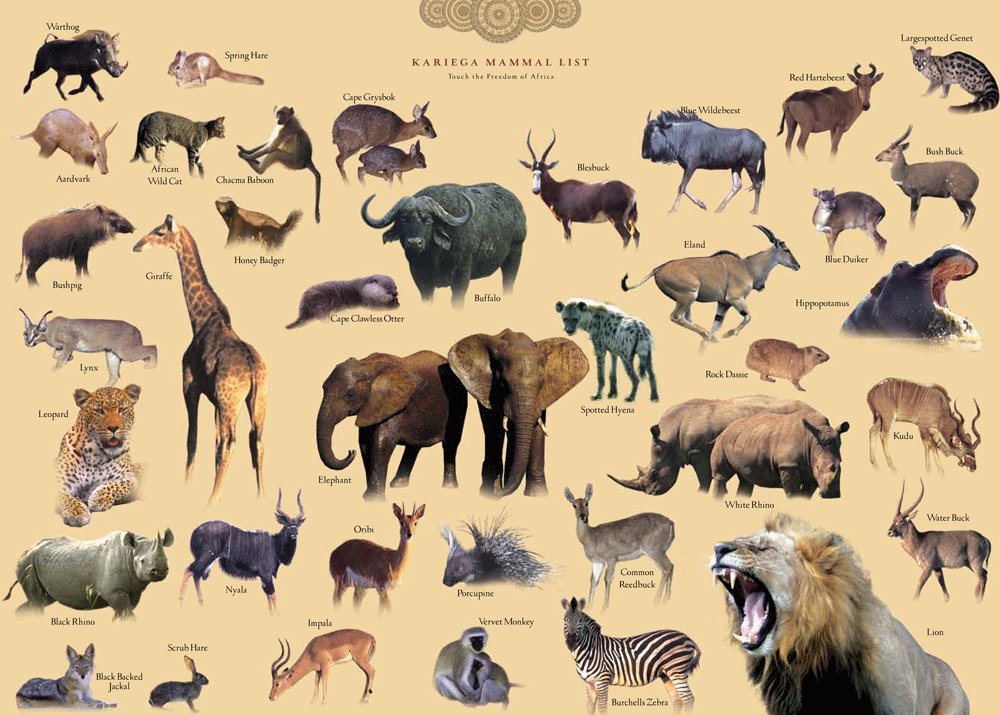 Baby Wild Animals Often Born in South African Summer
Warthogs, zebras, giraffes, monkeys and many bird species often prefer the summer time to introduce their new little ones to the world.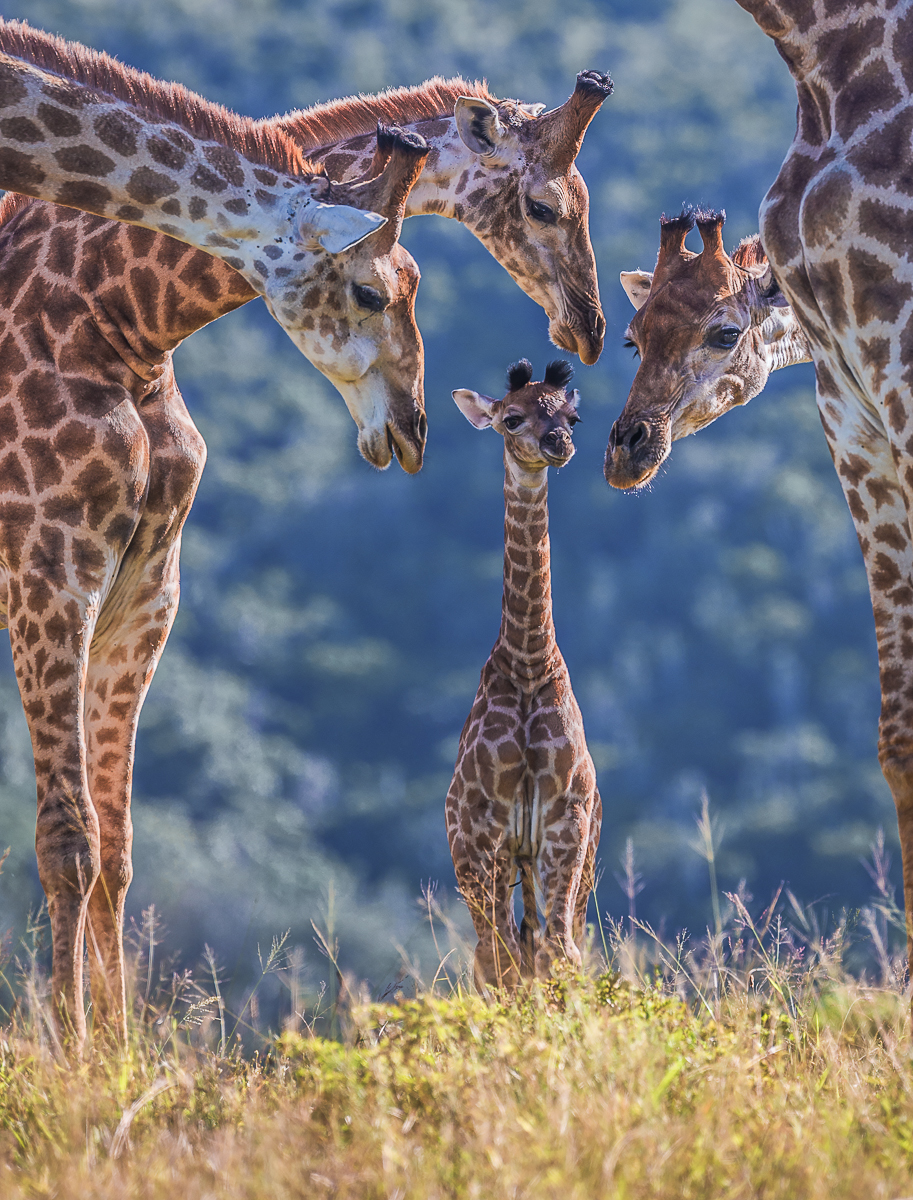 Interestingly, most animals that can be eaten by a predator (prey animals) will give birth during the night and if possible when it is raining or storming. It is likely that they use these strategies to help to hide the scents from the birthing process and also protect their newborns from predators. The darkness, rain and stormy weather can help to conceal the baby wild animal and give them some extra time to find their feet.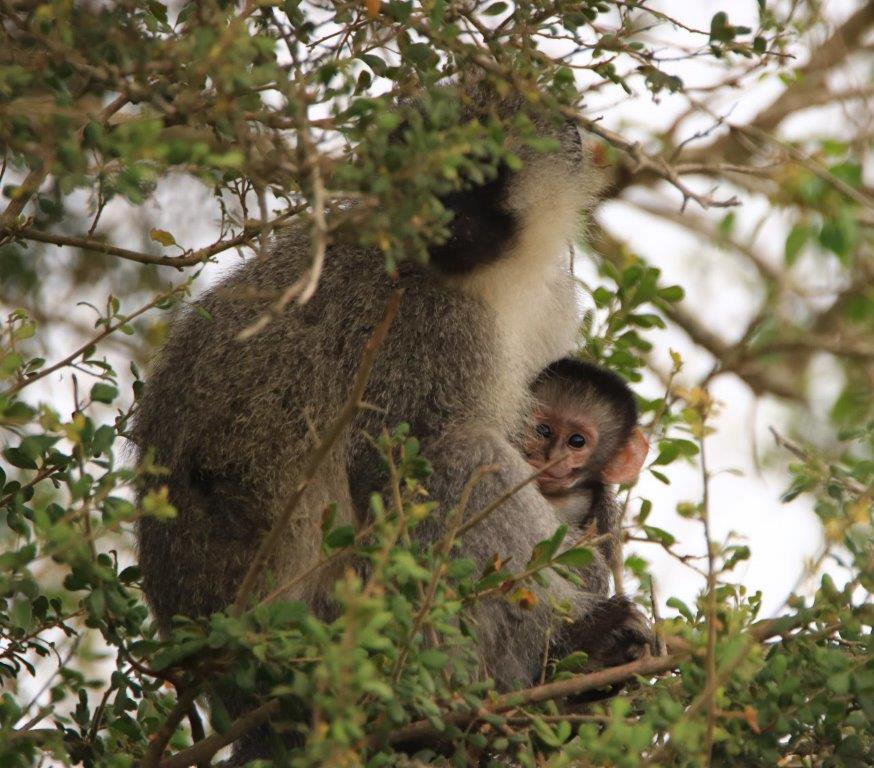 Most Baby Wild Animals Fast to Stand and Feed
Many baby wild animals are precocial, meaning they are born in an advanced state and can stand, walk around and feed within minutes of being born. Examples of this include all antelopes, giraffes, zebras, elephants, rhinos and many bird species like ostrich, ducks and geese. This gives them the best chance of surviving.
Predators are classed as altricial, meaning they are born underdeveloped and will only be fully mobile a few week after birth and rely on full time care from their mothers. Animals in this group include humans, cats, dogs, mice, jackals, lions and hyenas.
Elephant calves are one of the sweetest baby wild animals that you can see on a South African safari. Although it is unpredictable as to when they will be born, there are large breeding herds at Kariega Game Reserve and you are very likely to see small babies regardless of the month of your visit.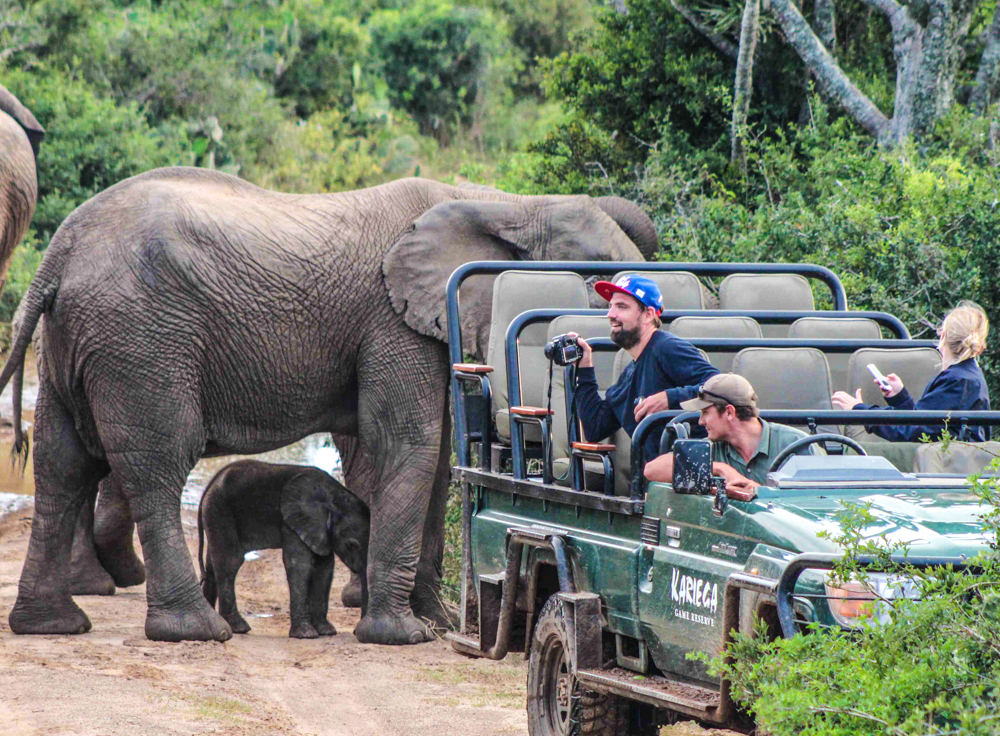 Some precocial young remain next to their mothers all day long to have their milk supply and protection as close as possible. This is the case for southern white rhino. The image of the rhino calf below was taken a few hours after her birth. Female rhinos usually disappear into thick bush to give birth and emerge only a few weeks later.
This rhino calf is very special as her mum was the first rhino to survive after being poached and left for dead in March 2012. We named the mum Thandi, meaning courage in isiXhosa and the calf is called Thembi, meaning hope. 
The vet who helped to save Thandi, Dr William Fowlds, commented: "The name Thembi seemed to fit best given that this little calf has brought fresh hope and energy to those who struggle to secure the future of our rhino. She is a new generation of life, one I hope will never experience a poaching incident like her mother."
Read more about how Kariega Game Reserve protects and conserves rhino.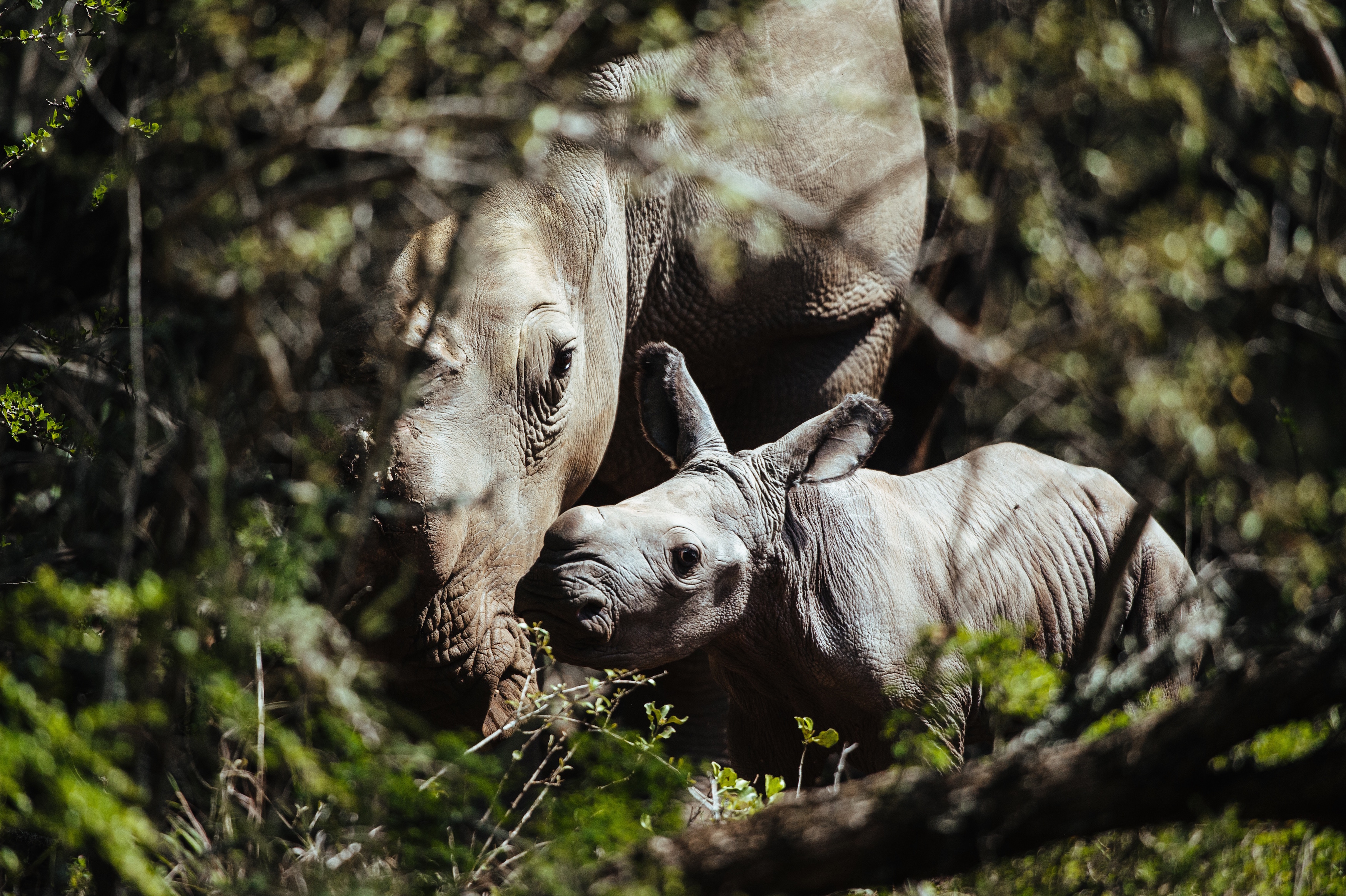 Watch these wonderful two videos of the birth of two baby wild animals while on a South African safari:
Share Your South African Safari Experiences with Baby Wild Animals
Did you see any baby wild animals while on your South African safari at Kariega Game Reserve? Which month did you visit us for a safari? We would love to hear about your sightings and see your photos and videos. Share them with us by posting them on our social media channels including Facebook, Instagram, Twitter and YouTube.
You can also enter your best photographs into the Kariega 2020 Facebook Photo Competition and 2020 Instagram photo competition. The prize for each competition is a two night stay for two at our luxurious Ukhozi Lodge.
The 2020 Facebook Photo Competition opened on 1 May 2019 and closes on 30 April 2020. The competition is open to all Kariega Game Reserve safari guests. To enter share your wildlife photographs from your Kariega safari on our Kariega Facebook page and we will add your photograph(s) into the competition. One winner is selected by our panel of judges and one winner is selected by our Facebook community.
Our first Instagram Photo Competition started on 1 July 2019 and will close on 30 June 2020. We select one photo each week. At the end of the competition all of the weekly winners will be reviewed by our panel of judges and one overall winner will be selected. To enter post your favourite wildlife photograph taken at Kariega on your Instagram feed, use the hashtag #KariegaPhoto in the caption and ensure you are following @kariega.game.reserve. Read more tips about entering the Instagram wildlife photo competition.
Photo credits: Brendon Jennings, Jacques Matthysen, Gary Van Wyk, Dorean Peacock & Jo Haesslich.