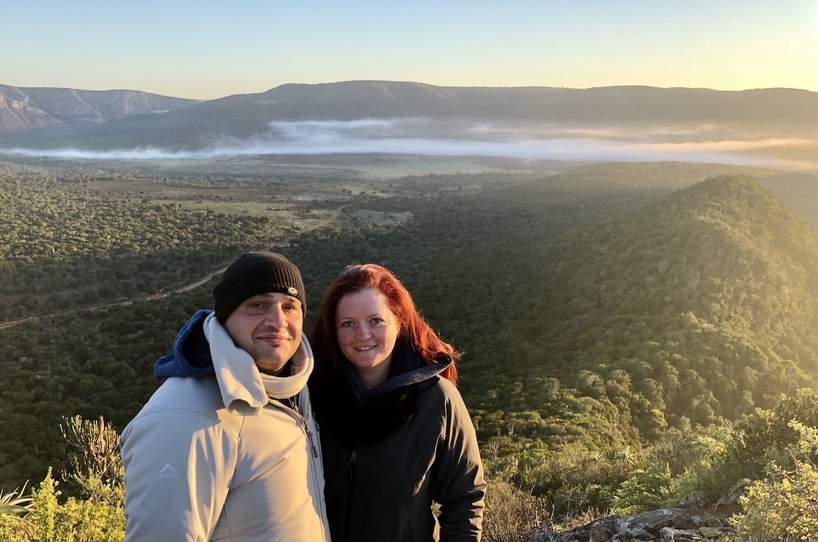 It is our pleasure to share the story behind the lens of Kariega safari guest Fabio Franciosa, who was selected by all of you as the 2021 Photo Competition Audience Favourite winner in our annual Kariega Facebook wildlife photographic competition. Fabio's atmospheric photograph of a giraffe in the mist received the most likes from our Facebook community and has won an all-inclusive safari and two night stay for two at our Ukhozi Lodge.
Fabio and his wife stayed at Kariega Game Reserve's luxurious Settlers Drift Lodge for their honeymoon in August 2018. The couple travelled from Dublin in Ireland where Fabio runs a pizza and pasta restaurant.
Our behind the lens interview with him is well worth a read, particularly the last section of the interview where Fabio shares his motivation for donating his prize back to the Kariega Foundation to help raise funds to support our neighbouring communities.
2021 Audience Favourite Wildlife Photo: Fabio Franciosa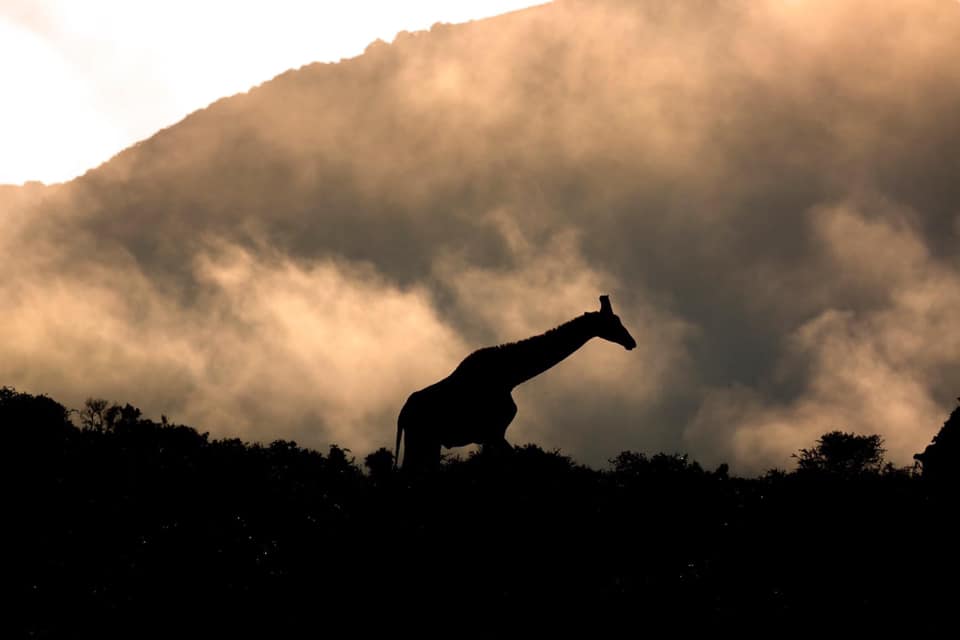 Fabio comments: "It was quite early in the morning and being out in the bush at that hour had a completely different feel. It was colder with not as many animals moving about and there was beautiful fog in the distance with the sun starting to rise on the horizon.
I had spotted the giraffe walking slowly across the plains in front of us. I waited until I felt I had a decent background for him and I took the photo. I looked at the back of my camera and was quite happy with how it turned out as I really like darker images. I felt this one had worked very well.
My camera at the time was a Canon 5D MKIV and the lens was the Canon 100-400 EF 100-400mm zoom lens. Settings ISO100 Zoom 241mm F/7.1 1/500s.
This was my first attempt at wildlife photography and I really enjoyed it. I would love to have spent more time at Kariega to practice, as wildlife photography is quite different to landscapes and cityscapes I usually photograph when travelling. Photography is just a hobby and I am nowhere near a professional level, but I enjoy taking pictures and capturing that moment in time.
I was very happy and surprised when I found out that my photo had won the competition! I'm not a competitive person and did not think for a minute that one of my photos would make it to the final, never mind actually win; especially when you see how beautiful a lot of the images are that were entered.
Kariega is an amazing place with stunning landscapes and animals. It's just breath taking. You can't truly appreciate its beauty until you stand there and see it with your own eyes. It's hard to take a picture at Kariega Game Reserve that is not beautiful!
The Settlers Drift team are amazing and are a big part of the experience. I said it when I was there and I'll say it again, five-stars does not do Settlers Drift Lodge at Kariega Game Reserve justice in any way!
We will return to Kariega in a few years have no fear of that! We hadn't even left when we decided we were going back!"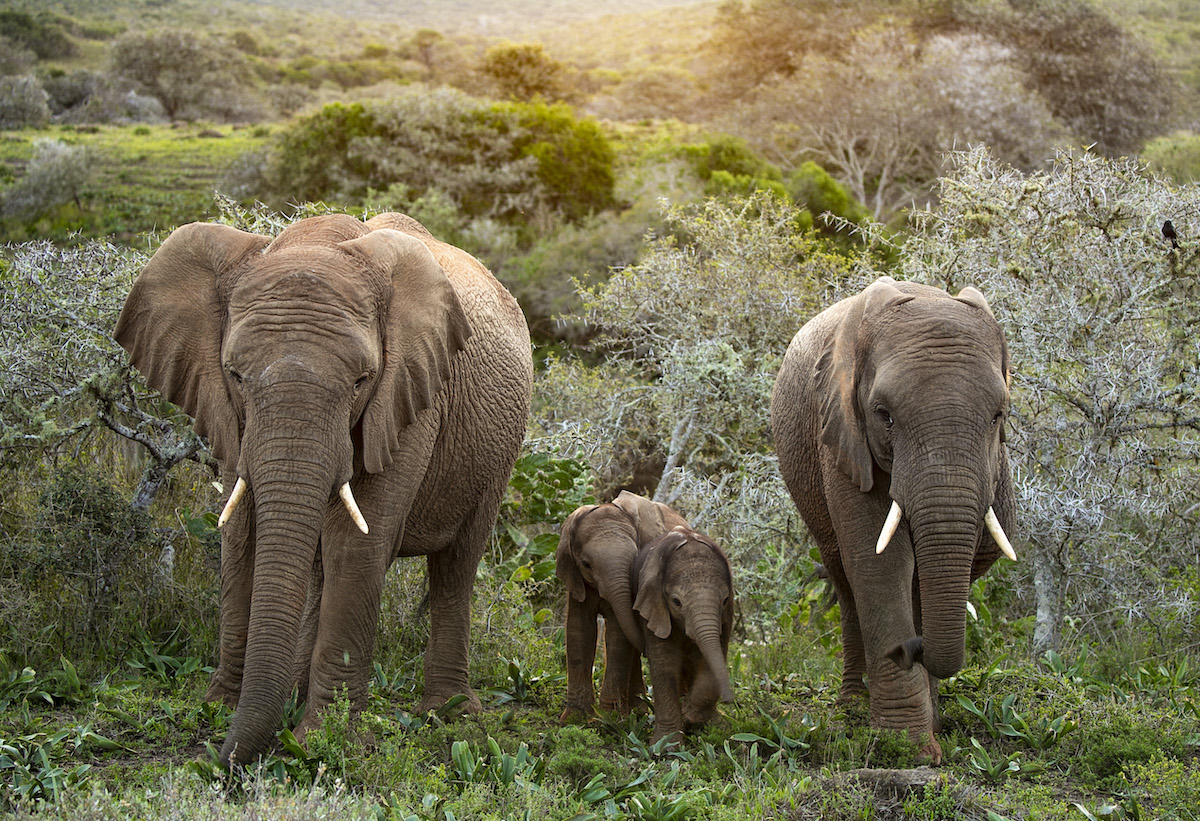 Fabio Donates His Photo Competition Prize to Help Others
After finding out he had won an all-inclusive two night stay for two at Ukhozi Lodge, Fabio made the heart-warming gesture of donating his prize back to the Kariega Foundation, to be used to raise funds for the local community.
His motivation for this selfless act, came from the connection he felt to South Africa and her people. As he and his wife travelled from Cape Town to the Eastern Cape along the Garden Route, they fell in love with all South Africa had to offer, but were saddened by how hard many of the staff he met in hotels and shops worked, for the little they had. The moment Fabio found out he was a finalist in the Kariega Facebook Photo Competition he made his decision to use his prize for a greater cause, if he were to win.
The Kariega Foundation is very grateful to Fabio. The situation in the communities we serve gets more desperate daily, as we wait for the Covid-19 pandemic to end, tourism to return and jobs with it. Kariega Game Reserve is the biggest employer in our neighbouring communities. 
In discussion with Fabio, the Kariega Foundation has decided to use Fabio's prize to raise much needed support for the Community Food Support Programme which supplies soup mixes, soya mince and fortified porridge to eight community kitchens, feeding 600 direct beneficiaries, three times a week, who each share their meal with at least one or two others.
Thank you Fabio, for visiting Kariega, for winning the competition and for using that as an opportunity to support those in need. You are a true hero!
Donate here if you would like to join Fabio in helping the Kariega Foundation support the people we care about.
Images thanks to Fabio Franciosa.