Will Cape Town's Water Situation Affect Your Safari?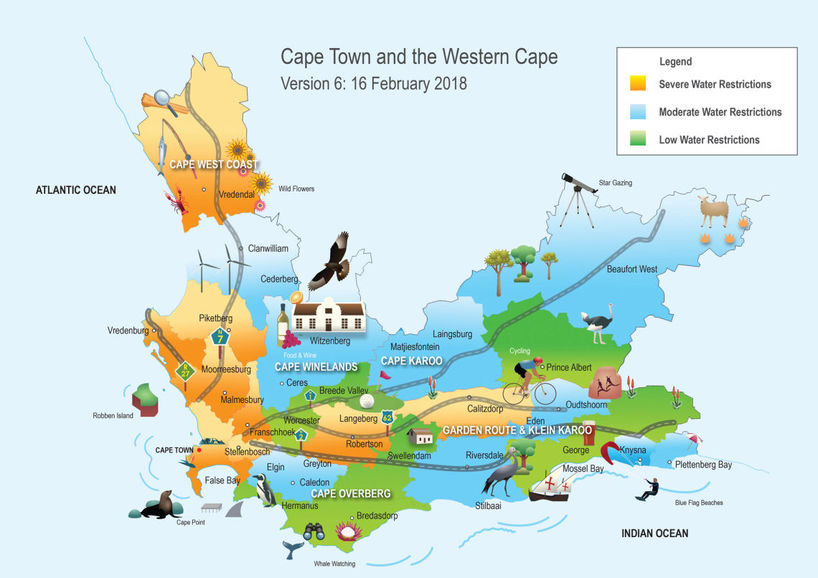 At present Cape Town and the Western Cape province is experiencing a drought. News about Cape Town's water situation have circulated far and wide. We have had a few questions from safari guests to ask if this water situation will affect their Kariega safari. 
Good News for Kariega Safari Guests
The water situation in Cape Town will have no affect on your safari. Kariega is 900 kilometres (550 miles) from Cape Town and has its own natural water supplies. There are no water restrictions in place.
The Cape Town water situation is now under control, and will hopefully be permanently remedied by the various measures that are being implemented. As far as we know, the situation will not affect travellers visiting Cape Town as hotels have contingency measures in place.
Areas Affected by the Drought
The impact of the current drought is in the Western Cape province, particularly the city of Cape Town and surrounding areas. These areas are illustrated on the above map provided by the government of the Western Cape. 
Water Saving Tips
South Africa is a water-scarce region and we appreciate it when guests choose to help save water. Thankfully most of our guests are environmentally conscious and are happy to be mindful of water consumption. Here are some water-saving tips:
Shower rather than bathing. A average bath uses 265 litres of water and a short shower uses only 65 litres.
Try to reduce the time that you spend in the shower.  If you want to up the romance and save even more water… shower with a friend!
Turn off the tap when brushing your teeth rather than letting the tap run.
Fill up the basin with water when shaving.
Turn off taps properly – no drips allowed on safari! After using a tap, make sure it is turned off properly. 
Reuse your towels instead of asking for new ones on a daily basis.
Other Useful Water Related Information
We hope that this information helps to clarify that the water situation in Cape Town will not impact your Kariega safari. Please email reservations@kariega.co.za with any questions. We are always happy to answer your questions.