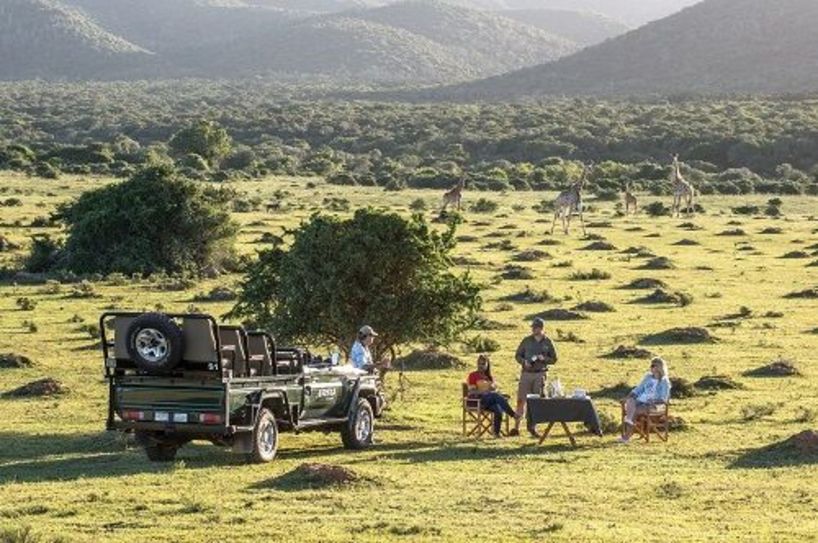 The South African autumn, during the months of April, May and June, is an excellent time to enjoy an Eastern Cape safari where the climate is generally kind to visitors and the absence of malaria an added bonus.
Kariega Game Reserve is located in the coastal belt of the Eastern Cape which enjoys a temperate climate, very rarely experiencing the extremes of the inland areas. Although the autumn days at Kariega Game Reserve naturally get shorter, the average temperatures varies comfortably between 19 and 25 degrees Celcius (66-77 F).
Although the Eastern Cape enjoys year round rainfall, the chances of rain are it a little higher during the autumn months. This is nothing to worry about at Karierga Game Reserve as all game drive vehicles are equipped with rain proof ponchos and warm blankets. Most guests use the blankets under their ponchos for extra warmth. 
What to Pack for your Autumn Eastern Cape Safari
Here are a few tips on what to pack if you are traveling to Kariega in the  Eastern Cape for your much anticipated safari experience:
Layered clothing, including a t-shirt, fleece and warm rain proof jacket
Long pants, but also a pair of shorts for midday sunshine
A secure fitting hat, preferably wide-brimmed
Sun block
A swimming costume as it can still be hot at midday
Binoculars and camera are always a must-have on safari
Eastern Cape Safari Special Rates
Although 1 May to 30 September is our low season, it is still a wonderful time to visit the reserve. Experience the crisp, golden mornings of autumn and dark starry nights of winter around the African fire. And, of course, enjoy the heart-stopping game viewing we offer all year round. The rates during these months are 20% less than those offered during high season. Contact us to enquire and book.
We also offer a Stay 4 | Pay 3 safari special offer for stays between 1 May and 30 June 2018. Book for four nights and you will only pay for three nights! Valid for bookings at Main Lodge and River Lodge only. Guests must arrive between 1 May and 30 June 2018.
This special also applies to stays during May and June in 2019. This special is valid at Main Lodge, Ukhozi Lodge, River Lodge and Settlers Drift. Contact us to enquire and book
Our Kariega family is excited to make your autumn Eastern Cape safari an experience of a life time. If you have visited Kariega Game Reserve during autumn, please add to our tips in the comments below. Please share any images and comments with us on our Facebook page, via Twitter or Instagram.