Walk With Purpose in Your Kariega Veldskoen

We are excited to show you the stunning, new, Kariega Veldskoen shoe and announce the exciting partnership between Kariega Game Reserve and Veldskoen; two South African, family owned and operated organisations who share a passion for South Africa, the well-being of our people and the protection and preservation of our incredible wild spaces and animals.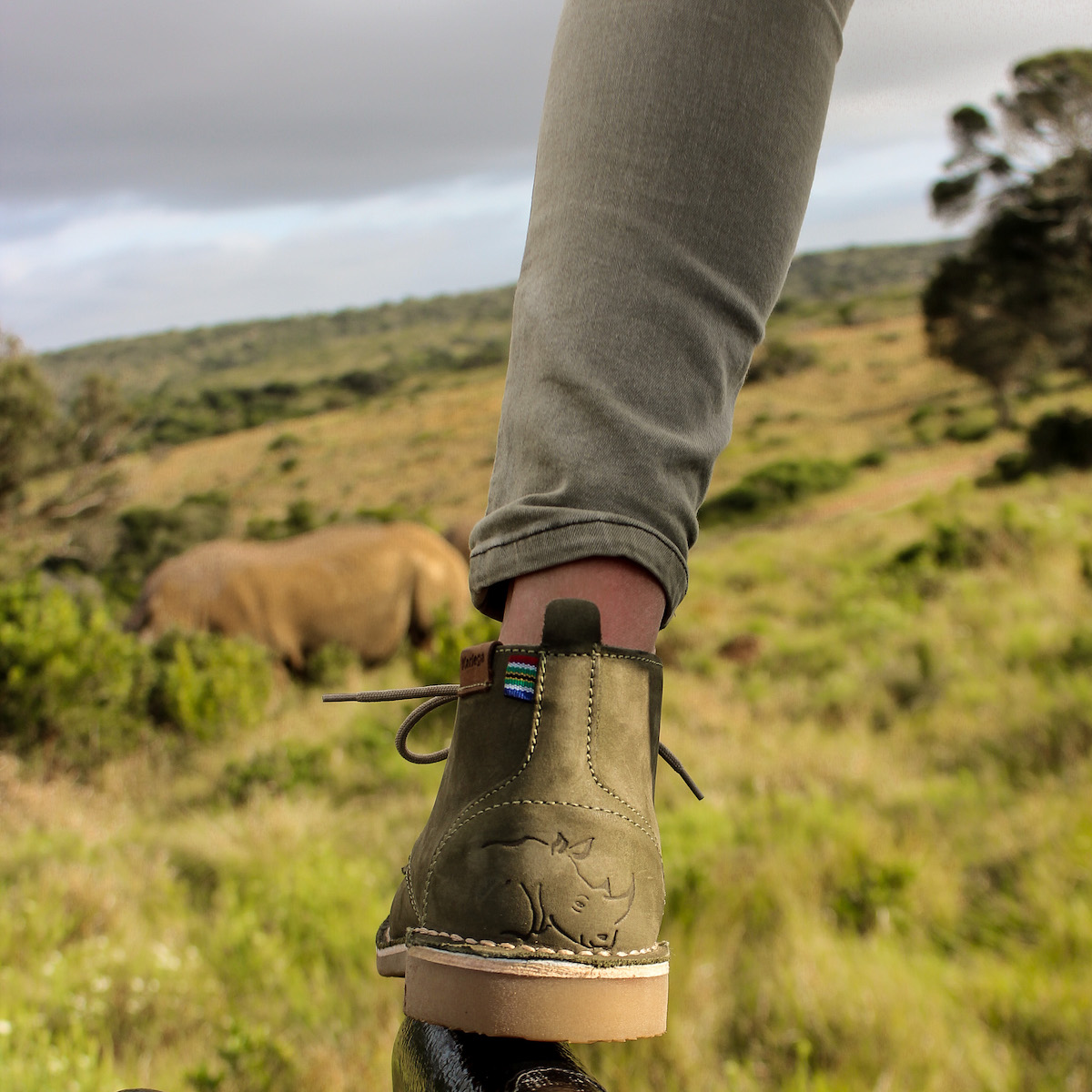 The Kariega Veldskoen is a gorgeous olive green nubuck chukka boot. In addition to the Veldskoen signature SA flag, there's a tiny rhino motif on the heel of the shoe. This is our little reminder to you that 50% of the profit generated by sales of these shoes are donated to the Kariega Foundation to support the reserves holistic and multi-layered approach to conservation including numerous community and conservation projects, the most prominent one, being the Kariega Anti-Poaching Unit.
A Purchase with a Purpose
Buying a pair of Kariega Veldskoen is a purposeful purchase for people who want to look good and save our planet and wild animals, the rhino in particular.

To celebrate the collaboration between Kariega and Veldskoen, we're giving away a safari for two, all-inclusive, nights for two people at Kariega Game Reserve's flagship, luxury, tented lodge, Settlers Drift.

When your purchase a pair of Kariega x Veldskoen between 1 September and 30 November 2022, you will automatically be entered into the competition.

The winner will be chosen randomly and contacted via email/phone.

You can make your Kariega Veldskoen purchase with a purpose on the Veldskoen website here.

The Kariega Veldskoen shoes are also available at the following stockists:
Outdoor Warehouse, 
Zando, 
TakeALot 
Superbalist. 
Kariega Curio shops
The Kariega Veldskoen is a versatile shoe, offering a fresh, trendy and fashionable look.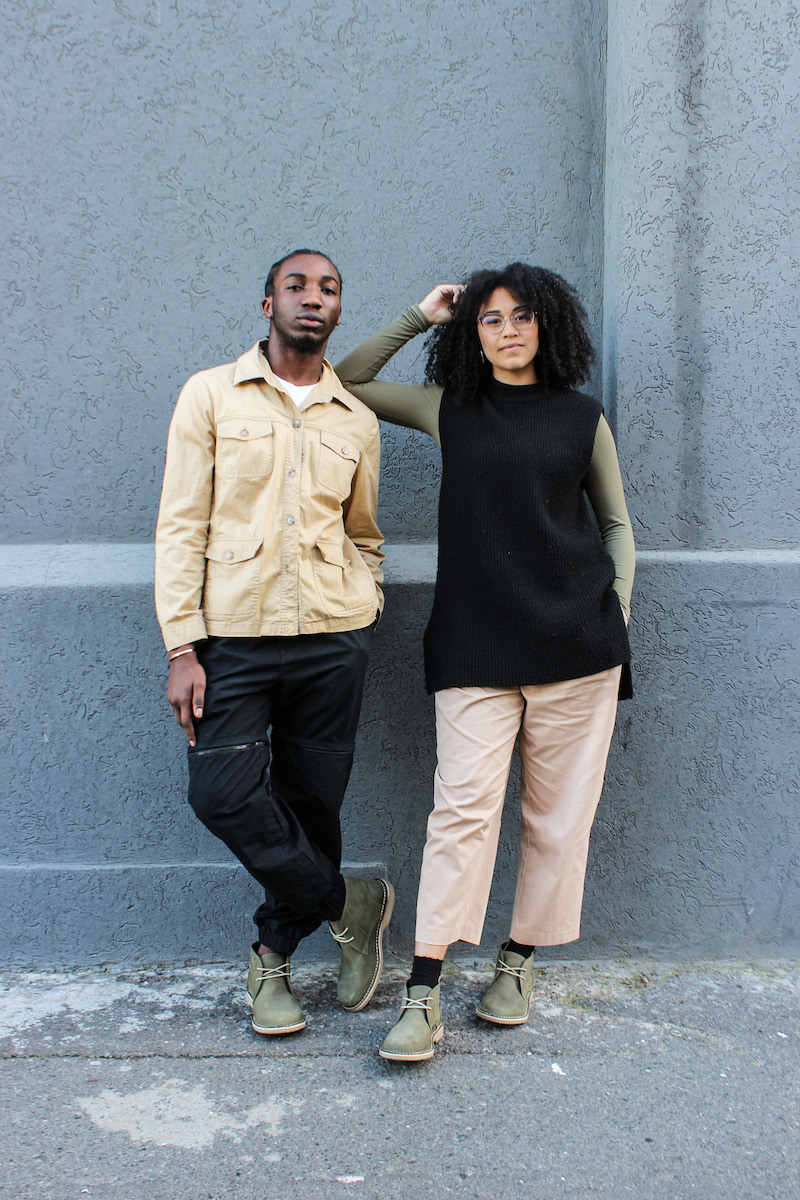 It is also the ideal shoe to pack for you next African safari to Kariega Game Reserve.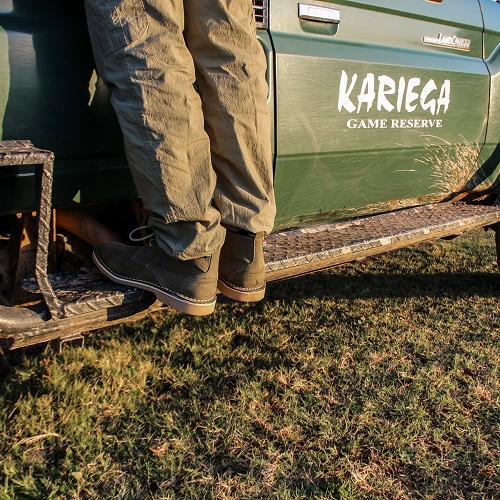 A Holistic Conservation Mandate
When you wear your Kariega Veldskoen you become part of the Kariega team that is striving to achieve a holistic conservation mandate.
Kariega Game Reserve in partnership with the Kariega Foundation have adopted a strategically holistic conservation mandate. We focus on empowering the community with the same energy and commitment we put into conservation on the reserve, because we believe that people who are provided with meaningful opportunities to work, learn and earn, do not see the quick returns from dangerous poaching, as an opportunity to better their lives. Instead they join our ever growing conservation community that works collectively to rejuvenate our planet, people and wildlife.
Our numerous and diverse projects flow from the core motives to protect and preserve our natural heritage as well as uplift and educate our neighbouring communities so that, together, we may reform that which threatens its existence.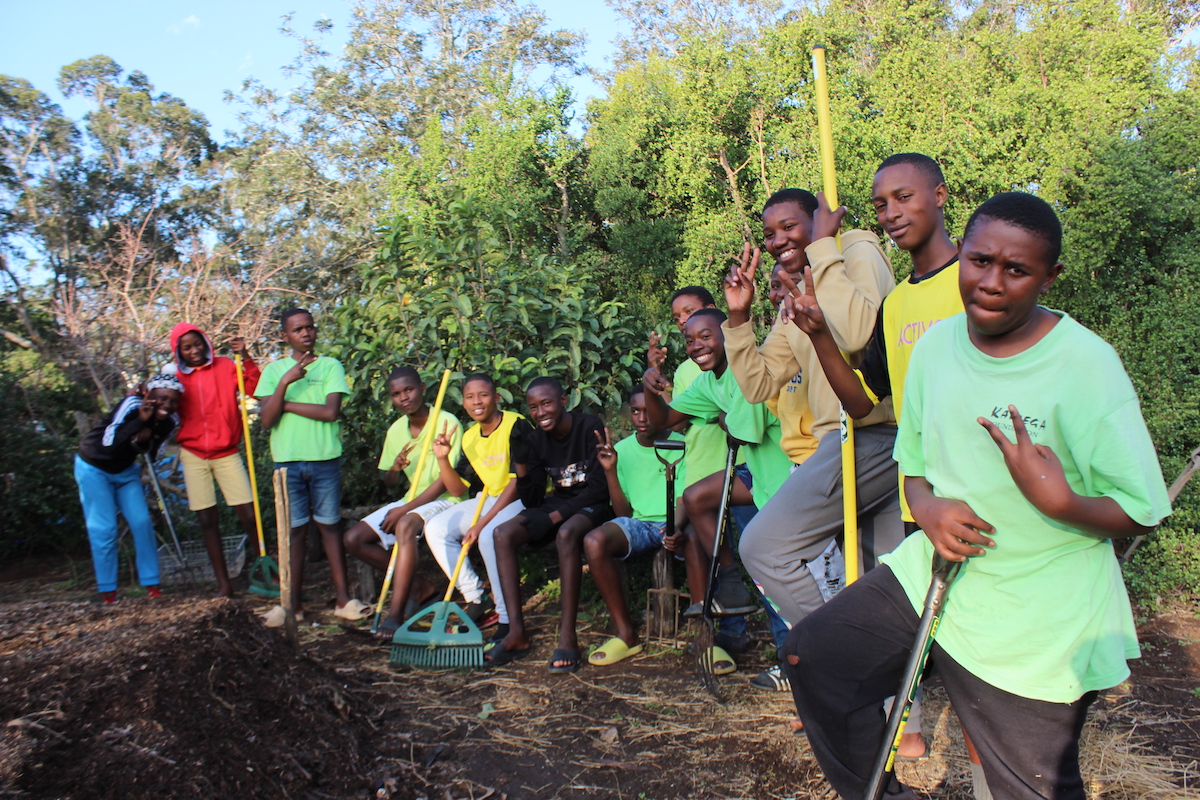 Conservation through Community
This holistic model aims to build conservation through community so that communities join conservation efforts.
Central to our conservation efforts is the Kariega anti poaching unit.
The Kariega Game Reserve APU includes a dedicated K9 unit and the GCF Mounted Unit. Our vision is to continually grow this APU team with members of the communities surrounding the Kariega Reserve. This has already started with the Kariega Foundation, identifying community members with the drive and aptitude for animal conservation, providing them with professional training, and employing them to protect the endangered species found on the reserve.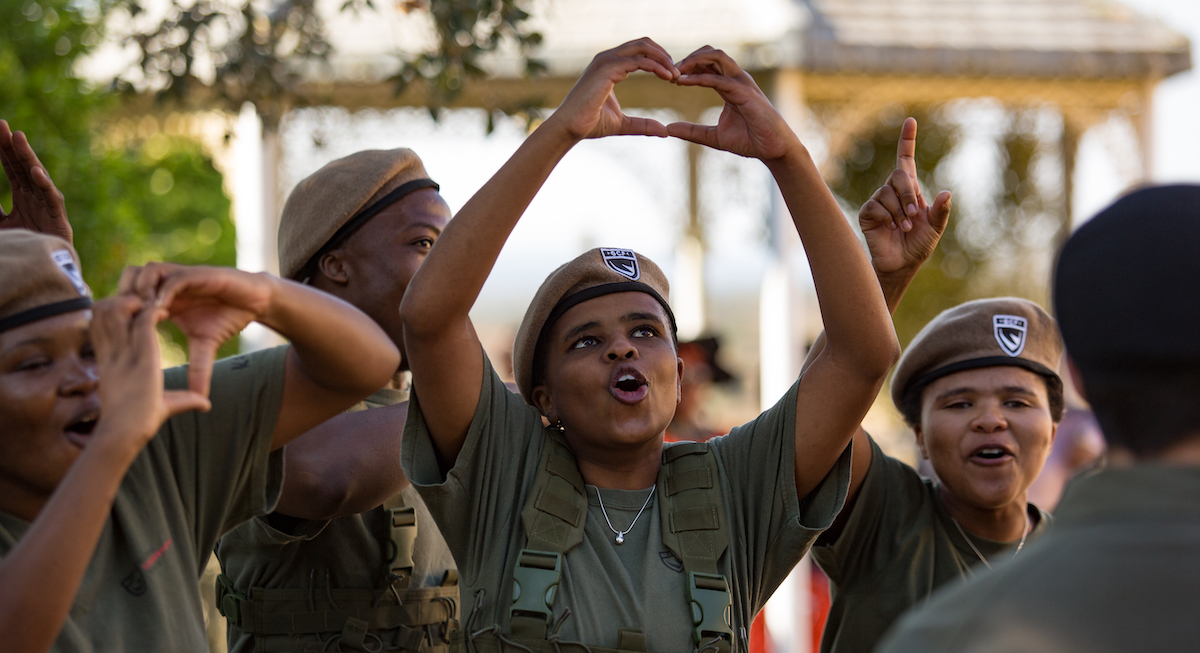 The anti-poaching unit, is really the tip of the ice-berg. The base layer is our Youth Development Programme, which offers school children from the surrounding communities the opportunity to play sport, receive social and emotional learning training and; engage in environmental education activities. It also supports them with a safe place to do homework in the afternoons. These programmes, managed by community coaches, have allowed local children the opportunity to develop their talents. Some have gone on to play sport competitively at the provincial and national levels; others have attended wildlife procedures on the reserve and some have entered the Kariega Foundation Internship programme and received APU and FIGASA training and created employment opportunities for themselves.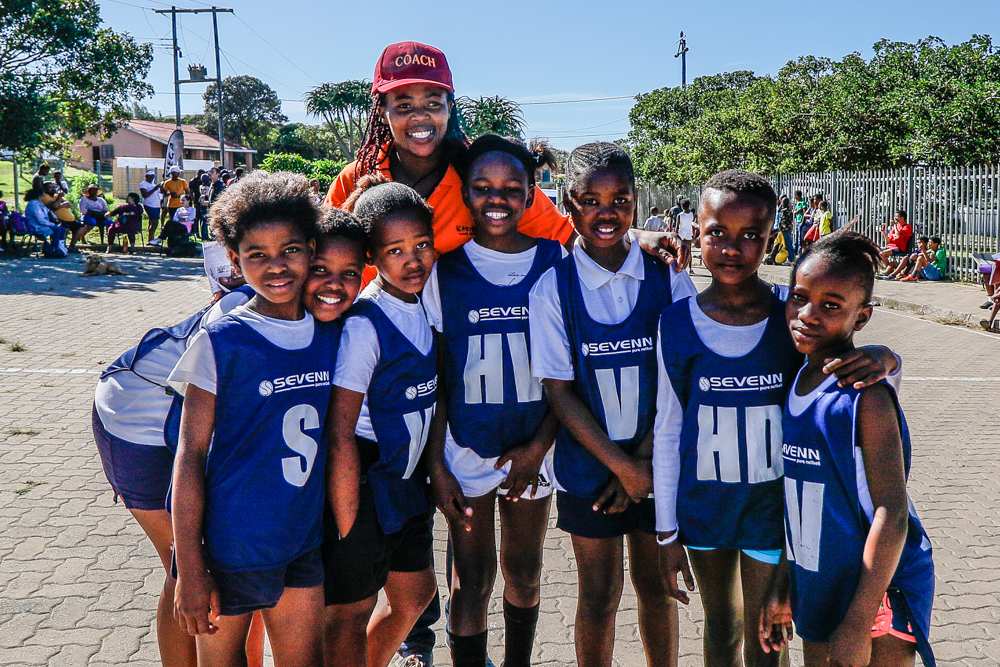 Join our Conservation Community
When you buy and wear your Kariega Veldskoen you join our conservation community!
Conservation is a team sport and our progress to date has been facilitated by each and every guest that visits Kariega Game Reserve and contributes to the conservation and community levy and many organisations globally and locally including Rhino Tears Jewellery, Helping Rhinos, Global Conservation Force, Chimpembere Rhino Foundation, Dancing 4 Rhino, Freedom To Roam Adventures … and now Veldskoen!
We appreciate each and everyone of you. Together we will create sustainable solutions to the complex issues that threaten the existence of our planet and many animals, the rhino in particular.
Buy your Kariega Veldskoen today and become part of the legacy.