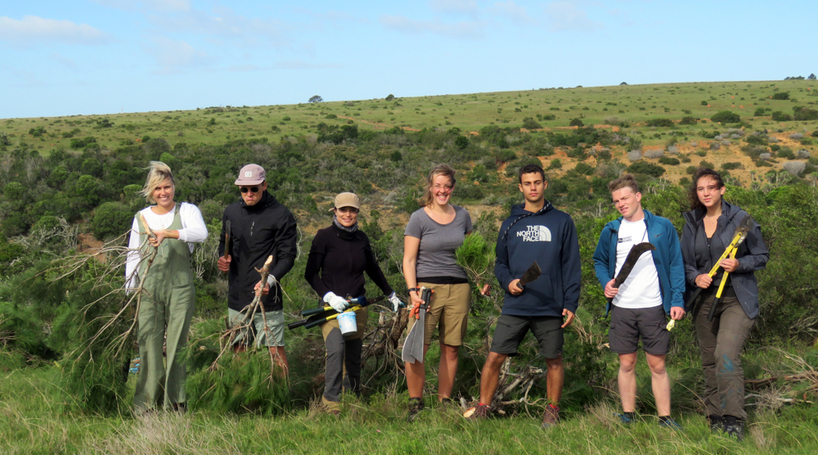 As the seasons change, warmer longer days return and with it, volunteers embarked on many new adventures, while assisting with conservation and research work on the reserve. Brought together by common interests, so many friendships blossomed this spring too! Enjoy our Kariega conservation volunteer update from July - September 2019.
Volunteer Update: Alien Invasive Plant Eradication
Along with the warmer weather, volunteers have been spreading life, and increasing biodiversity and rehabilitating resilience on sections of the reserve, planting over 3150 pork bush plants. This has had the added benefit of carbon sequestration and increased vegetative palatability, for which pork bush is so well known. It is hoped that more significant amounts of rainfall will come soon, as is normally expected in springtime, so as to increase the survival percentage of these new plants. Scopes on alien plants have expanded with the team eliminating 1,200 Acacia mearnsii (black wattle), 700 Pinus pinaster (cluster pine), 10 trailer loads of Opuntia ficus -indica (prickley pear), two large stands of Agave and 440 Sesbania punicea (sesbania) plants. This important hard work has helped maintain the ecological integrity of the land, assisting all indigenous plants and animals to thrive.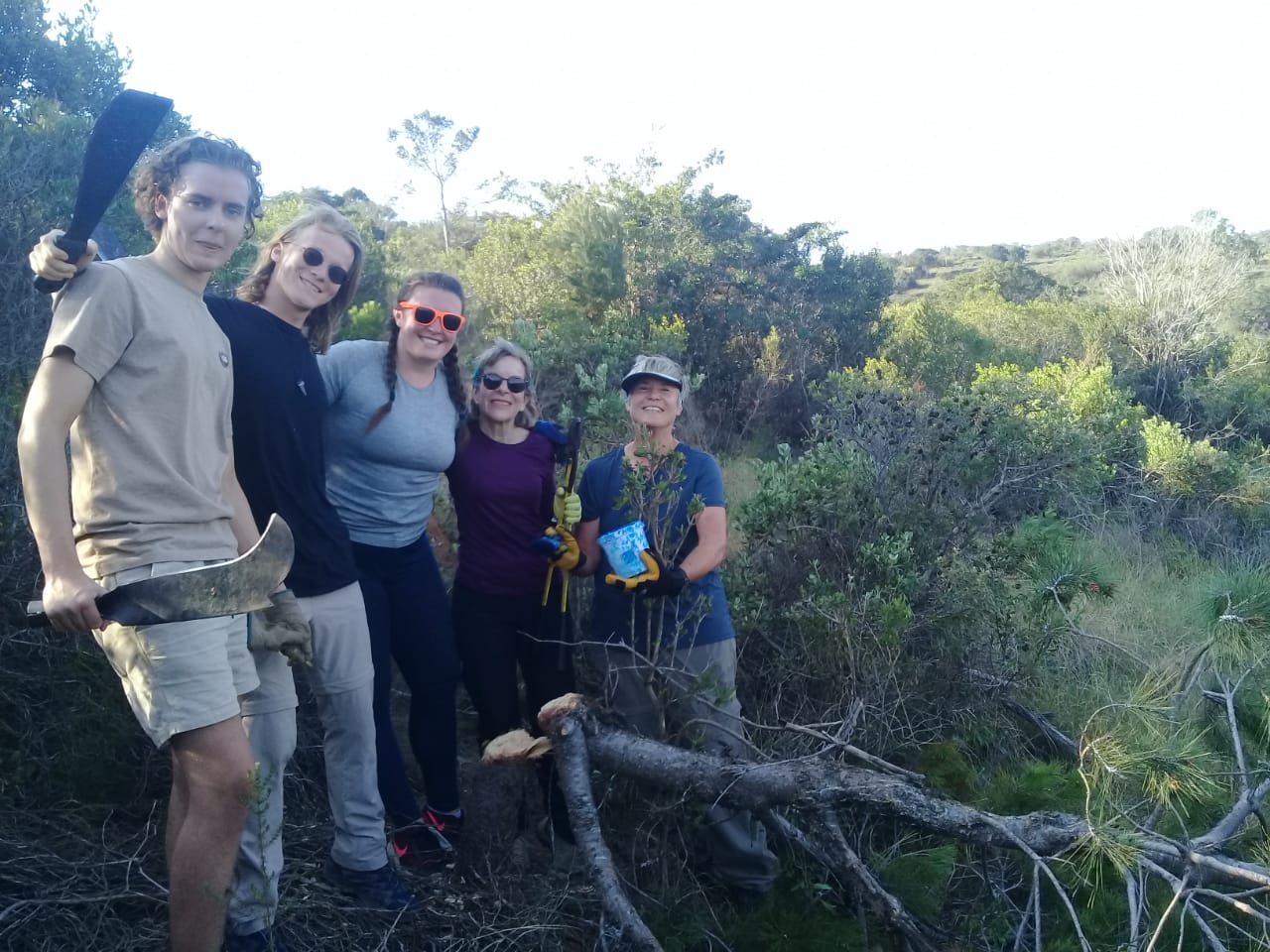 Volunteer Update: Serval Husbandry
Although the serval breeding programme has not resulted in any kittens, there was a silver lining to this scarce species reintroduction project as both servals are now living in the wild. The volunteers helped to develop creative feeding strategies to make the servals work for their food. This was in an effort to encourage and develop some hunting behaviour before the servals were released. The two African wild cats, Pheonix and Skye, were successfully released onto the reserve. It is encouraging to see how both have settled into their new living environment, being found very comfortable in their new free surroundings. Although they are slightly thinner than before, both appear to be healthy. As their fitness levels and hunting skills increase, the cats are quickly learning to flourish in the wild!
Volunteer Update: Unusual Visitor is Back
The volunteers were involved in tracking and darting a male cheetah who came onto Kariega from a nearby reserve. The cheetah was successfully relocated back to his original home. However, this was not the last we had seen of him, as soon thereafter, the cheetah managed to return once again. It is rather mysterious as to what drew this cat to the same area as there are no other cheetahs on the reserve. After two known close encounters, sadly the cheetah was killed by one of the lionesses who would have considered this intruder as unwelcome competition.
Volunteer Update: Wildlife Monitoring
Volunteers have continued to collect valuable information, helping with rhino, elephant, lion and bird research projects. Tracking down and monitoring such incredible wildlife has resulted in some unforgettable sightings. It never ceases to amaze what can be observed when one spends enough time with animals and their natural behaviour comes to the fore.
Volunteer Update: Community Involvement
Community and animal outreach projects have been very rewarding for all involved. Visits to the Helping Hands soup kitchen have enriched the lives of all the children with love and care as well as from generous donations. We are very grateful to the volunteers for donating 27kg of clothing and 40kg of food to the Helping Hands soup kitchen. Thank you to all!
In September the volunteers participated in the global climate strike. We stood alongside the learners of Ikhanyo secondary school in Kwonqubela, Alexandria and other environmentally conscious citizens. This is essential as we all have a voice and can create the change we wish to see in the world by pressurising big businesses and governments to do what is right for our Earth. The volunteer team also participated in the 2019 Rhino Run, showing support to help protection our rhinos while having a great time too!
In Klipfontein the volunteers assisted with a domestic animal vaccination deworming, feeding and dipping outreach. This served to improve the quality of life for some less fortunate animals, and gave us the opportunity to teach their owners how to best care for their pets. Volunteers have also assisted in the primary school, educating learners in a practical and creative way about oceans, people in conservation, endangered indigenous species, and waste management. Volunteers also got involved in a community clean up project too.
Volunteer Update: Fun Times
With great work comes great reward, and volunteers really enjoying some leisure adventures too! Beautiful hikes among iconic wildlife and breathtaking views, canoe trips along the Kariega river, bush braai lunches on the reserve, swims at paradise lagoon and night drives under the incredible African sky have been just some of the rewards relished by our amazing team. Friday night braais, often accompanied by live acoustic music, have also been very memorable too.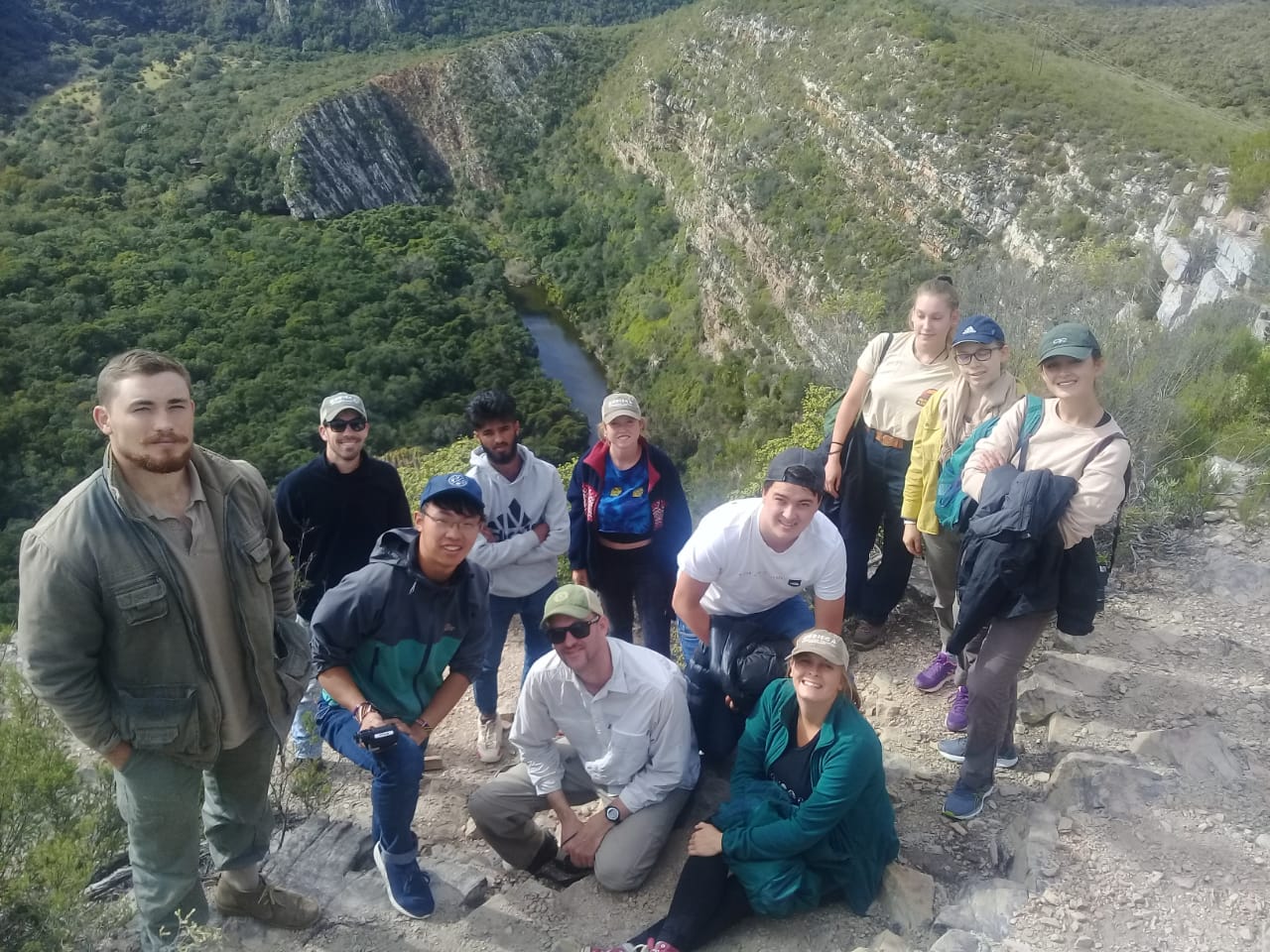 Thank you to all who have made this term the huge success it is. Your joint conservation and community efforts are transforming this part of the world into the best it can be, every bit supporting and uplifting it further.
Yours in Conservation.
Jarrett Joubert, Kariega Volunteer programme co-ordinator.
Climate March image thanks to Rob Knowles.