Volunteer Update: Jan – June 2022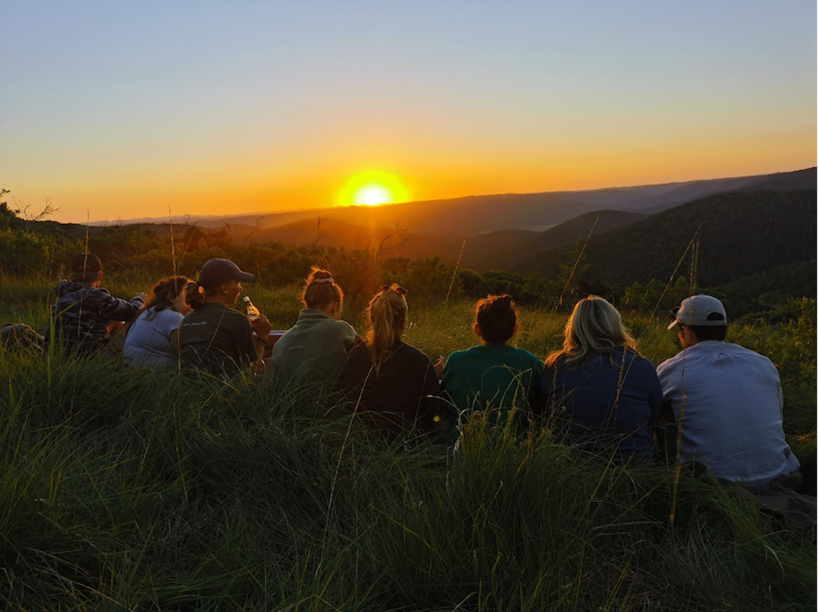 The Kariega Volunteer programme is fortunate to have welcomed a steady flow of volunteers since travel resumed after Covid19 disruptions. We feel truly blessed by this support and thank everybody involved for their assistance in getting our volunteering community and conservation projects off the ground again. Our volunteers made the most of the African summer and faced the hot days bravely, often working long hours in the sun. The reward was often a swim in one of our beautiful rivers or natural pools on the reserve.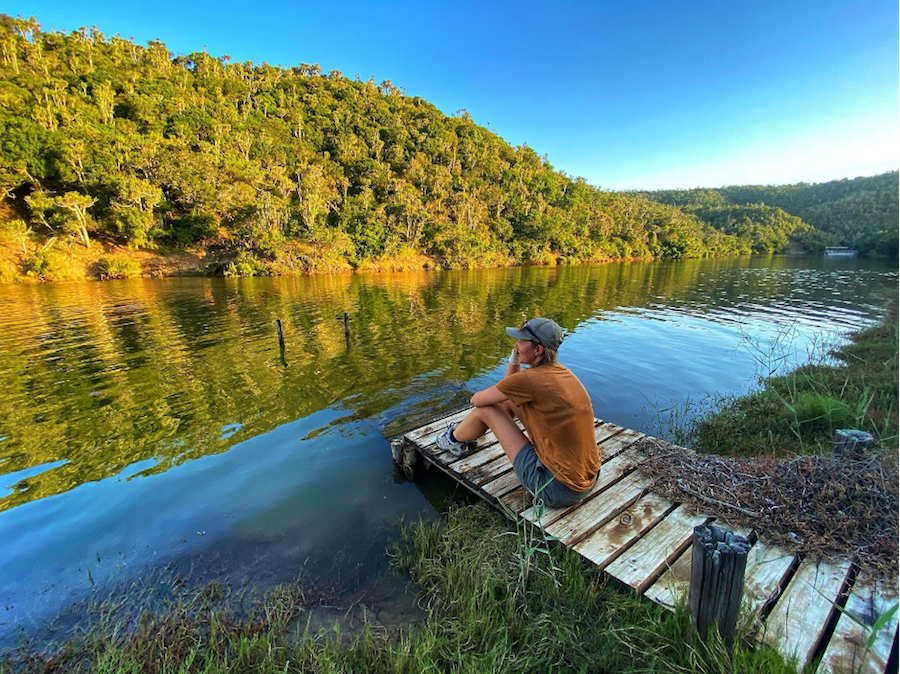 The lovely summer nights allowed us to go on several night expeditions, including sunset drives, bush camping, herping, frogging, spider and scorpion hunting and night drives. We were left in awe by some magical sightings and fascinating finds: like elephants crossing the river with a view from a canoe in the Kariega river; shooting stars on night drives; newborn elephant calves; two honey badgers together and yawning hippos at dusk.
The highlight was a visit to the volunteer house by our biggest elephant bull on the reserve, who came to taste some wonderful green trees on the other side of the fence!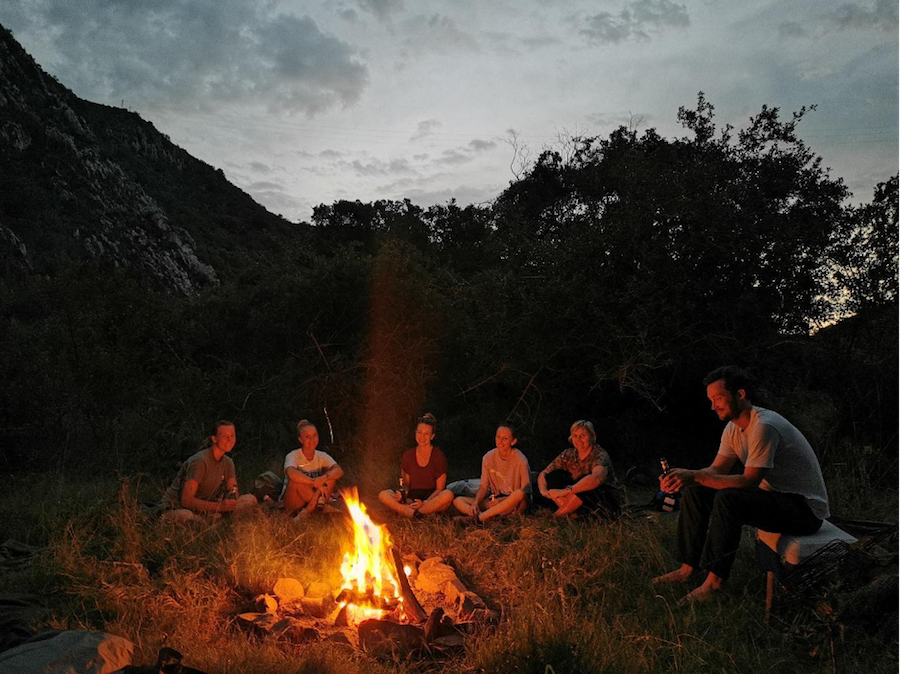 Volunteer Update: Wildlife Procedures.
Although it is not a guaranteed activity, if wildlife procedures are taking place on Kariega Game Reserve, the volunteers are invited to attend and give a helping hand.Our volunteers between the months of Jan and June 2022 were lucky to experience many wildlife procedures which is always an amazing experience.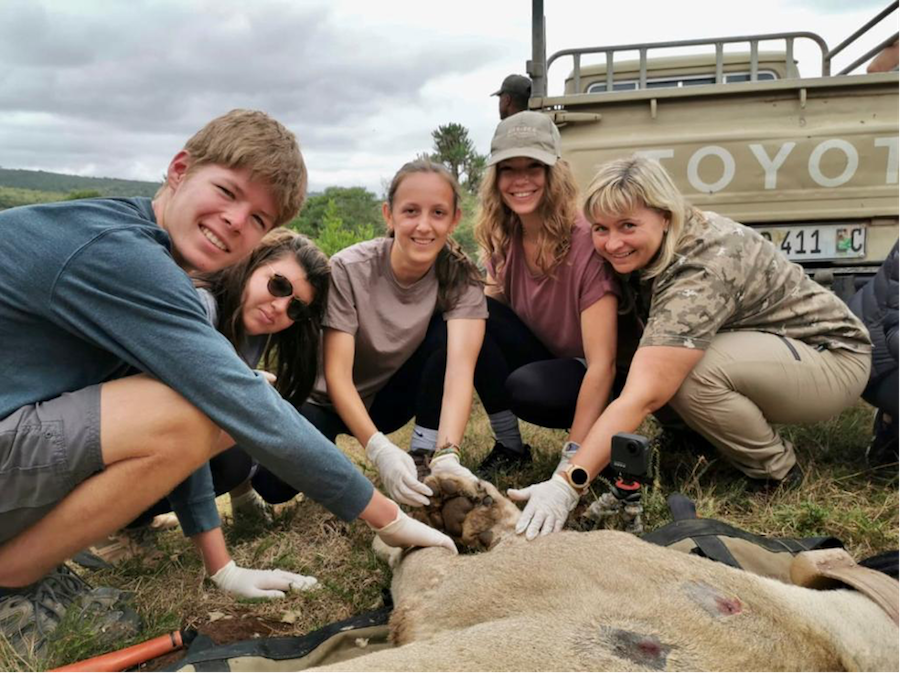 The year started with a lion procedure where we collared a lioness to enhance the reserves monitoring capabilities. February to June were busy months with six veterinary procedures including game captures, wildlife translocations and a contraception implant procedure on a lioness.
These procedures are a 'once in a lifetime' experience for our volunteers and a memory that those who are lucky enough to experience it, will never forget.
Volunteer Update: Community Involvement
The Kariega Volunteers spend one day a week working on various community projects in collaboration with the Kariega Foundation.
We continued our Environmental Education efforts and support at the Child Welfare, Helping Hands Soup Kitchen Centre in Ekuphumleni. We were welcomed with excited smiles on every visit. 
On the 19th of March the volunteers were invited to join a traditional Xhosa ceremony as honoured guests of Gladys who is the founder and manager of the Helping Hands Soup Kitchen and a true community hero. This rich cultural experience was a highlight for many volunteers.
We also joined the Kariega Foundation to upgrade the Rainbow Preschool in Klipfontein. Volunteers created a beautiful mural of animals in the classroom.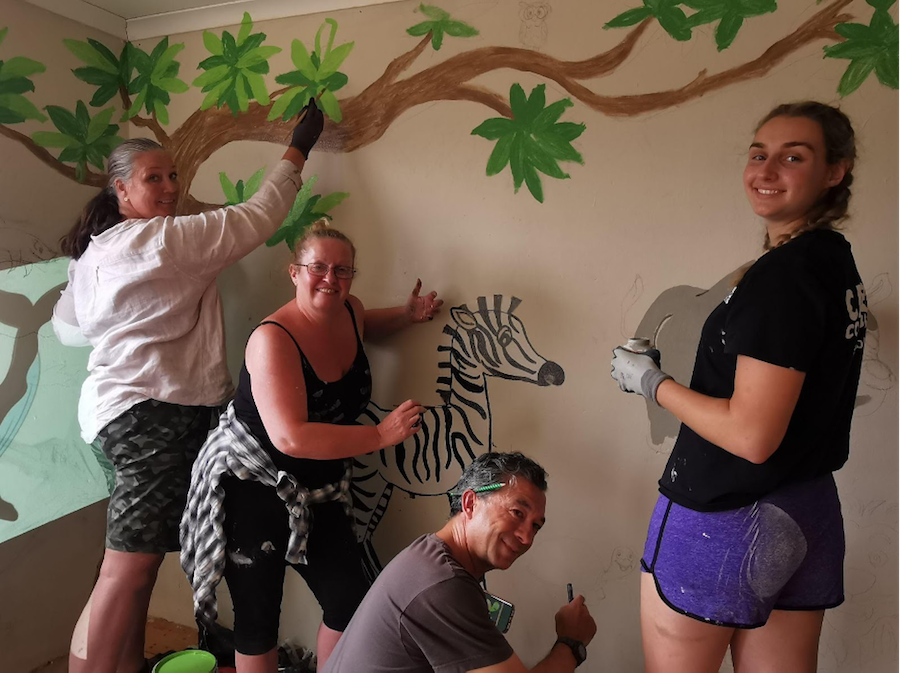 Volunteer Update: Wildlife Monitoring & Conservation Research.
Our support of elephant research on the reserve gained momentum with visits from two of our collaborative research partners; Bring the Elephant Home and the Elephant Reintegration Trust. Thanks to our on-going work together, volunteers at Kariega can now observe the elephants on an individual basis, with accurate identikits and better assess and monitor behaviour as well as stress levels.
In May volunteers joined the annual game count census and continued to collect data for our other research projects on various wildlife species including lion, rhinoceros, meso-carnivores and giraffe. Their efforts help to provide information on social behaviour, prey preferences, special movement patterns, individual identification, population structure, dynamics and size.
We made progress on the Leopard Conservation Project and are awaiting final approval on a permit application for the re-introduction of a male leopard with the aim to ultimately restore healthy population dynamics and repopulate more leopard into the area. Volunteers assisted in the construction of a reintroduction Boma on the Harvestvale section of the reserve.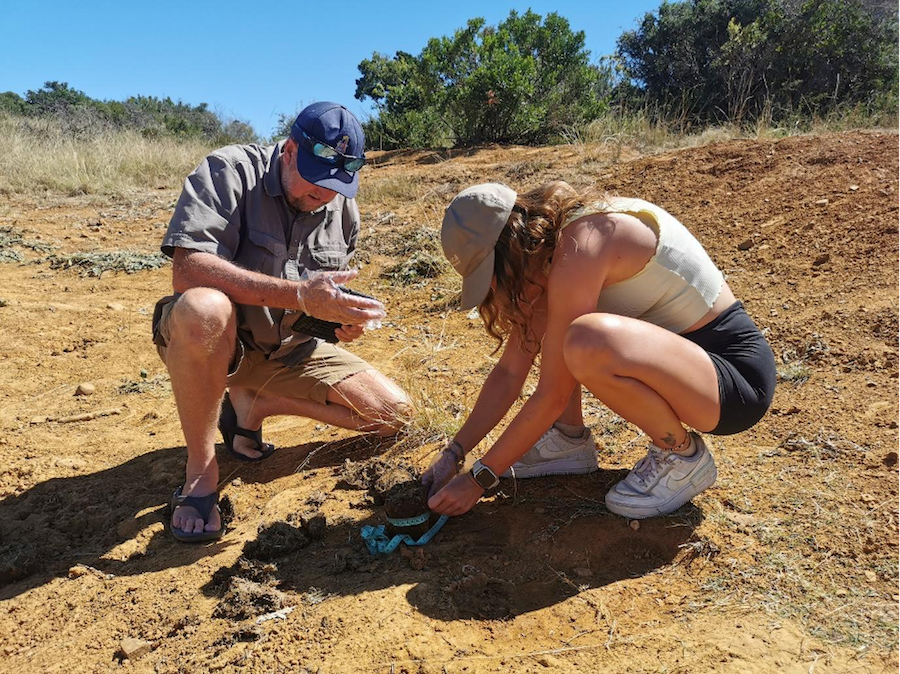 Volunteer Update: Alien Invasive Plant Control.
Our ongoing Alien Plant Control Project continued as we removed and treated various alien plant species on the reserve including cluster pine (Pinus pinaster), black wattle (Acacia mearnsii), red-eyed wattle (Acacia cyclops), Port Jackson willow (Acacia saligna) and prickly pear (Opuntia spp.).
We removed roughly 152 pine trees, 2931 black wattle, 74 red-eyed wattle, 138 Port Jackson willow, and released cochineal with the help of Dr. Ian Paterson from Rhodes University as a bio-control measure on heavy investigations of prickly pear cactus. Invasive plant control on any reserve requires constant work and attention and it is a critical aspect of conservation management. Many volunteers will agree that there is nothing as satisfying as looking back at your hard work and seeing all the invasive plants that you've successfully eradicated during a mornings work.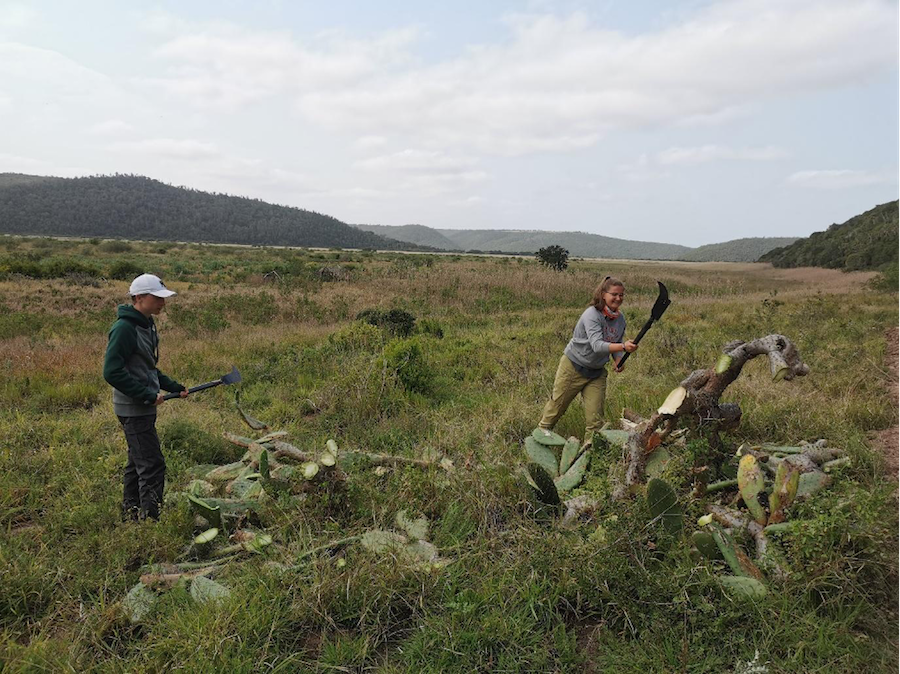 We launched a new project, the Vegetation Classification Project, in collaboration with Dr Alastair Potts and the Potts Research group from the Department of Botany at the Nelson Mandela University in Gqeberha (Port Elizabeth). We conduct this pilot study with the aim to test, validate and further develop the novel RapidTen vegetation sampling method to ultimately classify vegetation more accurately at a biome- to vegetation type-level by using photography and the citizen science platform called "iNaturalist". If proved accurate, this method will revolutionise vegetation classification in Southern Africa and afar, and as a result contribute to flora conservation by advancing our understanding of the different plant communities and how they co-exist. The RapidTen Project is supported by the South African National Biodiversity Institute (SANBI) and the National Research Foundation (NCF).
Team Work makes the Dream Work.
Kariega Game Reserve recently achieved a long term dream of incorporating important habitat in the Bushmans River valley into the Kariega protected area. The incorporation of roughly 1500 hectares of pristine habitat carries important conservation benefits including the protection of 18km of Bushmans River Tidal Estuary; additional range expansion for elephants, white and black rhino and the opportunity to introduce additional apex predators like cheetah and a second pride of lion. The Kariega volunteers helped with the important task of removing one of two internal fences that will be dropped.
We are ecstatic to announce that one internal fence has now fallen and we have successfully incorporated additional pristine habitat next to the Bushmans river into the reserve. This is a big win for conservation and we are so proud of everyone involved in this project.
Kariega Game Reserve now spans 11,500 hectares of beautiful and protected wilderness.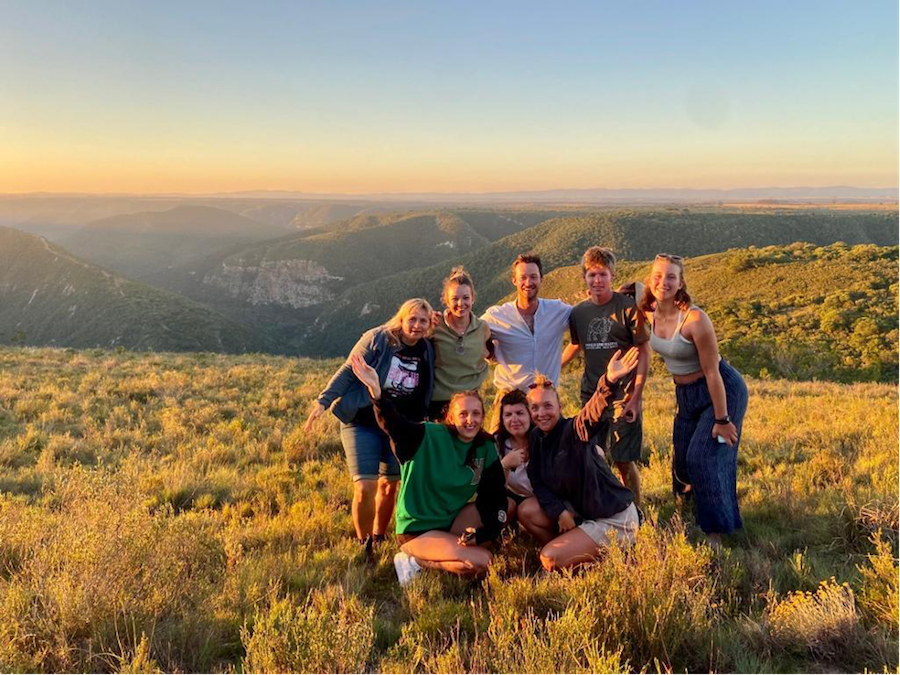 Join us!
Well done and thank you to all the volunteers that joined us between January and June 2022. Placements for early 2023 are getting booked out fast, so get in touch with Helena at volunteer@kariega.co.za if you are thinking of joining us. You will never regret the decision!