Volunteer Testimonials: May - Sept 2018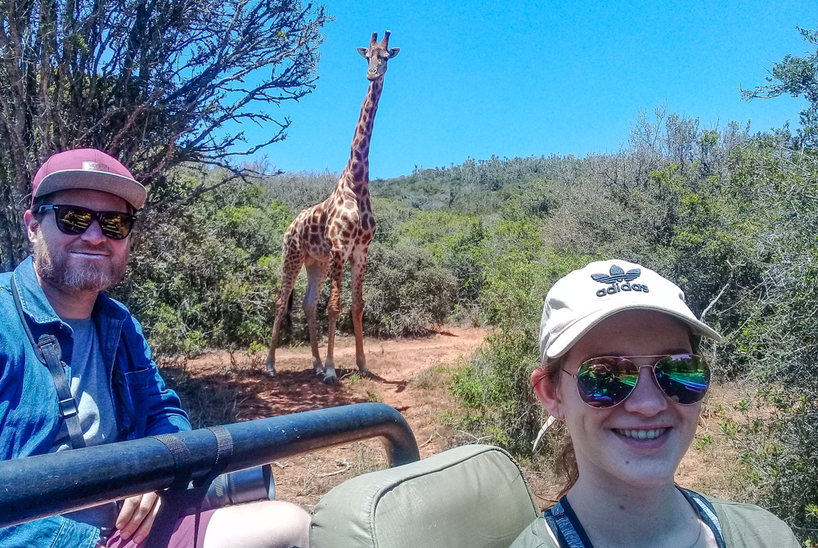 So many wonderful people have been involved in our immensely popular Kariega Conservation Volunteer Programme through the years. Each volunteer makes a significant contribution to both conservation and community projects during their stay. Kariega Game Reserve and the Kariega Foundation are immensely grateful to each and every volunteer. We have included some of the volunteer testimonials received between May and September 2018.
Awesome Conservation Volunteer Experiences
"Kariega was one of my best experiences in life. Since the moment I've arrived, everyone was so friendly and made me feel at home. Our coordinator had so much wisdom to share about the fauna and flora on the reserve. We were able to see a huge herd of elephant right next to us, an encounter between a white and black rhino, lions walking around and many other fantastic moments. I'm so grateful for the opportunity of joining this programme." Daniel Mendes, Brazil, 28 May – 11 June 2018.
"I am so in awe of my entire time here. I don't know what to write that could possibly express how breathtaking every single day has been. I learned so much and tried to write down as many interested pieces of information as possible, but I could never write fast enough to keep up with it all! I enjoyed it all – from stargazing to removing invasive species, feeding servals, visiting the children and the village dogs in Ekuphumleni, observing elephants/rhinos/birds, getting to use telemetry in action and being albe to learn about game capture and watch the team of vets dart an ostrich! I will never forget how magical it feels to be a volunteer on Kariega. Hopefully I will be able to come back someday." Stephanie Hargrave, Florida, 25 June – 9 July 2018.
"This was not my first volunteering project but it's definitely the most exciting project I've ever taken part in! I was very lucky to be part of a great group of volunteers. In such a short time, we all got so close. We learnt so much from our coordinator. Jarrett is just awesome! It was a very good choice to come to Kariega but it would have been better if I could stay longer. Thanks Kariega, I will never forget this." Kwenta Notteboom, Belgium, 9 July – 22 July 2018.
"These past weeks have been an experience that I will never forget as they have undoubtedly been the best few weeks of my life – I couldn't fault a thing. From paintballing, messing around on the beach and even sky diving. Not forgetting the crazy safaris and learning about all the different animals. But I think what has to have made this experience for me is the people that I've met. I came out to South Africa alone with no expectations of making friends with people as amazing as I have. Every single person was so welcoming and kind and taught me so much. I can't thank you enough Jarrett – you legend!" Lucy Barton, UK, 6 August – 20 August 2018.
"When I decided to volunteer at Kariega, I thought 5 weeks would be a very long time. I was pretty nervous coming here and didn't know what to expect. I would've never imagined it to be like this at all. As soon as I arrived, I felt incredibly welcome. We immediately went on an orientation drive and I was blown away by everything I saw in just 1.5 hours. I've had so much fun every single day. One of the biggest lessons I learnt from our coordinator is 'certainty is the enemy of growth'. The way people around here live their lives really opened my eyes. I loved spending time with the locals and I hope to live the rest of my life as joyful as they do. Because of this experience, I broadend my horizons." Sophie van Vilsteren, The Netherlands, 9 July – 13 August 2018.
"As soon as I arrived on Kariega Game Reserve, I understood that living on this reserve for a month was going to be the most amazing experience of my life. Everything here seems unique, more beautiful and intense; the starts shine brighter and just by walking outside the front door I can see animals that I used to see only on the pages of my school books. South Africa is a wonderful country, the landscapes are breathtaking and the people are probably the nicest I have ever met. Thanks to this experience I will definitely come back to this country. Our coordinator has taught me so much and I'm very grateful for it. Thank you for making this experience even more extraordinary." Matilde Zeni, Italy, 9 July – 6 August 2018.
"I really had the time of my life here at Kariega. Coming to Africa has been a life-long dream of mine and my stay here exceeded all expectations. In the past two weeks I have learned more about birds, plants, reptiles, mammals, star signs and even about myself than I ever thought possible. Because of my time here I'm now also one step closer to finding out what I want to do further in my life. I'm going home knowing that I've made great friends and great memories. My only regret is not booking a longer stay." Carine Tollefsen, Norway, 27 August – 10 September 2018.
If you would like to join the Kariega Conservation Volunteer Programme please contact us by email on volunteer@kariega.co.za or fill in our Volunteer enquiry form. We hope to welcome you as a volunteer at Kariega Game Reserve.